PORTLAND, Maine — Late Saturday morning, a handful of people gathered at Lincoln Park in Portland, as part of a "Nationwide Freedom March", organized by the American Patriot Council in cities around the country. This is an organization that has advocated for the arrest of six governors (now including Gov. Janet Mills), alleging they violated the Constitution after shutting down their states to protect against the spread of COVID-19.
The march in Portland was one of a couple of event happening around the state Saturday, about a week before the 2020 general election and seven months into a pandemic that has changed life as we know it. In Portland, participants expressed their desire to preserve their "God-given" liberty, many saying they are unhappy with how the state's government has handled this unprecedented year.
"I feel like the rules regarding COVID have been over the top," Thomas Daniels of Standish told NEWS CENTER Maine. "I think that Maine has been relatively unaffected by this (pandemic)."
"I think that the name of the game is to grab as much control and power as we can and then people get used to it," Michelle Truman of the Augusta area added.
Paul Madore of Lewiston organized the event in Portland. It's the first time the American Patriot Council has marched in the city.
He told NEWS CENTER Maine the primary message of the march is "to know your constitution; to know your God-given rights to life, liberty, and the pursuit of happiness -- and defend these rights."
Mask-wearing mandates and the shutting down of states during the pandemic are decisions that this group says infringe on their constitutional rights. Some experts, though, like vice dean of the University of Maine School of Law Dmitry Bam, say those arguments may not hold up in a court of law.
"To a certain extent, we're dealing with a fairly novel situation," Bam told NEWS CENTER Maine via Zoom. "We've had things that have happened in the past, but generally speaking, governors have fairly broad discretion when it comes to emergency powers."
Bam says that includes during a pandemic when "health and safety is at stake", noting, "courts end up being fairly deferential to the government."
Lindsay Crete, spokesperson for Gov. Mills, also responded Saturday via an emailed statement:
"According to the U.S. and Maine CDCs, as well as infectious disease experts like Dr. Fauci, wearing a face covering can significantly reduce the risk of transmission of COVID-19. In addition, wearing a face covering is a sign of respect for our fellow Maine citizens; will save the lives of our health care workers and our most vulnerable, like the elderly; and will allow us to keep our economy up and running. We continue to urge Maine people to wear face coverings and are grateful to all those who do."
In Augusta, an #UnMaskME rally took place at 11:30 a.m. outside of the Blaine House. The organizing group Mainers Against Mask Mandates issued what it called a "correction" Friday evening to clarify their "event has the support of, but is separate from, the Freedom Marches being held by the American Patriot Council in Portland and elsewhere in the country."
The American Patriot Council recently added Maine Gov. Janet Mills to its "criminal watch list", along with others like Michigan Gov. Gretchen Whitmer, later the target of a kidnapping attempt. Eight people arrested so far in connection to the kidnapping attempt are said to be members of an anti-government group -- and no link has been made to the American Patriot Council.
The American Patriot Council "advocates for the just enforcement of the law for all people in our great nation, especially those in positions of authority," according to its website. Not long after the kidnapping plot was made public, the American Patriot Council posted a press release on its website titled "APC Advocates for Lawful Actions Only" and in it said the group "in no way condones violence as a form of political action."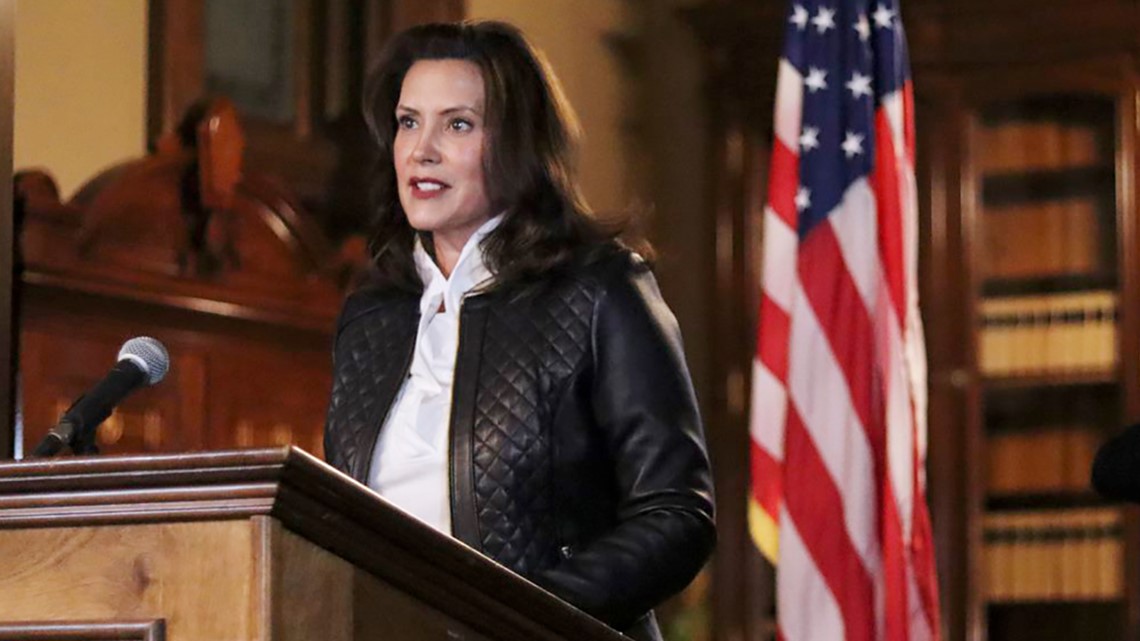 Along with Whitmer and Mills, others on the "criminal watch list" include New York Gov. Andrew Cuomo, Virginia Gov. Ralph Northam, and Deborah Birx, M.D., coordinator of the White House coronavirus response who reportedly shared scientific information about the pandemic that was in conflict with the administration's stated views.
The group alleges those on the list violated a Constitutional amendment or "U.S. Code."
Maine State Police Lt. Scott Ireland, the commander of the governor's security detail, told NEWS CENTER Maine Friday he could not disclose what state police are doing or have done to keep the governor safe but says, "We are aware of what has been going on and we are monitoring and keeping an eye on things."