GRAY, Maine — Lonnie Humphrey takes pride in knowing his customers' orders. Which is important, because Mainers tend to like their red snappers done up a certain way.
Lonnie himself, for example, is a mustard, relish, and raw onion man.
"Oh God, that's like Ford, Dodge, Chevy," Lonnie said with a laugh when asked how a dog should be dressed. "Everybody knows what's best and theirs is the way to do it. I've probably got a thousand customers down pat, what they order, because they're here enough. And then I've got a few hardcore customers that say ketchup never belongs on a hot dog."
The legitimacy of ketchup on a hot dog is a debate for another day, but what can't be debated is Lonnie's love for his job, his family, and his community. He loves it so much that, 46 years after bringing his Lonnie Dogs cart to Main Street in Gray, he's still there and still smiling.
"I mean, hot doggin' for 46 years. ... I have a great wife, three good kids, seven grandkids, I've got it made in the shade, you know what I mean?" Lonnie said from under his cart's umbrella. "It's just a great, great gig."
The job doesn't seem to strain Lonnie, and his customers feel that.
"He's good company. He always has polite conversation and he's funny, so, it makes it worth it," Sue May, who walks to Lonnie's for lunch from her workplace down the street, said.
Smokey Burgess estimates he's been stopping by Lonnie's cart for about 40 years. Marshall Wagner said it's been about 20 years for him.
"Where else can you get a hot dog outside?" Wagner said.
"The way he prepares them," Burgess said of the Lonnie Dogs difference. "They have that little something extra to them. You can buy them anywhere, but his stand out."
Lonnie Dogs started in 1978 as a summer gig while Lonnie was in high school. Lonnie's dad was an on-the-road construction worker and discouraged his son from following in his footsteps.
"It was kind of a hard lifestyle. Hell raisin', liver damage, hard on the wife, hard on the marriage," Lonnie explained. "And he thought something around town might be good [for me]. He'd seen a hot dog stand in a couple of towns he'd worked in, and he thought, with the traffic patterns in Gray, it would be conducive to a hot dog stand."
That intended summer gig turned into a seven-to-eight-month annual gig and Lonnie's primary source of income. In the earlier years, he would work six or seven days a week, with weekend catering jobs on top of his five-days-a-week in Gray. Now, he's open 11-2 Monday through Friday, right across from the Cumberland Farms in Gray Center.
"At 62, I'm just looking for less instead of more," Lonnie explained. "But there's never a day I get the hot dog stand ready and say, 'Oh no, I've got to go sell hot dogs.' I mean it's come down here, shoot the bull with everybody, tell stories, see my old buddies, and have a good time. It's not punishment like some jobs where you have a lot of stress over your head or bosses."
Still, it can take an emotional toll getting close to customers in the unique ways Lonnie does. Over the years, he's seen occasional customers become regulars and regular customers become occasional – or even disappear.
"One of the things that is hard is I have regulars and then they evaporate. And I don't know where they went," he explained. "I had an older couple, until last year they were regulars. Mustard, relish, and kraut, she had ketchup and relish. A diet soda and an orange [soda]. And then they just disappear. And it leaves you wondering if illness hit one of them."
Lonnie might not always remember your name but, chances are, he'll remember your dog.
"If we were out at Walmart as a family when my kids were young or something like that, they'd say, 'Dad, who was that?' And I'd say, 'I don't know, two with mustard and relish and an orange soda. You know?' I don't have any idea what their name is, but I know they're two with ketchup and a water or something like that. And that's kind of how I know what's going on."
"I feed some of the parents, some of the grandparents, some of the kids. I mean the town was just on cloud nine watching them kids. You know, we got kids from Gray on ESPN. Those kids don't realize that just doesn't happen," he said. "Just a great run and good kids and they'll forever be stars in the town of Gray."
Lonnie loves feeding kids, but he's also fed people who knew him back when he was a kid, including some of his former teachers.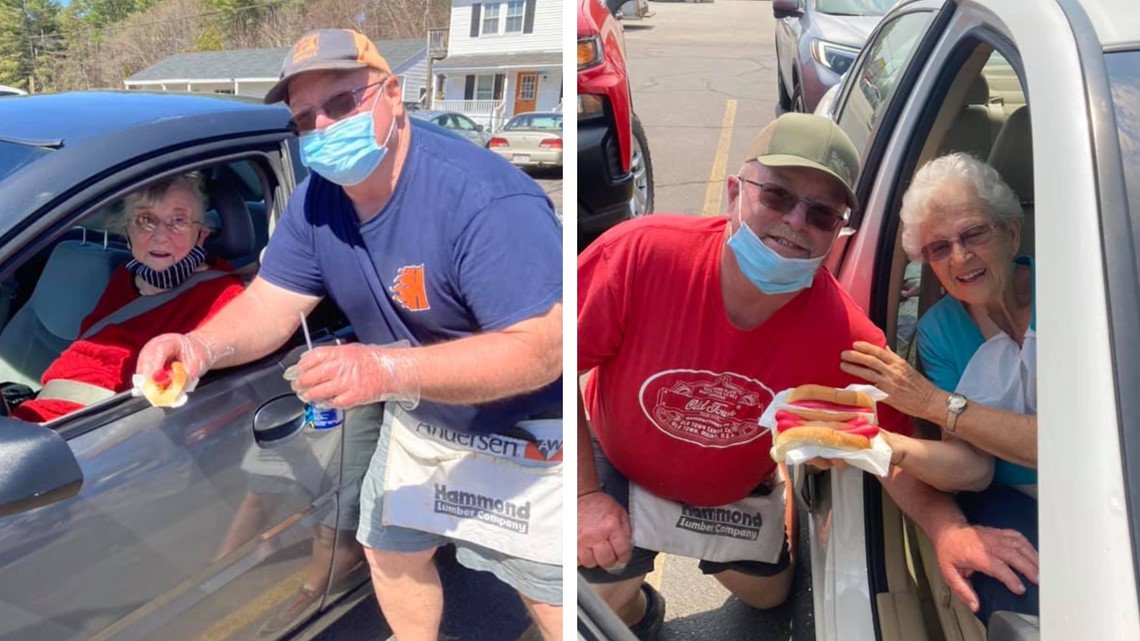 "Audrey's one of my regulars, Mrs. Burns. She's 90, she was in last week. She's a big actor down at the—I call it the Hysterical Society, but the Historical Society. She's a good girl. I went to school with her kids. Her daughter was one of my relief hot dog players back when I was in high school and raising hell and running the roads, so if I needed to stick somebody here once in a while," Lonnie said with a chuckle. "And then Mrs. Whitney comes in a lot. She's a good teacher, she was my first and second grade teacher. So, a lot of [customers] like that."
Fifty years in Gray Center is a goal of Lonnie's, but he's also taking it one dog at a time. When this season ends Oct. 25, he'll pack up his cart and find other ways to stay occupied — like hunting, fishing, snow plowing, and taking care of his grandkids — until the dogs come calling in the spring.