HARPSWELL (NEWS CENTER Maine) — Another dead whale carcass washed ashore in Maine following a summer of an unusual increase in marine mammal deaths.
Jennifer Erin Blackwell came upon the large dead carcass Friday morning, Oct. 12 in Harpswell. Blackwell said the carcass was laying at the bottom of the stairs on Bailey Island.
Blackwell said the carcass was about the size of a small car and smelled pungent.
Dead whale in Harpswell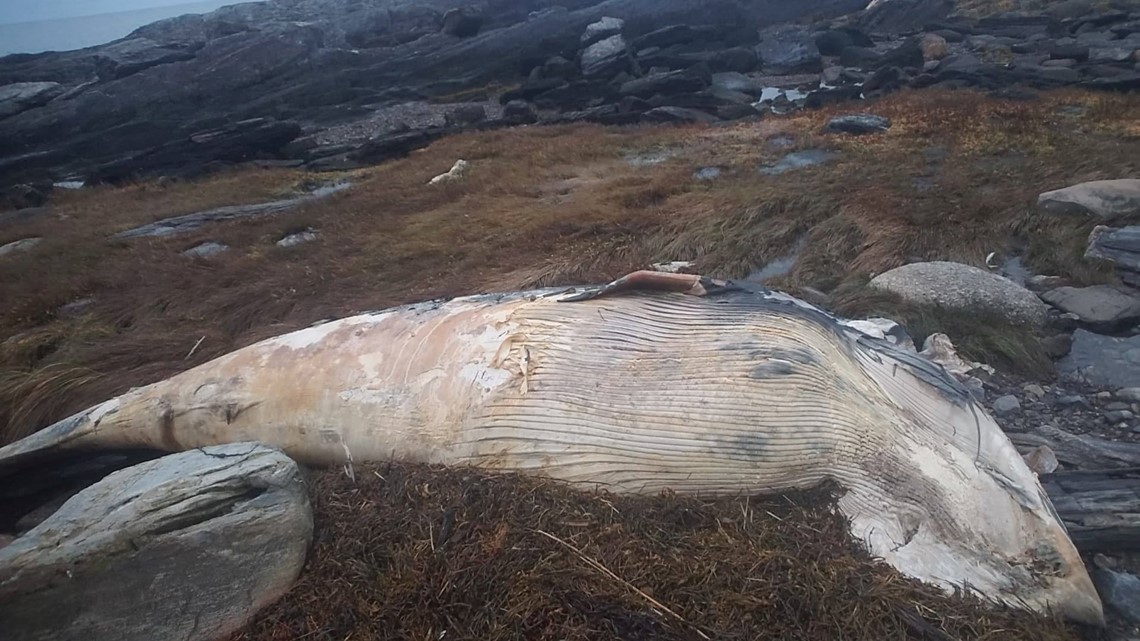 This summer Maine saw an enormous spike in dead and stranded seals and several large whale carcasses also washed up on New England beaches.
RELATED | Decomposed shark washes up on Higgins Beach in Scarborough
Officials say phocine distemper virus was to blame for killing more than 700 seals that have washed ashore dead or stranded in 2018.
According to officials at NOAA, the virus cannot be transferred to humans but may affect pets.
RELATED | 2 large whales wash ashore on Boston-area beaches
| STATE | AMOUNT |
| --- | --- |
| Maine | 707 |
| New Hampshire | 151 |
| Massachusetts | 141 |
| Total | 999 |
Since July of 2018 through Sept. 17, 707 harbor and gray seals have been stranded or washed up dead and has prompted officials to declare it an Unusual Mortality Event.
RELATED | NOAA says distemper virus is to blame for hundreds of stranded seals in Maine
NOAA is reminding Mainers to call if they see a live seal in distress or dead seals or whales at 866-755-NOAA (6622).
People should never touch or approach any live seal mammal or dead carcass, NOAA says.