LAWRENCE, Massachusetts —
Hundreds of residents were evacuated from their homes and two schools were closed Friday morning in Lawrence, Massachusetts, as authorities and Columbia Gas responded to a gas leak in an area rocked by gas explosions and fires a year ago.
"People must evacuate," Lawrence Mayor Dan Rivera said on Twitter, calling the event a level one gas leak.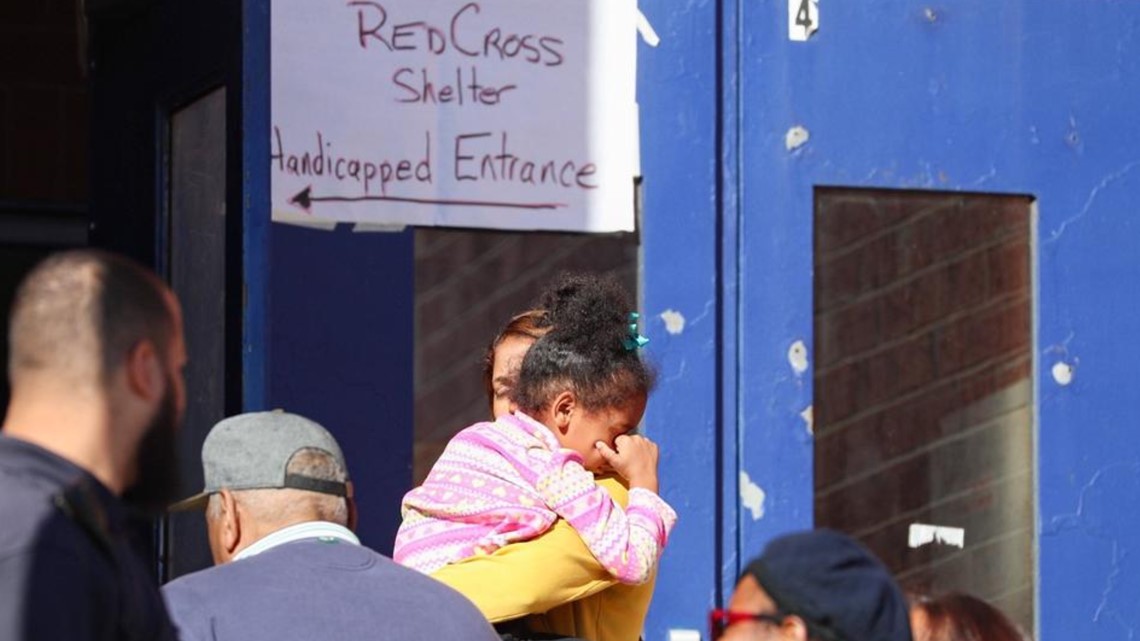 Firefighters responded to the area of South Broadway and Salem Street around 3:15 a.m. Upon arrival, they found a leak in a high-pressure line releasing gas in the "explosive range," Lawrence Fire Chief Brian Moriarty said. The gas was detected traveling through sewers, he added.
Rivera said the impacted area was Andover to Merrimack streets and Sanborn to Parker streets. He said the Lawrence fire and police departments responded immediately.
Authorities were going door to door to tell people to evacuate the area, and Columbia Gas workers were checking to make sure gas had not leaked into homes. Gas and power were shut off in the impacted area amid an investigation into the cause of the leak.
"The amount of frustration to get woken up at four, 4:30 in the morning and to have to go through this again, it's just something that should have not happened," Sen. Barry Finegold said Friday at a press conference. "It makes us all very frustrated"
Mark Kempic, president of Columbia Gas of Massachusetts, said that while the cause of the leak was unclear, it involved a new line installed following the disastrous gas explosions and fires in the Merrimack Valley last year.
MEMA called the incident a "major gas leak leading to evacuations," MassDOT official Jacquelyn Goddard said.
"Just because the affected area is smaller, does not mean that this is less dangerous or less impactful," Rivera said at a press conference Friday, referring to last year's disaster.
Columbia Gas — the utility behind the disastrous explosions last year — said they were notified of the leak at 3:12 a.m. and responded immediately.
Some 1,400 customers were without power due to the response.
Arlington Middle School at 150 Arlington St. has been set up as a shelter for those who have been asked to evacuate, MEMA said. The Lawrence Public Library also said it is welcoming anyone who was displaced.
About 400 people had been registered at the shelter, according to Lloyd Ziel, the communications director of the American Red Cross of Massachusetts. As of 11 a.m., 150 people remained in the shelter.
"If you are in that area you should get out of your house," Rivera said. "You shouldn't be in your house."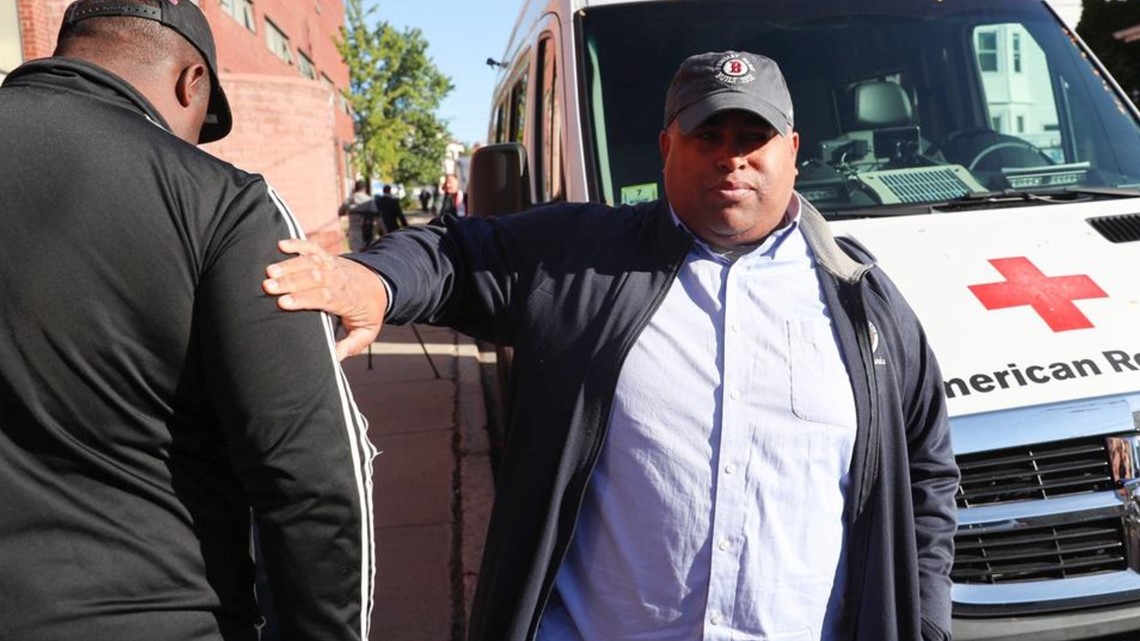 Rivera stressed that the gas leak has been isolated to the areas affected and neighborhoods outside that perimeter are safe.
Columbia Gas crews plan to go door to door to ensure there isn't any gas in homes.
"We are taking this seriously. We are bringing crews from across Massachusetts to help out with the situation and we are suspending our other normally scheduled work today to focus on this," Kempic said.
Massachusetts Gov. Charlie Baker said he is frustrated about the incident.
"That community has gone through an extraordinarily difficult 12 months. I don't think anyone would dispute that," he told media on Friday. "They have shown an enormous resiliency and in many cases, kindness, all the way through this. I think it's incredibly unfortunate that literally almost a year to the day they are going through another event that involves natural gas."
The Wetherbee School and Lawrence Catholic Academy were closed for the day due to emergency work in the area, Rivera said.
The evacuations came just over a year after Lawrence, Andover and North Andover were rocked by a series of explosions on Sept. 13, 2018. In all, the fires damaged or destroyed more than 100 homes. Leonel Rondon, 18, of Lawrence, died after a chimney exploded, crushing his car.
At least 25 others suffered injuries, and about 8,000 people were displaced due to the 2018 explosions. Thousands of customers of Columbia Gas were left without gas service, including heat and hot water, during the winter months. The explosions were blamed on over-pressurized natural gas lines.
"We're going to want more answers to understand how something like this could happen again," Finegold said.
Gov. Charlie Baker said state officials are on scene, but at this point, he still doesn't know that much about the situation.
"It's unbelievably important to all of us that whatever the situation or circumstance today, it gets contained and gets dealt with and it gets dealt with quickly. That community has gone through an extraordinarily difficult 12 months, and I don't think anyone would dispute this. I think it's incredibly unfortunate that literally almost a year to the day they're going through another event that involves natural gas."
The good news, he said, is that the leak was picked up pretty early and people are being aggressive about making sure the appropriate areas are evacuated.
"I am enormously frustrated that the people of Lawrence are having to go through yet another example of a failure of the gas system somewhere in their community," he added. "Obviously, this is not a good day for Columbia, but more importantly, it's just another tough day for the folks in South Lawrence."
U.S. Sens. Elizabeth Warren and Ed Markey, who were critical of Columbia Gas in the wake of last year's explosions, both issued statements about Friday's incident.
"There appears to be no damage so far in Lawrence, and we are thankful to our first responders for their quick action this morning. But we need to know how a major leak in the same area could have happened just a year after the @ColumbiaGasMA disaster," Markey said on Twitter. "Lawrence residents shouldn't have to wonder if their gas pipelines are a ticking time bomb. No American should."
"Today, a major gas leak was reported in Lawrence, and over 100 residents are being evacuated," Warren said. "We are deeply grateful to Lawrence's first responders and Mayor Rivera for their quick action to keep residents safe."
She also demanded answers from Columbia Gas "about why they keep placing our residents and first responders at risk."
The two senators have been working to pass legislation named after Rendon that is aimed at making sure gas companies prioritize the safety of the communities they serve.
U.S. Rep. Lori Trahan, whose district includes Lawrence, said in a statement she was "outraged" by the news of the gas leak and ensuing evacuations.
"The citizens of Lawrence have been through enough," she said. "With the memory of last year's deadly disaster still fresh, Columbia Gas owes our community a detailed explanation of how this new section of the pipeline has already failed."