MAINE, USA — Snow has begun in Maine and will stick around all day long.
There are no big changes to the forecast right now, other than some tweaks to the snow map.
Roads are already slick and will only get worse heading into the afternoon. Underneath heavy snow bands, visibility will drop quite a bit.
I do expect visibility to generally stay above 1/4 mile. That's still not great, of course, but below that is when we get into blizzard condition territory.
Some of the heavier snow bands will drop 1-2" per hour. The heaviest are likely midday.
By this evening, snow quickly wraps up and colder air moves in for Saturday.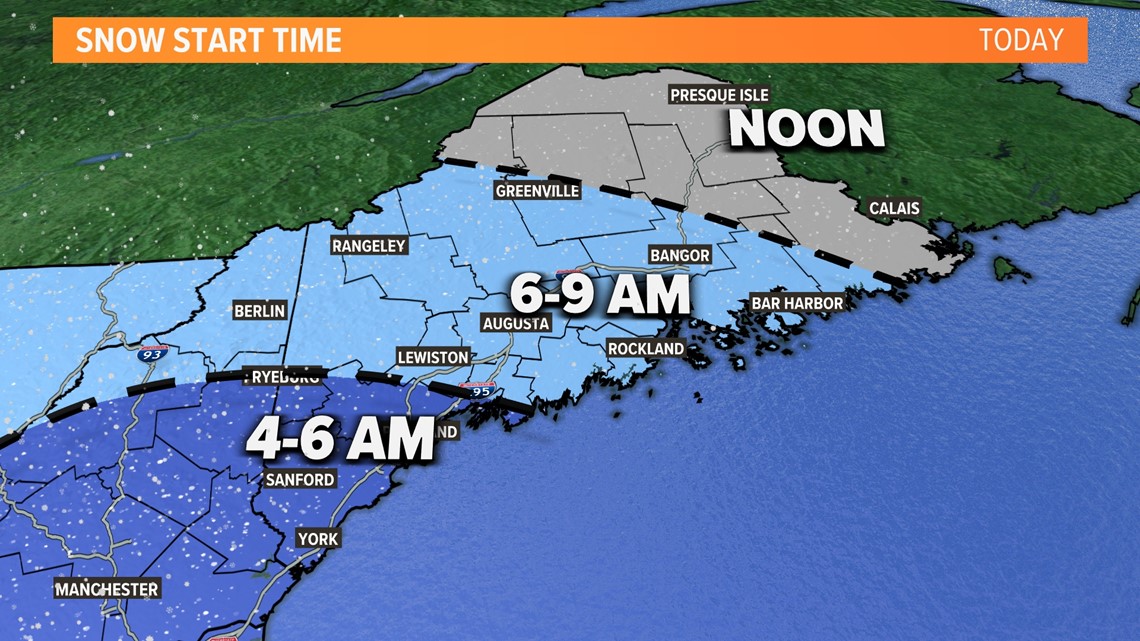 I know, I know...most people have already seen their first flakes.
In case you haven't, though, this is an idea of when you can expect the flakes to fly.
The latest will be areas Downeast and into the County.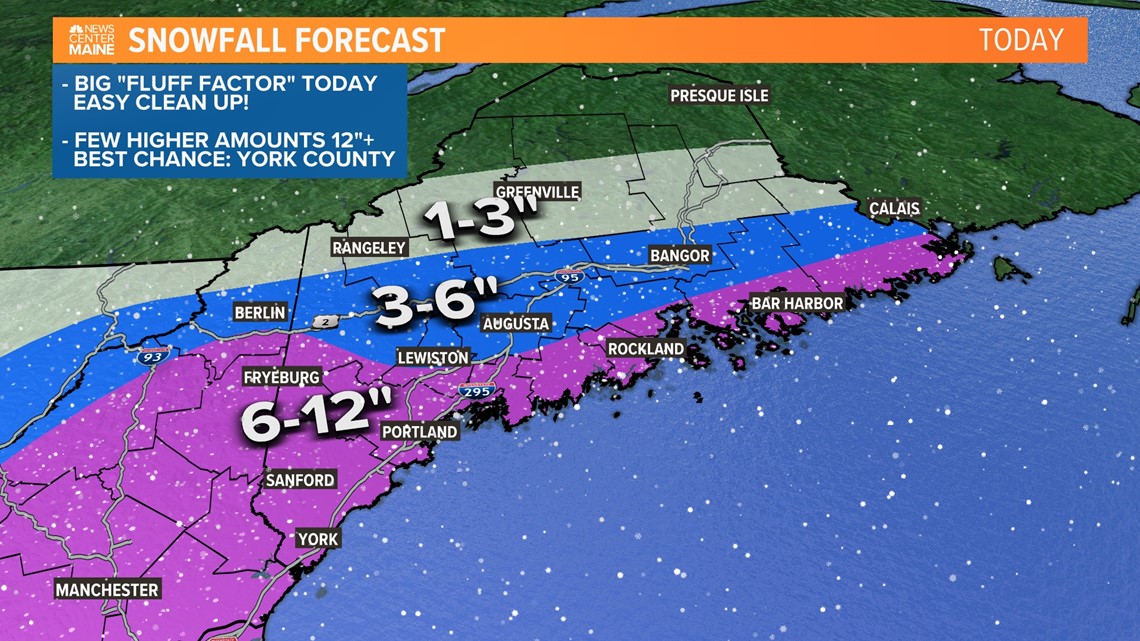 There are not any huge shifts in the forecast totals, but I do think that the Fryeburg area and the Oxford hills have a pretty good chance at getting over 6" of snow.
The highest totals are still most likely in southern Maine and along the entire coast. A few spots in coastal York county might even be able to pull out just over 12" of snow from this one.
Central Maine is still in our 3-6" range, including Bangor and Augusta. Since the Lewiston-Auburn area is right on the contour edge, I think around 6" is most likely.
North of Maine route 6 in Penobscot county will end up with only a few inches.
The County sees a few flurries, which may not even be enough for noticeable accumulation.
Snow will generally be fairly light and fluffy. Clean-up should be quick, especially since there isn't a huge wind threat.
Still, roads remain slick through the evening.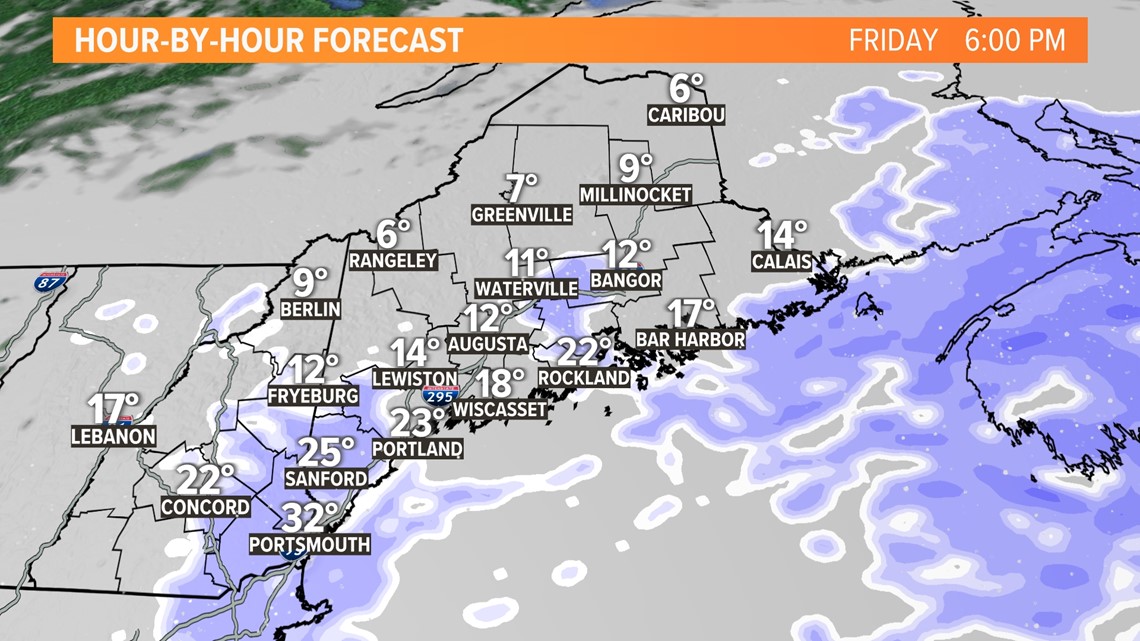 Snow showers wrap up in the late afternoon and early evening.
By as early as 8 p.m., snow may be totally done in Maine.
Clearing skies, a northerly wind, and a fresh snowpack will help drop temperatures to near or below zero inland. It will be closer to 10° at the coastline.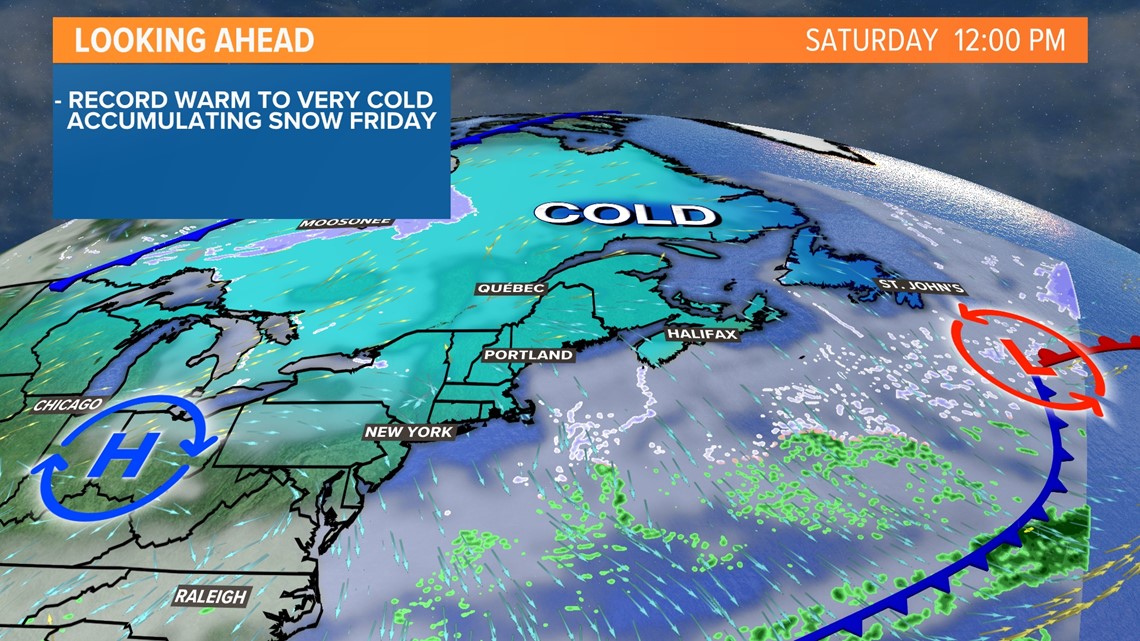 Colder, brighter weather is in store for Saturday. High temperatures stay in the 20s despite the sun.
It will be a great day to get out and enjoy the fresh coating of snow.
Beyond this, the chance at any bigger storms looks pretty small. Maybe you will get a break from my near-daily weather blogs the past few weeks! (I wouldn't mind a quick break myself.)