GRAY, Maine — Doppler Radar is a critical tool, used daily to track rain and snow, on TV and on your phone.
In severe weather, it's the only way to see inside storms, and track potential tornadoes.
Hodgdon and Gray are home to the two radars that scan our sky. But the quality of the data from the radar in Gray is being impacted -- by trees.
The radar sits on a hill. Constructed in 1993, it stood tall above a surrounding forest, and its beam scanned the sky with a clear view.
But over the last 25 years, the forest has continued to grow. Now branches and leaves block the radar's lowest and most important tilt.
When the radar sends out its frequency wave (the "beam"), it hits a tree branch or leaves, causing the return frequency wave to immediately return to the radar. This essentially blocks the radar beam from seeing precipitation along that radial, creating gaps in the data sweep.
"You will start to notice it especially if you live on the Midcoast, or in parts of York county, where (the radar data) looks lighter," according to Donald Dumont, Warning Coordination Meteorologist at the National Weather Service in Gray.
The tool that's been most impacted is radar estimated precipitation amounts. That's because this mode of the radar relies on only the lowest tilt, the one that's being obstructed by the trees. In recent storms, its rainfall estimation has been off by more than two inches. For now, ground truth, reports from weather spotters and automated observing sites, is relied upon to fill in the gaps.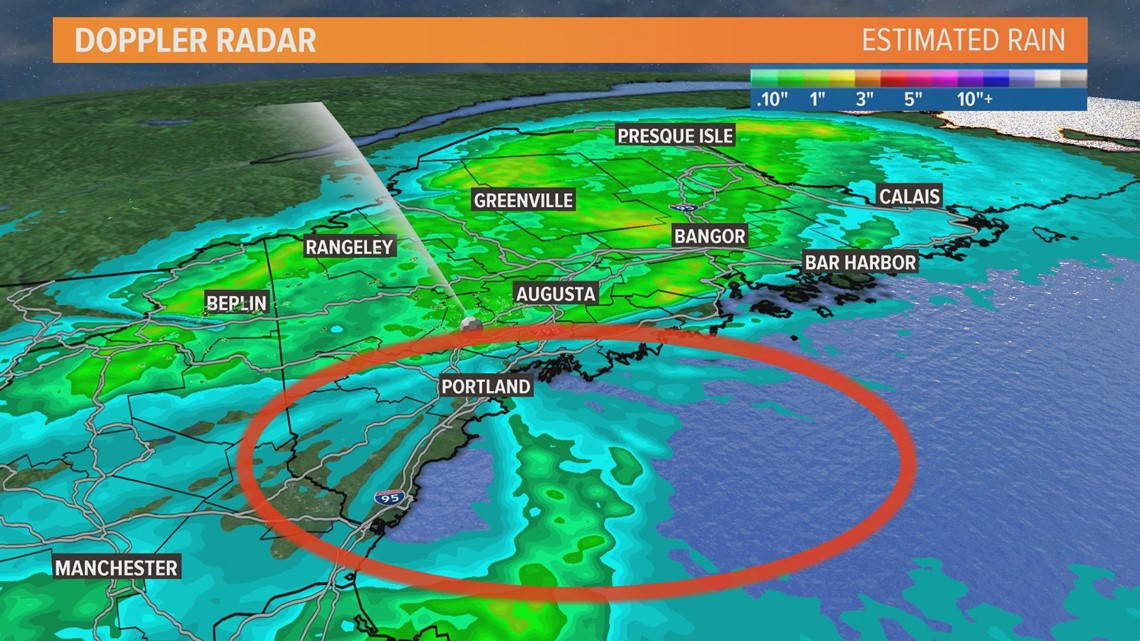 Most television or app-based radars, including ours, use a composite mode to show where rain and snow is falling, blending multiple tilts and other radars. This helps mask the issue. But still, in the affected region of southern and Midcoast Maine, the returns will appear lighter at times.
Fortunately, the velocity mode of the radar, used to see inside of thunderstorms for potential rotation and tornadoes, has not been heavily impacted yet.
Chopping down the trees would seem like an easy solution. However, it's a large forest, on private land. Some trees were removed in 2010 and 2011, but a new radar upgrade in 2012, called "dual polarization," added scans, which are blocked by the trees.
The solution is to raise the radar tower about 50 feet -- but it's a costly endeavor. Not only will it be a multimillion dollar project, but it will require taking the radar fully offline for a period of six to eight weeks. During that time, radar coverage in central and southern Maine will only be filled by radars in the Boston area and Hodgton. Gaps will exist.
A funding request for the project has been submitted to Congress, via National Weather Service headquarters. There is no fix date yet, and there's no easy time of year to go without radar data in Maine. They aim to complete the project in the fall months, after severe weather season, and before winter storms hit.
For now, if you live in southern and Midcoast Maine and notice gaps or inaccuracies in the radar data, know that it's a problem that meteorologists are aware of, and hopefully will be addressed soon.