MAINE, Maine — Tropical Storm Isaías continues to move closer to Florida, with the official National Hurricane Center forecast calling for a graze to Florida's east coast.
As the storm moves into more warm water, it is expected to re-strengthen into a category 1 hurricane before brushing the coast.
It's possible there will be a landfall in Florida; the eye of the storm itself needs to reach land in order for it to be called a landfall.
Regardless, hurricane warnings are in effect for a large portion of the east coast of Florida.
The impacts of Isaías will be similar in Florida whether it is a category 1 hurricane or it is a tropical storm.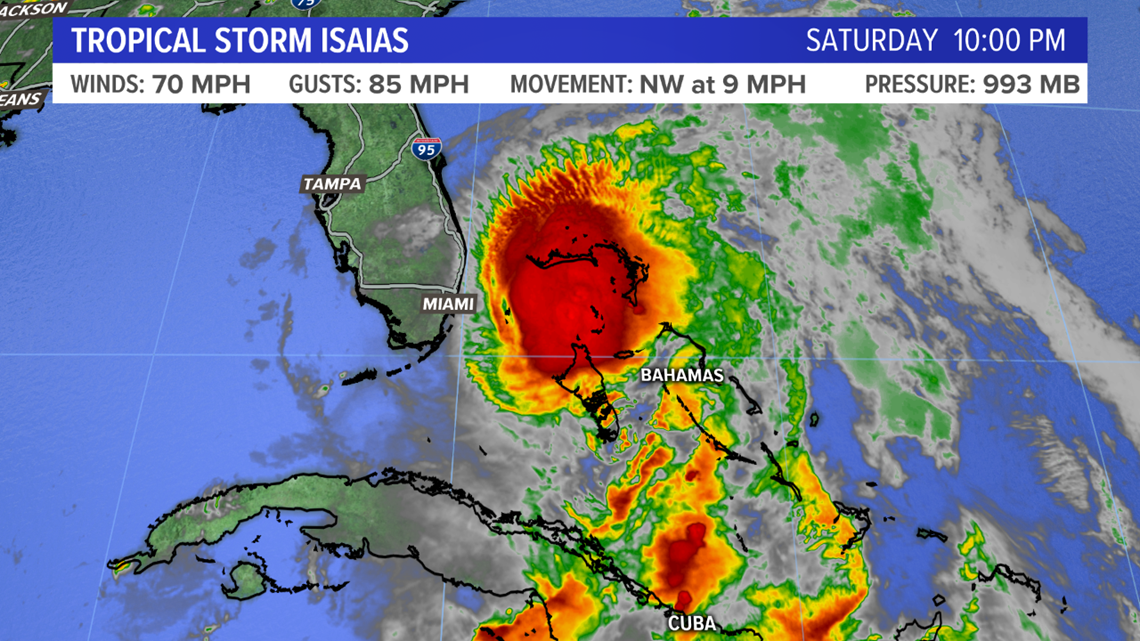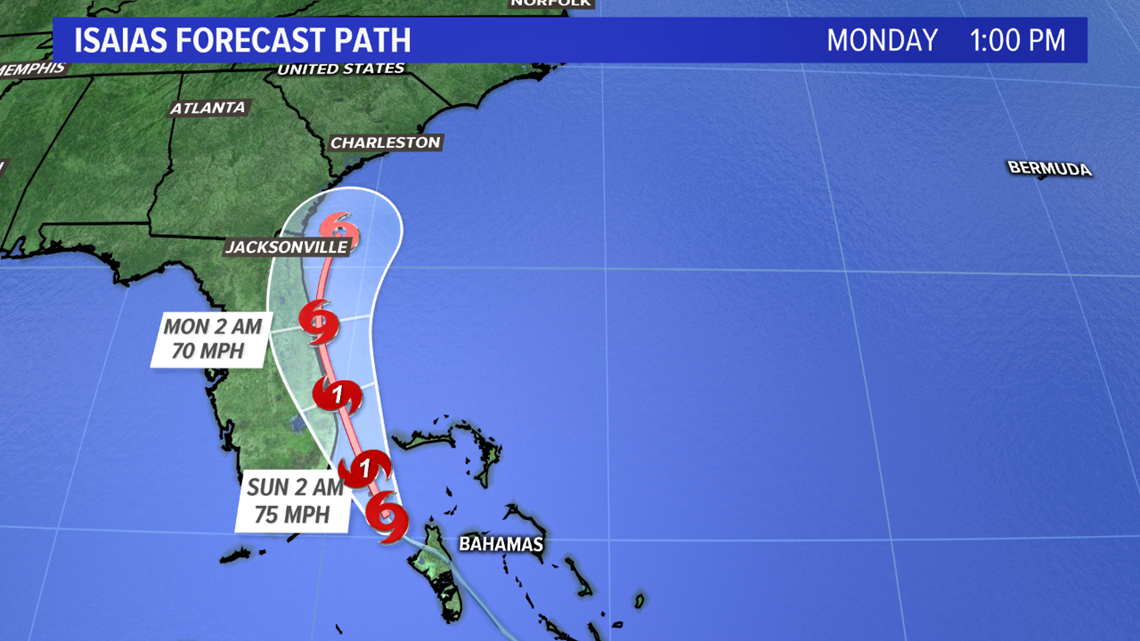 This part of the forecast is fairly set in stone; there is a small chance for some minor variation, but otherwise this is a pretty good idea of what's going to happen in Florida.
So, what does this mean for Maine?
The official forecast calls for the storm to keep on truckin' right up the east coast, with it eventually crossing New England.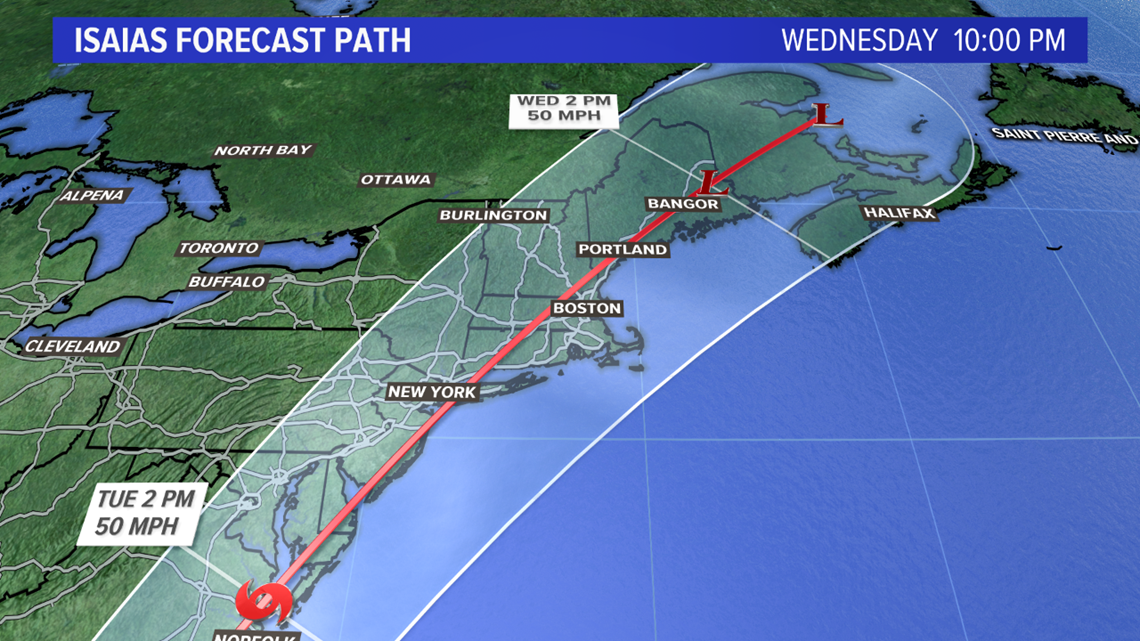 Ahead of the storm itself, tropical moisture will get pushed back into Maine. It looks likely that there will be some showers passing through on Tuesday.
Showers continue and heavy rain is possible late Tuesday and into Wednesday morning.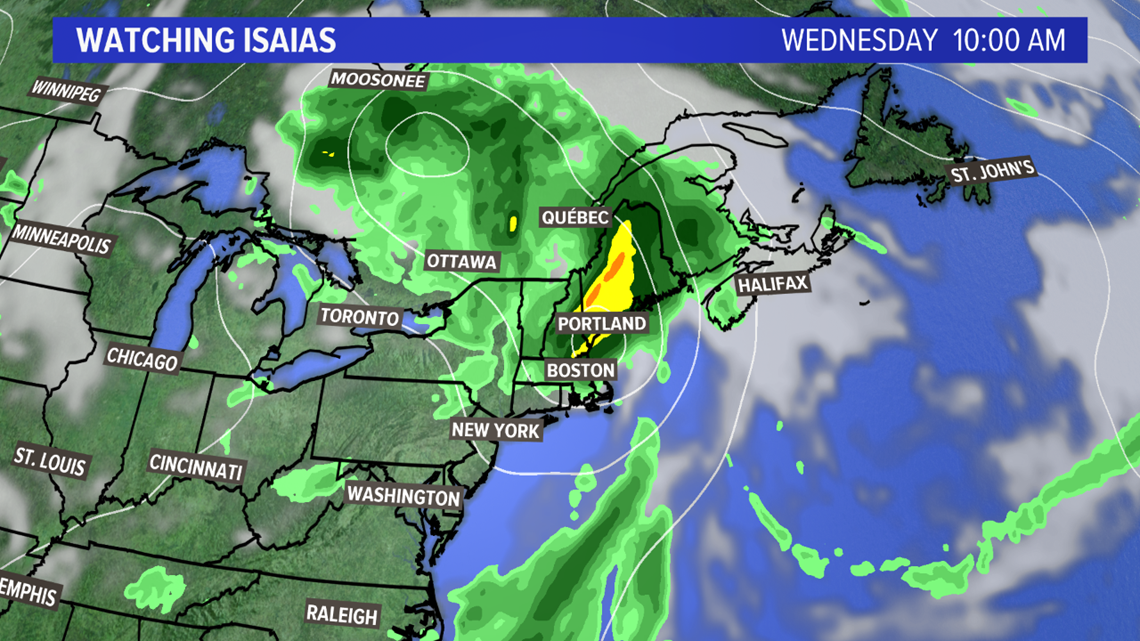 The issue here will be the exact track, as well as just how strong the storm itself is. A stronger storm with more organization will pose a bigger wind threat, while a storm that turns east and goes to sea would lead to just some showers locally.
Uncertainty in impacts to Maine
The best way to outline this is with a graphic of the three possible outcomes.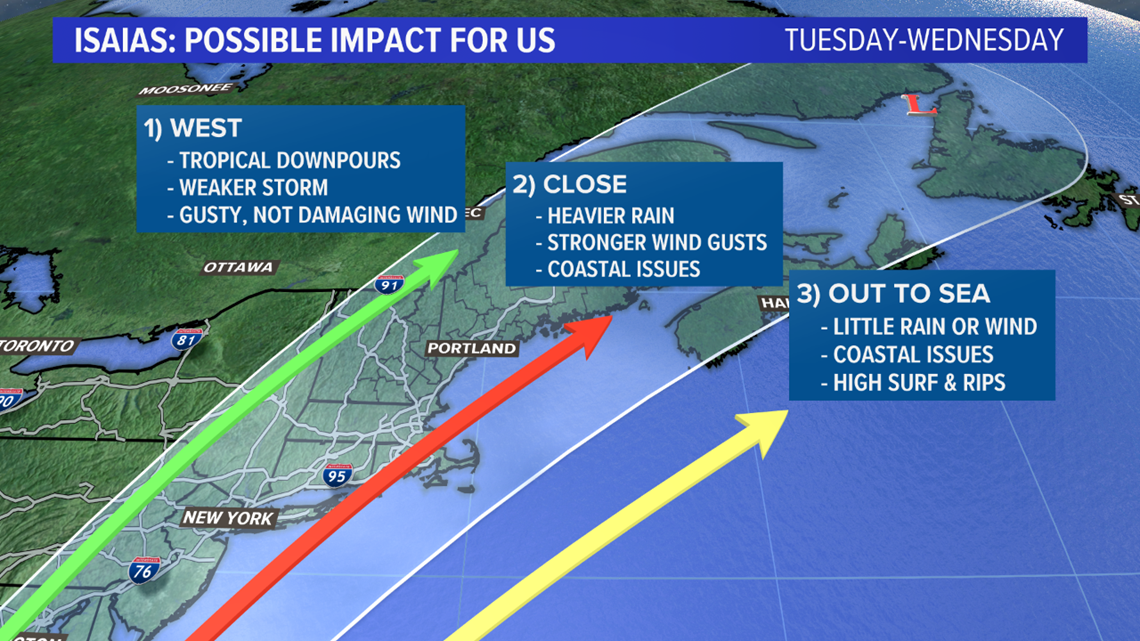 If track 1 is realized, this would put the storm over land sooner. Tropical systems need warm oceans to stay strong; if it moves over land, it will weaken considerably.
This track would still result in some gusty winds locally as well as some tropical downpours. It is unlikely that a storm with an inland track would stay strong enough for damaging wind gusts.
Track 2 is the worst case scenario for us locally. The storm would stay over the ocean up until it hits Long Island, at which point it would cross southern New England and track up through the Gulf of Maine.
Strong wind gusts and heavy rain would be possible with this track. It would also lead to some issues at the coastline, including very rough surf and possible some minor coastal flooding.
The third track, which would be out to sea, seems a bit less likely than the other two. That said, there would still be some coastal issues with high surf and strong rip currents.
So, what should we expect as of now?
The impact most likely is heavy rain. We need rain in Maine, so we'll take the soaking rain that comes.
If heavy downpours pop over the same area, some localized high water will be possible. Otherwise, this is generally beneficial.
Wind is the wild card in this forecast locally. A stronger storm to our south will have a bigger wind impact. A weaker storm would be the opposite. It's important that the track and strength are closely monitored over the next couple of days.
Just in case there are some stronger wind gusts, it's a good idea to have a plan if you lose power.
Until then, we will just track the storm. We still have a couple of days to figure out the finer details, like rain amounts and wind gust speeds.