I can't help but feel as though I somehow jinxed us this weekend.
After I did some coverage on the tornado in New Hampshire last Monday, the pattern really looked like it would kick the fronts north of us, so we would just swelter like the rest of New England and not have to worry much at all about storms this weekend.
Well, I'm eating those words now, because there's a severe weather risk developing for Saturday afternoon — and Sunday afternoon.

A warm front nearby on Saturday and the following weak cold front will be enough to pop off a few storms in the afternoon.

The area highlighted in yellow is where these storms most likely will be. The lingering stable, marine air south and east of this region will likely cause storms to decay and weaken.
The biggest risk is certainly strong wind gusts, with a secondary risk of small hail.
I've really been digging into the details of what this environment will hold for storms, and I think there's a small chance one or two will try to rotate. The tornado threat remains extremely small, but I'm not ready to rule it out completely.

Timing on this is mostly in the evening, roughly between 5 and 10 p.m.
The progression will be from the northwest to the southeast, spreading through northern New Hampshire and western Maine Saturday evening. They'll likely impact New Hampshire before 7 p.m. and western Maine after 6 p.m.
Expect the storms to be wrapped up entirely by 10 or 11 p.m. The severe risk should fade quickly after 9 p.m.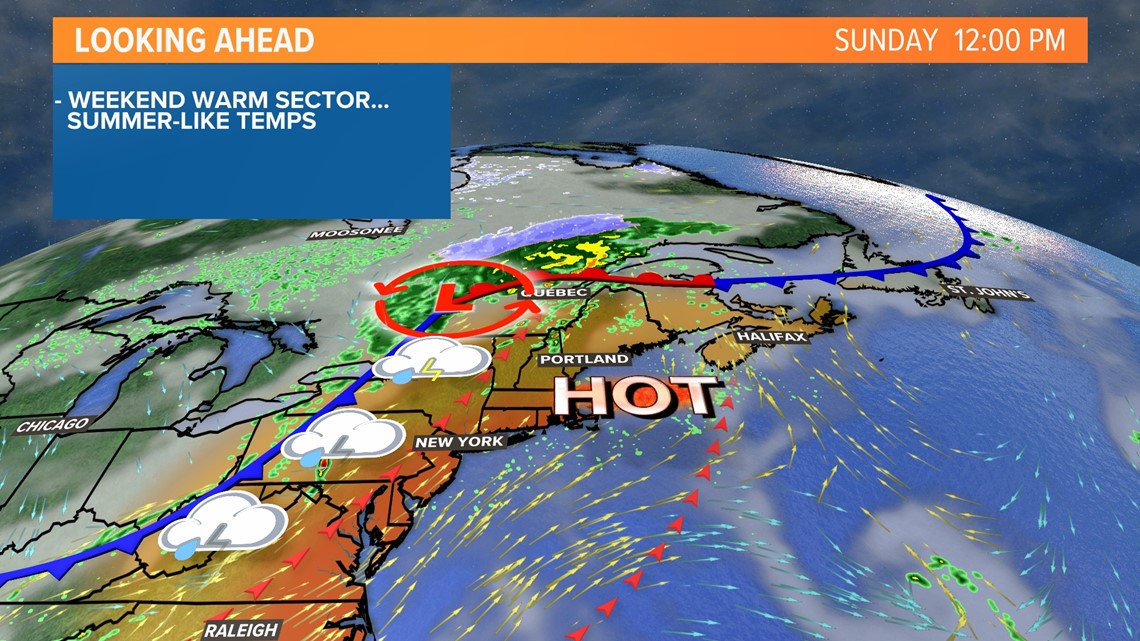 While Saturday's severe weather threat is a bit more localized, Sunday seems more widespread.
A line of storms will fire along the cold front on Sunday afternoon. These storms are going to move into an environment that is primed for strong storms.

This map looks very similar to Saturday's map, but it encompasses a larger area of Maine.
I also think Sunday's storms may reach the coastline.
The biggest risk is going to be from strong wind gusts, but hail may also fall under stronger storms on Sunday afternoon.
A quick spin up cannot be ruled out here, either, especially for any storms that end up out ahead of the main line.

The timing on Sunday is actually a bit earlier, with the first storms bubbling up around 2 p.m.
These will begin to form in New Hampshire and start moving east into Maine. Any storms ahead of the front itself will need to be watched closely. They'll be able to tap into some extra wind shear, allowing for potential rotation in some cells.
Assuming that something pops up ahead of the front, there will be a secondary line of storms that fire along the cold front.
These are the storms that are most likely to bring strong wind gusts and some hail through Maine.
Everything should be wrapped up by 10 p.m. or so. Dry, cool air quickly fills in behind the front.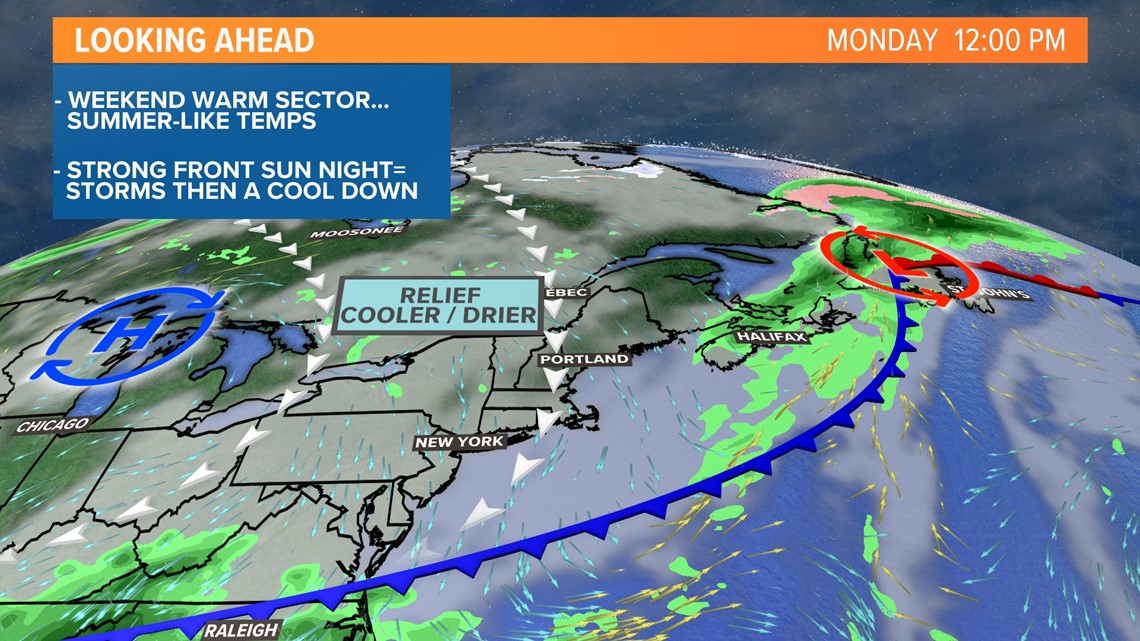 On the bright side (literally), sunshine will filter back in on Monday. High pressure Tuesday will allow for full sunshine and low humidity.
It's a good idea to prep for strong storms, especially in western Maine.
Charge your devices and make sure you have a way to get notifications and alerts.
Jason will have more updates this evening.