MAINE, USA — A 5.1 magnitude earthquake was recorded near Spartan, North Carolina at 8:07 a.m. on Sunday, August 9.
The quake was shallow. It occurred around 2.3 miles below the surface. According to the United States Geological Survey (USGS), a shallow quake is considered to be 0 km (0 miles) to 70 km (43.5 miles) below the surface.
Reports of shaking were registered as far away as Ohio, Maryland, and Georgia.
Since I started my career in West Virginia, I still have a lot of social media followers from that region. I asked if any had felt it, with a few people commenting that they indeed had. You can read the post here.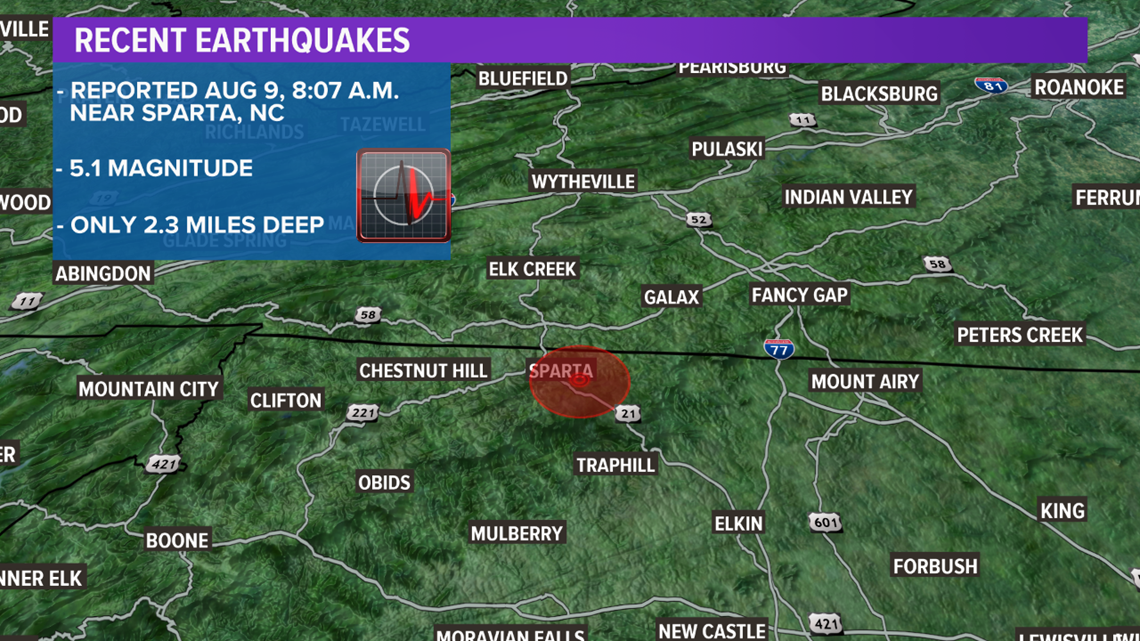 Numerous reports of shaking started appearing on social media shortly after the earthquake occurred.
There have been some reports of damage associated with the quake. Most of the reports are close to the epicenter. The link below has more information on damage as well as pictures.
The map below also shows just how widespread the reports of shaking were. Each dot represents a report of shaking. Some of the further ones are unrelated, but a lot of the reports near the Mason Dixon and into the Ohio River Valley are verified and true.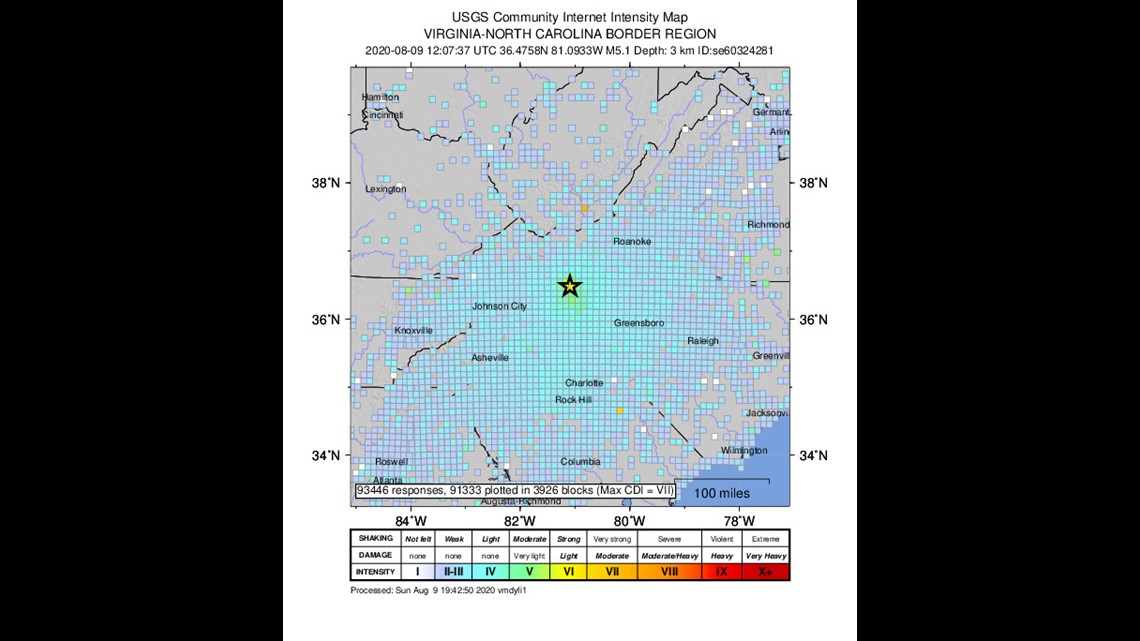 The seismograph at Colby College in Waterville also recorded the quake.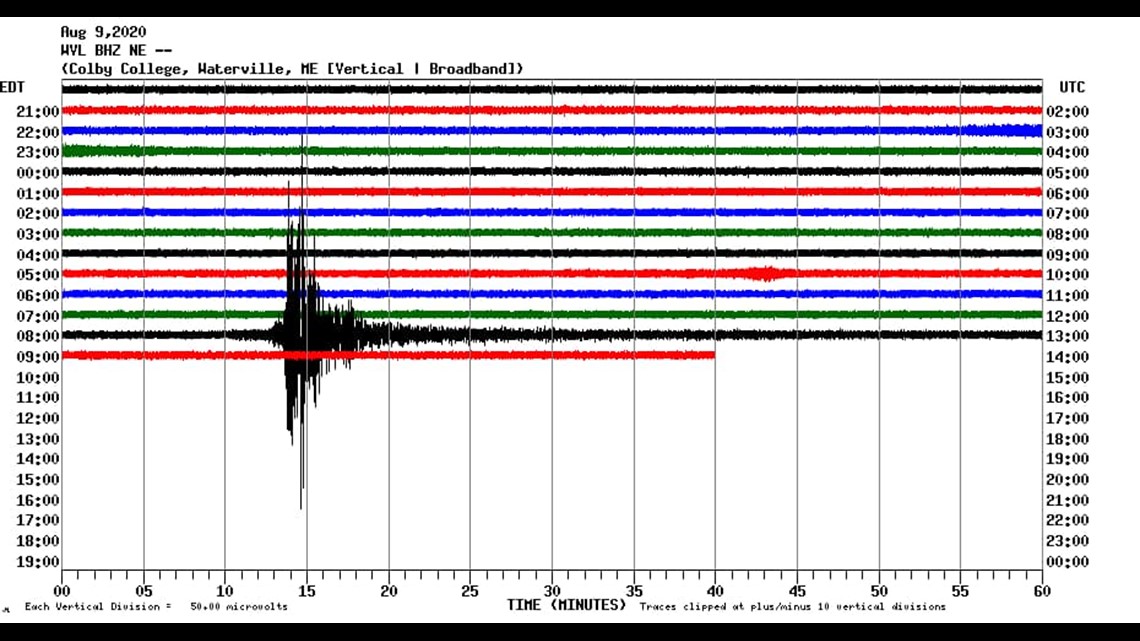 This is a pretty far distance from the epicenter. In a straight line, the distance is roughly 820 miles between Waterville, ME, and Spartan, NC. (Side note: the driving distance would be more like 950 miles! Of course, a quake doesn't need to use roads, though.)
The reason east coast earthquakes tend to be felt so far away from their epicenter is due to the earth's crust.
According to the USGS, the older and more dense rocks on the east coast allow the seismic activity to travel further. There also has been more time for the fault lines to heal, so the seismic waves can keep moving with fewer barriers.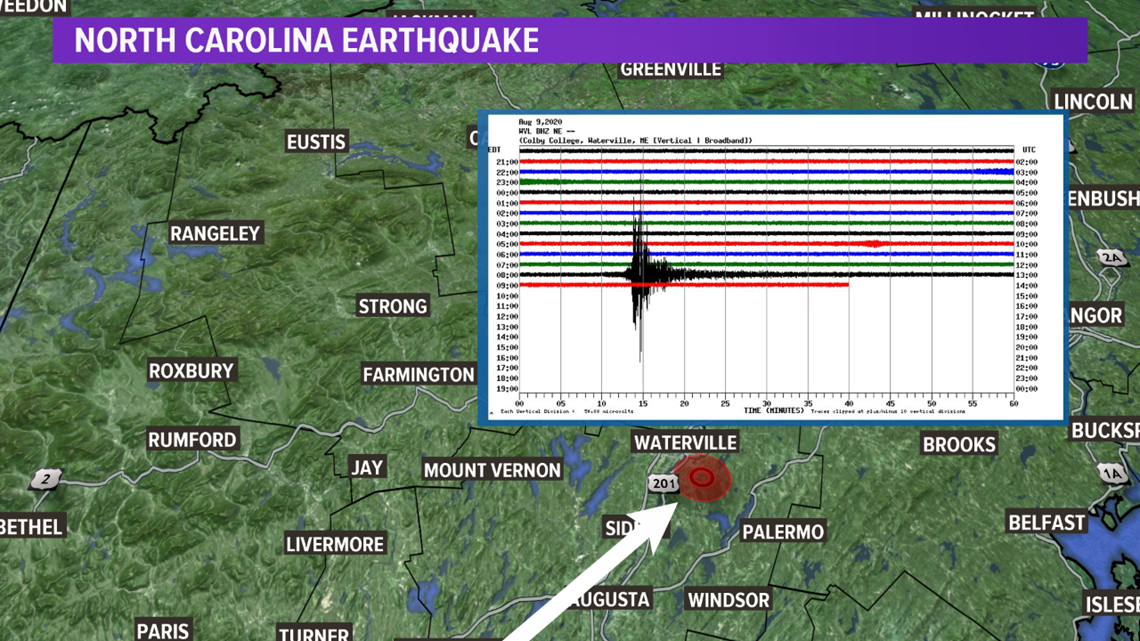 Maine is a bit too far to have actually felt the quake, but it's really cool to see our local tools registering seismic events that occurred hundreds of miles away.
For more information on weather and science, check me out on Twitter and Facebook. I also post dog pictures sometimes, which is the main reason people follow my accounts.