MAINE, USA — Well, I thought it would be time to build up the snow pack statewide and let the winter games begin. Or continue, for those who have snow pack right now.
Given the recent data and some lackluster observations on the ground, it's looking more and more likely that the Monday-Wednesday storm is going to be a bust for Maine and New Hampshire.
Snow is still in the forecast, but the amounts are not much. Small impacts, like slick roads under snow showers, are also still in the cards.
If big snow is what you want, there's some speculation that the end of the month could prove active.
Based off of the reactions on social media, half of you are going to love this and half will hate it.

The storm has trended weaker and a little more south and east. Some moisture will still get lofted in, especially Monday morning, leading to meager snow totals.
The map below is the forecast snow totals from Sunday night through Monday evening.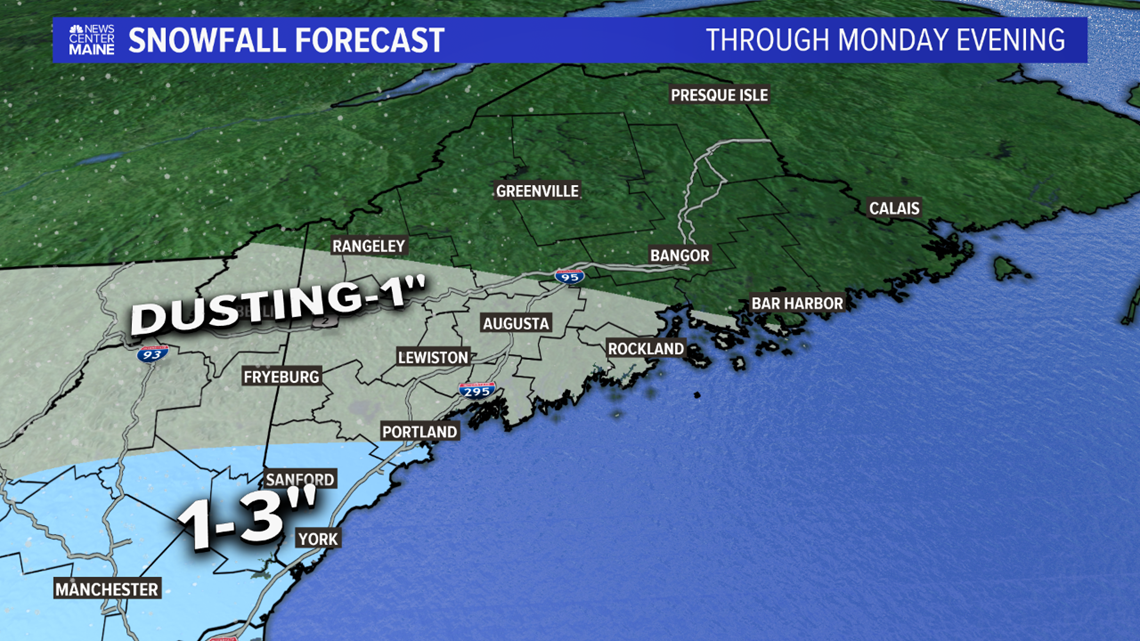 The blocking high pressure has been a concern from the start since it meant the low would actually track back toward the coast of Maine.

Yesterday I alluded to the possibility that a trend south on Monday could ruin the chance at snow, and that is exactly what happened.
The storm will end up situated a little too far away for big impacts (aka big snow) locally.

Given the upper level support for on and off light snow showers through the day, I'm thinking that flakes will fall just about everywhere.
That said, I could see the 1-3" range being brought closer to the coastline.
If the storm tracks the right way, some higher amounts (4" or so) are possible from the Midcoast to Augusta.
This map will be revised again, but remember that this is for snow that falls Tuesday morning through early Wednesday.

The storm starts to exit Wednesday, as local weather turns somewhat sunny and quite blustery.

Next one to watch is Saturday. Given the current storm track, I'm thinking this will stay south, but it's also quite a ways out. Check back for more!