MAINE, USA — Elsa was briefly a hurricane Tuesday night and made landfall Wednesday as a tropical storm on the west coast of Florida. Rain, strong wind gusts, and tornadoes were the main impacts on the Florida peninsula.
The storm will be traveling over the southeastern states Wednesday night and Thursday. When tropical systems move over land, they lose their energy source and become less organized. They continue to drop heavy rain though, and that will be the case here.
On Friday, the storm will emerge back over the Atlantic, and then start racing northeast. The latest forecast from the National Hurricane Center takes the center of it near Cape Cod, then through the Gulf of Maine, and brings the center of Elsa over Downeast Maine.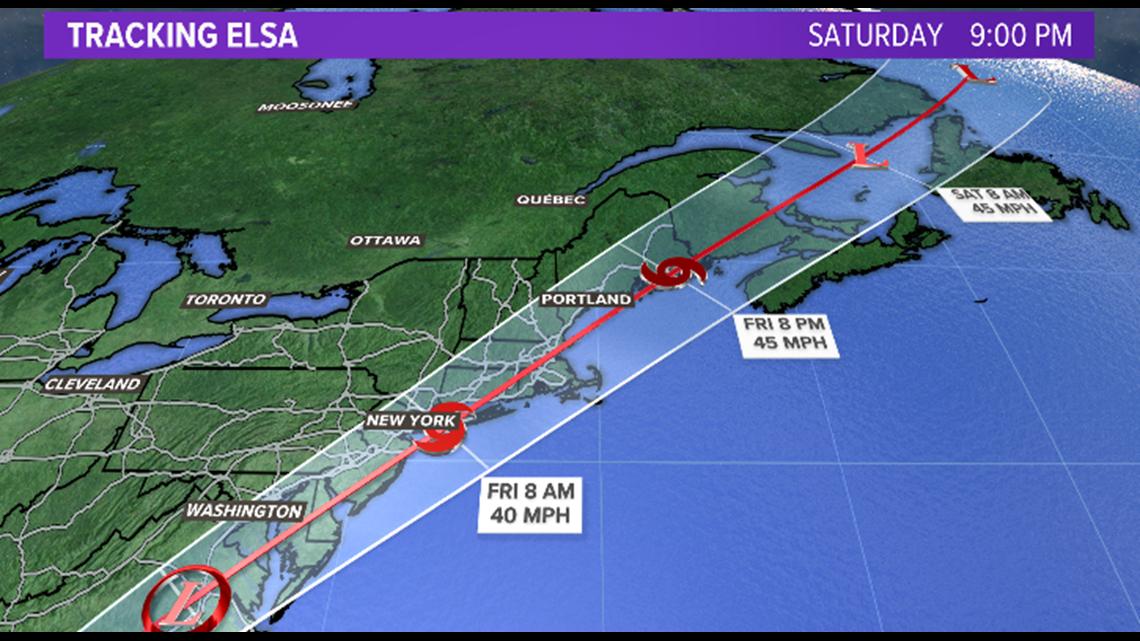 At this point, it's unlikely the storm will be truly tropical. It's more likely to take the form of a strong nor'easter or coastal storm, as tropical systems require warm ocean water.
The strongest wind will be on the east side of the storm. The current forecast track would keep the vast majority of that wind over water as the storm approaches Maine. Cape Cod and southeastern Massachusetts have a more legitimate shot at 40 to 60 mph wind gusts.
However, there is a small chance the center of the storm tracks farther inland. If this were to happen, wind gusts of 40-60 mph would be possible near the Maine coast. I rate this a fairly low chance at this point, but it's a trend we will be watching closely tonight and tomorrow morning.
For northern New England, I believe the biggest impact will be heavy rain.
Tropical moisture will be drawn north by a frontal system that, Elsa or not, would be approaching with showers and storms anyway. Elsa will feed this front and enhance the rainfall, especially in the mountains beginning late Thursday.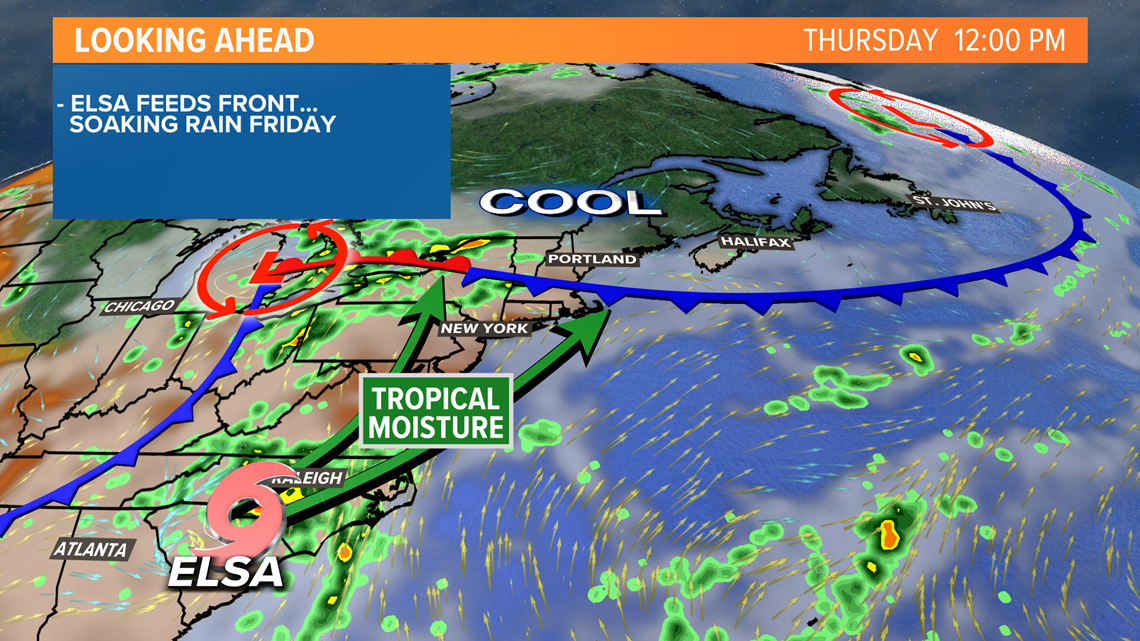 On Friday, what's left of Elsa will approach New England, bringing another surge of heavy rain, especially midday and afternoon.
It will be flying north though, so by Saturday, the storm will be long gone.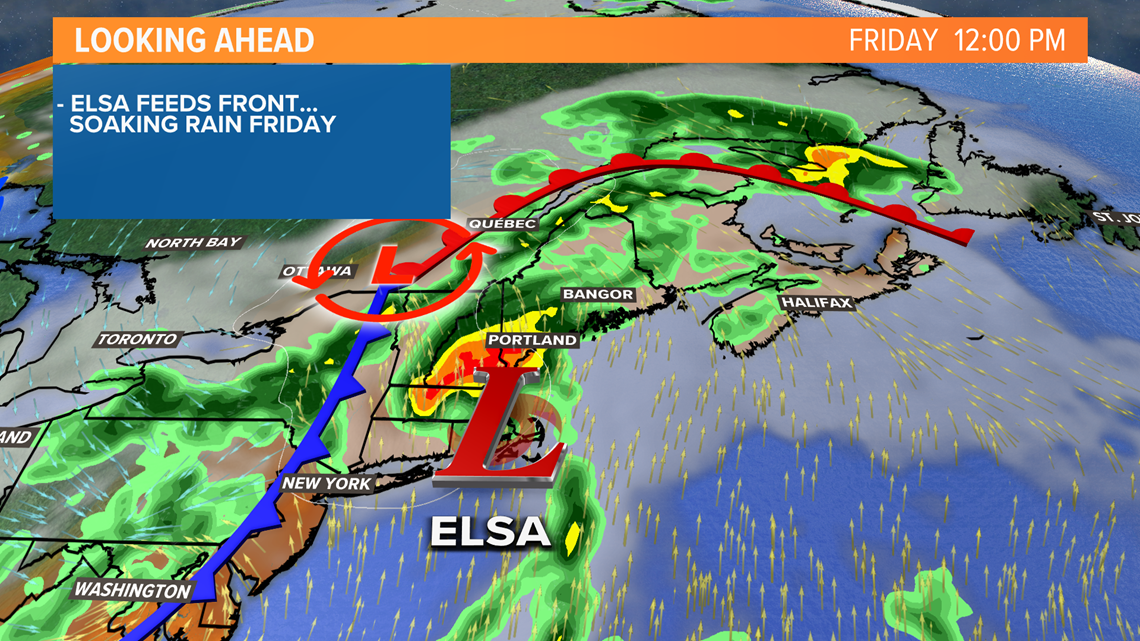 In total, 1" to 3" of rain is expected. That's a wide range, but tropical downpours can lead to big differences in totals from town to town.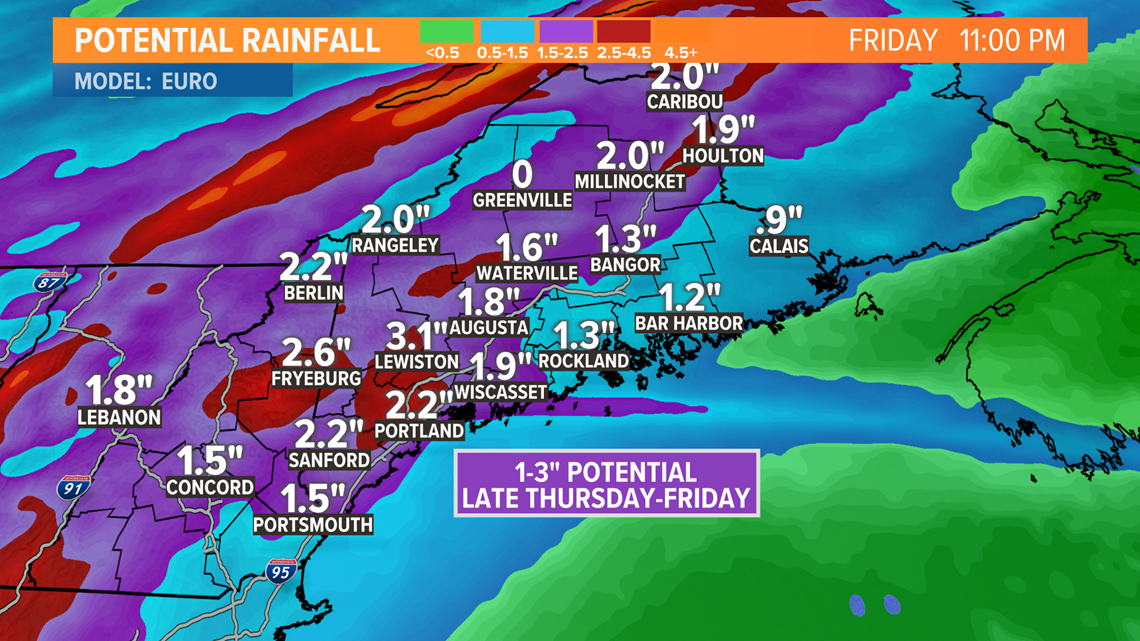 Keep in touch for updates tonight and tomorrow, in case the track of the storm shifts closer and brings wind into play for us.