MAINE, USA — I thought that, with Arctic air around and high pressure sitting north of Maine, this would be the storm that brought a (relatively) easy snow forecast. No mixing, no change to sleet, just fluffy flakes.
As we got closer, it became apparent that I was going to eat my words.
Here we are, with a big blog about how this storm starts off as snow and eventually changes over to sleet for some.
To add insult to injury, this isn't even the only storm like this over the next five days. At least that one still can trend colder...but let's get through this one first.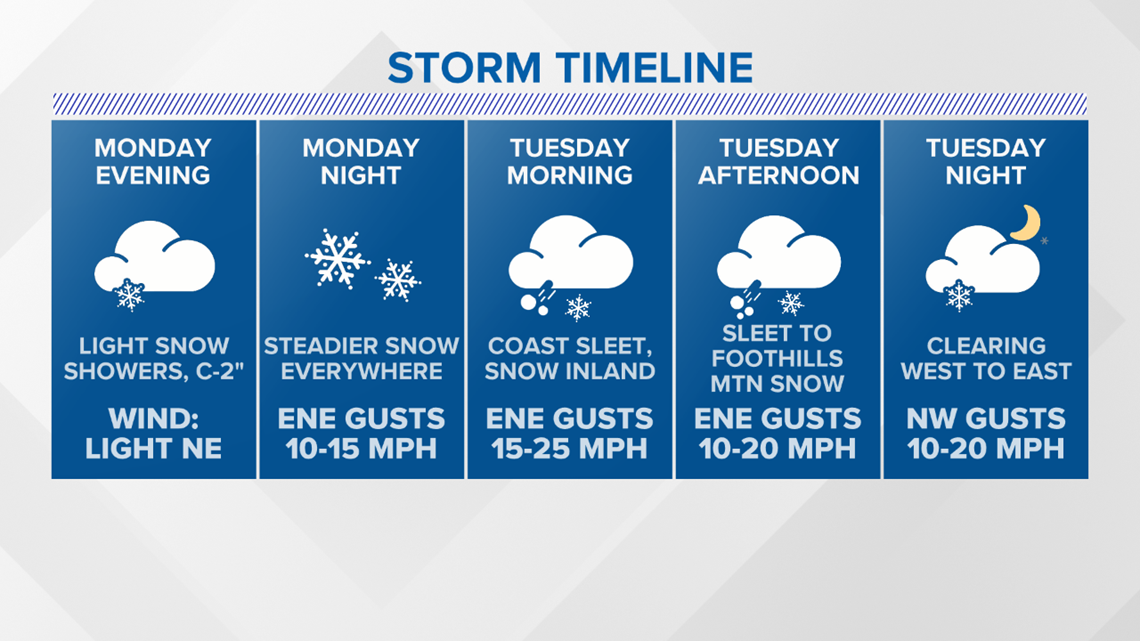 A brief breakdown of this storm shows snow showers starting up on Monday, mostly in the afternoon and evening. Some spots could squeeze out an inch or two from these, plus they might make roads a little slick in spots.
This is just the appetizer to the main event.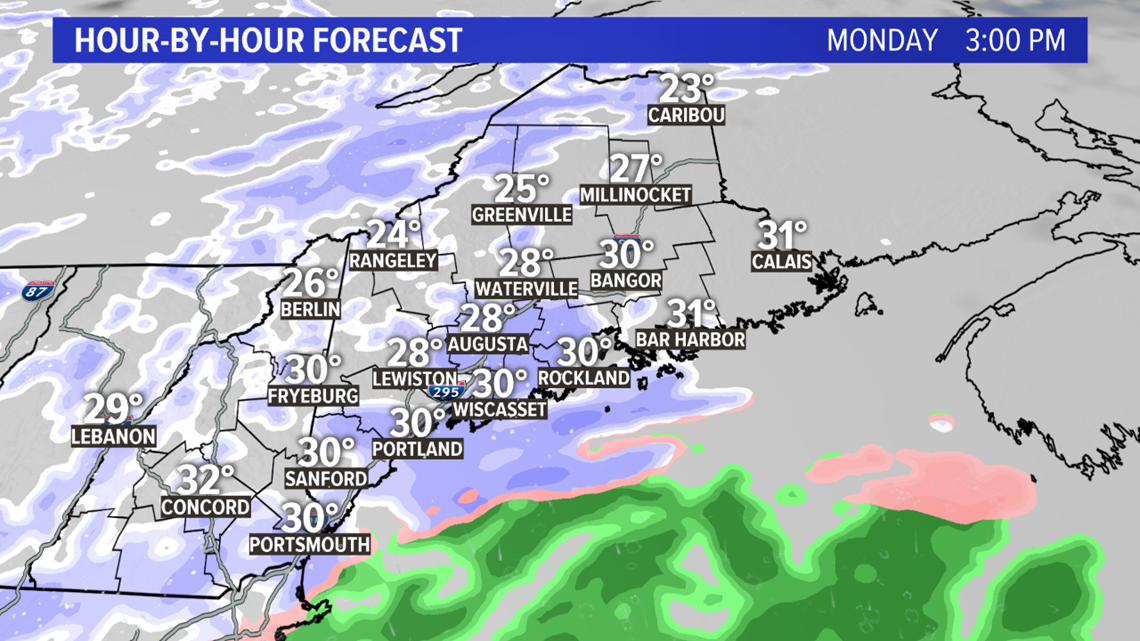 The steadier snow is expected a bit later.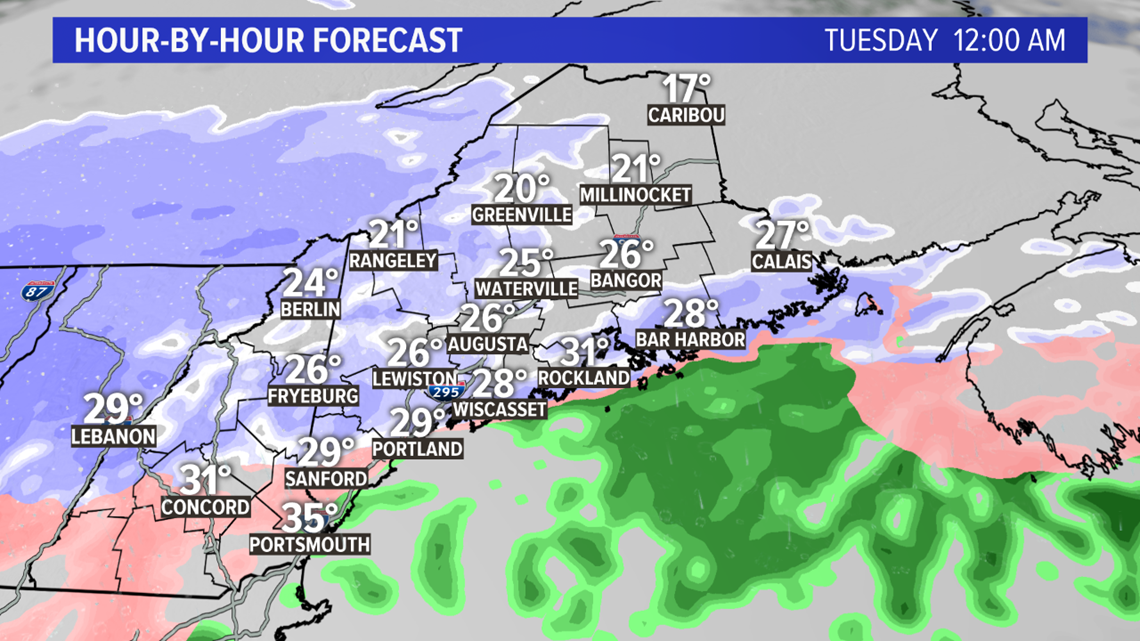 As the storm strengthens southwest of us, snow starts to edge in late Monday night.
Steady snow begins in the western mountains and throughout northern New Hampshire before midnight.
At the coastline, I still expect this storm to start as snow.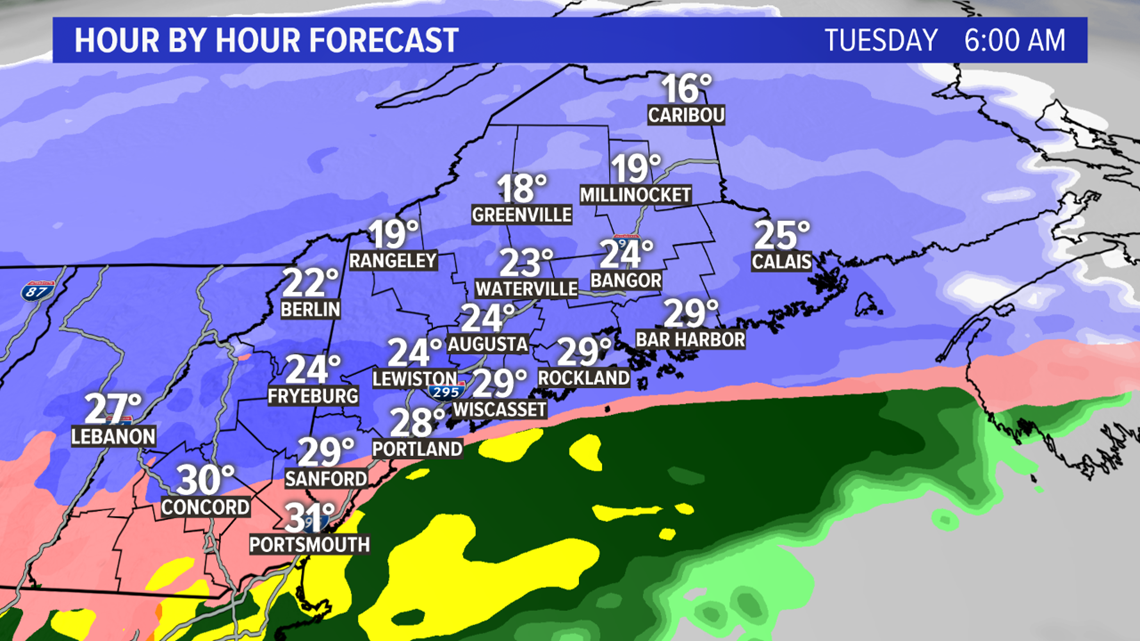 As sunrise approaches, the entire coastline will switch over to sleet, or at least snow mixed with sleet.
Just north of this mixing line, though, set up on a line from Fryeburg to Augusta, snow will be falling heavily.
Snowfall rates are forecast to reach or exceed an inch an hour. With the cold air locked in place well ahead of this storm, it's looking pretty slick out there on Tuesday morning. Whiteout conditions are certainly possible under heavy snow bands, too.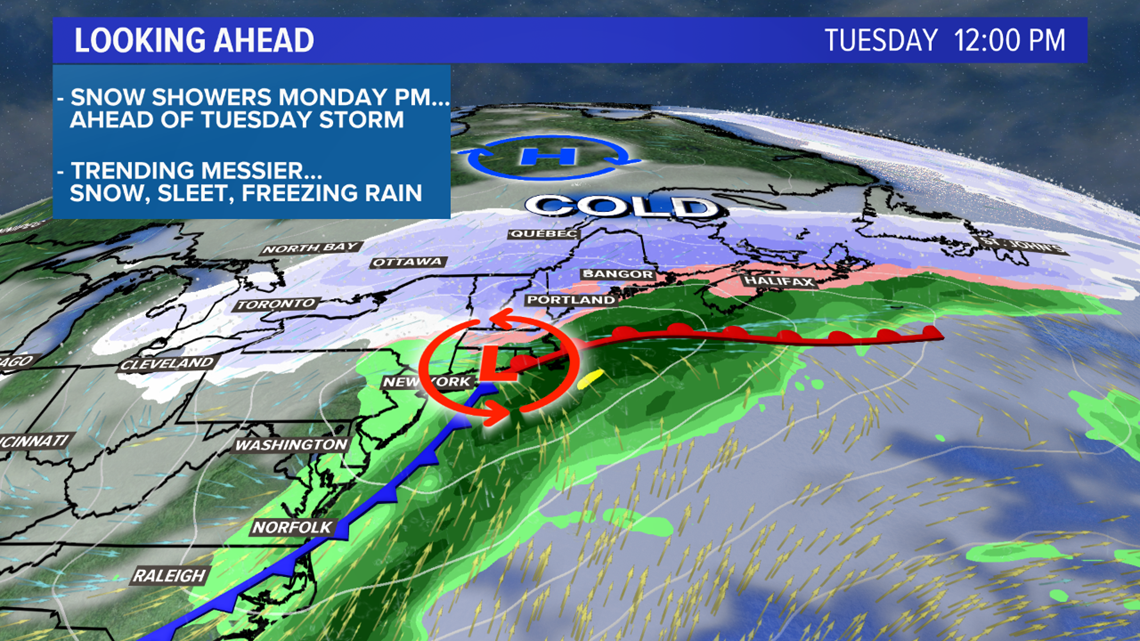 Through the afternoon, more and more warm air moves in over the cold air locked at the surface. The coastline will be mostly sleet. With a track south of Portland, I don't see temperatures getting above 30 degrees anywhere.
Snow showers may settle south as the storm wraps on Tuesday evening. These will not really add much to the totals, but could allow for a few flakes before all is said and done.
The storm wraps entirely later Tuesday, with blustery and bright conditions Wednesday.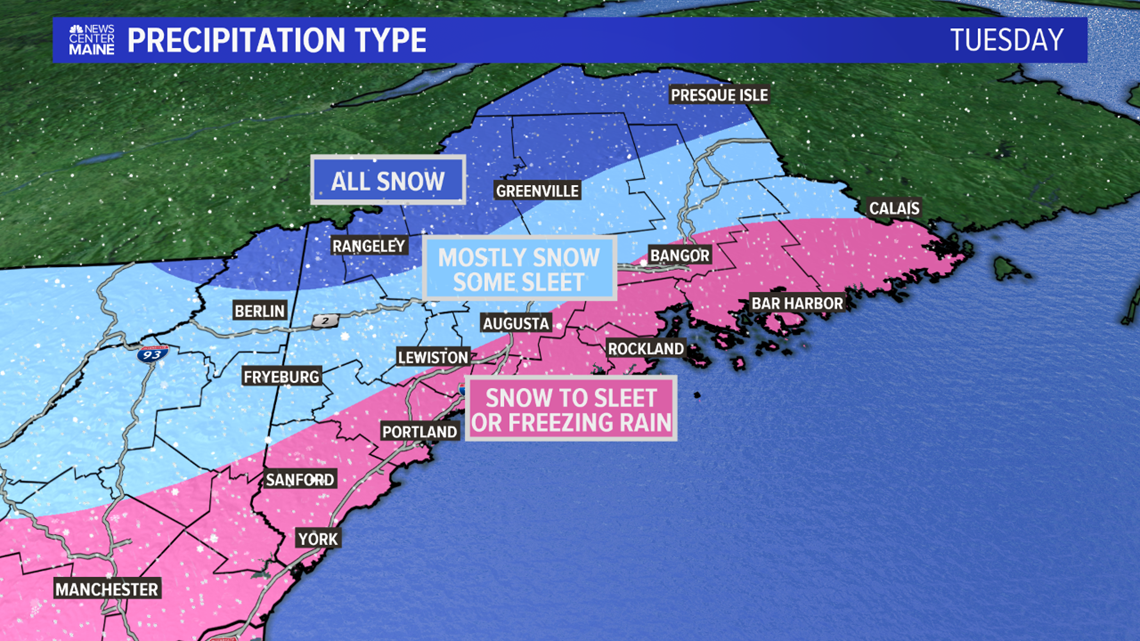 Another storm, another mess with sleet.
Good news with this map: I think the freezing rain threat is pretty small. The cold pool looks pretty deep, comparatively speaking, so that should keep things more on the sleet side.
It'll still be pretty slick, though.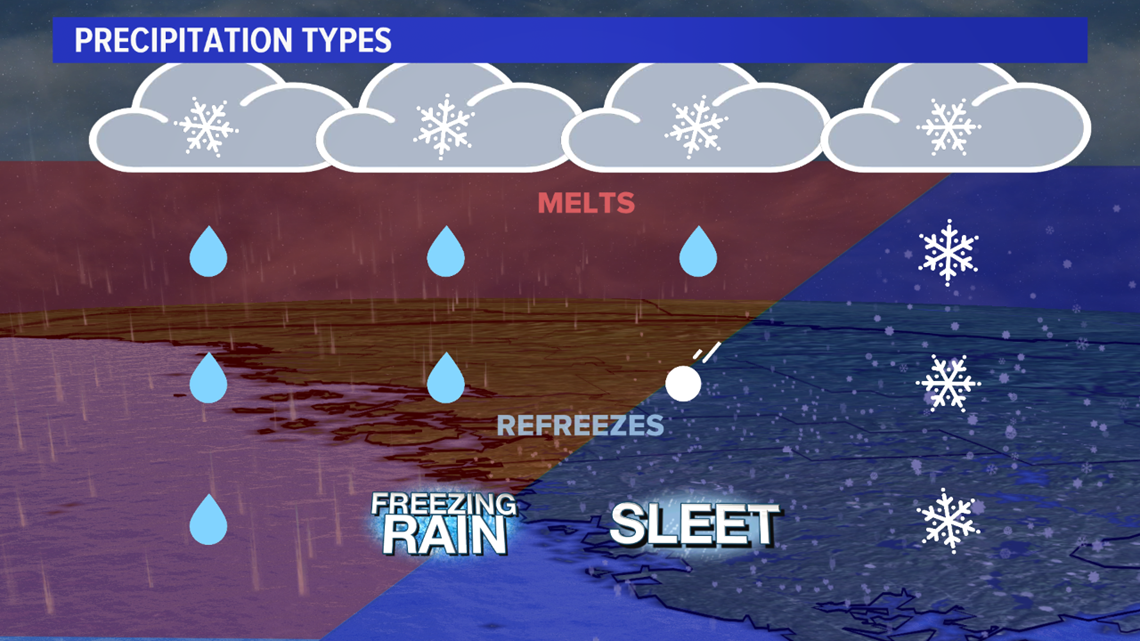 The schematic above is a good idea of the temperature profiles will work. I expect to be closer to the sleet and snow side of this.
There could be just a bit of freezing rain as the precip wraps up.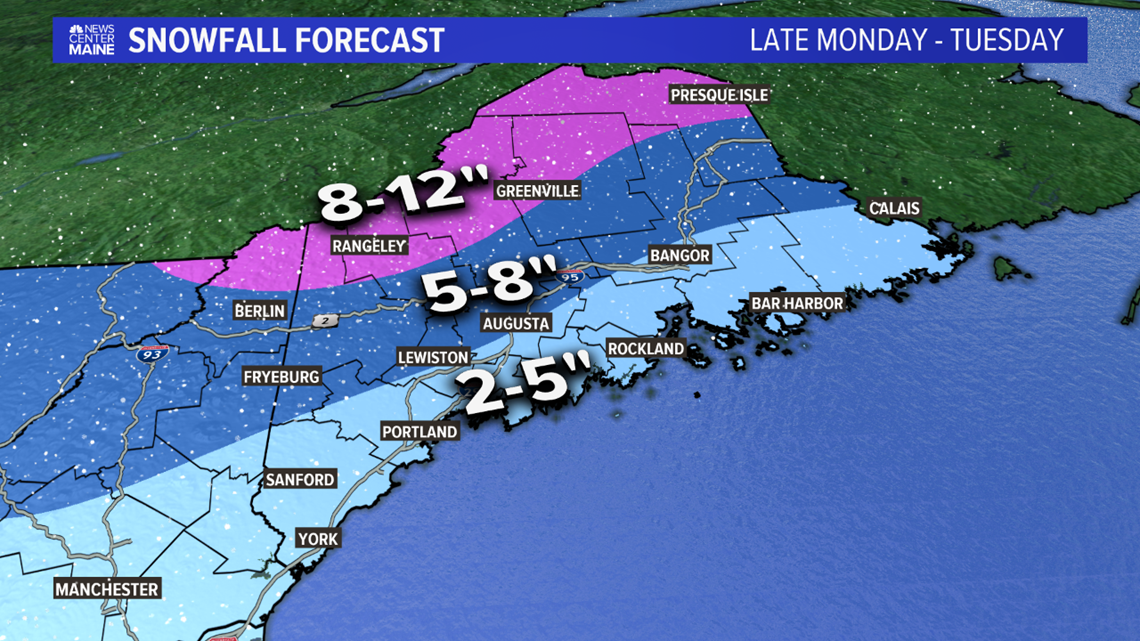 The highest totals will be in western and northern Maine. Central Maine might mix in a little bit of sleet, but there will still be about 5-8" of snow.
The coastline is a bit less clear, thanks to the sleet. We're thinking 2-5" is a lock, but it could end up being slightly less, especially along the coast in York county.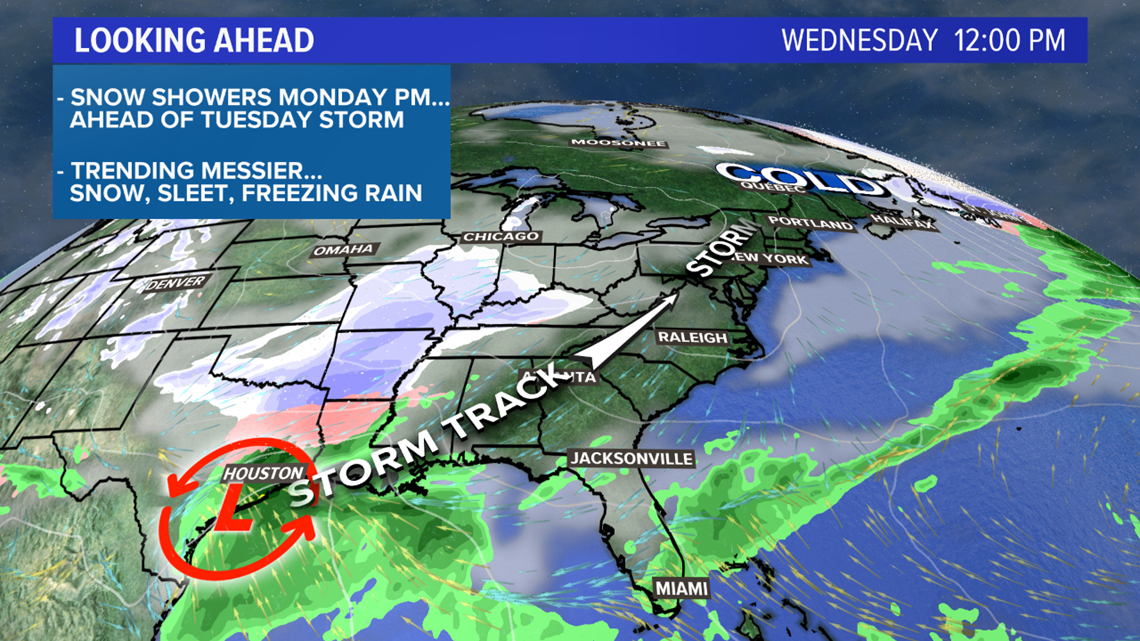 Locally, Wednesday will be bright and blustery. Temperatures stay between 25 and 30 for most.
What's that brewing down south, though? Another storm!
There's another storm threat for Thursday evening and Friday. It looks like it'll bring another mixed bag, but this one might bring some regular old rain, too.
More details as we get closer.