PORTLAND, Maine — You know the words ..."I'm dreaming of a white Christmas. Just like the ones I used to know." It's looking like Bing Crosby's words will ring true, just in time for the holiday season.
Low pressure from the Midwest is transfering energy to the coast, birthing a Nor'easter and spreading rain and snow into New England on right now.
We've had our eyes on this one for about a week, and as we close in on it, my thoughts haven't changed a whole lot. Big snow amounts are expected over the interior and at higher elevations. Closer to the coast, there will be a super tight gradient.
Thursday night and early Friday morning there will be a few drops and flakes due to onshore flow. This is not the storm, just ocean-effect precipitation. This often happens before bigger storms roll in.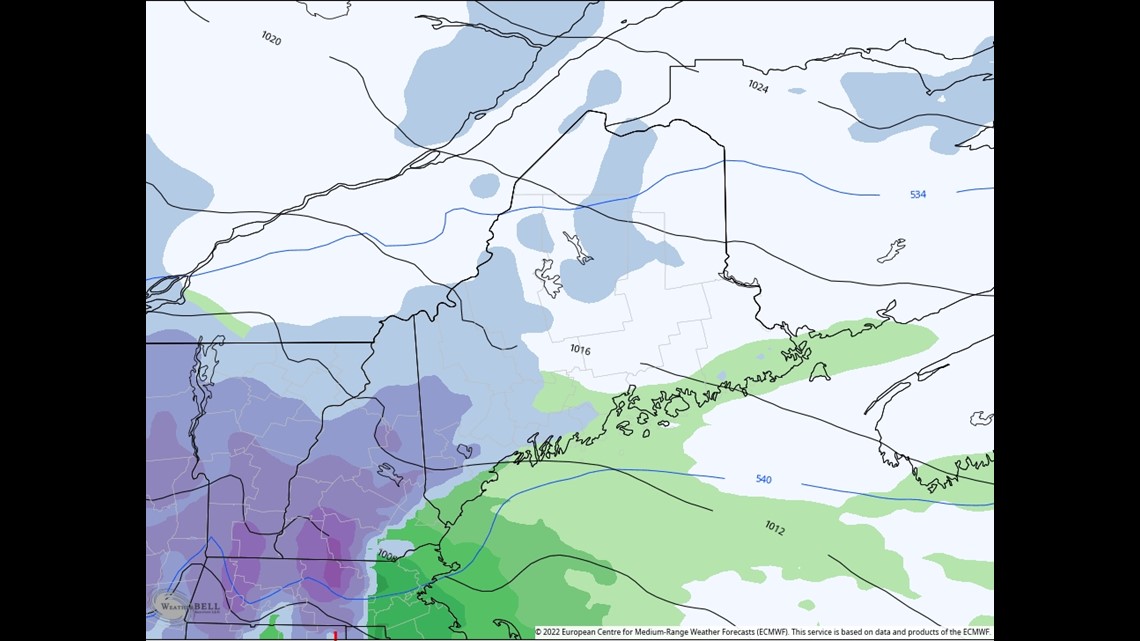 By mid-Friday morning, the storm's precip shield will be working north into southwestern Maine. It will begin as rain along the coast with mild surface air. Inland areas will see snow. It won't accumulate well through the day, however, with temps hovering just above 32 degrees.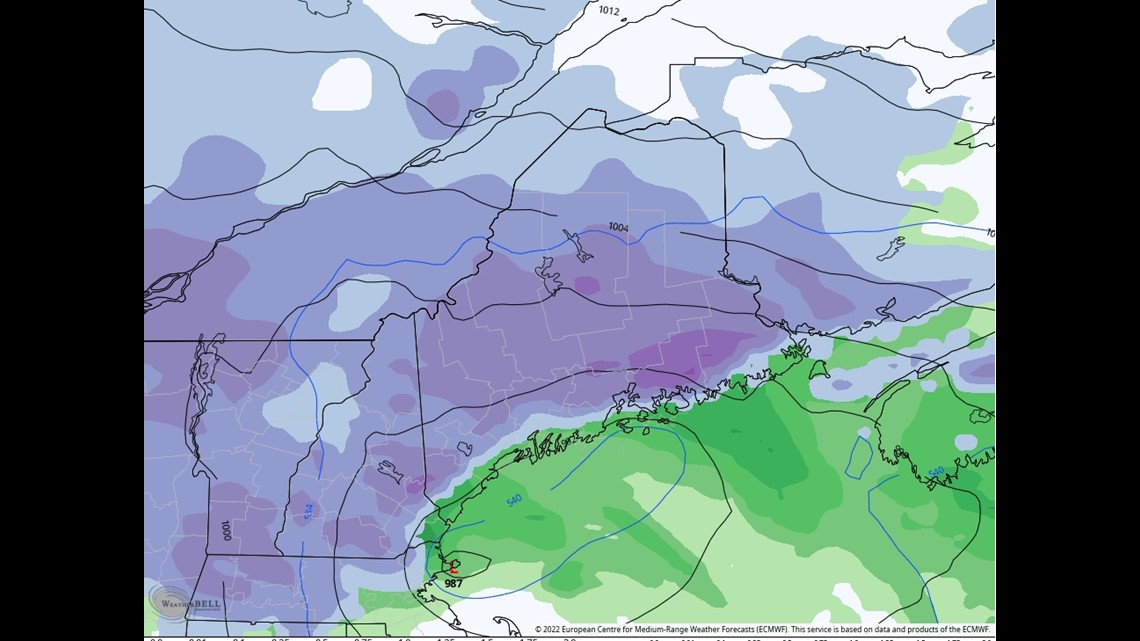 The low will travel from New York City to Boston and then into the Gulf of Maine. I'd like to see the low travel over the Cape Cod Canal for a more perfect snow track. While the interior will have no problem getting thumped with snow, the current track allows for mild air to infiltrate the lower layers near the coastline. Snow accumulation will be much more inefficient. Even after we flip from rain to snow Friday night, we'll have issues with boundary layer temperatures and splatting, wet flakes. Ratios will be sub 10:1.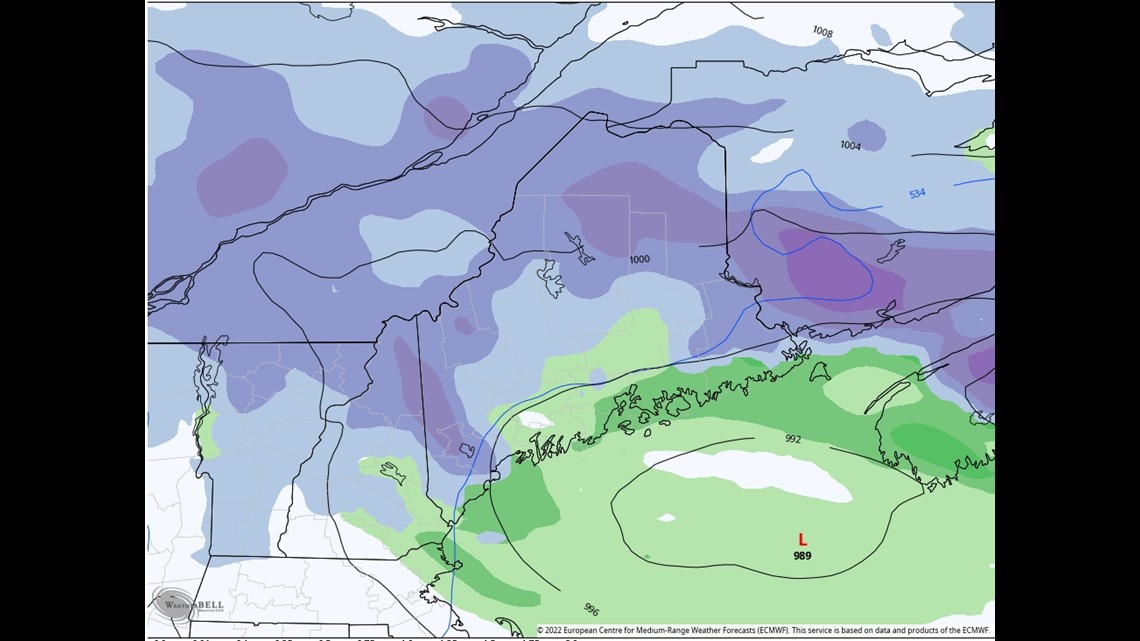 It's going to be a nail-biter for sure along the coast. It won't take much of a storm track shift or temp adjustment to bring the bigger snow totals to the coastline. I wouldn't be shocked if Cape Elizabeth gets a couple of slushy inches and Windham gets like 6+"... again, there's a razor-thin margin of error.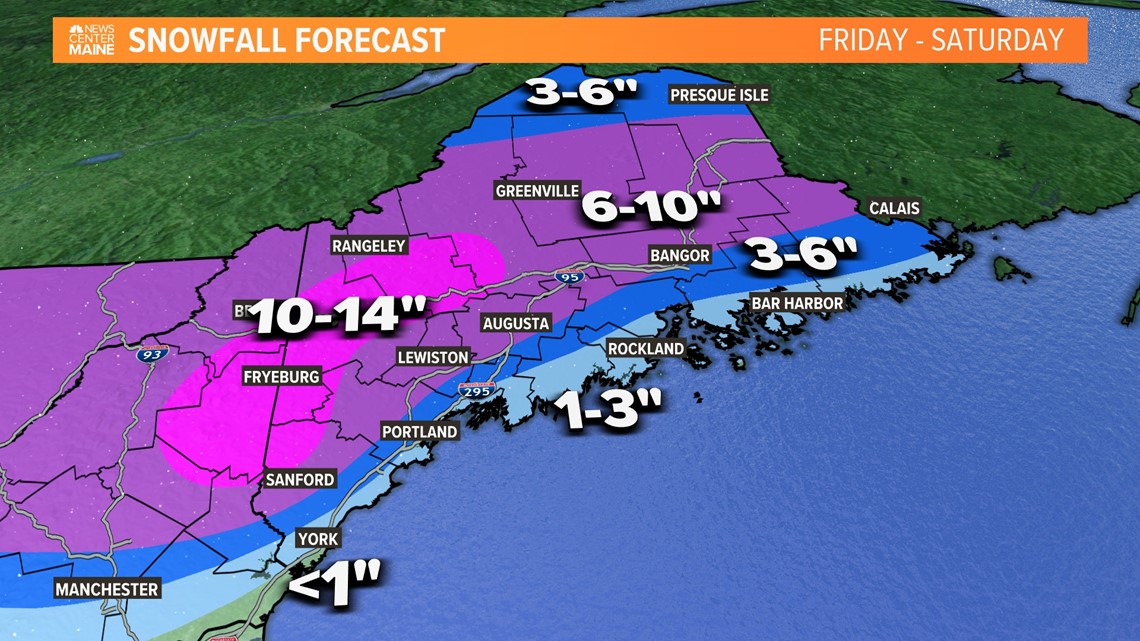 Here is a closer look at snow totals around the state.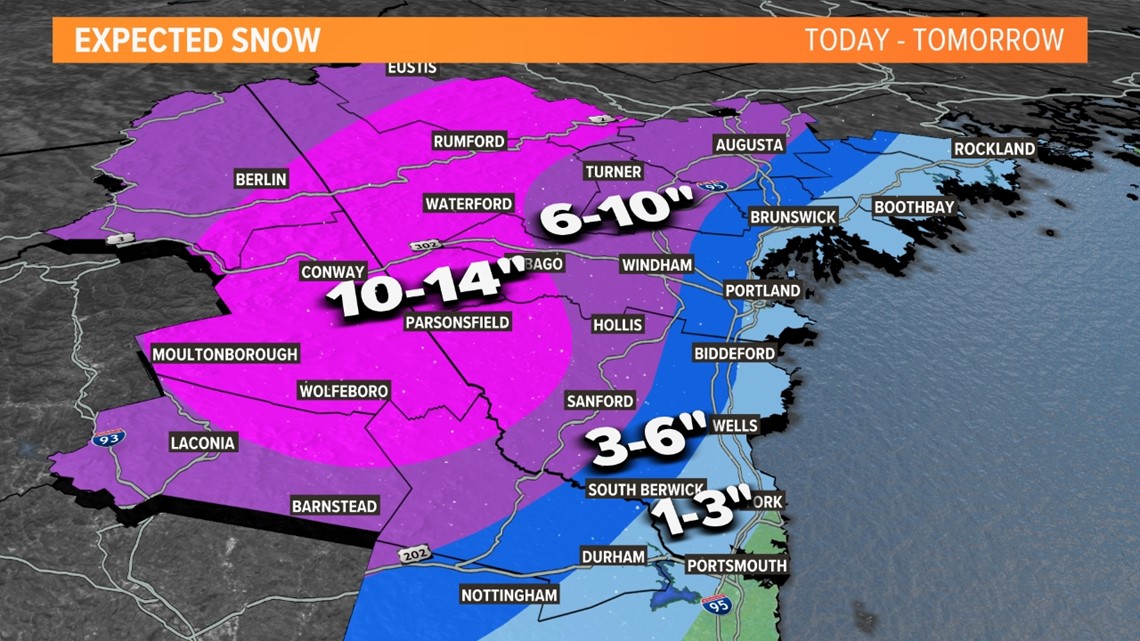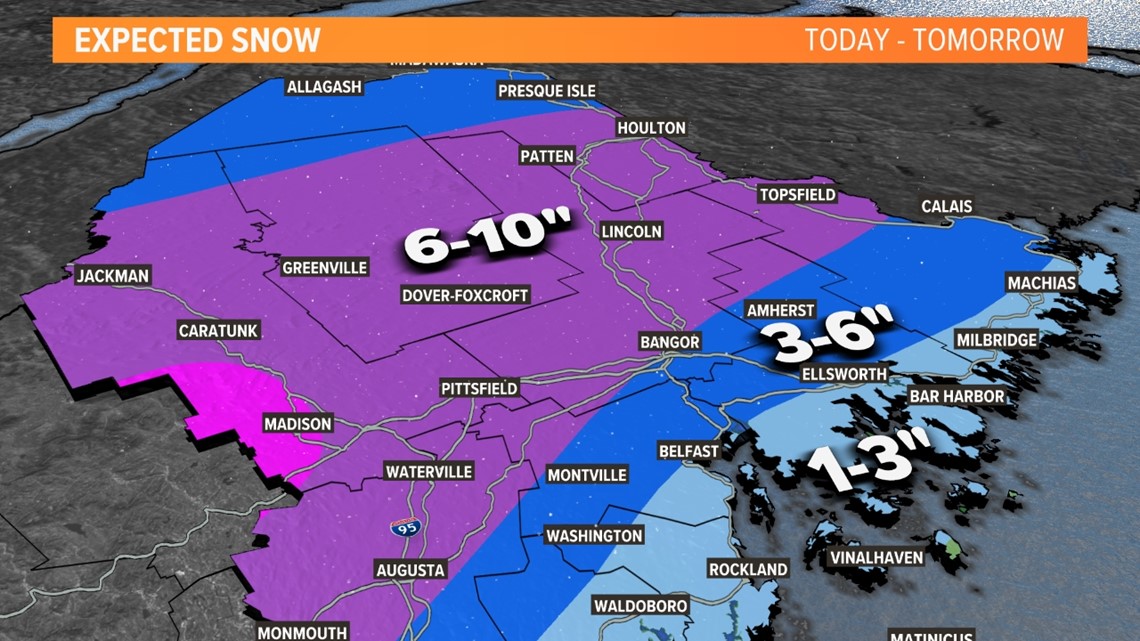 The start time on this system truly depends on where you live in Maine.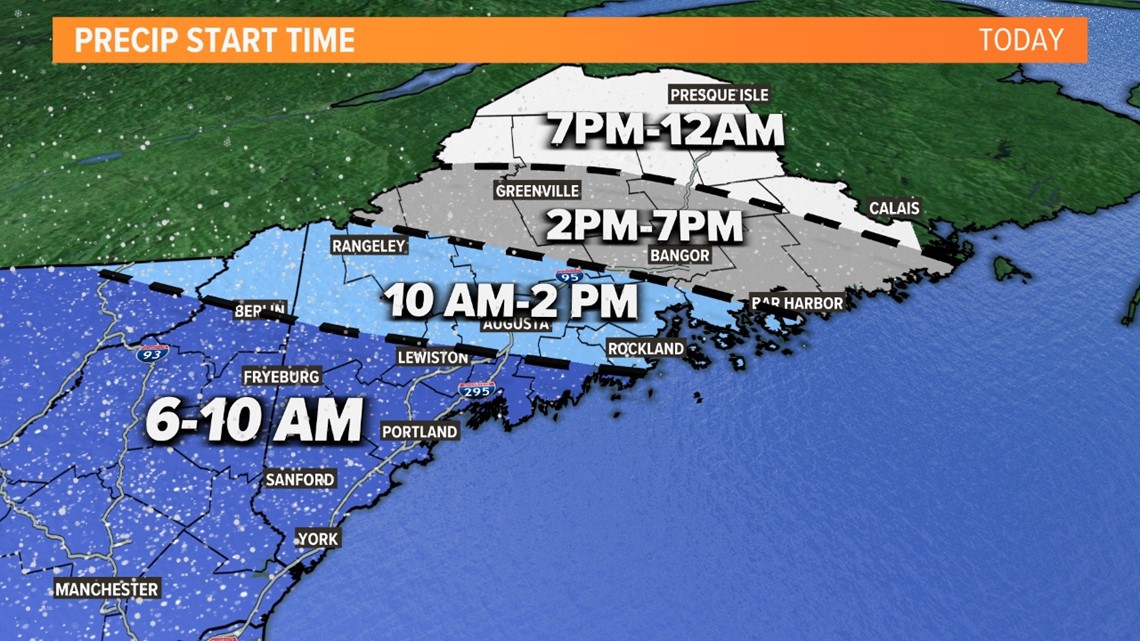 It will push in from the SW starting early Friday morning. If you live in Portland, Sanford, or York, you can expect the rain/snow to start Friday morning.
The storm takes its time moving into the rest of the state, which will leave many without any snow or rain until Friday afternoon or even evening.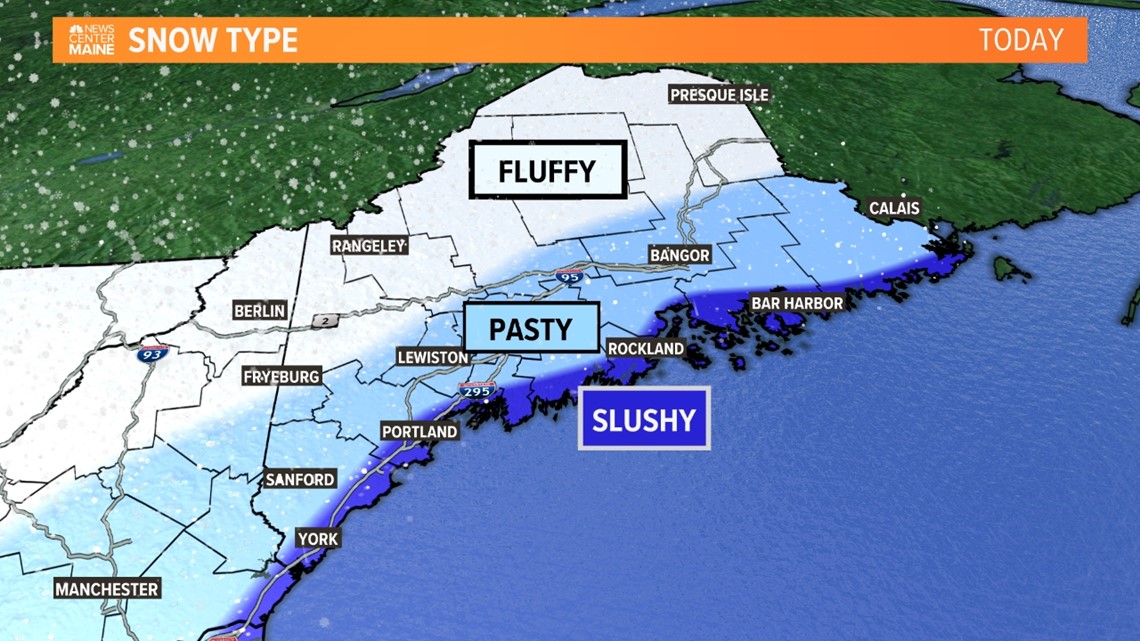 Areas along the coast will stay warmer, which will allow the accumulation to remain slushy.
This will quickly change as we move further inland. Those living in areas like Sanford, Lewiston, Bangor, and Calais can expect pasty snow. This will likely cause problems on the roads, even though they have already been pretreated in most areas.
Even further into the mountains and the rest of the state can expect fluffier snow in the forecast.
Obviously, keep checking back for updates.