MAINE, USA — What an October. As I write this, Bangor still has yet to reach 32° or lower. Augusta is in the same boat.
There is still some uncertainty with this storm's evolution. The biggest question is where the exact track falls, as that will give insight as to where the heaviest rain and strongest wind gusts will occur.
Either way, prepare for a few days of dreary and gloomy conditions. Strong wind gusts will also have to be monitored since the trees are still mostly in full leaf across the coast.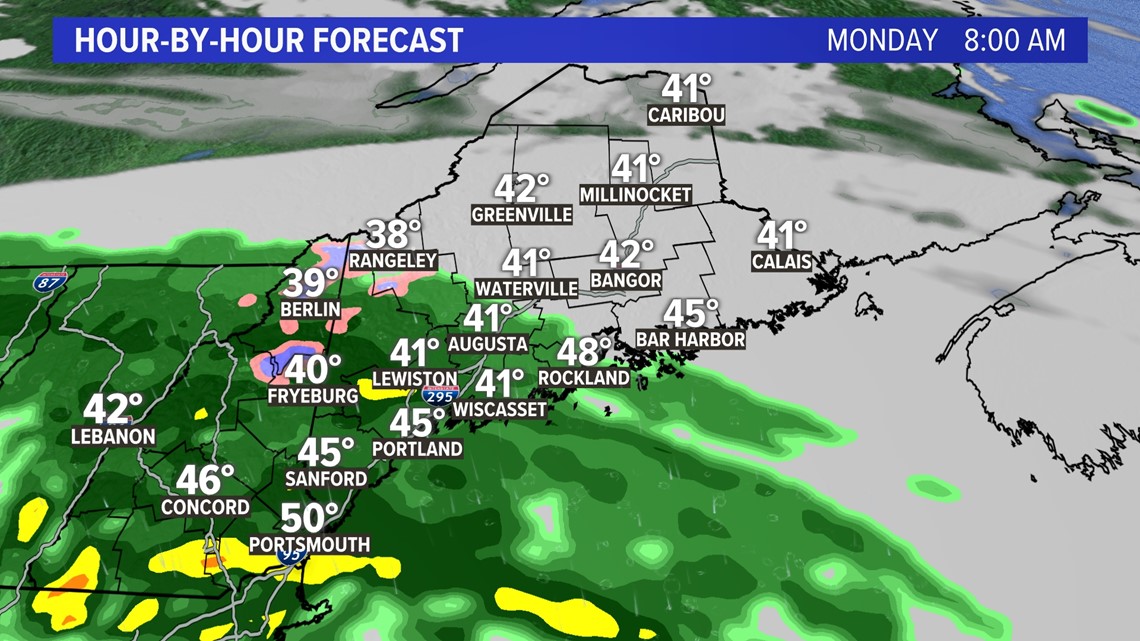 This all begins on Monday morning as a warm front moves by to the south.
Warmer, less dense air will rise up over the chilly air locked in place.
This will bring a batch of showers in the morning, especially across southern and central regions of Maine.
In the mountains, though, temperatures will be chilly enough to support some mixing. Snow is possible on peaks above 1,500 feet, with accumulation possible above 3,000 feet. There could be a couple decent snowliage opportunities across western Maine or northern New Hampshire!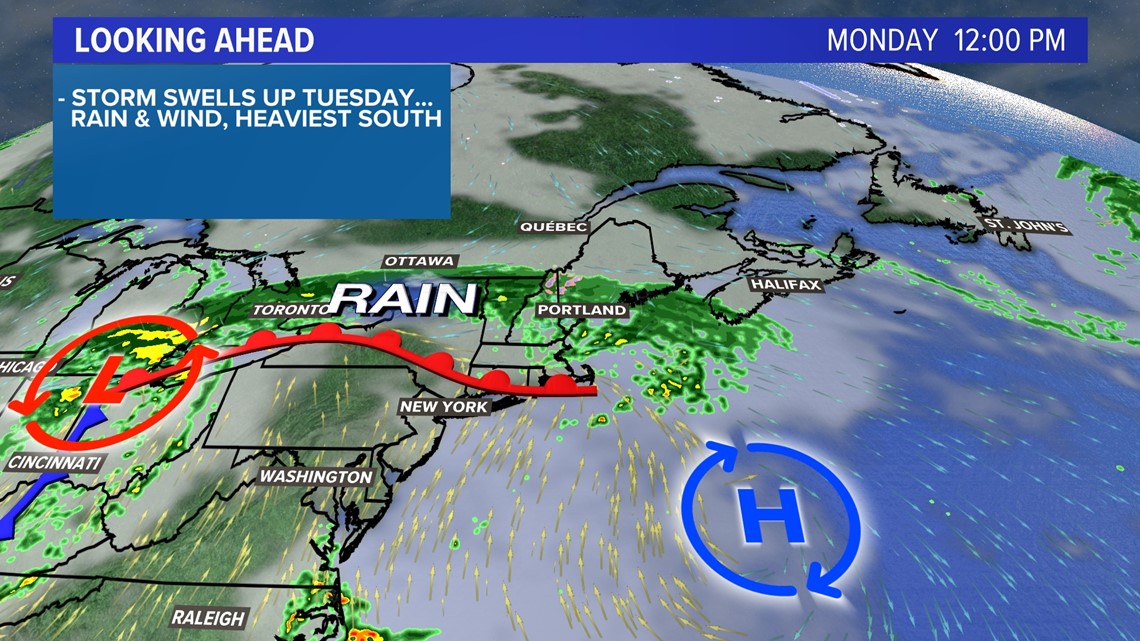 The evening looks dry, albeit dreary. Some drizzle might linger out ahead of the nor'easter, which begins overnight.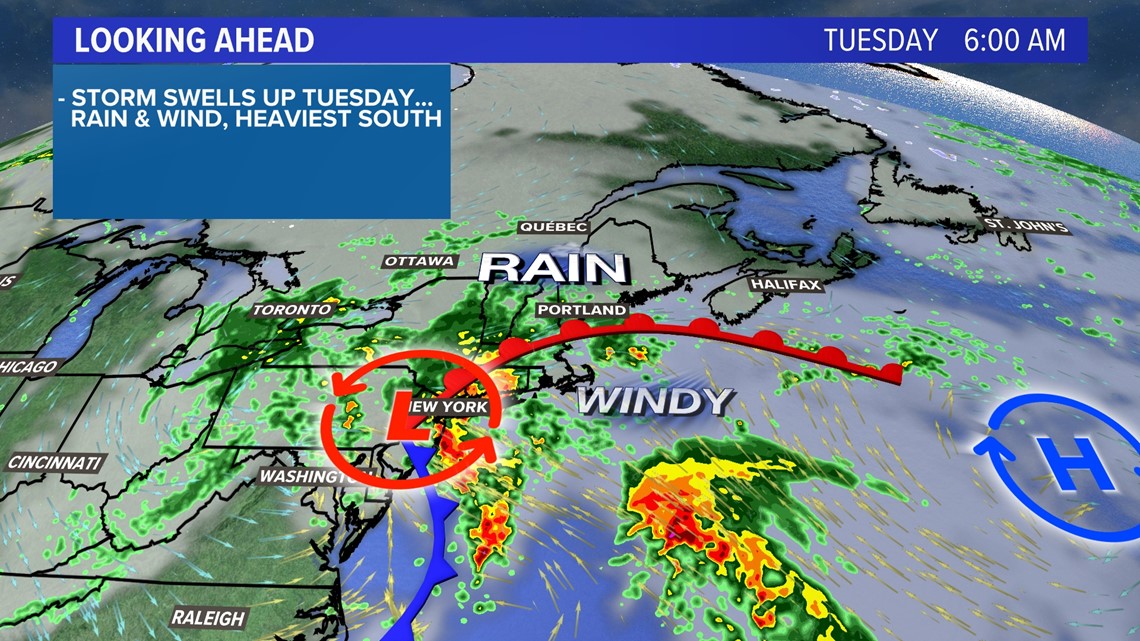 An area of low pressure off of the Carolina coastline will begin to rapidly strengthen Monday night as it moves north toward New England. This is when impacts locally will become more significant.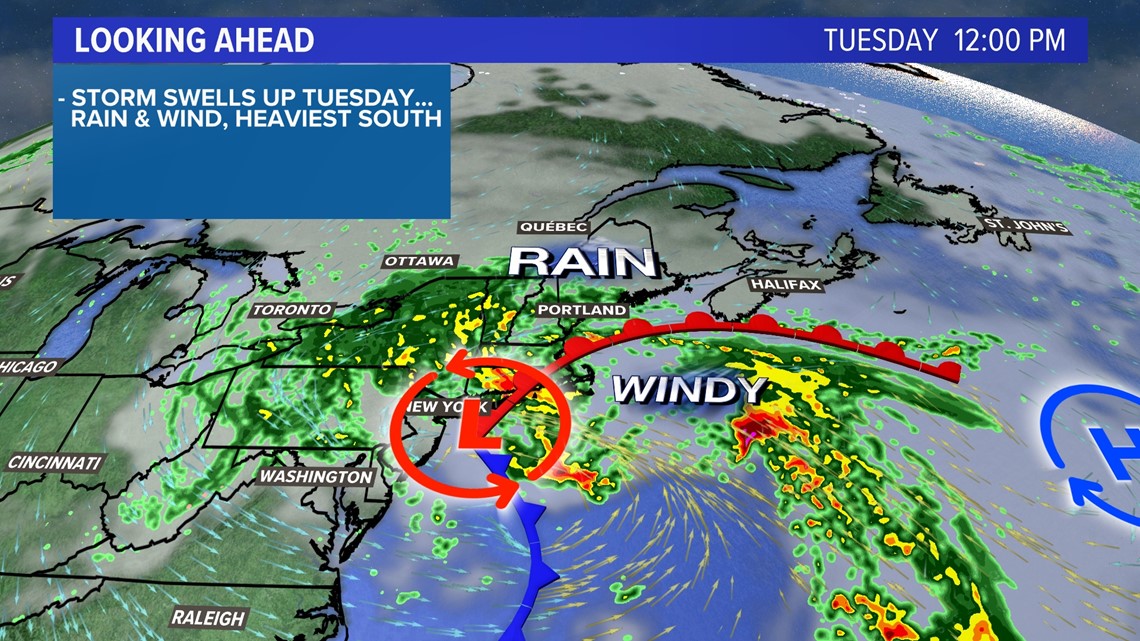 Rain, heavy at times, will begin on Tuesday morning. The heaviest will be across York county and into the New Hampshire Seacoast.
This is where that bit of uncertainty comes into play, though.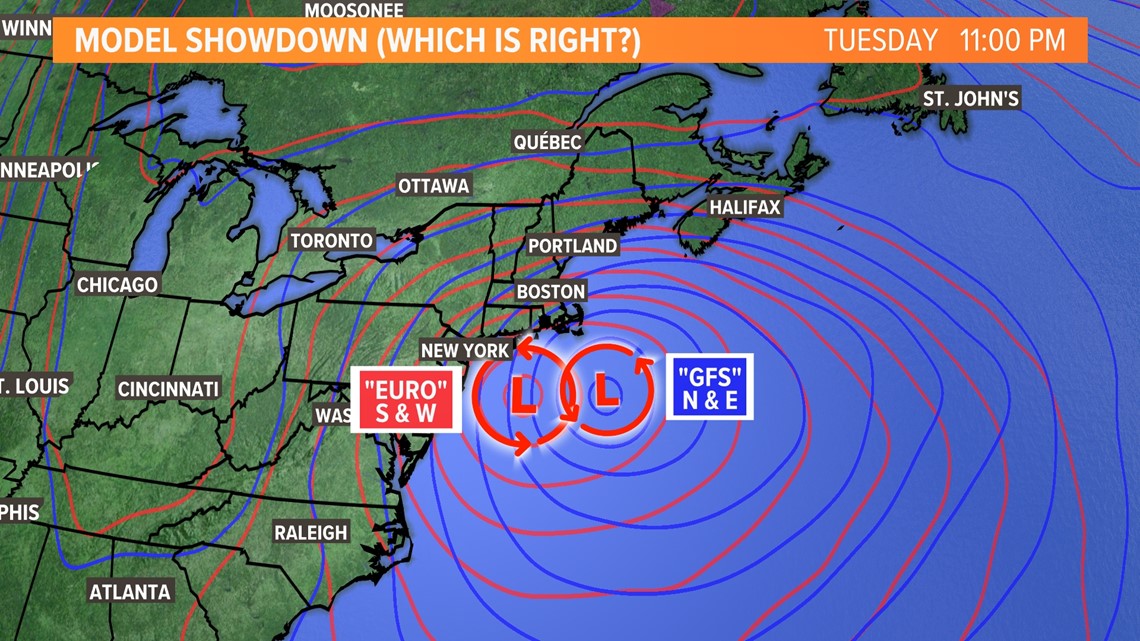 Some models are showing the storm a bit further south and west, while others bring it north and east. So, what does this mean for Maine?
A northern track means more heavy rain and strong wind gusts for more of the state. A southern track would keep some of the more impactful weather away from us.
Personally I believe, as Ryan stated this morning, it seems most likely that the truth lies somewhere in the middle.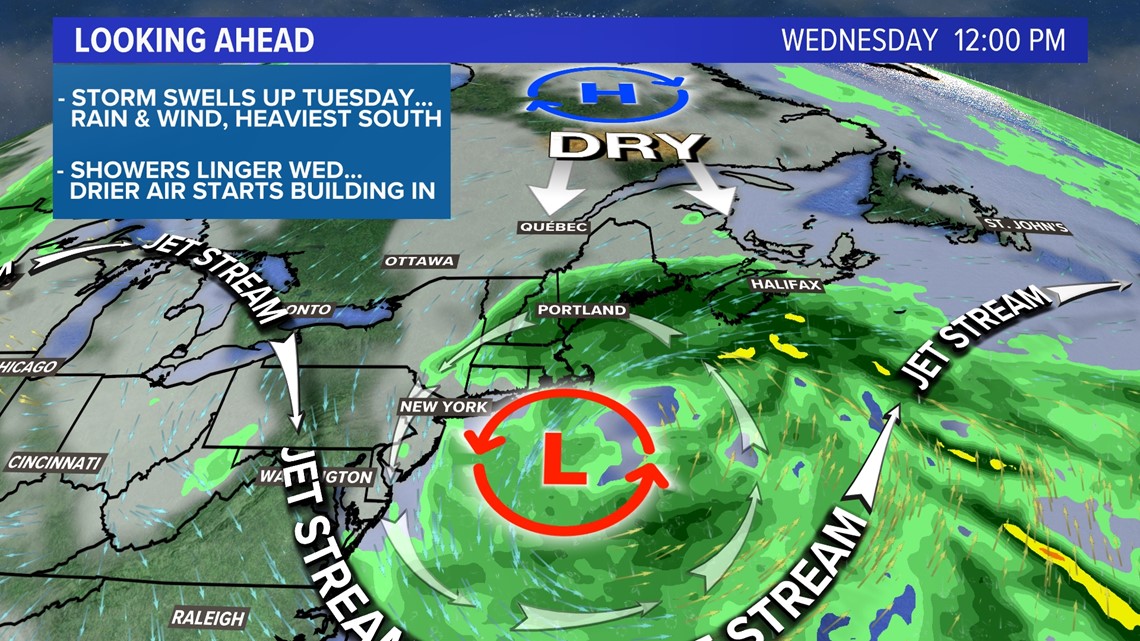 Either way, I expect wind gusts to pick up thanks to the pressure gradient, which is the big difference in pressure between the low to our south and the high to our north.
This is a prime case for a strong wind out of the northeast.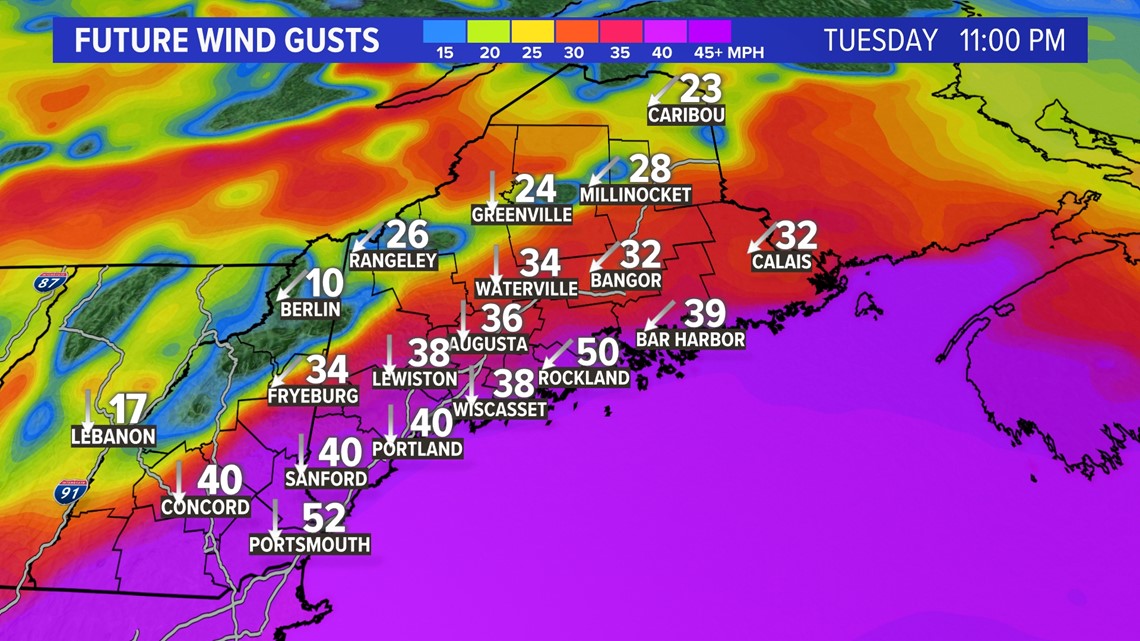 Don't get caught up in the numbers here, but take it as an example of what to expect.
From Tuesday evening into Wednesday morning, gusts could approach 40 miles per hour along the Midcoast and south. York county and the New Hampshire Seacoast could see gusts closer to 50 mph.
The possibility for stronger gusts is still on the table, but this is a safe baseline for now.
With trees still full of leaves, gusts to 50 mph would likely lead to power outages. Anything above would cause issues to become more widespread.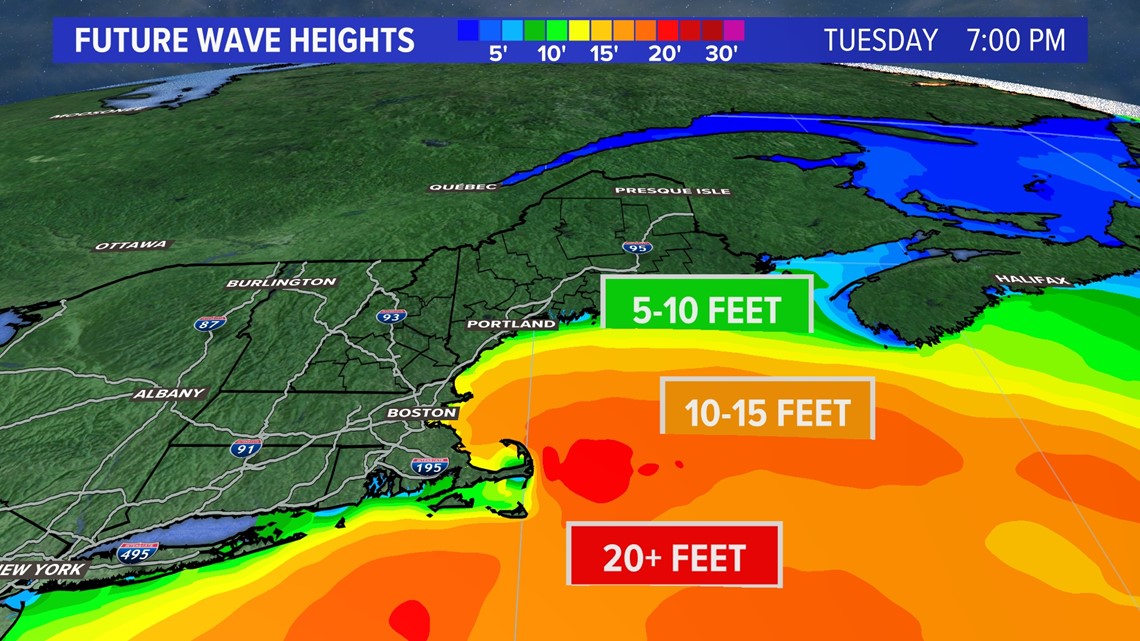 All of that wind will stir up the ocean, too.
Wave heights will climb through Tuesday, with peak wave heights in the 8-12 foot range by the evening.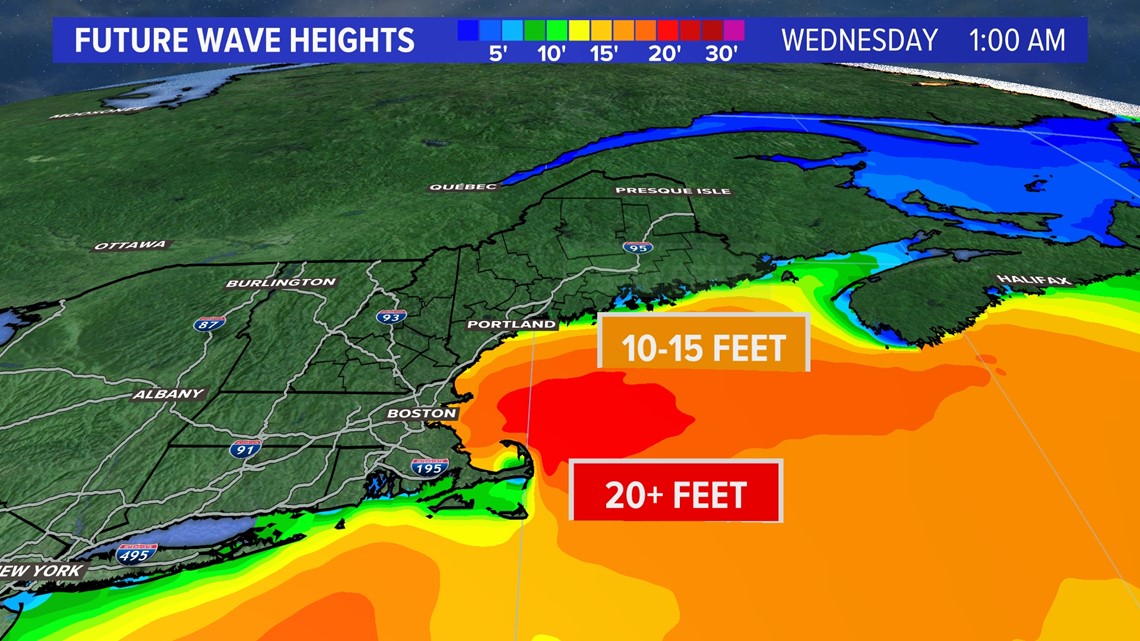 Since the storm will be so slow to exit, seas build even more for Wednesday morning. Current forecasts show waves approaching 10-15 feet just offshore.
Some minor splashover and coastal erosion is expected, despite the astronomical low tides.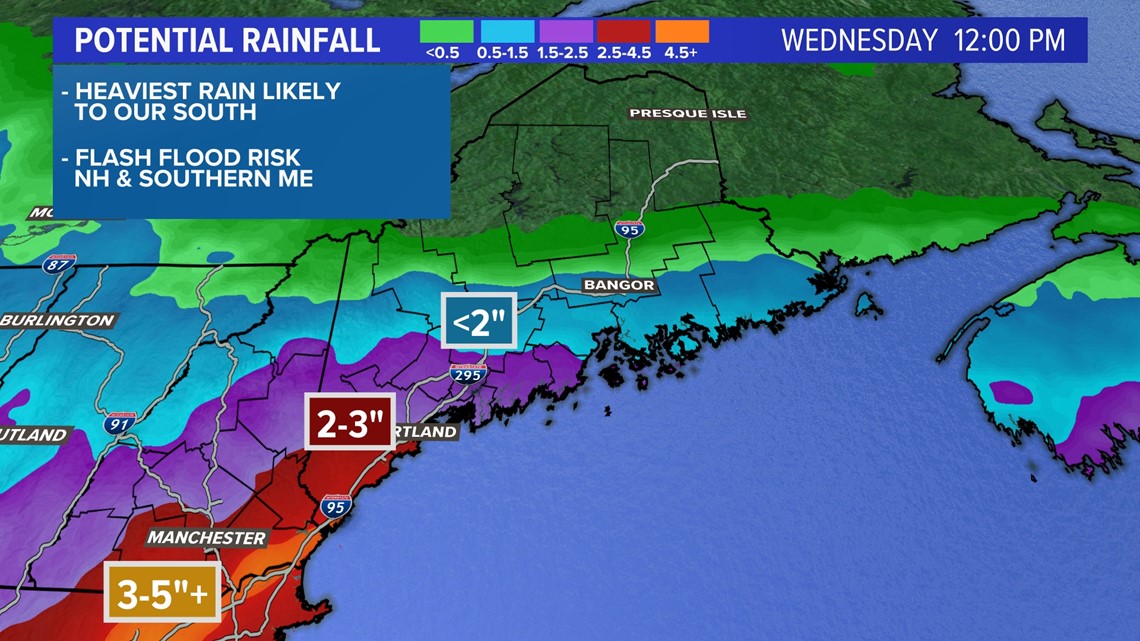 Rainfall will also be a big issue. Flash flooding is possible across most of southwestern Maine with the current forecast.
A swath of 3-5"+ of rainfall is expected somewhere in northern MA or southern NH. Rainfall gradually decreases north, closer to the high pressure. The County may not see much of anything at all.
If the storm track shifts north, though, this will bring the heavier rain totals right into Maine.
Leaves are going to come down, too, so clogged storm drains could cause some high water issues across the state.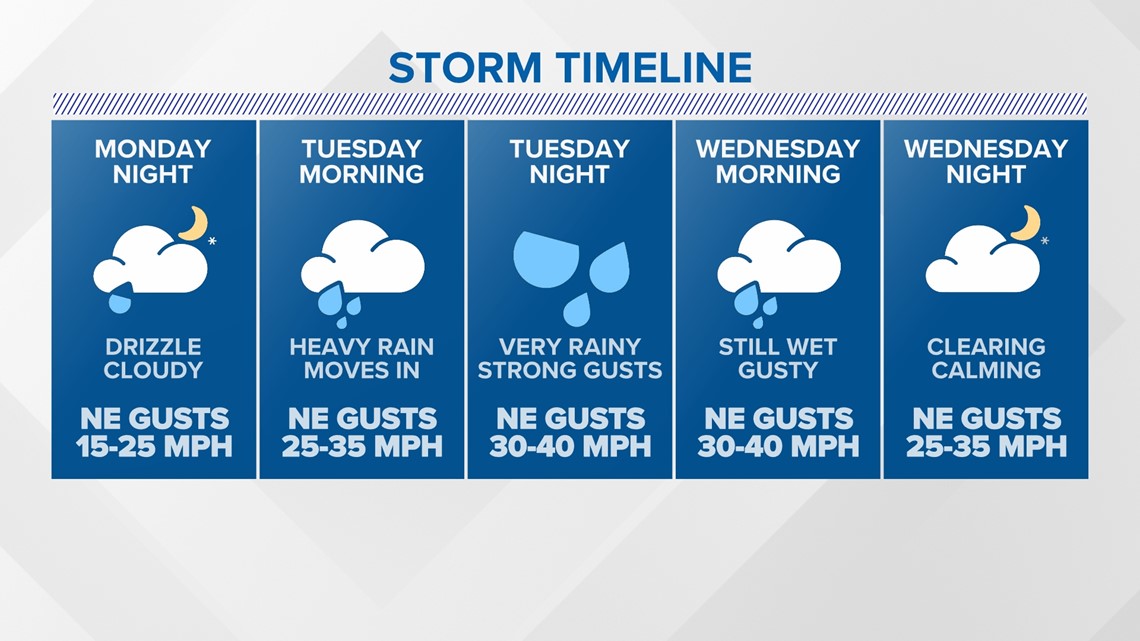 Here's the synopsis of the storm. Things finally wrap up Wednesday, and sunshine is expected on Thursday.
The strongest wind gusts are expected beginning Tuesday evening and lasting into Wednesday morning.
If this isn't enough for you, there's more rain on the way for Halloween weekend. Oh, joy.
Check back with us and download the NEWS CENTER Maine app for more updates regarding this weekend's storm.