PORTLAND, Maine — We've heard the phrase "new normal" a lot lately, but there's another new normal, that has nothing to do with the pandemic.
Every 10 years, the National Oceanic and Atmospheric Administration (NOAA) releases an analysis of U.S. weather of the past three decades that calculates average values for temperature, rainfall, and other conditions.
The new numbers were released Tuesday.
These 30-year averages, now spanning 1991-2020, represent the new "normals" of our changing climate. The previous set of years used was 1981-2010. In this case, the 1980s have been removed and replaced by the (warmer) 2010s.
This is the tenth set of climatological averages collected by NOAA, and it's the warmest ever. Compared to the first set of data from the early 1900s, the average annual temperature has increased by 2 to 4 degrees in spots.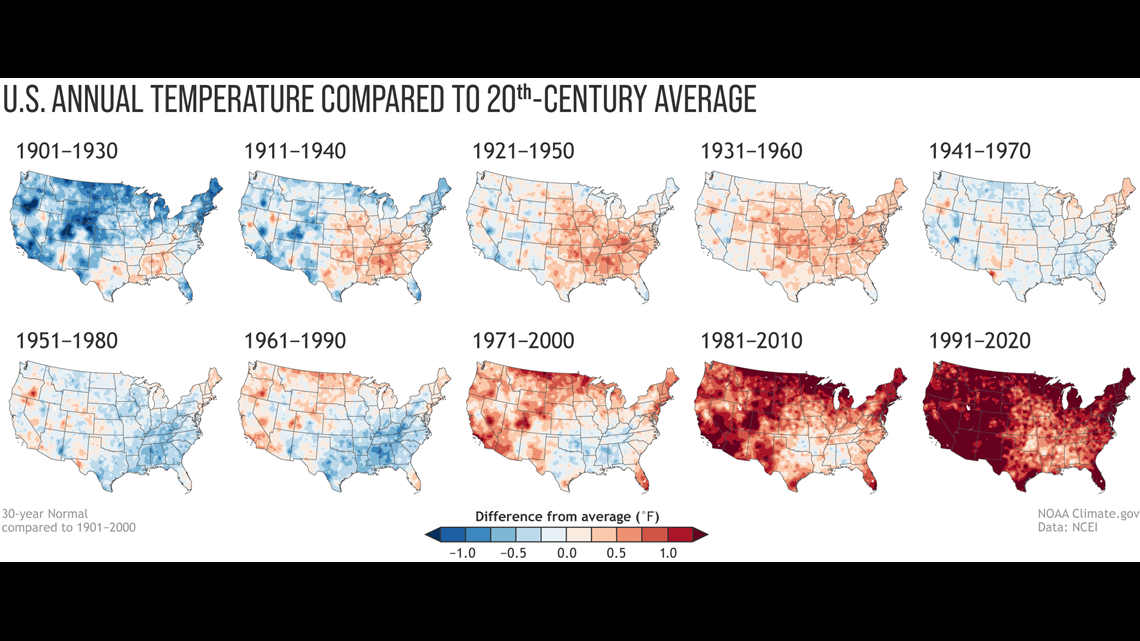 So, the bar is set higher now.
For at least the next few years, it's likely to mean fewer "above normal" temperature days, as the averages themselves have gone up.
Our new normal
The data for Maine reflects a lot of what we have observed in recent years.
Fall and winter are the fastest-warming seasons.
Here's how Portland's monthly temperatures have changed. Each month has seen an increase. January, December, October and September warmed the most.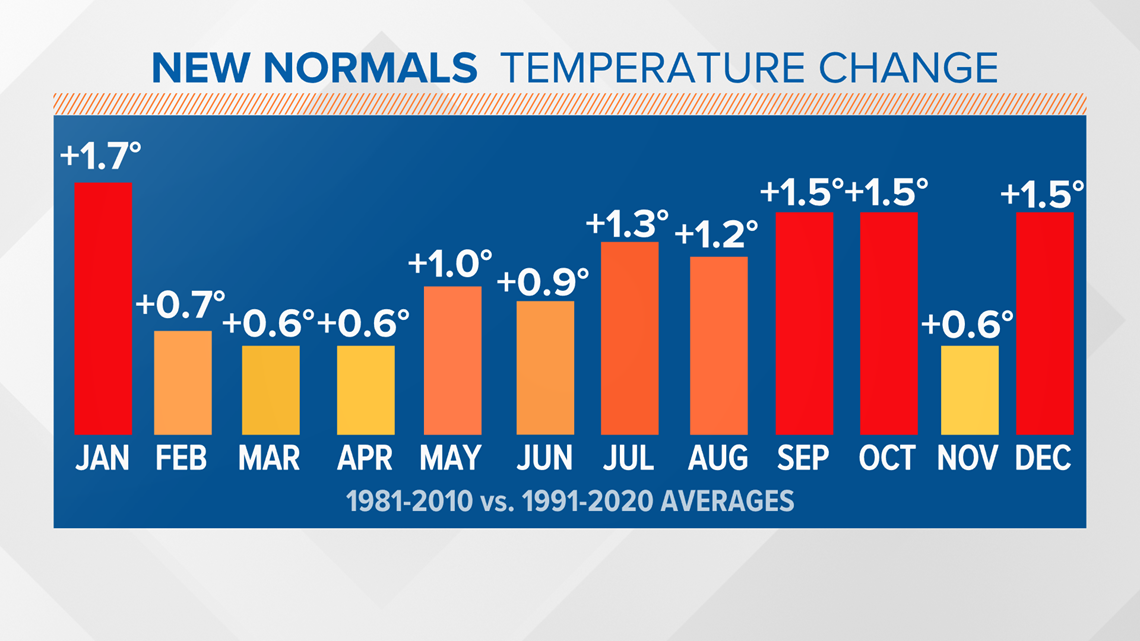 Summing it up, there was an increase of 1.0 degree in our average annual temperature, from 46.5 degrees in the previous 30 years to 47.5 degrees in the current 1991-2020 average. That's a fairly significant change, for a 30-year average.
Both high and low temperatures are going up, but low temperatures are increasing faster than high temperatures.
The average low temperature for the year increased by 1.4 degrees.
The average high temperature for the year increased by 0.6 degrees.
Another way to look at this, how the averages have changed on either end of the year:
Portland's coldest average low temperature in January increased from 12.8 to 14.5 degrees. Our coldest average high temperature in January increased from 30.6 to 31.8 degrees.
On the summer side, our warmest average low temperature in July increased from 60.0 to 61.8 degrees. Our warmest average high temperature in July increased from 79.3 to 80.0 degrees.
There's one intriguing change in the data: snowfall.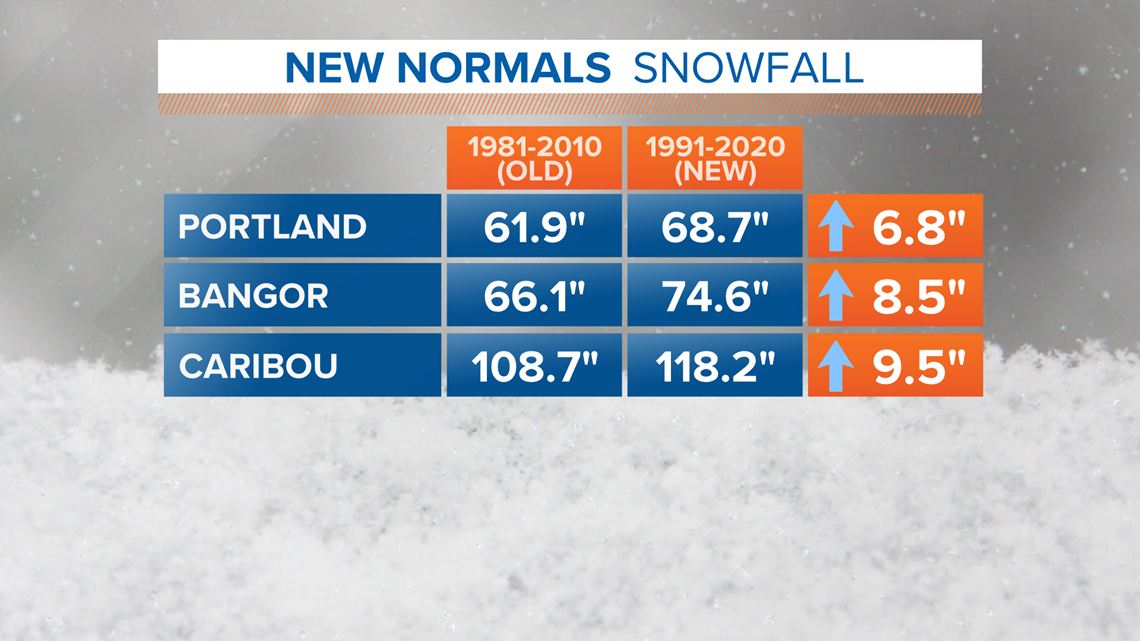 While the last two winters have not been very snowy in central and southern Maine, the average annual snowfall increased by several inches statewide.
A large reason for this? The early to mid 2010s were quite snowy -- in Portland, for example, four of the seasons had more than 90 inches of snow. In the 2012-2013 season, there were 98 inches!
In Caribou, 2018-2019 was the snowiest season on record, with 165 inches piling up. Their seasonal average has increased by 9.5 inches.
Winters are warming, but so far snowfall is increasing. Part of this could be in a warmer climate, storms can generally hold more moisture. If it's cold enough, that'll mean when it snows, more can fall.
Anecdotally, perhaps our issue going forward will be maintaining a consistent snow cover through the winter.