MAINE, USA — February started off cold and snowy, with Arctic-influenced air hanging around for a while. That has all changed in the past week, though.
While warmer air has made its presence known, there is still enough cold around to bring snow threats with any storms. That's exactly the case for the weak storm on Saturday.
The only wildcard that I'm concerned about is some light freezing rain Saturday evening through some of the valleys. For now, though, it still seems more likely that warm air wins and there will be a fairly obvious rain/snow line.

Clouds slowly increase overnight Friday into Saturday. By 7 a.m., a few light snow showers are possible in southern New Hampshire.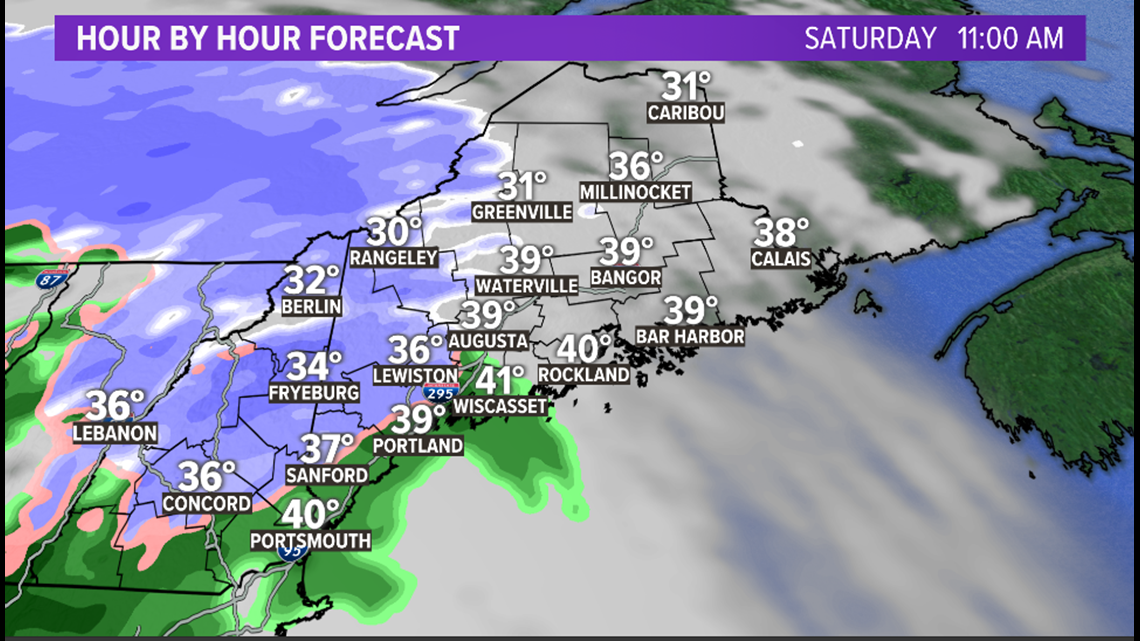 Snow flakes are possible at the coast as the showers begin on Saturday morning. It's pretty unlikely they will stick, though. The entire coast switches to rain as early as 9 or 10 a.m.
Snow showers also begin through the foothills and western mountains between 8 and 10 a.m.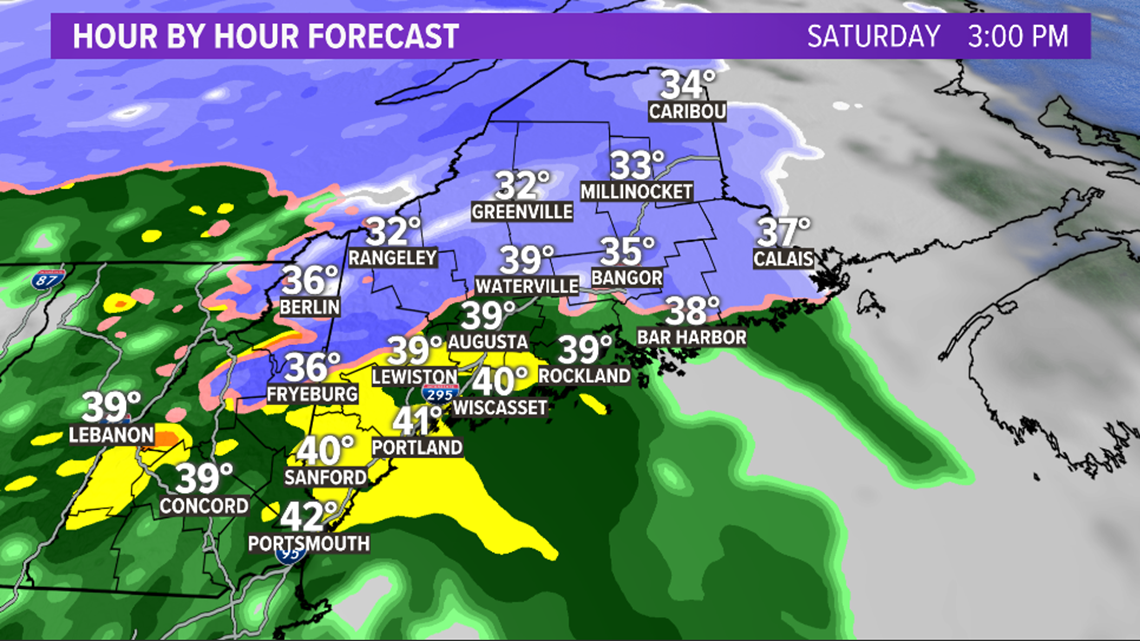 Augusta and Lewiston see the first flakes fly around noon Saturday. Bangor will be closer to 1 or 2 p.m.
While snow will be falling along and north of route 2, warmer air will steadily push north.
This is the time when some of the deeper valleys in western Maine might see a switch to freezing rain. Icing would be pretty minor. No power outages are expected.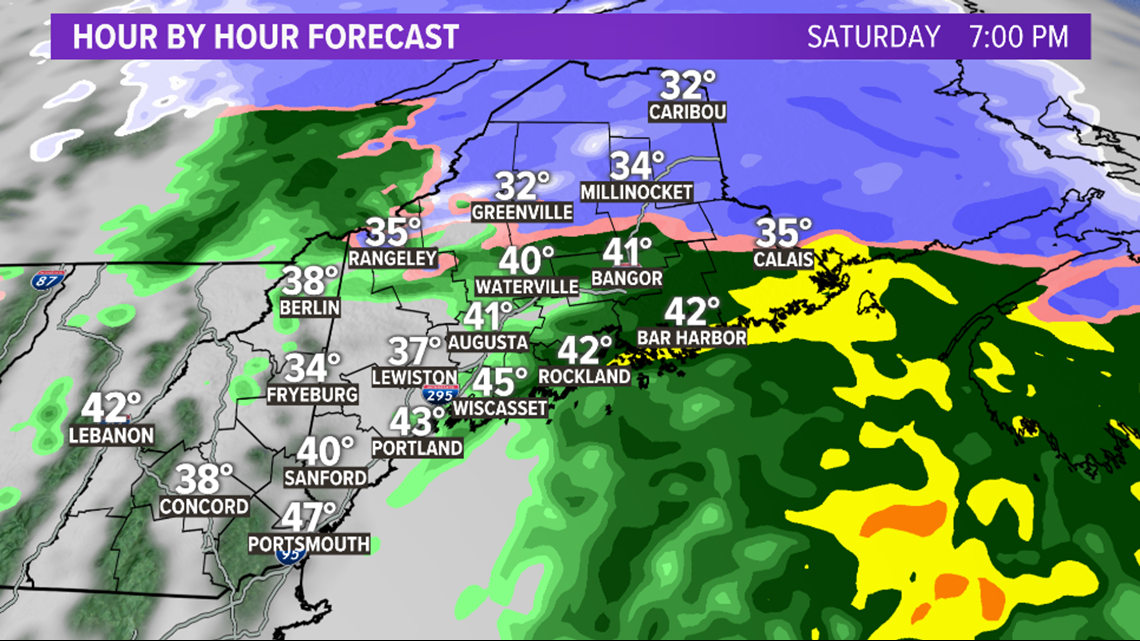 Showers wrap up in western Maine through the late afternoon and early evening. Some of the mountains might even see a few rain showers mix in as the snow wraps.
Along the coastline, temperatures may briefly touch the low 40s as the storm shifts east.

Showers begin to wrap up just about everywhere Saturday night. Given the influx of warmer air, the only places that stay all snow are across The County.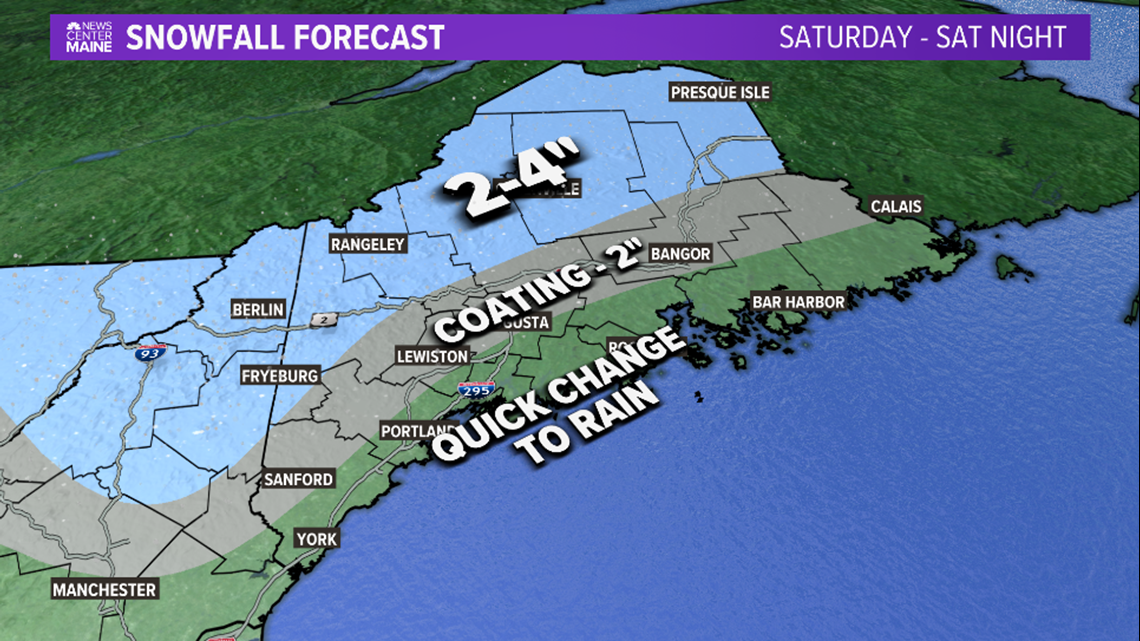 Since this is a pretty weak storm and a bit of a marginal airmass, totals are unimpressive.
The highest snow totals coincide with the highest elevations. The coast will not see any snow stick before the switch to rain.
Still, since the storm favors the higher elevations, this will be a good little boost to some of the ski mountains and snowmobile trails.
The biggest travel impacts will be on Saturday evening. Slick roads are likely, especially in any areas that see freezing rain.
Fog is possible on Saturday evening as mild air sits on top of the snow pack. Reduced visibility combined with slick roads will make travel difficult at times.
Flooding seems unlikely with this since there is not much rain on the way. Still, ice can block storm drains and make for some minor water issues.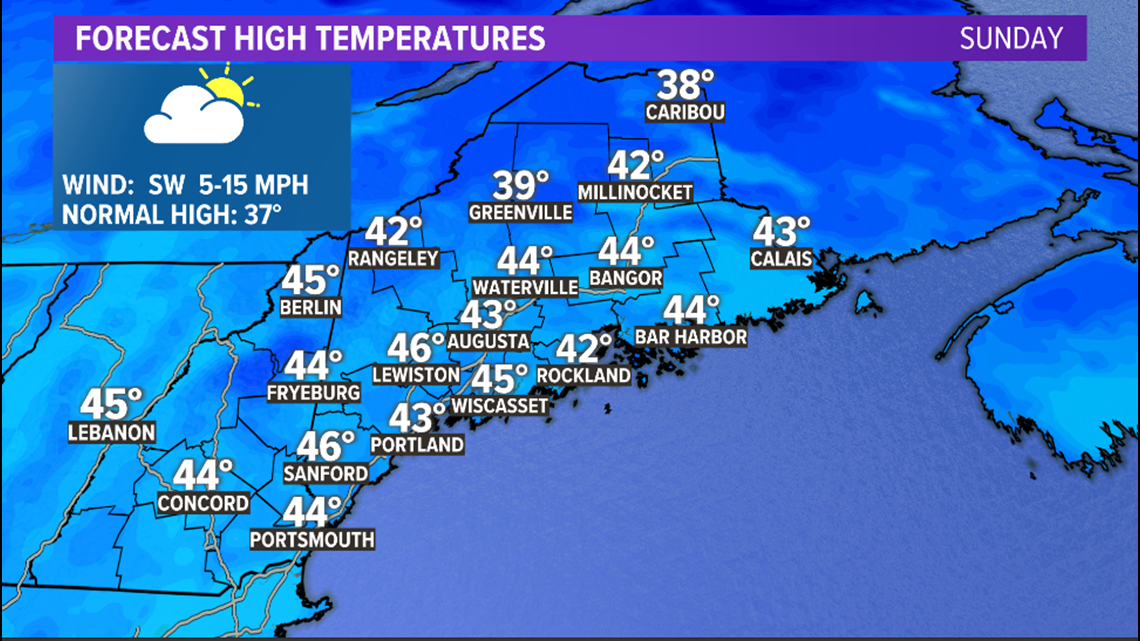 Sunday looks like a good day overall. Clouds thicken again during the day.
There could be some more light showers on Monday, possibly bringing some more snow to the high elevations.
Arctic air moves in for Tuesday...but that will be short-lived, too, as highs return to the 40s for Wednesday.