MAINE, USA — If the past 24 hours have taught me anything, it's that people either love or hate the snow.
No one ever tweets at me to tell me everything is fine just as it is. They either say the forecast is calling for way too much or way too little.
For this one, the "more snow" crowd will be happy! Totals have trended up in western and eastern areas.
I spoke briefly about this possibility during the newscast on Saturday night, but I'm feeling more certain that this will be the outcome.
The other big change is the timing, as snow is slated to start up earlier for most.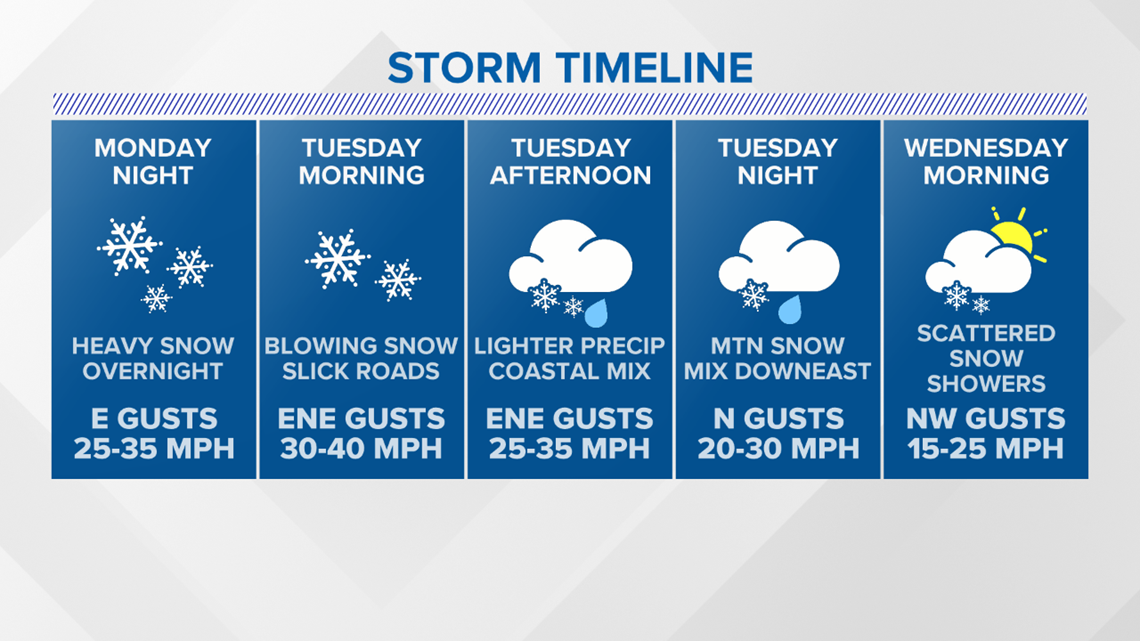 Estimated start times for the first flakes on Monday are as follows:
Kittery: 2 p.m.
Portland: 5 p.m.
Lewiston: 7 p.m.
Augusta: 7 p.m.
Bangor: 10 p.m.
Caribou: 4 a.m. Tuesday
With such heavy snow to start off the storm, this is when the bulk of the forecast snow totals will fall.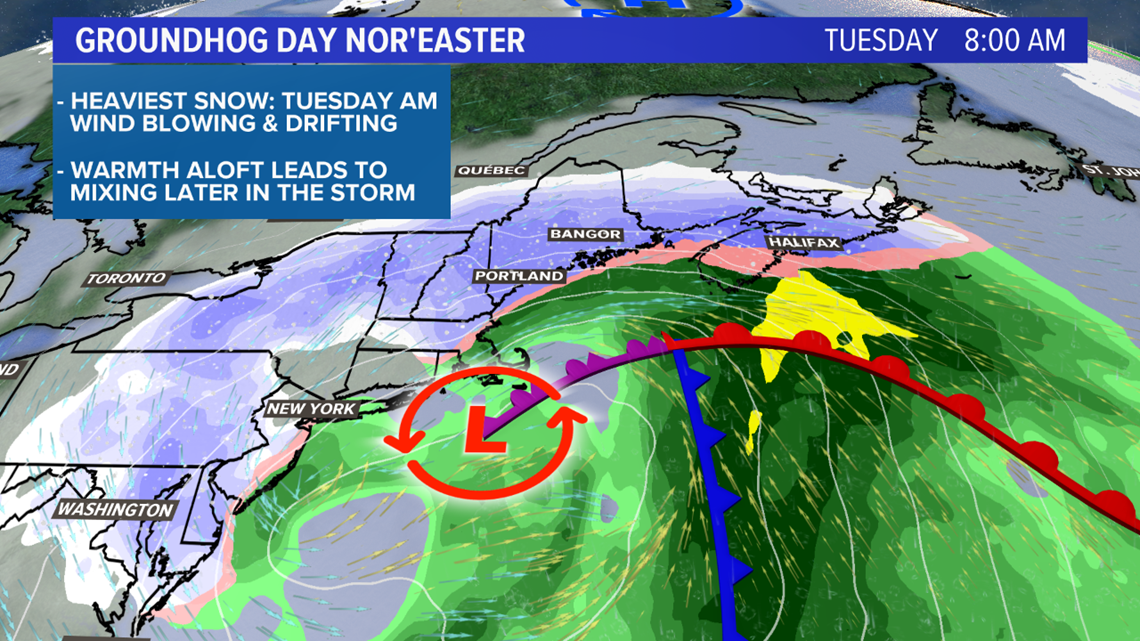 By Tuesday morning, everyone wakes up with snow falling. Some areas, especially in southern Maine, will have quite a bit of snow on the ground already.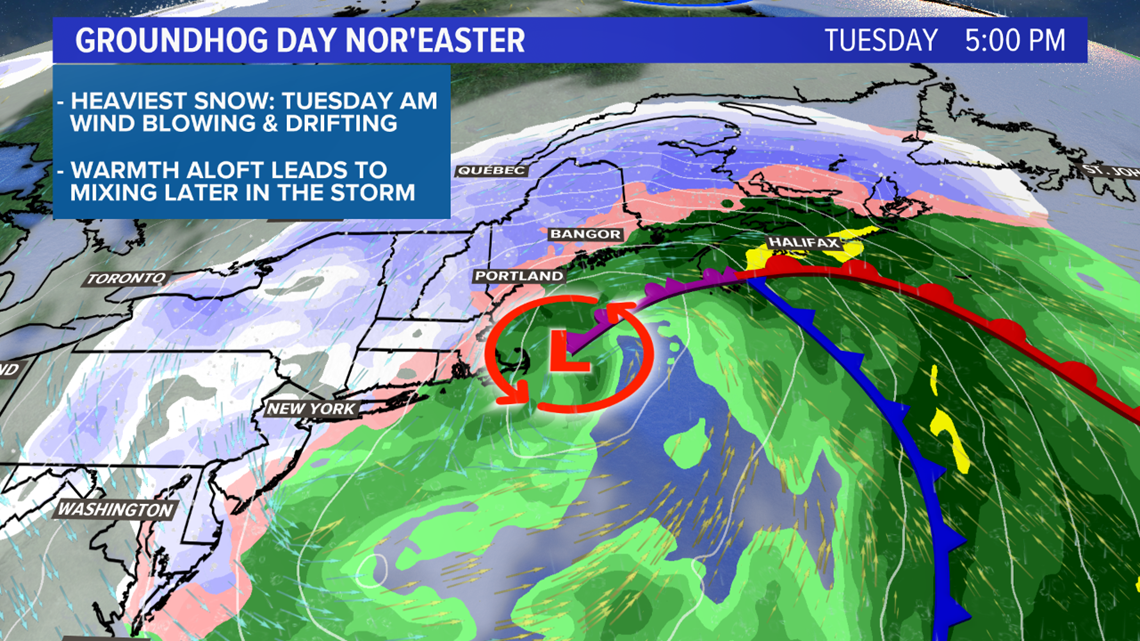 Warmer air starts to get mixed in at the coastline for a period of sleet and rain mixed with snow. Expect the transition from snow to mix to happen sometime in the late morning, lingering through the afternoon.
Since this is also when drier air makes an appearance, it will not impact totals much. Most of the snow will have already fallen.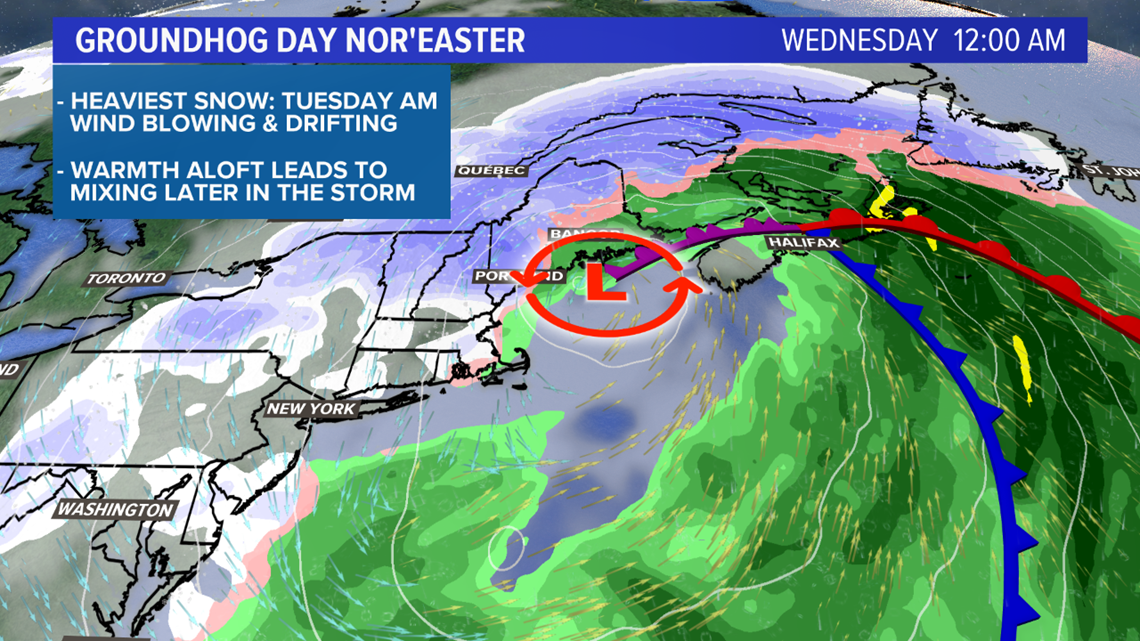 There's a chance that enough moisture and wrap around this system to keep snow going in western Maine late Tuesday and into Wednesday, but I think the dry air will start to win.
Expect some spotty snow showers to continue on Wednesday.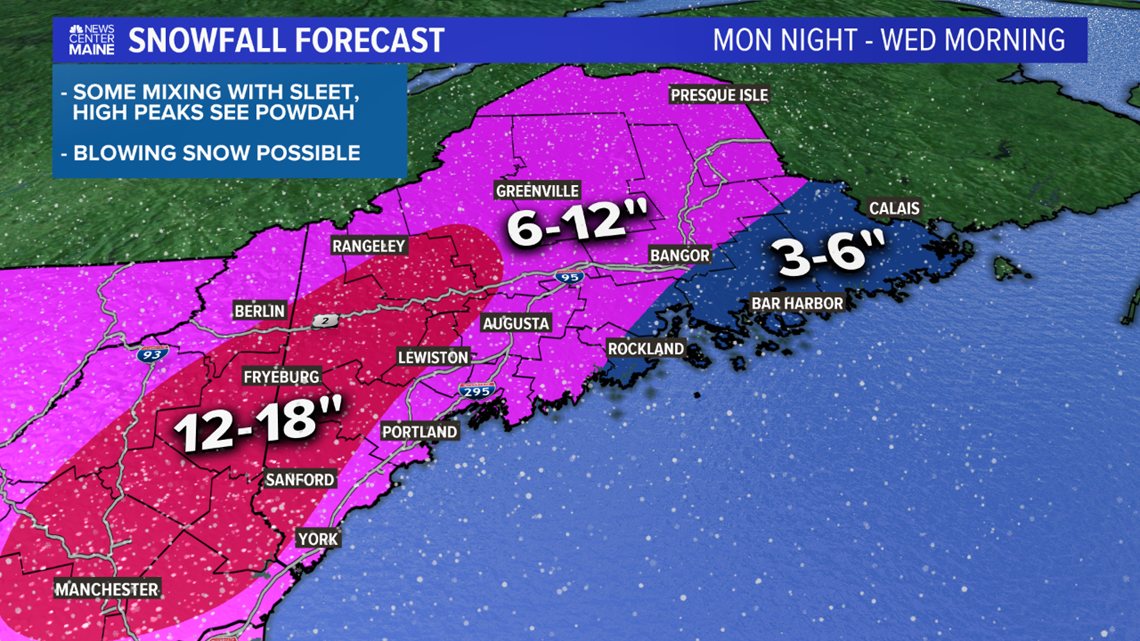 The updated snow forecast introduces a large area of 12-18" of snow.
Inland York county will see higher totals with light, fluffy snow. This extends up through the foothills all the way to route 2.
While Lewiston-Auburn is still in the 6-12" range, my current thought puts both closer to a foot than 6".
Bangor is still slated for around 6", with more to the northwest and less to the southeast.
Here's the zoomed version: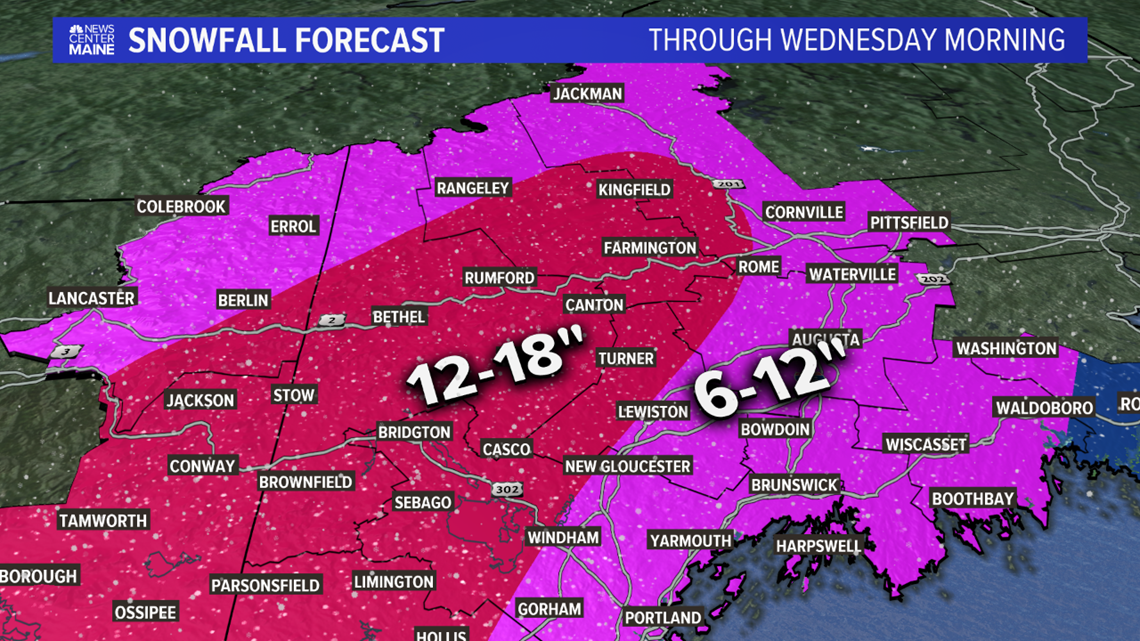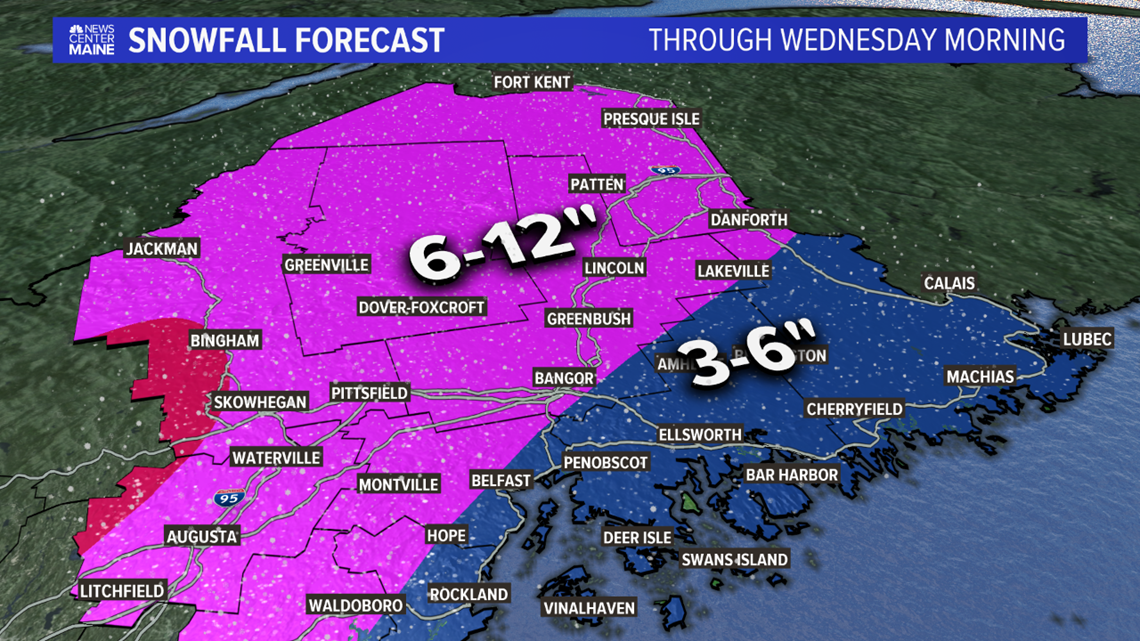 All of the snow inland will be light and fluffy. Coastal areas start that way, but the mixing will make it wetter and heavier Tuesday morning.
Still, it should be fairly easy to shovel. So easy, in fact, that the wind will do some of that for us.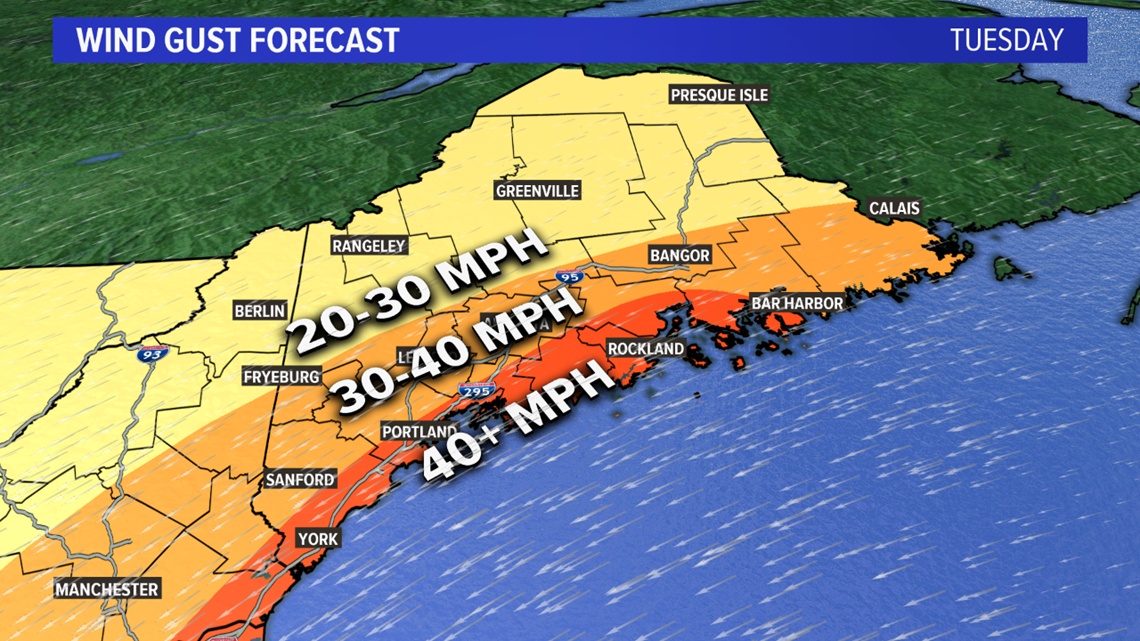 No big changes here. I'm anticipating gusts around 40 mph at the coastline, maybe slightly higher.
Blowing, drifting snow and reduced visibility should be expected Monday night and Tuesday morning.
The strongest gusts generally occur before noon on Tuesday, with weakening wind for the rest of the afternoon.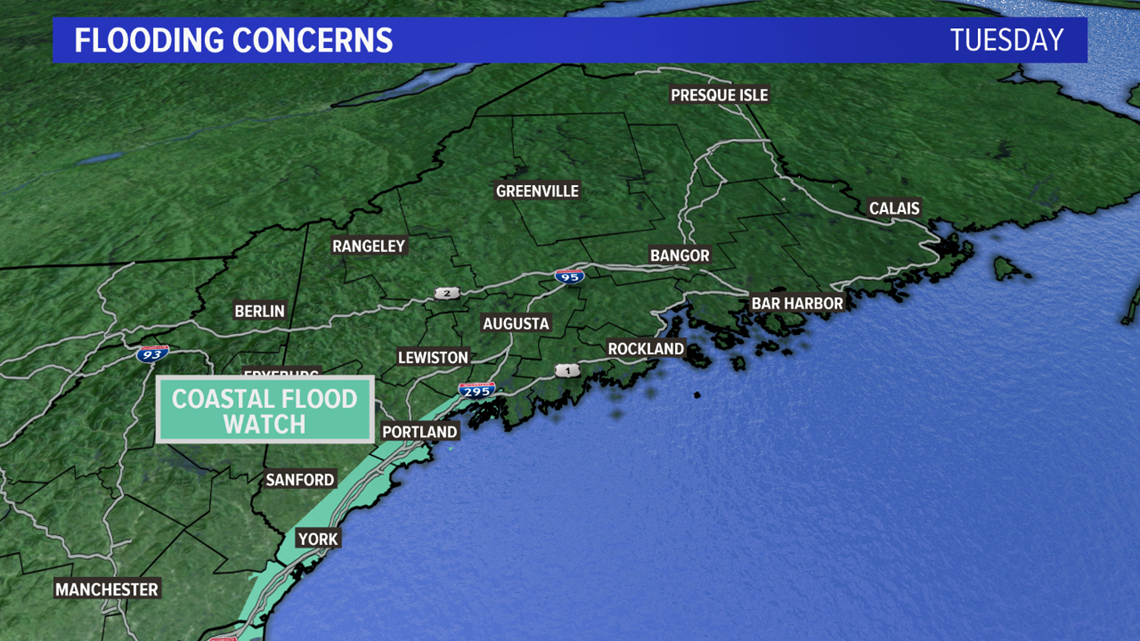 Some minor coastal flooding is expected, especially in York and Cumberland counties.
The prolonged east winds will push the sea into southwestern Maine, overwhelming bays and the shoreline.
This storm surge is expected to subside late Tuesday.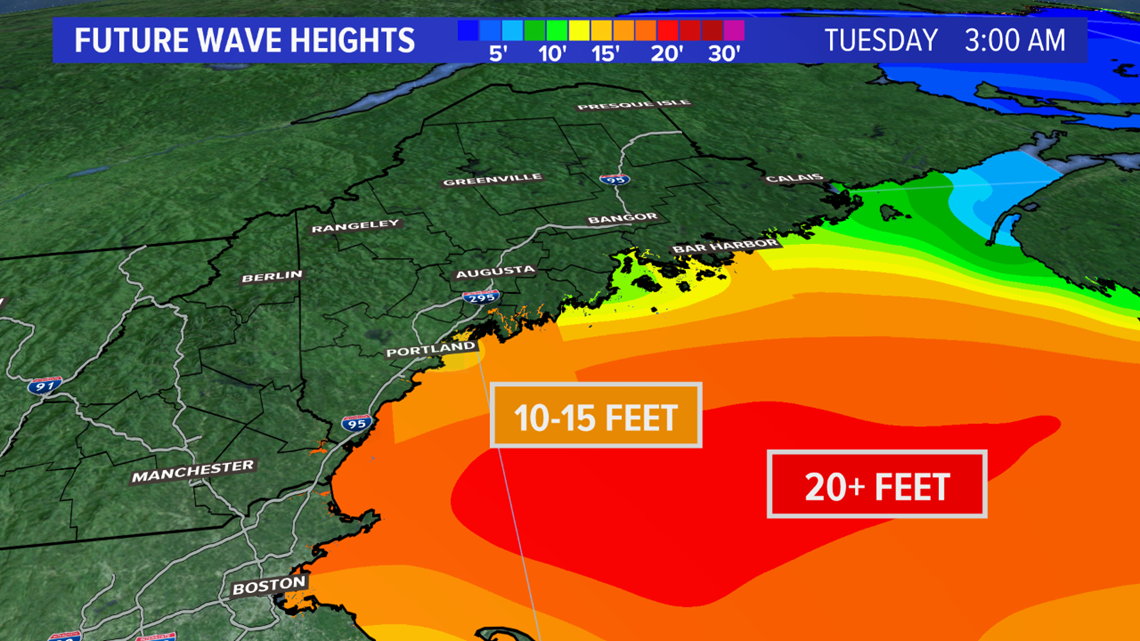 Waves will also be pretty large, so some splashover and beach erosion are expected as well. Waves will subside Tuesday evening.
Beyond Tuesday, there will be lingering flakes and clouds through Wednesday and Thursday.
I do want to mention, though ... if we can keep moisture around, there might be enough snow to make an impact on forecast totals Tuesday night.
Jury's still out on that one.
Follow me on Twitter, @MikeSliferWX, for the latest on the Groundhog Day nor'easter.