SUNDAY MORNING UPDATE
CMP and Versant say they have nearly 250,000 Mainers with no power as of Sunday morning. Both companies say they have multiple crews working to restore power.
Sustained winds still range over 30 mph across most of eastern Maine.
Snow and rain mostly done at this time, but some areas will still see snow showers til mid-morning.
Temps are still hovering around high 20s, low 30s, so please use caution as you get moving this morning. Temps will not break the mid-30s all day Sunday.
NEWS CENTER Maine will update you with power restoration throughout Sunday.
SUNDAY MORNING FORECAST
SATURDAY UPDATES
Over 100,000 Mainers now without power as winds are gusting close to 50 mph and heavy, wet snow is falling across much of the state.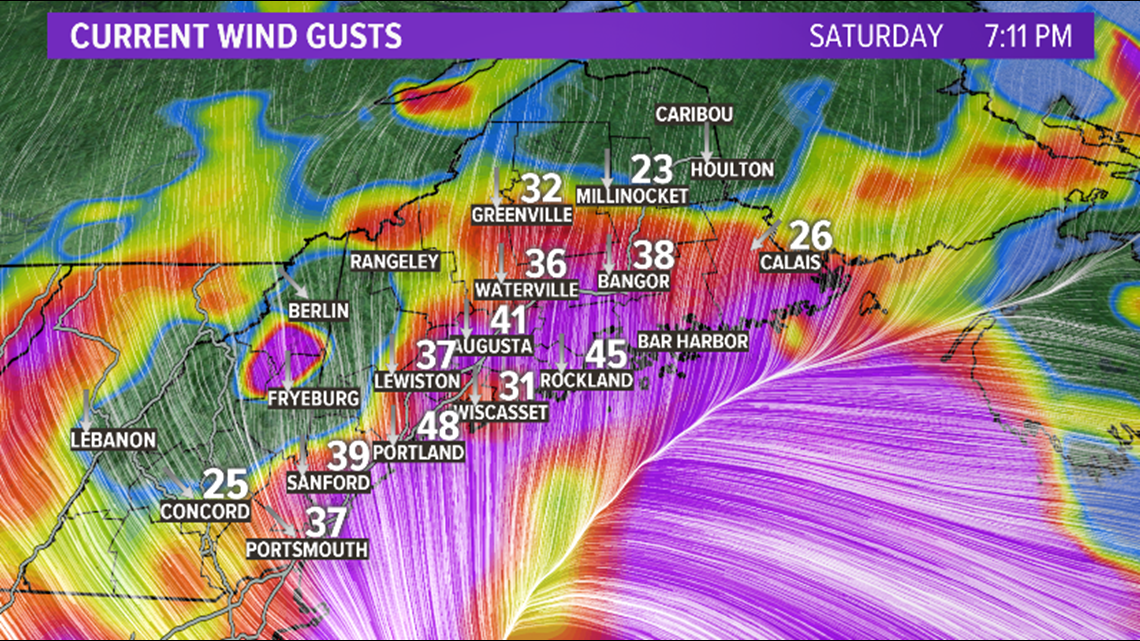 Rain is still falling along most of the coast with heavy snow inland.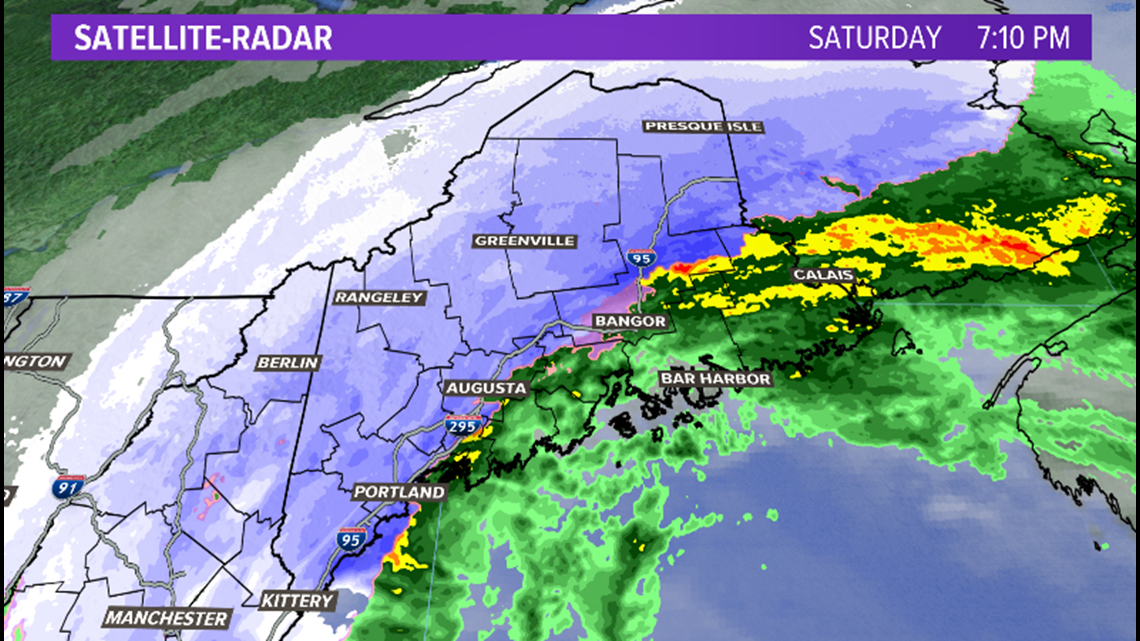 So far snow totals are between 2-5". Snow is expected to continue overnight into early Sunday.



Near ME PHOTOS
Near ME | Weekend Maine nor'easter weather photos
Saturday Noon Update
It's on. A nor'easter is strengthening and will be tracking into the Gulf of Maine today, with the state of Maine in the sweet spot for heavy precipitation and wind.
Stepping outside this morning, it doesn't feel like a winter storm is starting. It's relatively warm with temperatures above freezing. Yesterday was mild too. But we are catching this storm while it's strengthening. As a storm strengthens and becomes very dynamic, it can essentially create its own cold air. That's what will happen today. A large part of the state will see cold rain flip to heavy, wet snow quite dramatically this afternoon.
The exception will be parts of the Midcoast and Downeast, where it will be too difficult to overcome the warm surface air, and largely rain falls today.
TIMELINE
Heavier precipitation is moving in this afternoon. The rain-snow line will set up very close to the Portland area, with heavy, wet snow inland and a mix of rain and snow near the coast. From the eastern Midcoast into Downeast, rain will continue into the evening.

The storm peaks between 2 p.m. and midnight with heavy precipitation and gusty winds. At times, snow will fall at the rate of 1-2" per hour and thundersnow is likely in spots too. Travel will become very challenging with sloppy, slippery snow covering the roads.

Overnight the snow will start to lighten up in southern and western Maine. Most of the accumulation in places like Portland, Lewiston and Augusta will be done by midnight. But the rain/snow line will make one last dash southeast, perhaps flipping Downeast over to a burst of snow after 2-3" of rain.

POSSIBLE POWER OUTAGES
Wind will also be a factor with gusts from the northeast between 35 and 50 mph. Combined with heavy, wet snow weighing down trees and power lines, power outages are unfortunately expected again.

MAINE SNOW TOTALS
Sunday will be a better day with lingering snow showers in the mountains and north. Southern and central Maine will see some partial sunshine with high temperatures in the 30s.
Snow totals will vary quite a bit from town to town. I can envision a scenario where Cape Elizabeth, for example, has around 5" of paste but there's more than a foot of snow out around Gorham.
5-10" of snow is expected along the York County coast through the cities, including Portland, Lewiston-Auburn, and Bangor.
A bit farther west, from Sanford through the Lakes Region, into the hills and mountains, 10-15" of snow is expected and there will likely be spots that see more than 15".
Downeast will see very little, perhaps a slushy inch or two at the end of the storm. 2-5" of snow is expected after several hours of rain on the Midcoast, Penobscot Bay region, into interior Downeast.

Check out the zoomed in maps to find your town.


Keep in touch all day for updates on-air and online.