BANGOR, Maine — July 2021 will go down in memory as rainy, damp, and cool. It's a pretty stark contrast to June 2021, which was notably dry and the warmest June on record in both Portland and Bangor.
After the rain on Thursday night and Friday morning, monthly precip totals across Maine are wicked high. The only exception is in western Maine, but there has still been some decent rainfall in the mountains.
The official totals aren't in just yet (since it's currently still raining), but Bangor has surpassed its previous record for wettest July. As of 5 a.m. Friday, Bangor has received over 7.4" for the month of July.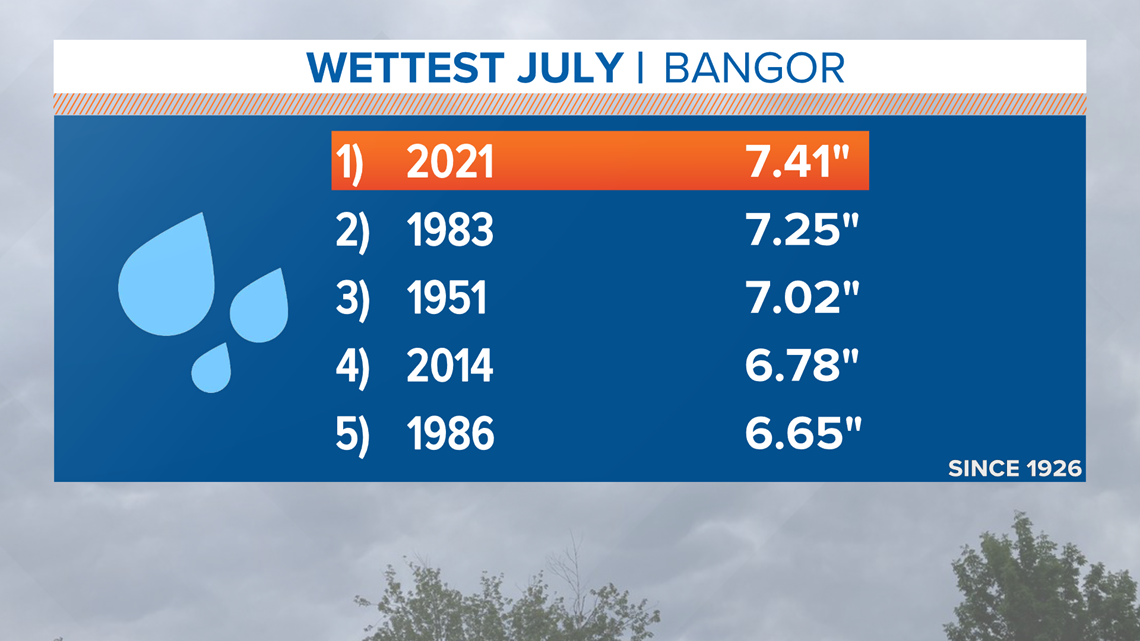 This beats 1983 when 7.25" of rain fell through the month. Records in Bangor go back to 1926.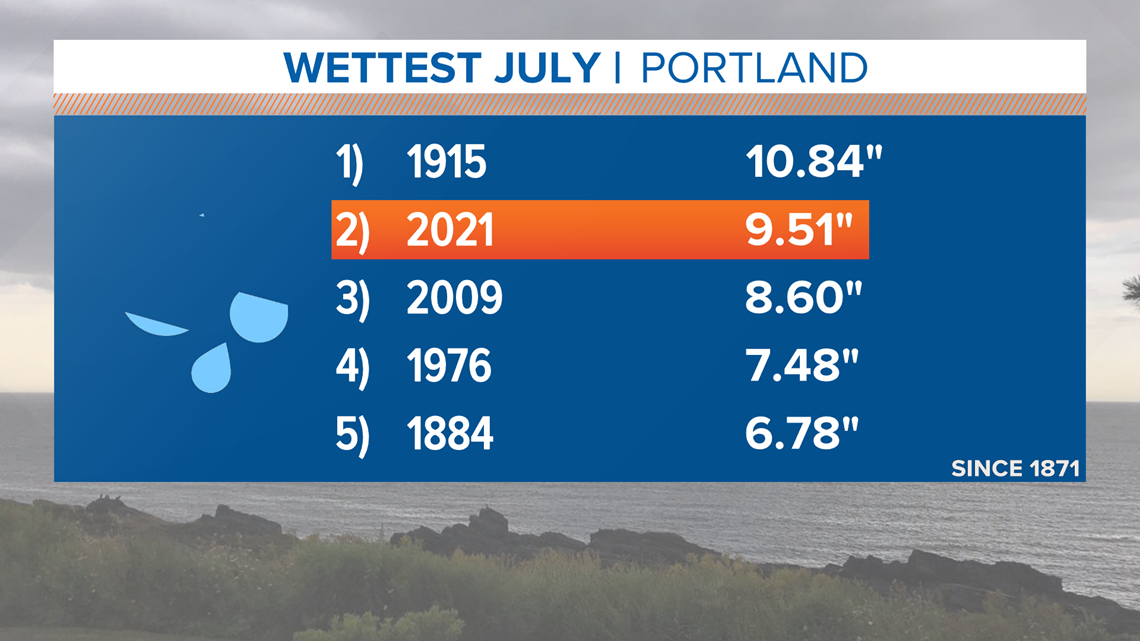 Portland also saw impressive rain totals, taking second place on the list of wettest Julys.
After over an inch and a half of rain to close out the month, July rain totals are sitting over 9.5" in Portland.
The wettest was in 1915 when a whopping 10.84" of rain fell through the month. Records in Portland go back to 1871 for precip data, so second place is still a pretty impressive statistic.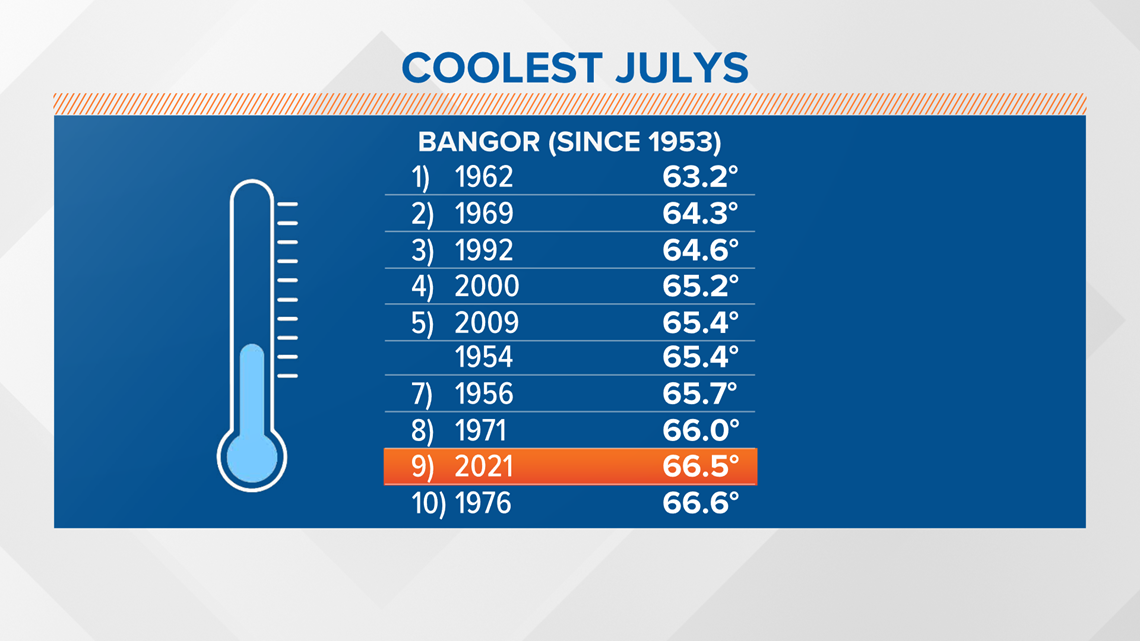 As we often see with rainy summer months, temperatures have responded accordingly - it was cool.
July 2021 currently sits at 9th place on the list of the 10 coolest Julys on record in Bangor. These records go back to 1953.
With the chilly forecast tonight and a cooler day tomorrow, I think this will probably keep July 2021 on this list. Updates are to come on Sunday once we have the entire month's data.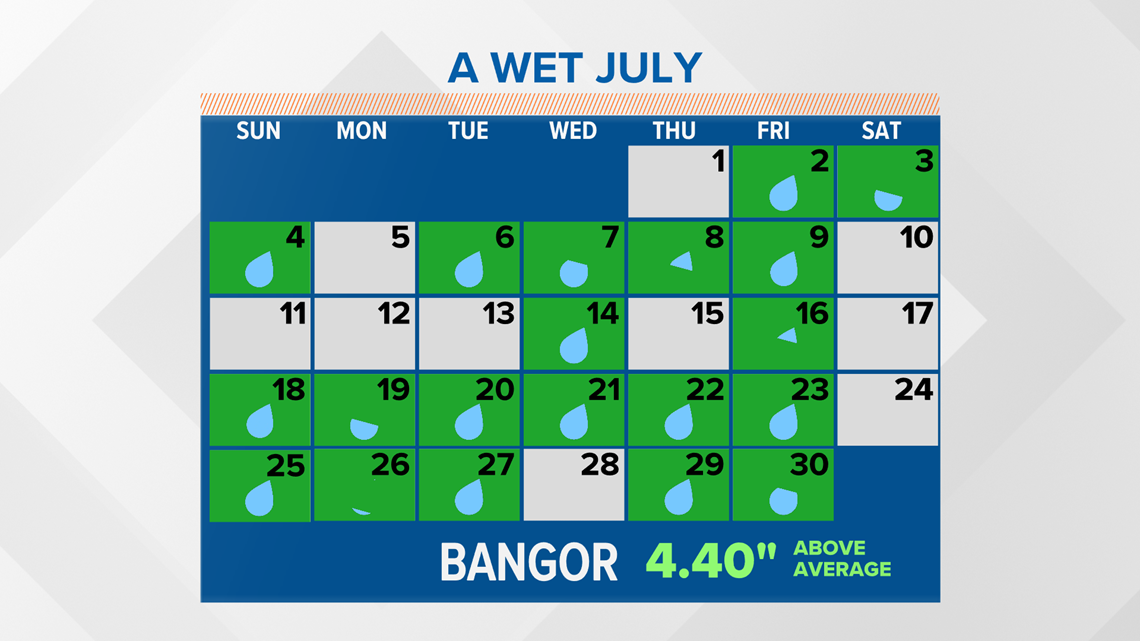 Each day in green shows at least a trace of rain in Bangor this month. I have used this metric because it accounts for days with light rain or mist, which reinforces how cool and damp this month has been.
This means 20 of 30 days in July so far have measured at least a trace of rain in Bangor.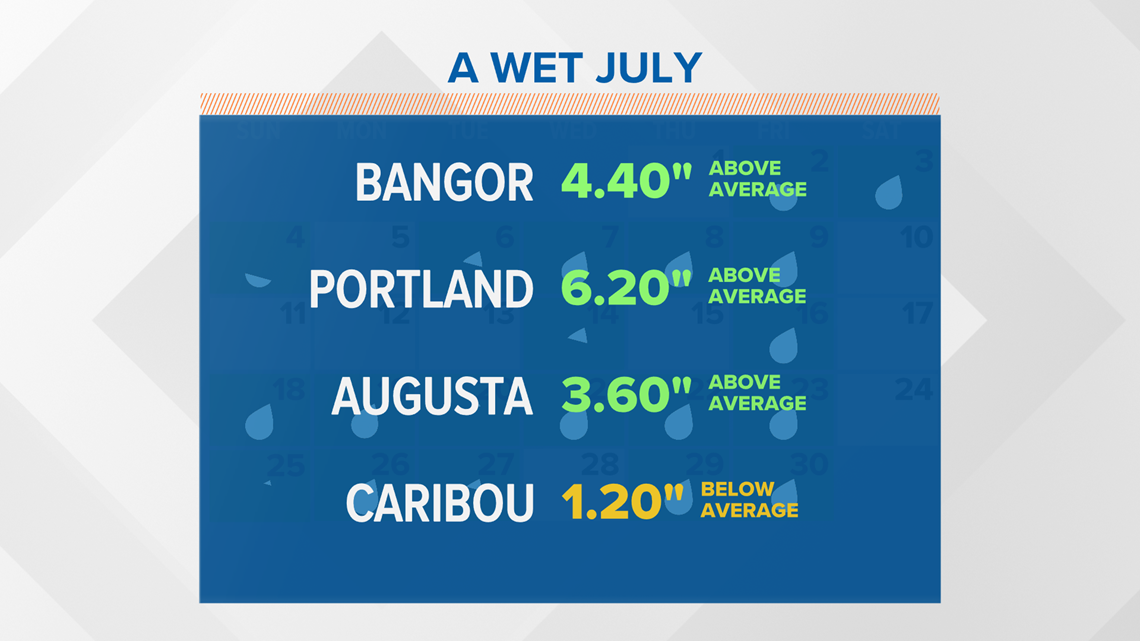 There is a big trend here, with all stations except Caribou posting rain surpluses through the month of July. These numbers will change a little bit after this last batch of rain is accounted for. Expect big updates on my social media feeds on Sunday with this data.
The last day of July looks dry, and almost reminds me of September.
A few snowflakes are possible on Mount Washington tonight and the high peaks will see wind chills on Saturday in the 30s.
Elsewhere mostly sunny skies with highs in the 70s will end July on a nice note.