It's finally turned over to feel more like summer in New England. (Well, maybe not this week, but the general idea stands).
Up here, hurricanes are a second thought for many. The biggest impact we usually see is just heavy rain from tropical moisture moving north.
That's not the case for people in the southeastern United States, though.
June 1 is the start of hurricane season in the Atlantic Ocean. It runs from now until November 30, although storms can (and do) form outside of these date ranges.
And, right on cue, the first potential tropical systems have already formed in the Atlantic.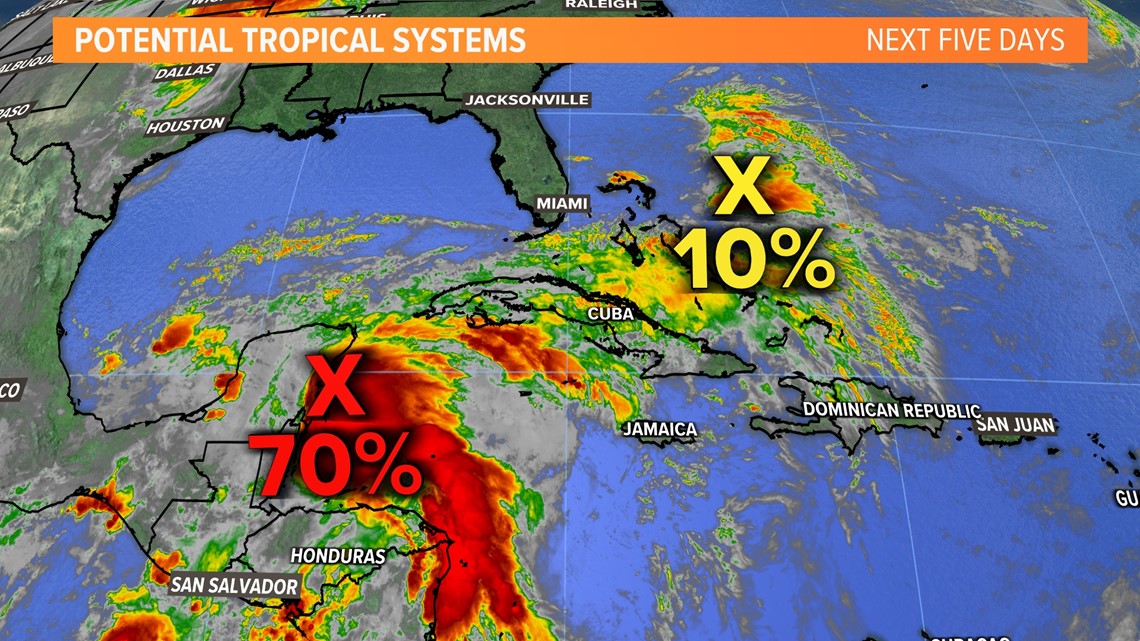 There are two storm systems in the southern Atlantic that the National Hurricane Center is monitoring.
As of 5 a.m. Wednesday morning, the storm near the Yucatán is beginning to organize.
The NHC gives it a 70% chance of becoming a tropical depression within the next five days. It certainly will be moving into an environment that favors tropical development.
There's a second batch of clouds east of Florida that has a very low chance of becoming organized. This one seems like it will remain an unorganized blob of storms. The NHC only has a 10% chance of organization over the next five days.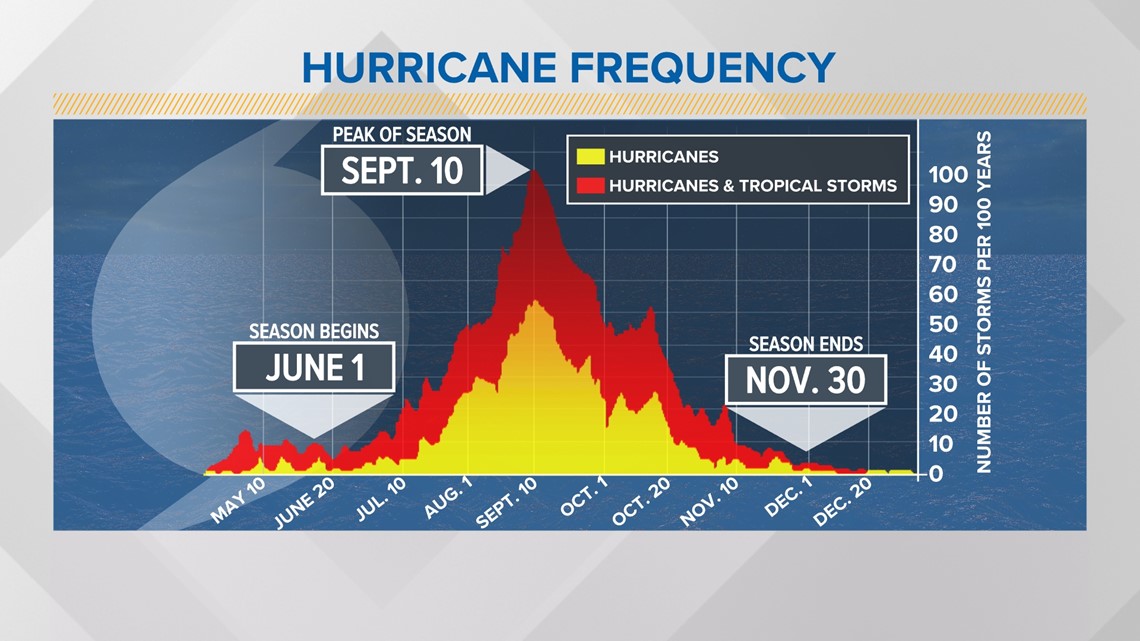 This graphic shows that the majority of tropical activity occurs within the "hurricane season" window.
The peak is around September 10. This is because the water is usually warmer as summer winds down, allowing for a bit of extra moisture and energy for tropical systems to use.
It's not uncommon for a bit of activity right at the start of the season.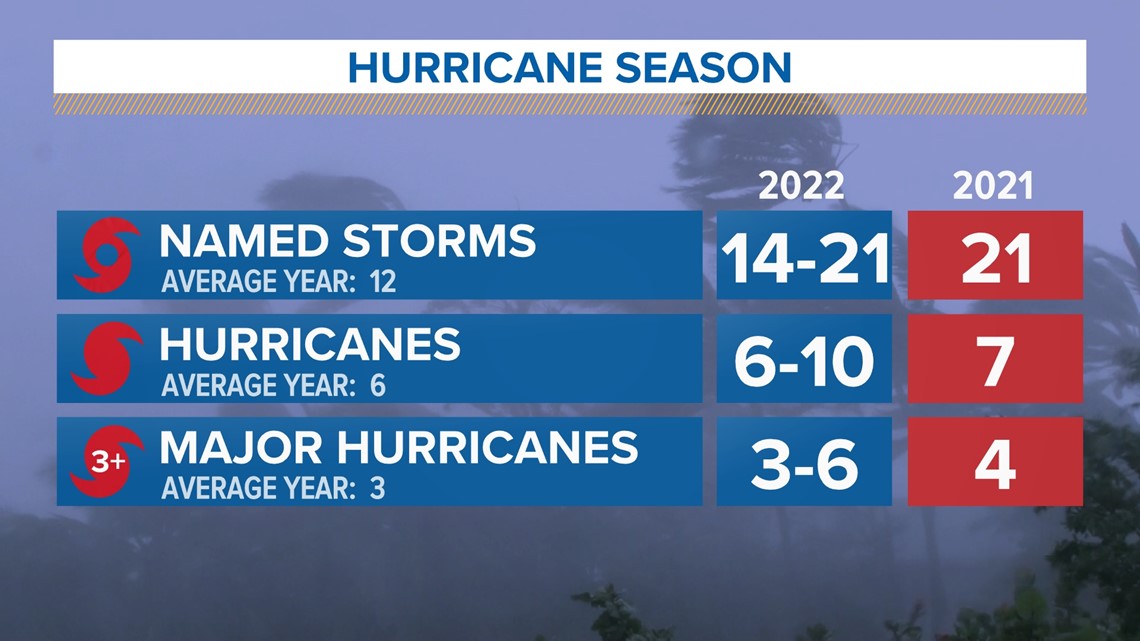 Regardless, NOAA is calling for an above-average season again.
Normally, there are 12 named storms per year, and six of those become hurricanes. Of those six, three typically become major hurricanes.
Major hurricanes are category 3 or higher.
This year, NOAA is calling for 14-21 named storms with 6-10 hurricanes. The forecast is for 3-6 major hurricanes out of those 6-10.
Last year was also active, with all categories coming in above average.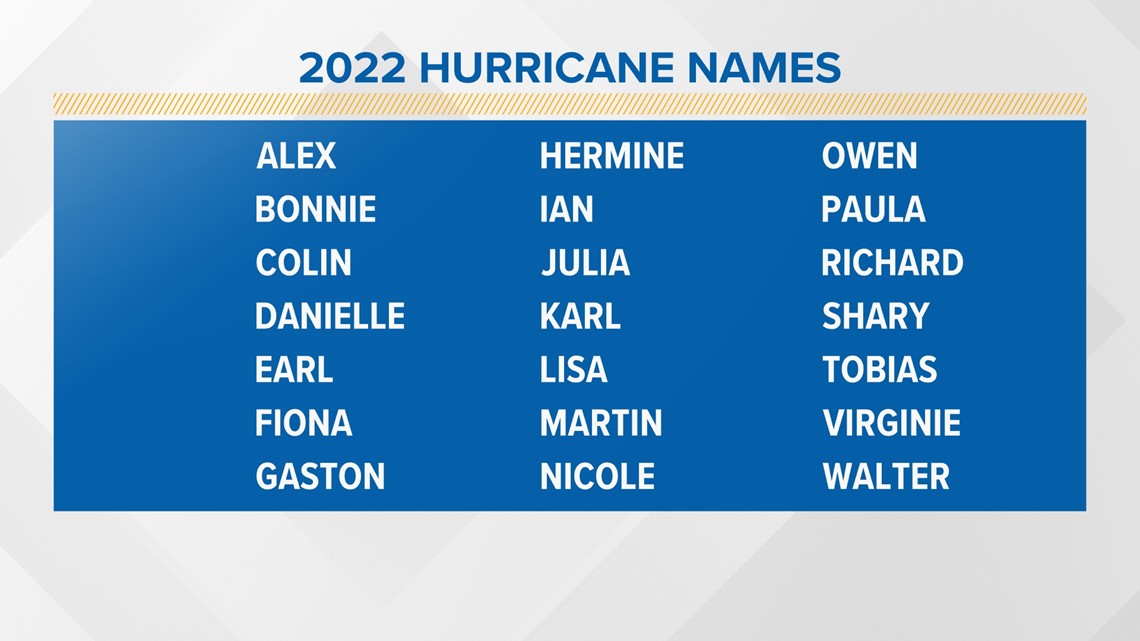 Here's the list of names for 2022 tropical systems.
As a reminder, the Greek alphabet was retired after the 2020 hurricane season.
If this list gets exhausted, there will be an alternate list of names to use. Let's hope that this active forecast does not have any huge impacts on anyone.