YORK COUNTY, Maine — Elsa has moved on, but left quite a bit of rain in its wake.
This rainfall, combined with everything that fell on July 4th, has certainly saturated the soils. Heavy rain moving forward will be a cause for concern until we get a break to dry out a bit.
On Monday, most people do get to enjoy a brief break from the rain. Southern Oxford, York, and Cumberland counties are the exception here, though.
Monday morning brings another bout of heavy rain, focused almost exclusively on southwestern Maine.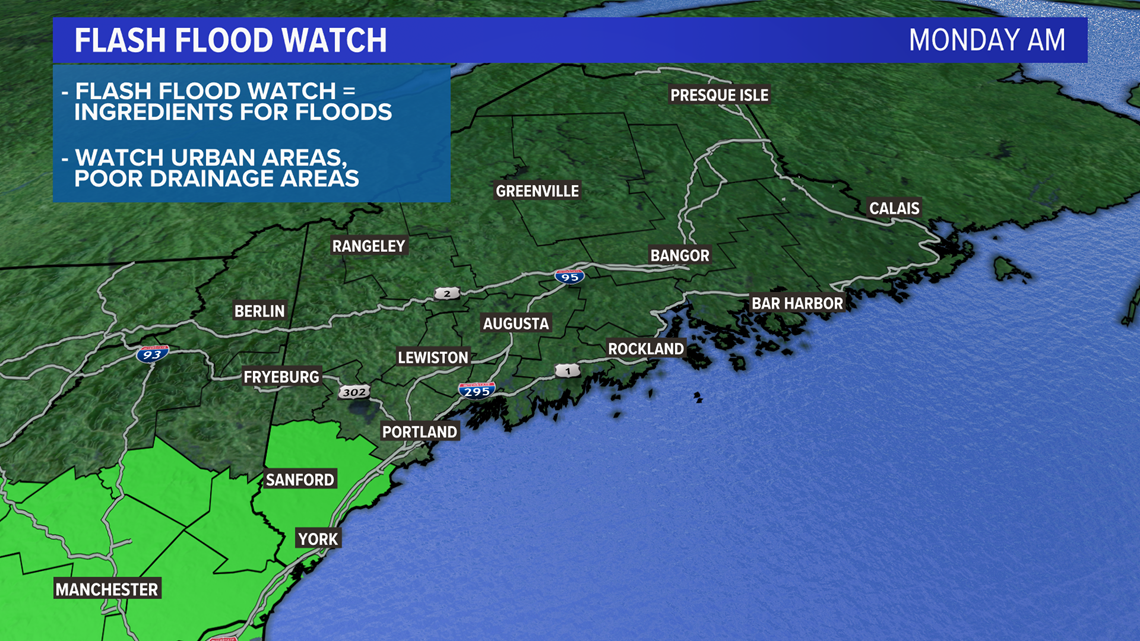 The National Weather Service in Gray has placed all of York county under a flash flood watch for Monday.
The ingredients are certainly there for potential flash flooding. Rain forecasts range from 1" on the low end to over 3" on the upper end. This is all on top of the rain that fell from Elsa on Friday.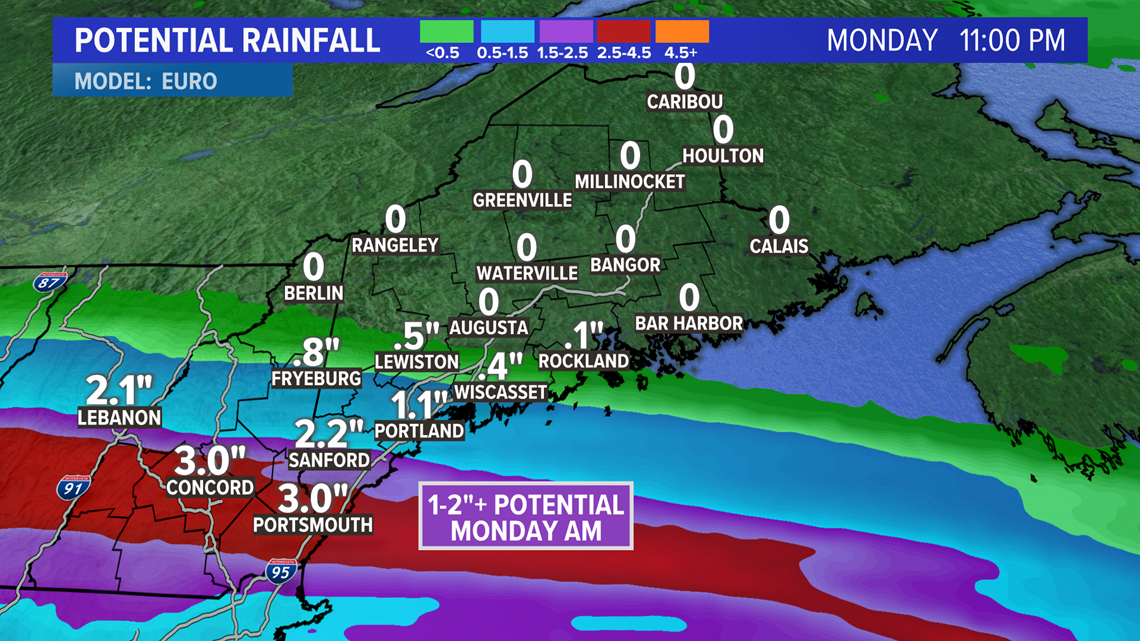 The rain will start to move south in the early afternoon, so any flash flooding issues are going to be confined to the morning on Monday. This may have impacts on the Monday morning commute, especially on I-95 between Kittery and Portland. There could be a bit of rain all the way to Lewiston-Auburn and Augusta, but these totals will be much lower and there will be no concern for flooding.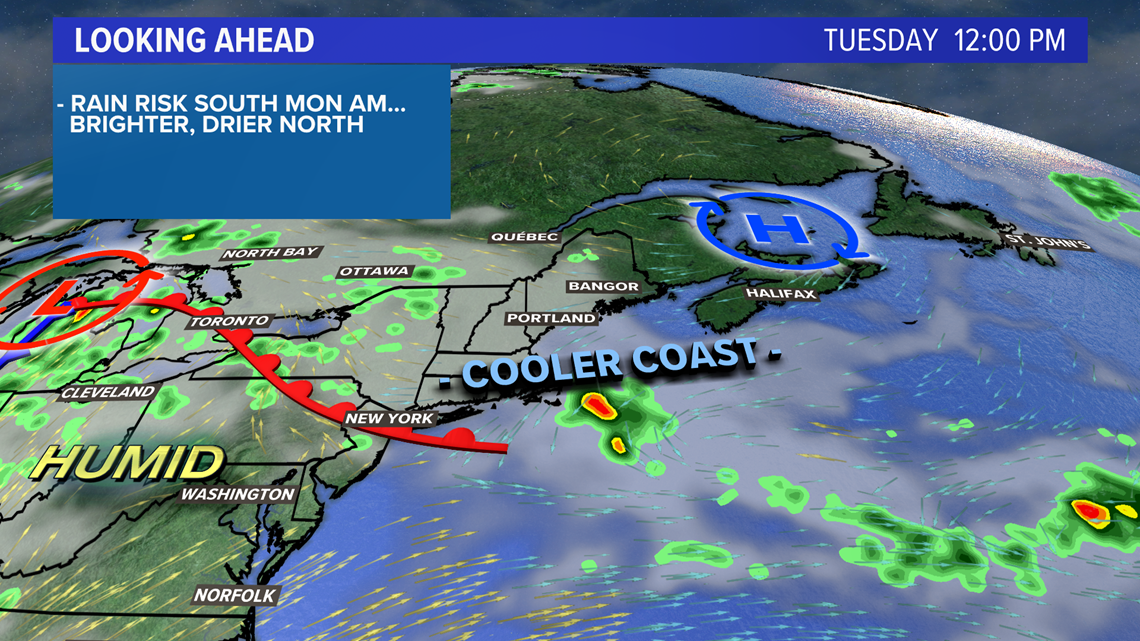 Onshore flow returns on Tuesday, bringing cloudy skies and cooler highs to the area. Most will only top out in the 60s on Tuesday afternoon, though the day does look fairly dry. Some areas inland may make it into the low 70s. Either way, certainly a cool day by July standards.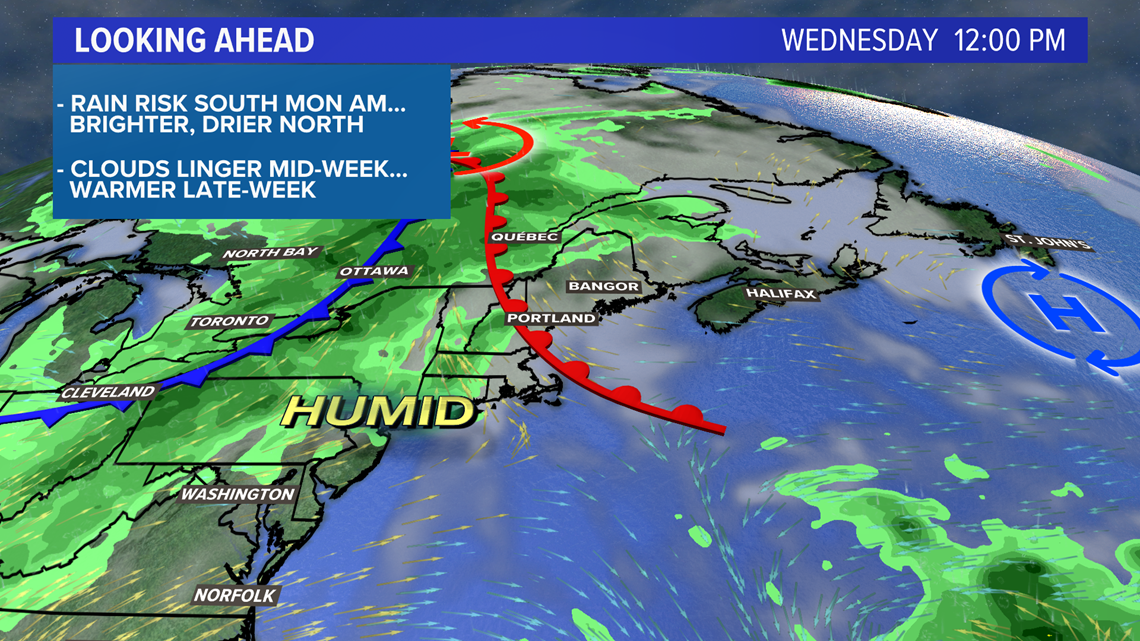 Wednesday looks a bit warmer, but there could be some pop-up thunderstorms in the afternoon. Some will stay totally dry on Wednesday.
I am a bit concerned about the aspect of a few stronger storms in the afternoon on Wednesday, though.
Western Maine has the best chance at seeing storms fire, and they will be pretty close to an approaching warm front. In these situations, storms can sometimes become a bit stronger and rotate. This would increase the risk for strong wind gusts or maybe even some hail.
More details on this as we get closer.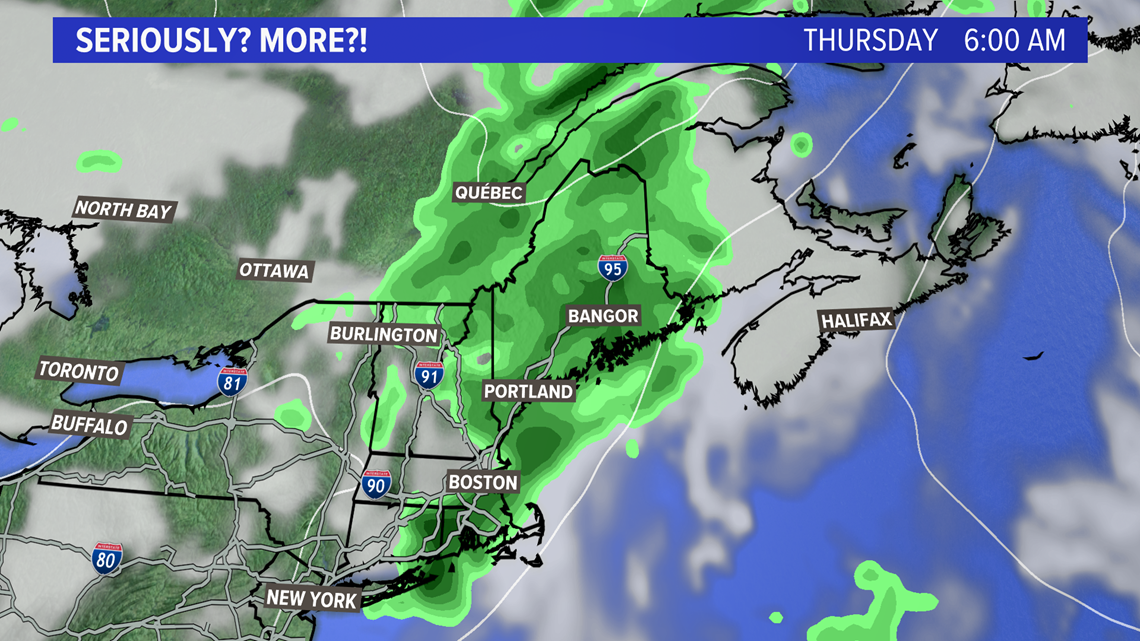 Rain returns again on Thursday morning as energy rotates through. With the recent trend in timing, skies may be able to clear out for a bit of sunshine late in the day. It also will be a little bit warmer, with most in the 80s by Thursday afternoon.
Friday and Saturday look hotter and more humid. Both days will feature a threat for pop-up storms.
To hear more on storms, you can follow me on Twitter, @MikeSliferWX.