MAINE, USA — The drought monitor on Thursday showed worse drought conditions in all of Maine and New Hampshire. The "abnormally dry" areas have officially been changed to "moderate drought," which is not a big surprise given the persistent lack of meaningful rainfall.
A moderate drought signifies wells and streams running a bit low. The fire risk is also higher and there could be some issues related to damaged vegetation.
Some areas of Maine and New Hampshire are in a severe drought, which has worse implications compared to the moderate drought category. These are the areas most likely to experience crop loss and water shortages.
There are two more possible categories, which are extreme drought and exceptional drought. Thankfully, these have not appeared in the northeast.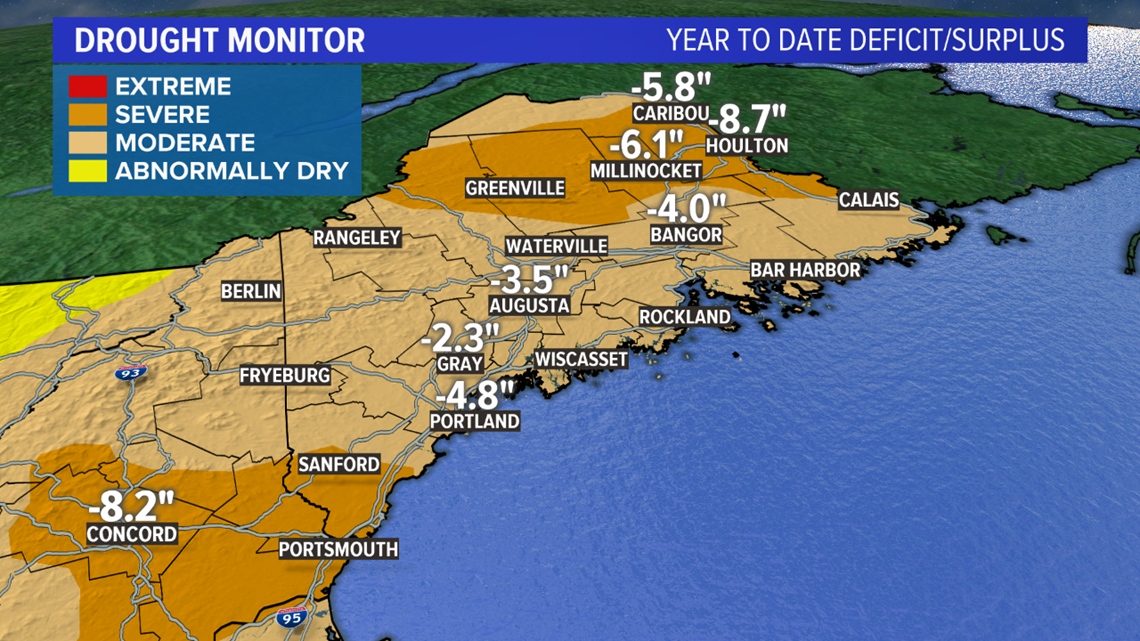 Precipitation departures have slipped into the negatives statewide. Generally, Maine and New Hampshire have been dealing with departures on the scale of a few inches. Some stations, such as Houlton, ME, and Concord, NH, are down almost 10" of precipitation compared to average.
The summer months in Maine and New Hampshire differ when it comes to rainfall. Generally, the wettest months in northern and western areas tend to come in the middle of the summer.
At the coastline, it tends to be in the fall. Nor'easters will come back into the picture for the fall and winter months, though, so hopefully some rain will sneak back into the forecast soon.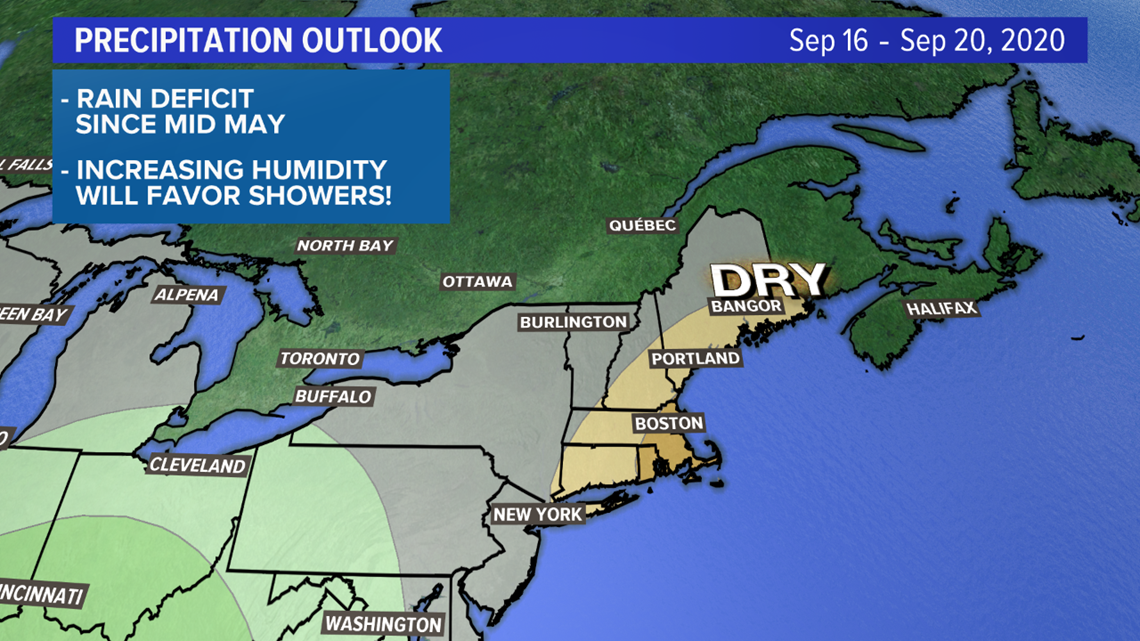 That's not the case now, though. The middle of September is right around the corner but soaking rain continues to elude New England.
The Climate Prediction Center is calling for equal chances above or below average for precipitation in northern sections, while coastal areas are forecast to remain below average.
At this point, multiple soaking rain events...or snowstorms, since we're getting close to that season...are necessary in order to eliminate the drought.
Drought impacts have been felt by people, wildlife, and vegetation. Trees are not immune from these dry conditions.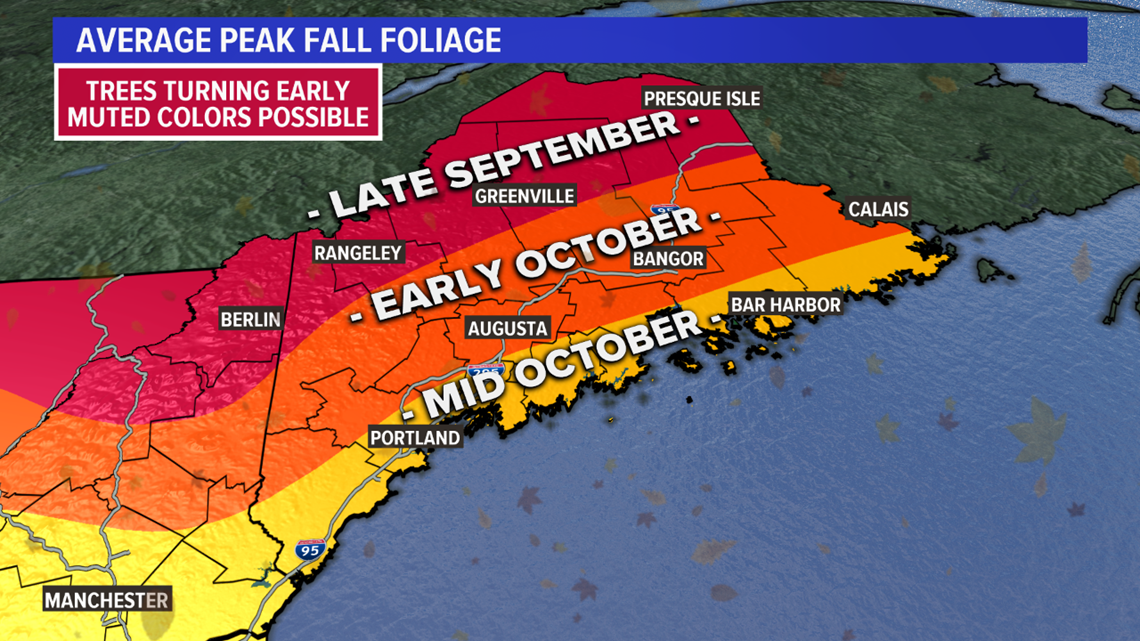 The average peak foliage occurs in just a couple of weeks for some parts of Maine and New Hampshire. Most will see their peak foliage within the next month.
Leaves are already starting to change color, though, due to the stresses of the drought.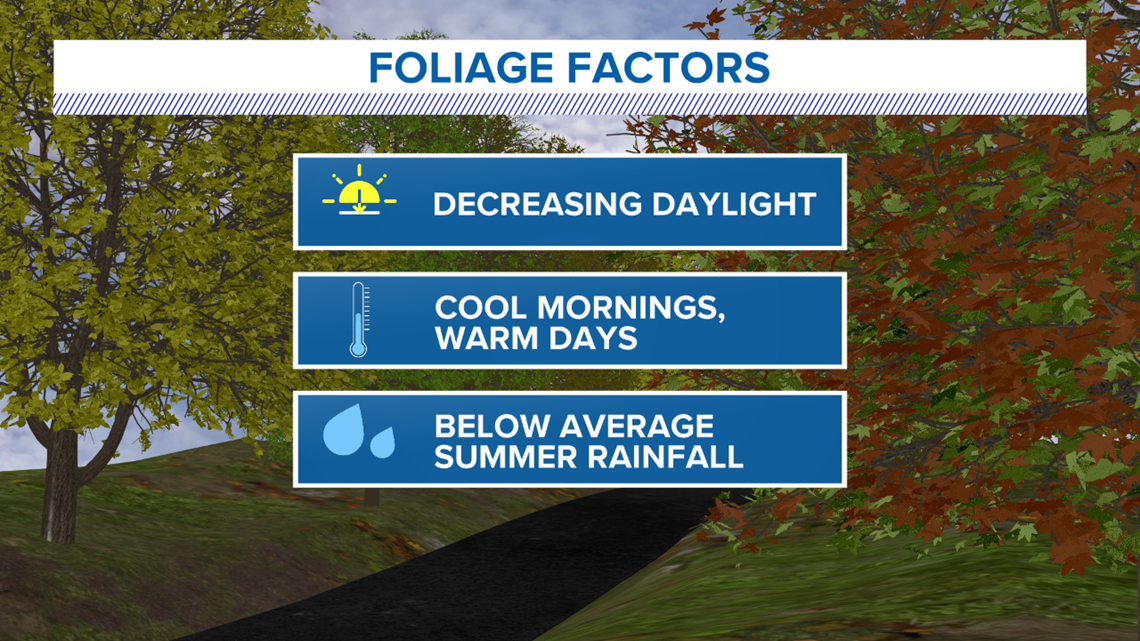 Foliage factors go beyond just rainfall. Hours of daylight and temperature play their own parts in the foliage forecast.
The daylight piece is pretty permanent; days get shorter and nights get longer this time of year.
Temperatures have been running high, though. The added warmth and humidity will also cause the trees to be a bit stressed.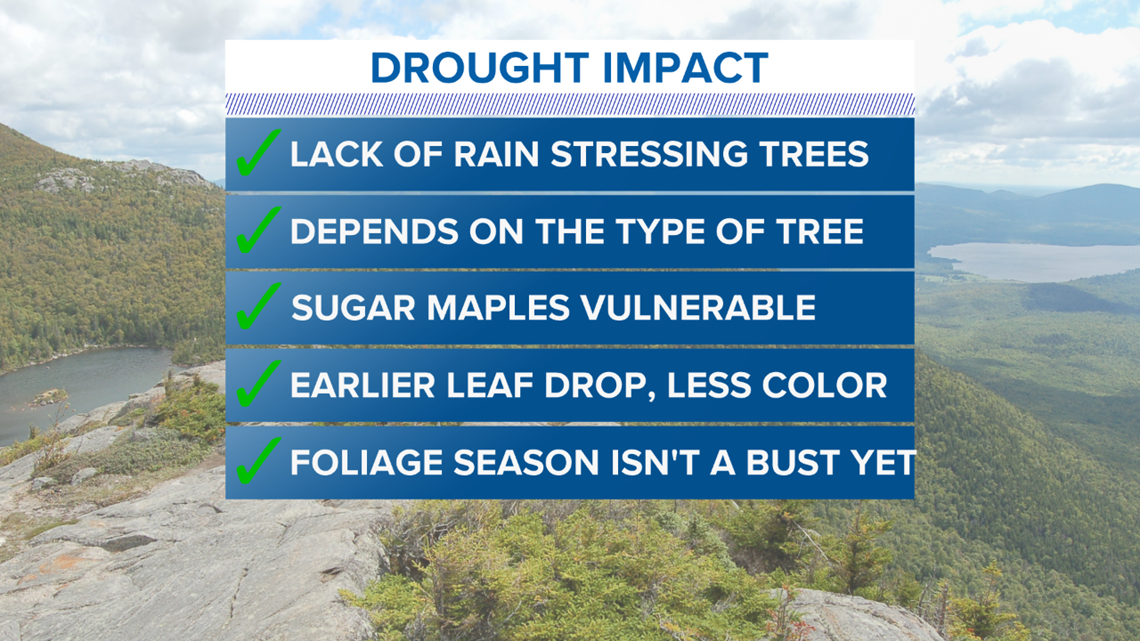 So, what should we expect for fall foliage? Is the leaf-peeping season already ruined?
Leaves will still change color as colder air arrives. The colors may be less vibrant compared to other years.
Some trees are more vulnerable than others. This is especially true for sugar maples.
While there is not much rain in the forecast, there could be some pockets of trees that do a little better than others. They may be closer to water or in a location that has been favorable for rain from pop-up showers and storms.
I wouldn't write it off completely just yet. For the best foliage, check out the western mountains of Maine and the White Mountains in New Hampshire. This still seems like the best location for favorable foliage foraging. Still, we can add the drought and potential impacts to the list of things that 2020 has thrown our way.