MAINE, USA — EDITOR'S NOTE: Make sure you can stay in touch with NEWS CENTER Maine's weather information by downloading our mobile app. Simply follow the links for your device. iOS | Android
I'm dreaming of a wet Christmas ... wait a second, those aren't the words.
If you've ever dreamed of living in the tropics during the holiday season, just step outside today! Tropical air has moved in, bringing heavy rain to Maine and New Hampshire.
NEWS CENTER MAINE RADAR
The storm is still west of Maine, keeping the strongest wind just above our head. Wind gusts will only get stronger heading into the early afternoon.
Rain and wind will finally subside late in the evening. Behind the cold front, temperatures will level off quickly in the upper 20s and low 30s.
Anything that's wet could freeze.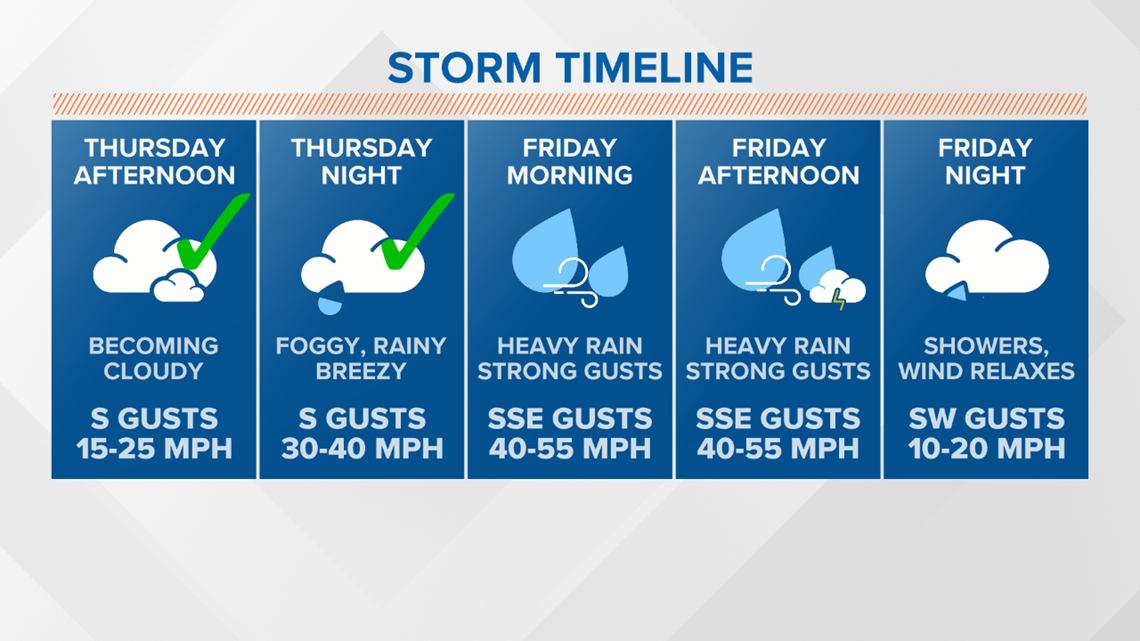 So far, the forecast is right on track. The strongest wind gusts reported as of 7 a.m. fell in the 35-45 mph range as outages slowly increased.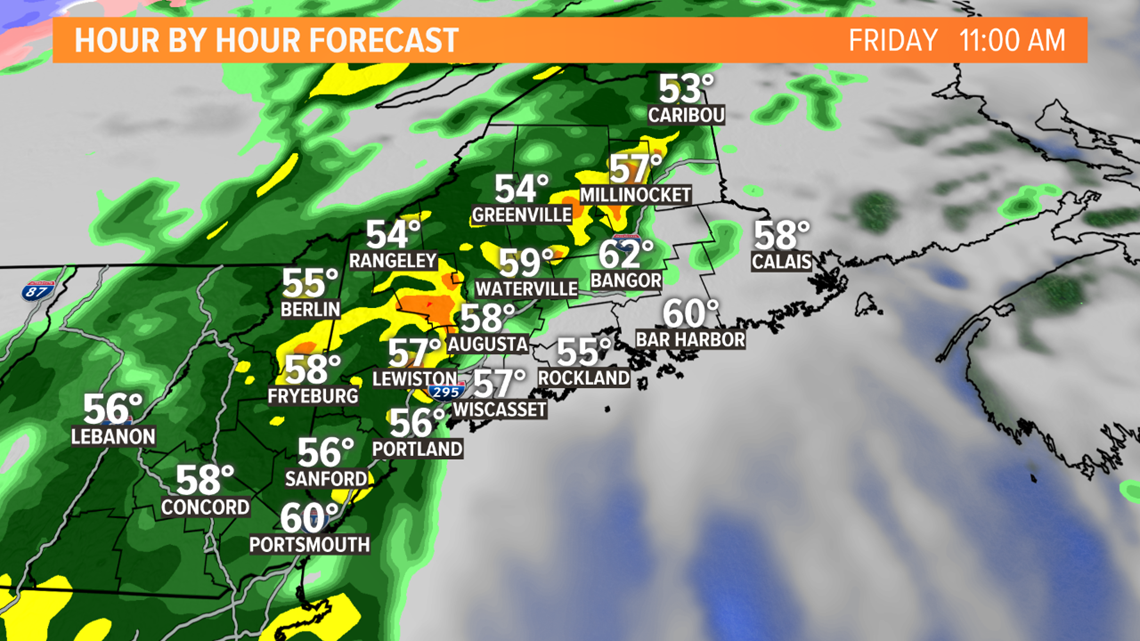 Late in the morning, a line of showers and isolated thunderstorms is forecast to cross into western Maine.
It is likely that this will bring very heavy rain and also coincide with the strongest gusts.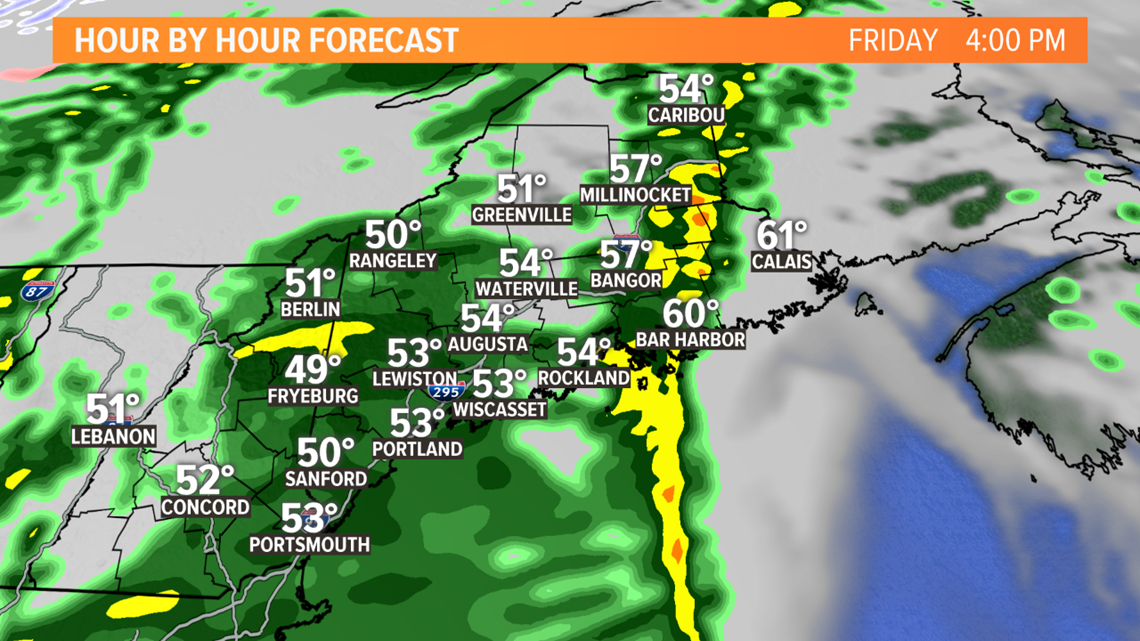 This squall line keeps moving east, eventually crossing Bangor in the late afternoon or early evening.
As was the case in western Maine, this will likely bring the strongest wind gusts and heaviest rain.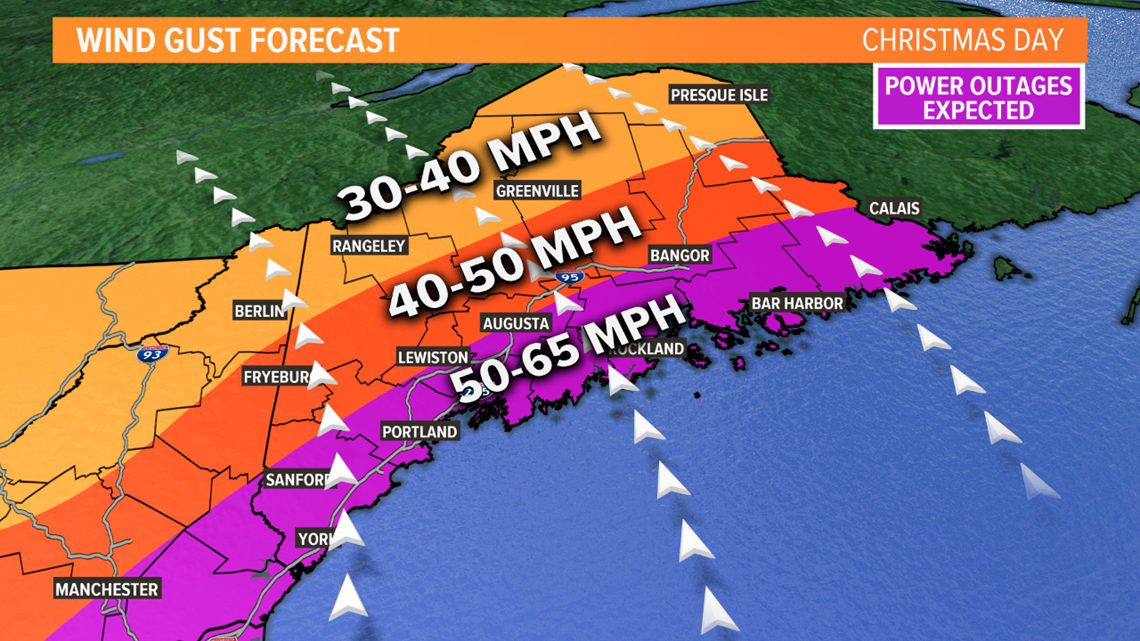 No big changes to the forecast. Still expecting widespread 50-65 mph gusts along the coastline and inland to Bangor and Augusta.
North of these areas, expect gusts between 40-50 mph. Some of the higher peaks may gust a little bit higher than this range.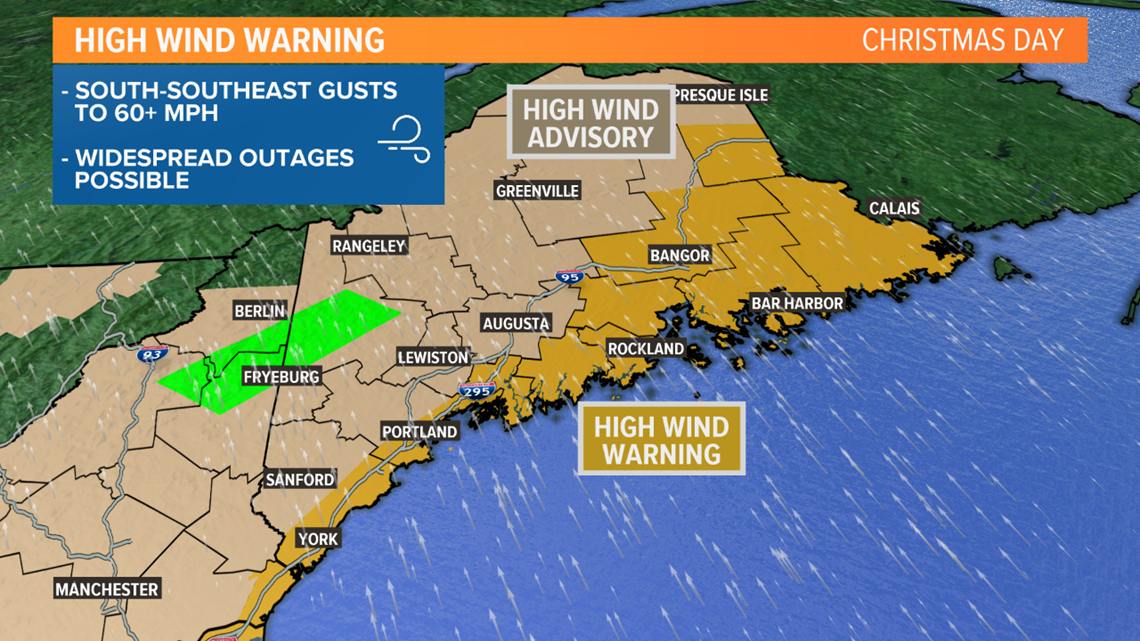 The high wind warnings and wind advisories remain in effect through the afternoon.
With power outages expected, both CMP and Versant are out and about. Really unfortunate timing for this, since so many people will have to miss the holiday.
Power outages aren't the only impact, though.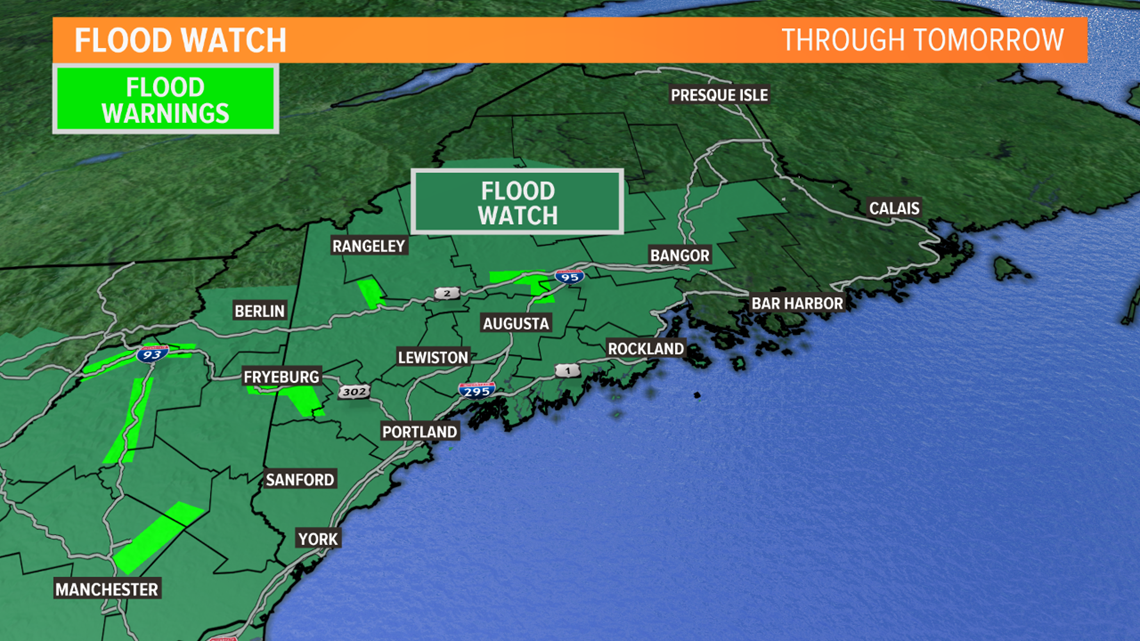 Widespread flood watches also continue. Heavy rain will bring totals into the 1.5-3" range. The mountains, especially south facing slopes, will end up with over 3".
Add in melting snow, and that's a recipe for flooding. The lime green areas on the map above signify flood warnings.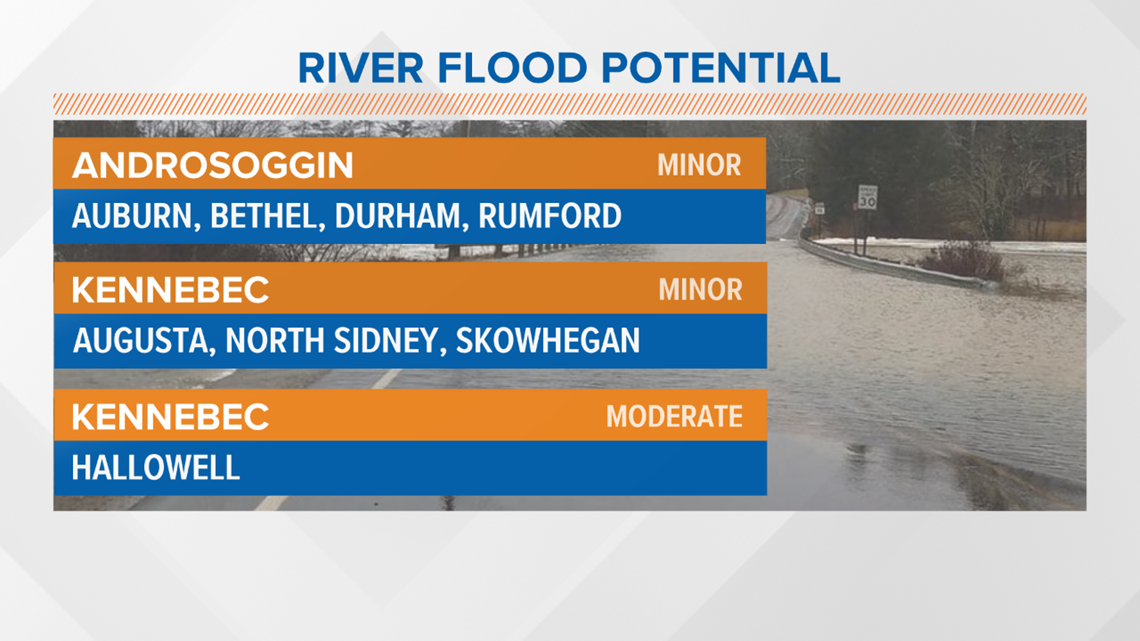 The Kennebec, Androscoggin, and Swift rivers are all forecast to reach minor flood stage at various stream gage sites.
The Kennebec at Hallowell is going to get very close to the moderate flood stage, too. This is my biggest concern moving forward, especially since river levels are slightly higher already than were forecast.
Areas of poor drainage and any clogged storm drains could also lead to minor flooding elsewhere.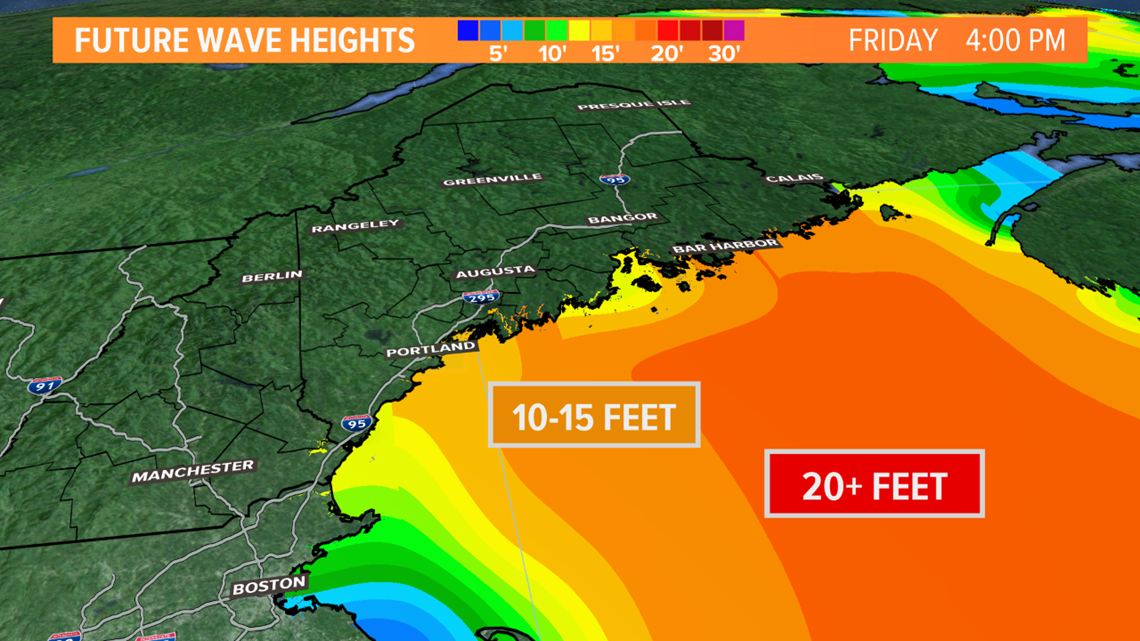 Surf's up on Christmas Day! Wave height forecasts call for waves to reach 15 feet or more as the storm draws near. Some splashover will be possible, though the highest waves will be closer to low tide than high tide.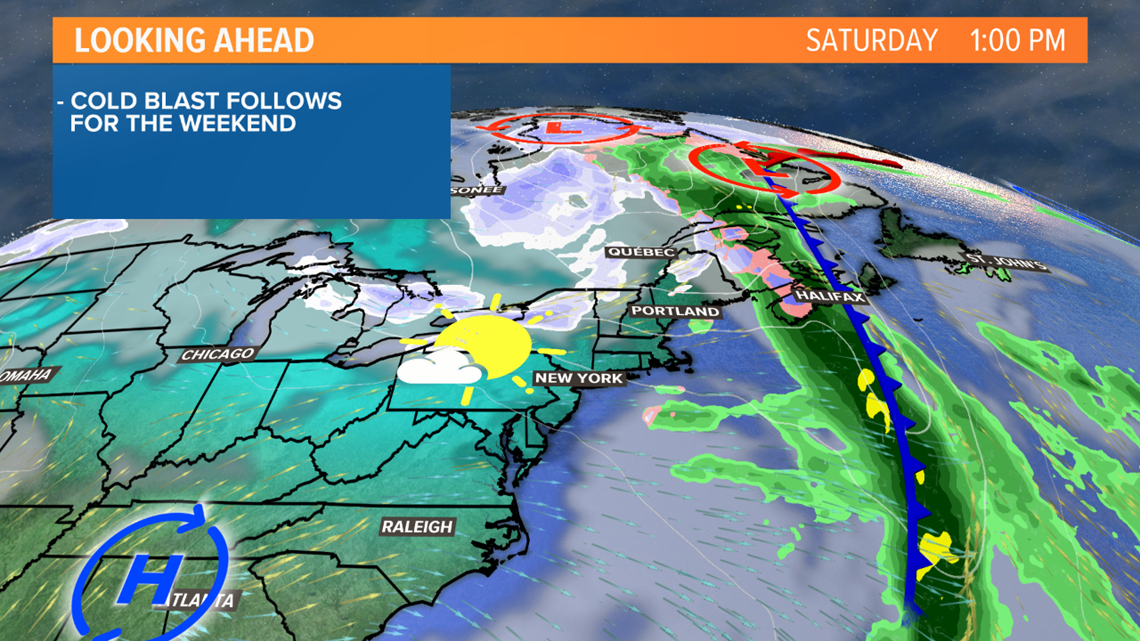 Cold air rushes in on Saturday. The clouds stick around, but the showers wrap up. The weekend will be much calmer and quieter overall.
If you have any pictures from the storm today, send them in through the "Near Me" section on our app. Link to more info here:
Otherwise, I'll be here keeping you updated with the forecast. Meteorologist Jess Conley will be in during the evening. Follow us on Twitter for more updates and have a Merry Christmast! @MikeSliferWX @MeteoroloJess