MAINE, USA — The severe weather season in Maine and northern New Hampshire was active. The beginning of July and the end of August featured multiple days of back-to-back severe weather events.
Before I get into what actually happened, I want to remind you that this recap focuses on severe weather caused by thunderstorms. There are other wind events (and a couple of really late season snow storms) that had some big weather impacts, but the point of this article is to highlight strong thunderstorms.
Chances are slim that more severe thunderstorms will occur this year, but if they do, expect this article to be updated.
Spring 2020 Severe Storms
The severe weather season in New England was off to a bit of an early start. In between snow storms, a round of strong storms moved through at the end of March.
The storm reports from the Storm Prediction Center (referred to as "SPC" from here on out) showed most severe hail reports were in Massachusetts. For reference, severe hail is one inch or larger in diameter. Several Mainers reported hail as the storms moved through. My video above highlights hail that fell in Scarborough.
April and May were generally quiet with respect to severe weather since the colder pattern dominated. On May 29, a couple of trees came down near Rangeley as some stronger storms moved through.
The season became a bit more active in June. On June 6th, thunderstorms rolled through in the early afternoon. There were multiple reports of downed trees and wind damage through parts of York and Cumberland counties.
Other than a few rogue cells that were warned, the spring stayed fairly quiet with respect to severe weather. Summer was a different story, however.
Summer 2020 Severe Storms
Summer storms in Maine can pack a punch, and this year proved that. There were a handful of days with severe-warned storms to end off June.
The most interesting day was June 28, when some organized storms moved through southwestern Maine. Again, trees came down and there was a reported instance of severe hail, according to the SPC.
July was a completely different story, though.
To kick off the month, severe weather spread through the state on July 2. Most of the reported damage was from strong wind gusts, especially in Somerset county where a telephone pole was snapped in half.
The pattern remained active for the next few days, but most avoided severe weather. That is, until July 8.
A large line of thunderstorms started sinking south through Coos county, New Hampshire, and western Maine in the afternoon.
These storms were in an environment primed for keeping their strength and organization.
Storm reports from northern New Hampshire and western Maine highlighted just how bad these storms were.
In Coos county, "tons of trees" were reported down by law enforcement in Whitefield.
In Franklin county, Rangeley fire department reported wind gusts of 85 mph, sustained for five minutes.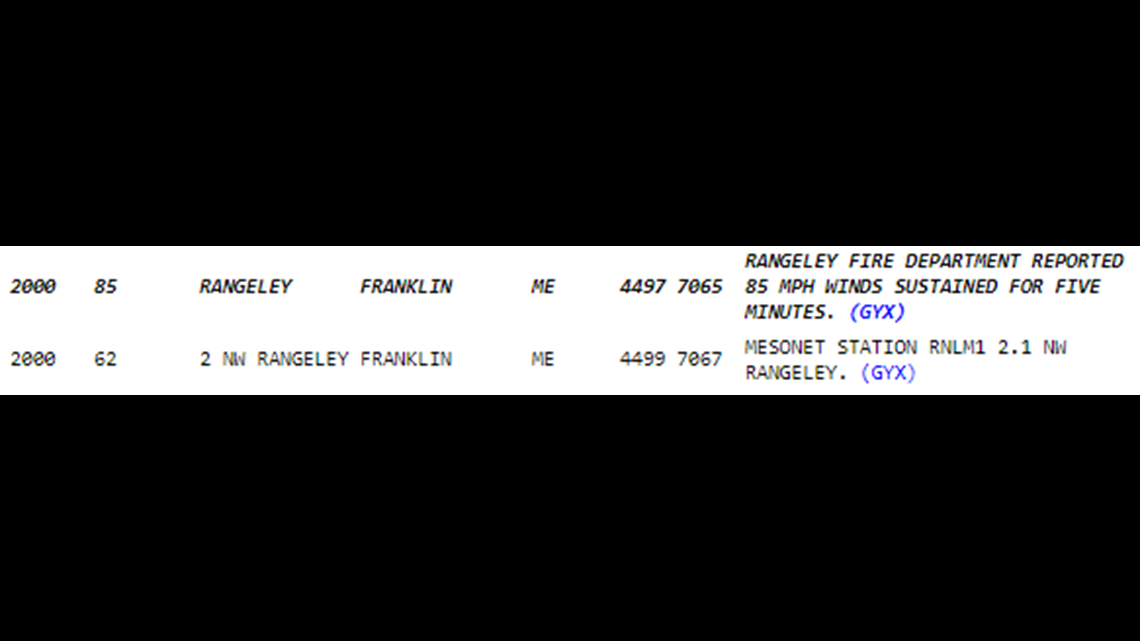 Multiple severe reports highlighted strong wind gusts and ranged from the international border to the coastline.
The following day, a strong storm near Presque Isle dropped some hail and was fairly gusty. Damage was reported from various areas near Caribou, mostly centered on debris from the hail that fell.
All eyes were focused on the remnants of tropical storm Fay by July 10. The remnants of these tropical systems tend to bring really impressive wind profiles with them, leaving the atmosphere ripe for rotating storms.
On July 11, Maine tapped into that potential. A tornado was reported near Sebago. It was on the ground for 4.8 miles and touched down a little bit after 3:30 p.m. The tornado was rated as an EF-0 with estimated wind speeds of 85 miles per hour.
Local forecaster and meteorology student Jack Sillin was able to get a timelapse of the tornadic storm.
Some Mainers were up close and personal with the tornado as it moved through. It was first spotted over Barker Pond in Sebago before moving onto land.

This was the first confirmed tornado in New England for 2020.
For more details on the meteorology at play, check out my article below on the tornado itself.
A few more strong thunderstorms passed through on July 13. Isolated wind damage reports trickled in across Maine, but the more impressive weather was the following day.
Thunderstorms fired up early in the day. Severe warnings had already been posted by 9 a.m. With colder air at play high in the atmosphere, the storms were able to produce quite a bit of hail.
Hail damaged over 1,000 vehicles at Marc Motors in Sanford. Snow plows were used to clear the hail and clean up after the storm.


Heavy rain also caused issues. Parking lots in Rumford were filled with standing water. Streets in South Bristol were closed after heavy rain washed out parts of them.

The article linked below has a more in-depth analysis of the meteorology behind these three events.
The weather was wicked that week and featured all modes of severe weather. Quieter weather remained for the next couple of weeks, until another rotating storm on July 27.
On the evening of July 27, a strong thunderstorm was located near Bingham and was tracking south. By the time it reached Hartland, it had a pretty strong rotation signature on radar. While a tornado was not confirmed, the storm did become tornado warned.
Multiple trees came down through Somerset and Penobscot counties due to the strong wind gusts.
To end off an active month of severe weather, a few more trees came down near Bridgton, Maine, on July 30. While this was not quite as widespread as other severe events, it still seems like the icing on the cake to end a month that was so active.
August started off a bit eventful, too. As the remnants of Isaias rolled through, there were a few spots that dealt with damage. Porter and Portland both dealt with some damage related to the stormy conditions.

Unfortunately, these storms resulted in a death in New Hampshire.
A couple of stronger storms in The County on August 11 resulted in a couple of reported trees down.
On August 22, more thunderstorms rolled in that were above severe limits. Two tornadoes were confirmed in New Hampshire. One occurred in Belknap, and the other was near Ossipee.

Severe weather was also reported in York county. Some trees came down with strong wind gusts (not tornado damage), and hail of an inch diameter was reported, too.
Another set of strong storms caused some wind damage in southern New Hampshire the following day.
On August 24, more severe weather happened in Maine. The most impressive hail report was out of Livermore Falls. Hail was reported to be walnut sized (about an inch and a half in diameter) with wind gusts of around 60 miles per hour.
Elsewhere in Maine, strong wind gusts brought trees and wires down.
August 25 was an even more active day. Waldo, Kennebec, and Penobscot counties dealt with damage and downed trees and thunderstorms moved out of the mountains and became severe. Again, the majority of the damage reports were wind related and lead to tree damage.
There were a few more days of severe weather in southern New England at the end of August, but Maine and New Hampshire stayed quieter.
September did not feature much active weather, either, especially as the pattern started to favor cooler, drier air across the region.
The quiet weather came to an end on October 7. A complex of storms rolled through central New York and became severe as it raced east. By early afternoon, thunderstorms started to produce quite a bit of damage in Upstate New York. The storms moved southeast, leaving southern New Hampshire on the fringe of the severe weather.
By the time they reached the coastline, wind gusts of over 70 miles per hour had been observed. The strongest gust was 82 miles per hour in Quincy, MA.
The SPC has officially classified this event as a derecho. A derecho is defined as a strong line of thunderstorms that produces severe wind gusts (58 mph or higher) along most of its path and travels at least 250 miles.
While Maine and New Hampshire did not deal with most of the damage directly, this is still an impressive event for New England. Derechos are not common here locally, and that's especially true in October.
The most recent severe weather event happened on October 10. Strong thunderstorms in Upstate New York and northern Vermont moved east, eventually crossing into northern New Hampshire and western Maine. A tornado warning was issued for Coos county, New Hampshire in the evening. No tornado has been confirmed.
Even still, the storms that rolled through were potent and somewhat organized. Hail fell, with reports between an inch and inch and a half for the diameter of the hailstones. Most reports were from Coos county, New Hampshire, and Oxford county, Maine.
All in all, it was a pretty active severe weather year. NWS Gray, which forecasts for New Hampshire and the western half of Maine, issued 8 tornado warnings this year. This is tied for their highest number of tornado warnings issued, which occurred in 2018. This year is also the only time that NWS Gray has issued a tornado warning in the month of October. Previously, the latest they had ever done so was in August.
Note: the earliest year available for this data is 1986.

NWS Caribou did not have the same stats. In fact, only one tornado warning was issued by NWS Caribou this year. The record for most tornado warnings is 10, which occurred in 2011. For reference, NWS Caribou covers the eastern half of Maine.

For severe thunderstorm warnings, NWS Gray has issued 158 so far this year. The highest ever was in 2007, with 246 warnings issued. This year's total of 158 is still above average compared to most years.

NWS Caribou issued 36 severe thunderstorm warnings this year, less than half of the record 108 from 2011.

Both NWS Gray and NWS Caribou could still issue another severe thunderstorm warning before 2020 ends, but the chances continue to decrease for the rest of the year as a cold pattern dominates.
As always, we appreciate the communication we have with viewers during severe weather events. The best way to send us pictures now is by using the "Near Me" section of the NEWS CENTER Maine app. Just make sure you are safely taking pictures!
Follow our whole team on social media, online, and on air for updates as we get into snow season.