MAINE, USA — What a week of weather. From flash flooding and accumulating hail to a confirmed tornado, it has been busy in Maine. Now that things are finally quiet, here's a recap of the severe weather reports out of Maine from the last week.
The set up for severe weather in Maine last Wednesday was pretty impressive, and one of the better setups we've seen so far this spring and summer.
There was plenty of energy for storms to use, with just enough wind to get the storms strong and organized. With conditions favoring strong storms, a severe thunderstorm watch was issued for most of Maine.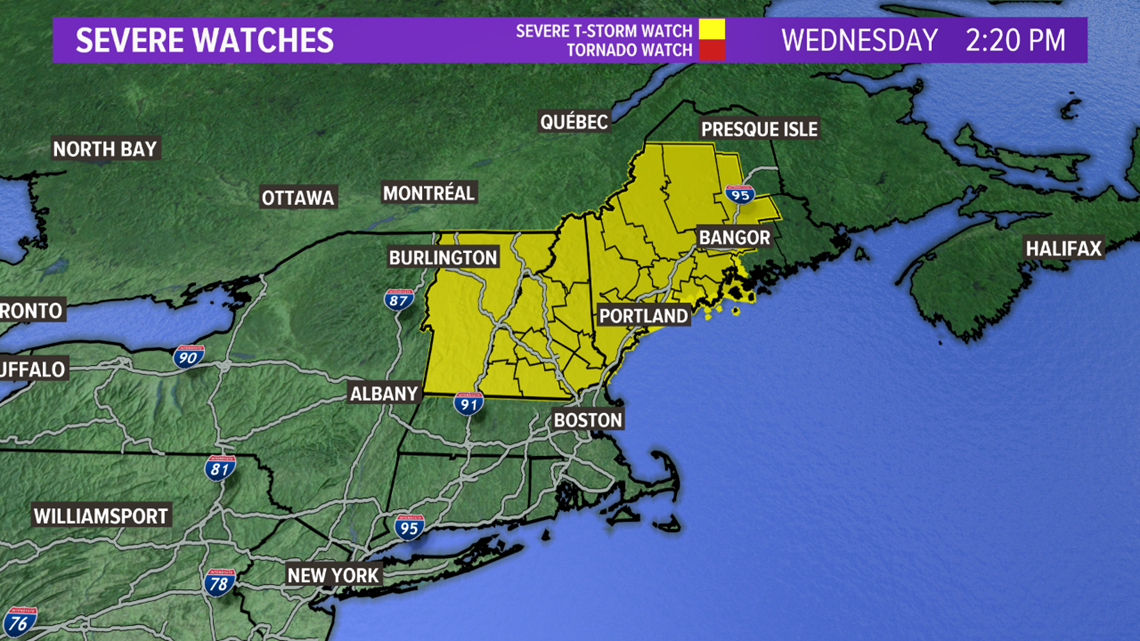 This forecast verified pretty well. By early afternoon, storms had already started firing up.
Storms became strong to severe as they moved through western Maine. Some of the more impressive storm reports were associated with these storms, where wind gusts ripped up trees and took power lines down with them.
Some wind gusts exceeded the severe limits of 58 mph and were measured in the 60 mph range. However, the most impressive wind gust was an 85 mph gust reported by the Rangeley fire department.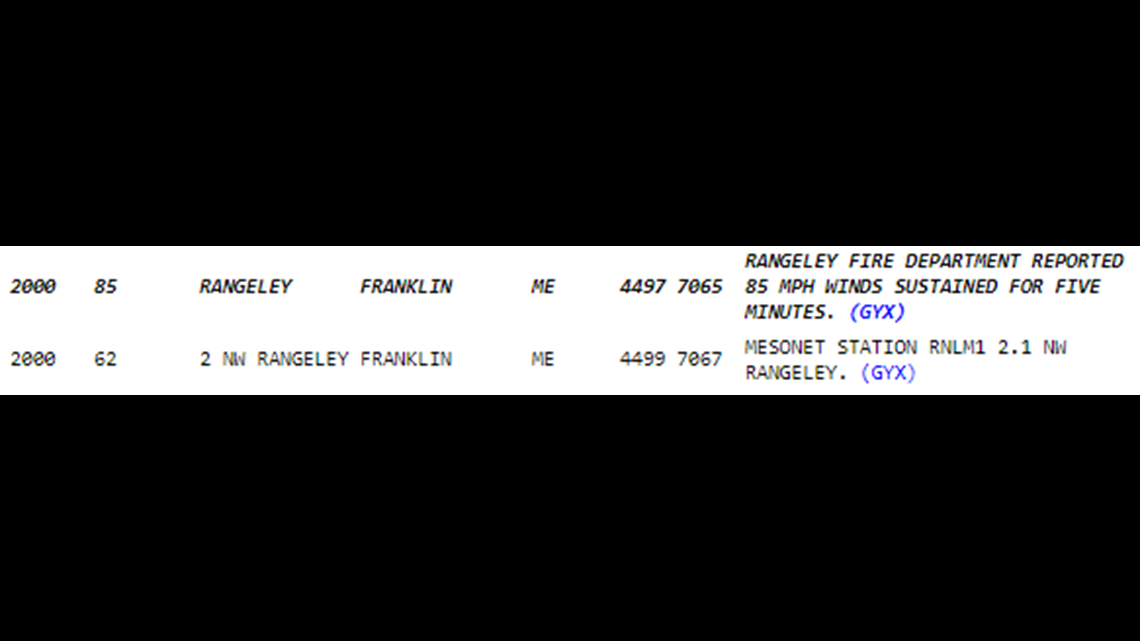 Wind wasn't the only thing to affect the mountains. Hail was also reported in a lot of thunderstorms on Wednesday.
While the hail wasn't as big of a story, half dollar size hailstones were still reported in East Dixfield.
Storms wrapped up Wednesday evening, with the next big event occurring on Saturday.
Saturday showed a threat for thunderstorms, but all in all the severe risk looked a bit more impressive to our west.
By the early afternoon, a thunderstorm had fired up in New Hampshire and was moving into Maine.
As it did, it began to ingest a bit more rotation. The storm organized quickly into a small supercell.
Supercell thunderstorms are characterized by their mesocyclones, which are intense, rotating updrafts. In other words, these are strong and organized storms. They also are the ones that need to be monitored for potential tornado development.
This one in particular had some really impressive rotation with it. The result was a confirmed tornado in western Maine.
It was on the ground for 4.8 miles and caused quite a bit of damage along its path. Take a look below.
This was the only storm that was warned on Saturday, and a lot of things worked in the storm's favor to make a tornado form. Meteorologist Ryan Breton wrote a great post on the science behind the storm: Why western Maine was hit by a tornado Saturday
Thankfully, no injuries nor fatalities were reported with the tornado.
Last, but certainly not least, were the storms on Tuesday.
Showers and storms fired fairly early in the day, with severe warnings in southwestern Maine starting up 8:30 a.m.
The environment was favorable for some hail development in the storms as well as very heavy rain.
As the storms moved in, hail became plentiful through Arundel, Saco, and Biddeford.
The videos and pictures looked like something you'd expect from a snowstorm in the middle of winter. Roads were coated with hail and the videos showed quite a bit of white falling from the sky.
Check out this video from Biddeford, as shared by NEWS CENTER Maine's own Kim Charland.
In Sanford, hail was also the big weather story. At Marc Motors in Sanford, over 1,000 vehicles suffered from hail damage. Read more on that below.
Heavy rain also caused some issues across the state. Multiple flash flood warnings were issued in Maine, with torrential downpours causing issues around the state.
In Rumford, some parking lots had standing water in them. Areas of poor drainage around Maine also observed some nuisance flooding.
It was a little more extreme in South Bristol, where roads were closed after being washed out.
All in all, Maine had some wild weather this past week. Thankfully, the upcoming forecast looks a bit calmer, with a more typical summer forecast and some quiet weather mixed in.
For the latest weather information, follow Mike Slifer on Twitter (@MikeSliferWX) or Facebook.