The biggest threat for severe weather will be in northern New Hampshire and western Maine. Some storms may bring strong wind gusts or small hail with them.
Given the wind profile, some of the storms may also rotate a bit as they roll through.
Let's break down the setup and talk about what to expect.
Saturday morning will start off fairly mild, thanks to the increasing humidity. Sunshine through the morning will push temperatures into the 80s.
This is great for beach weather, but also means we will have more energy for storms to work with.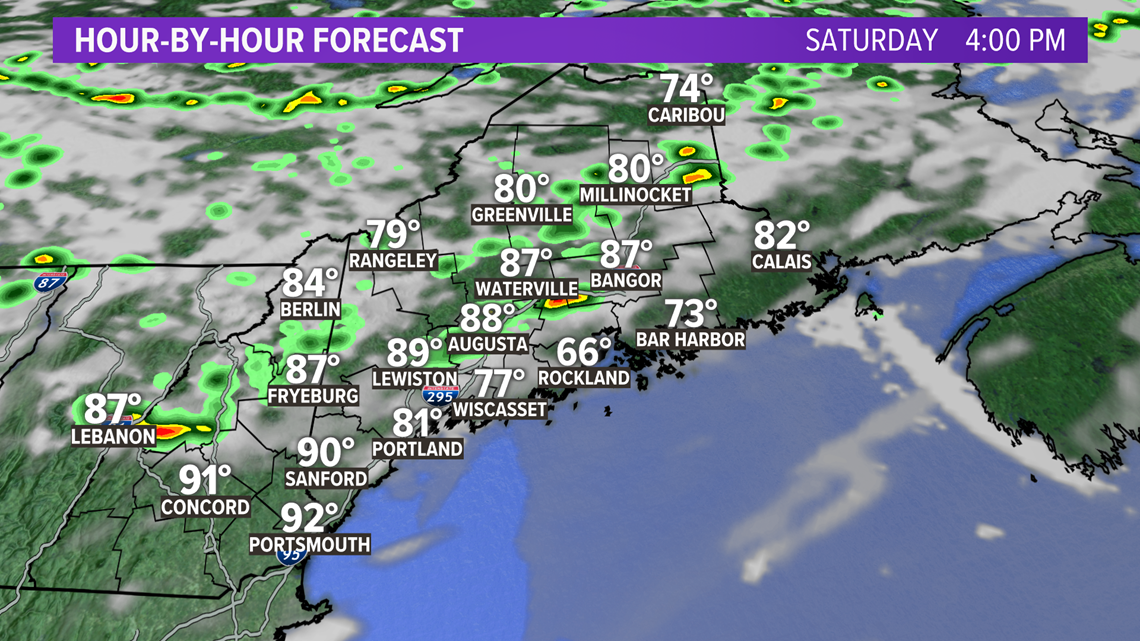 By the late afternoon or early evening, storms will be firing up in western Maine.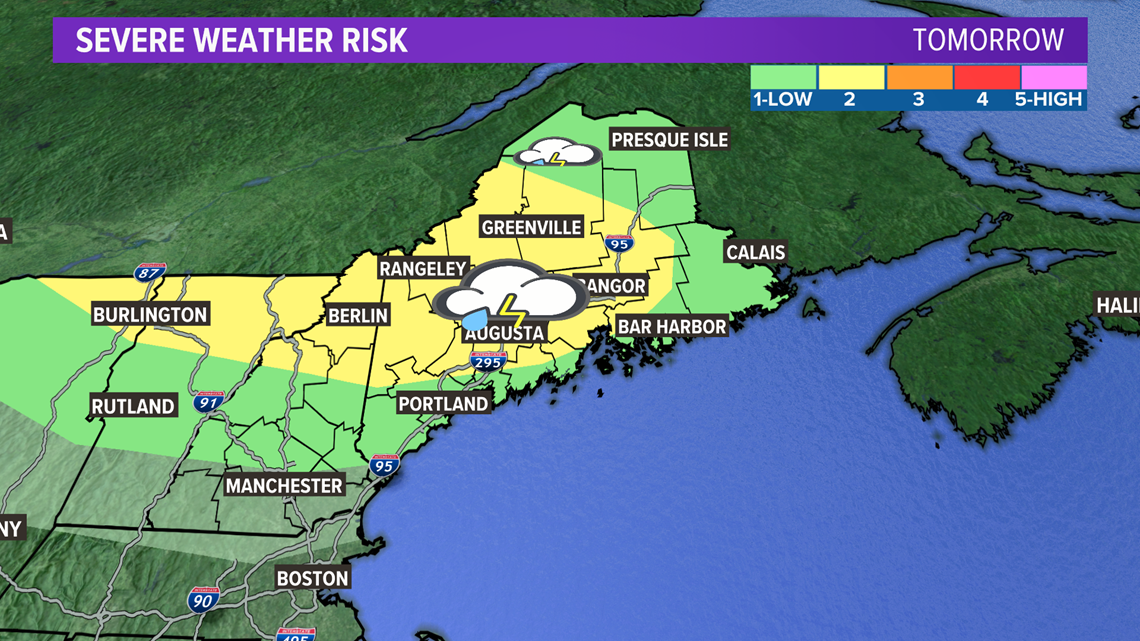 The Storm Prediction Center highlights the risk area quite well.
Any spots within the yellow area will have to watch the radar closely, including Bangor and Augusta.
These storms could bring strong wind gusts, hail, or even a brief spin-up tornado. The ingredients for severe weather will certainly be in place.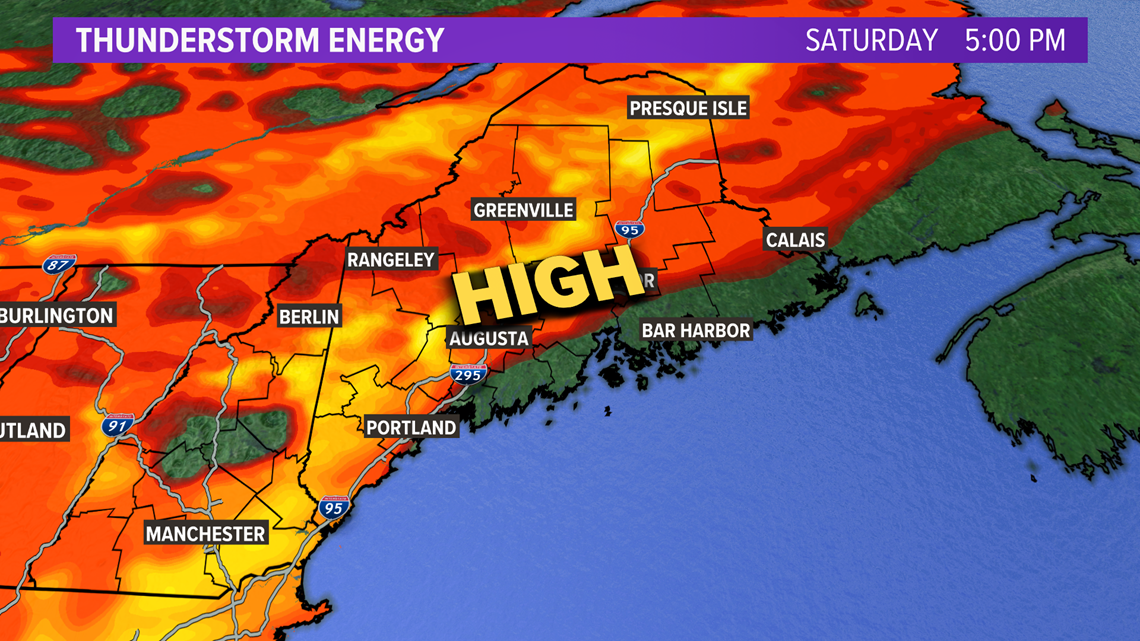 The amount of energy these storms have to use will peak in the early evening, but the unique atmospheric profile will actually keep some energy around even after the sun sets.
That means that there still could be some strong storms even after dark. Usually, the severe threat diminishes as the sun goes down.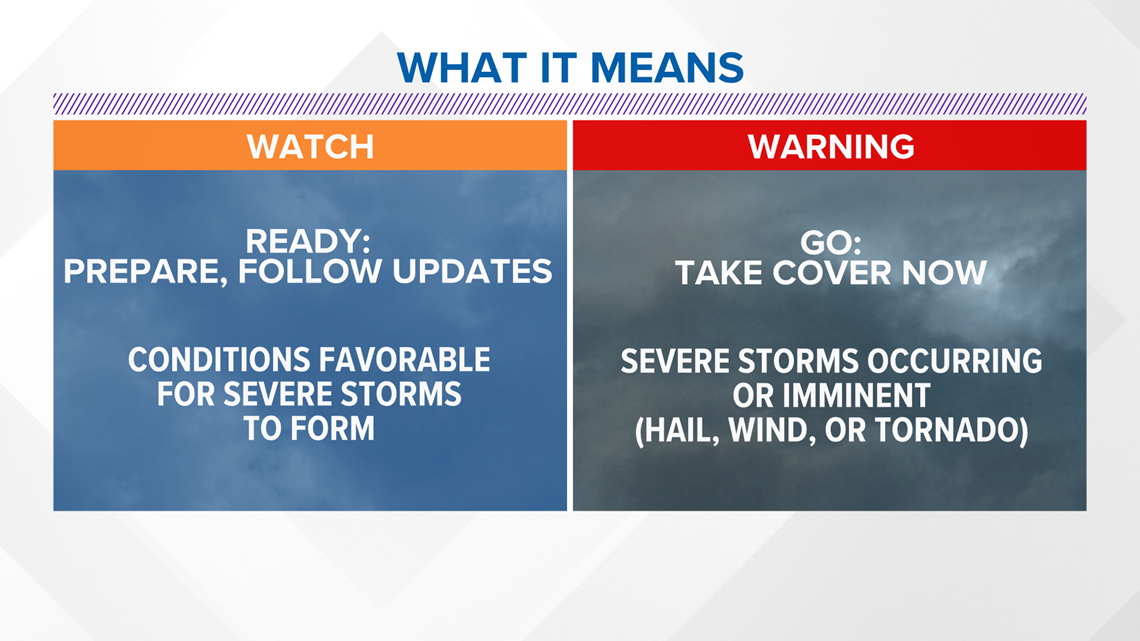 Remember, a watch means there are ingredients in place for severe storms. A warning means it is occurring or is imminent.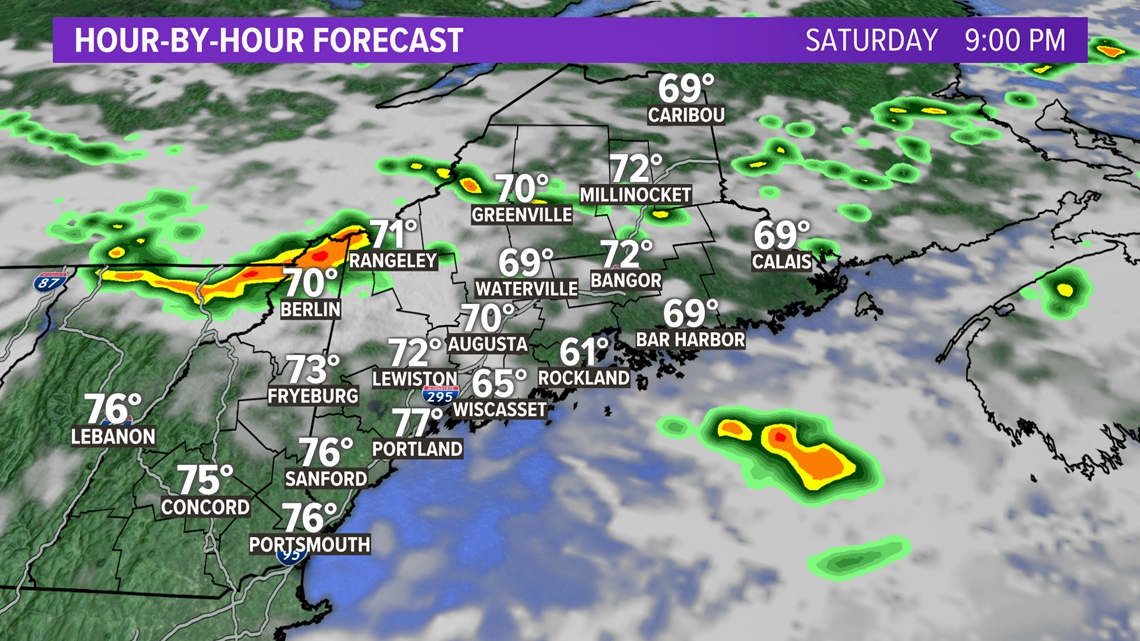 A few more storms are expected around 9 p.m. These ones will also pose a threat for strong wind gusts.
Want to stay updated with the storms and share your storm pictures with us? Check out the NEWS CENTER Maine app. You can submit pictures on the "Near Me" section and follow the storms on our interactive radar.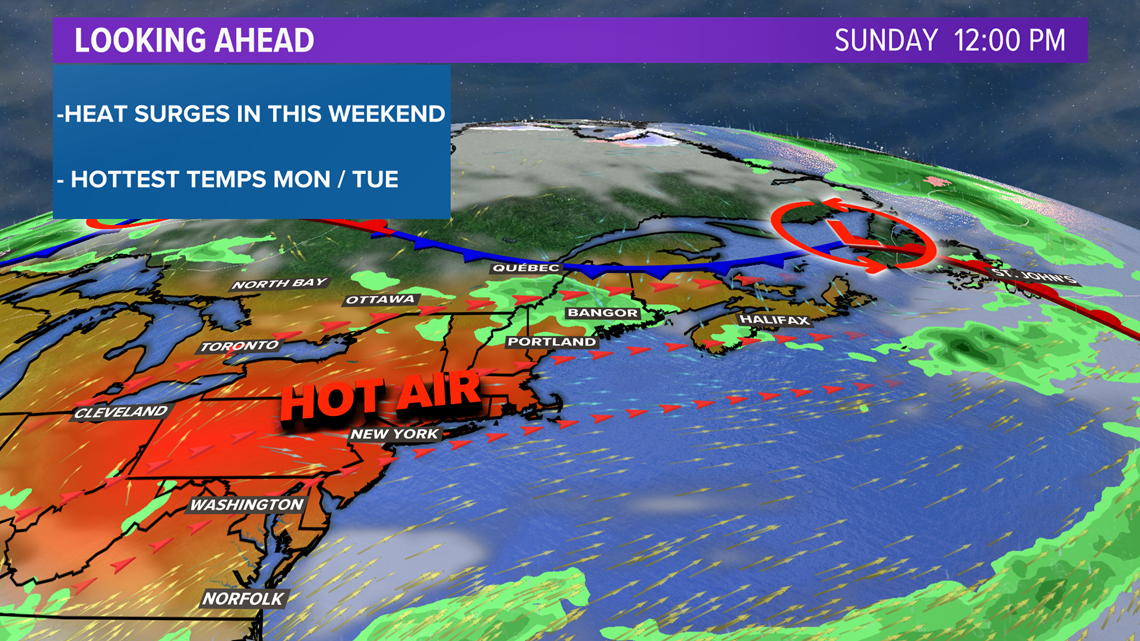 Sunday will be a much quieter, but much warmer day. The heat builds in pretty quickly with forecast high temperatures in the 85-90° range.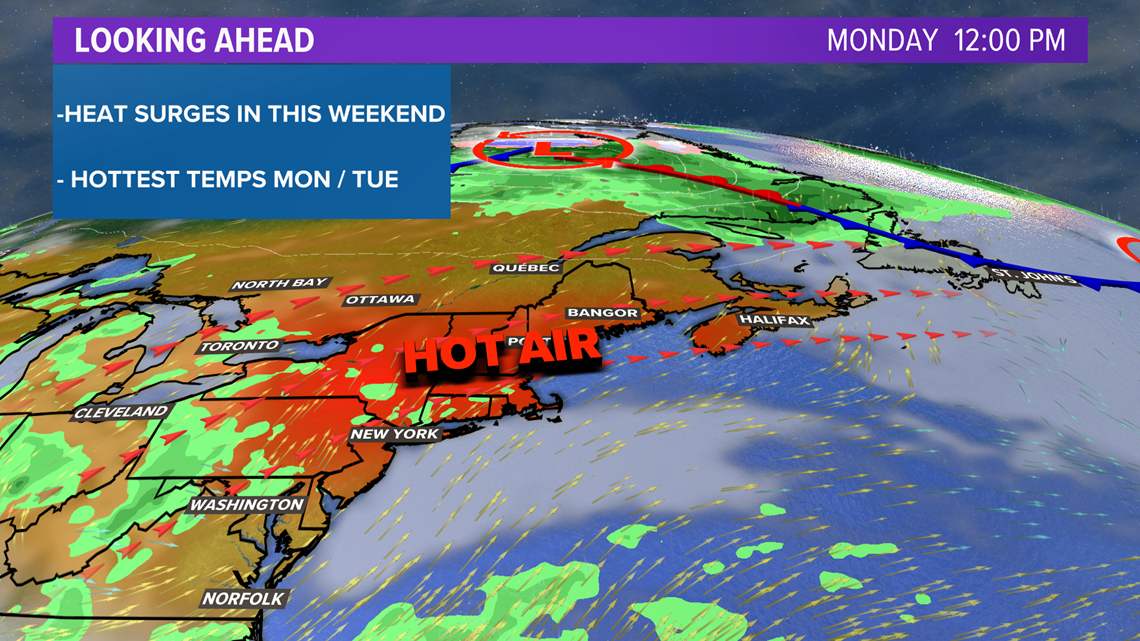 The hottest day of the next few comes on Monday, though.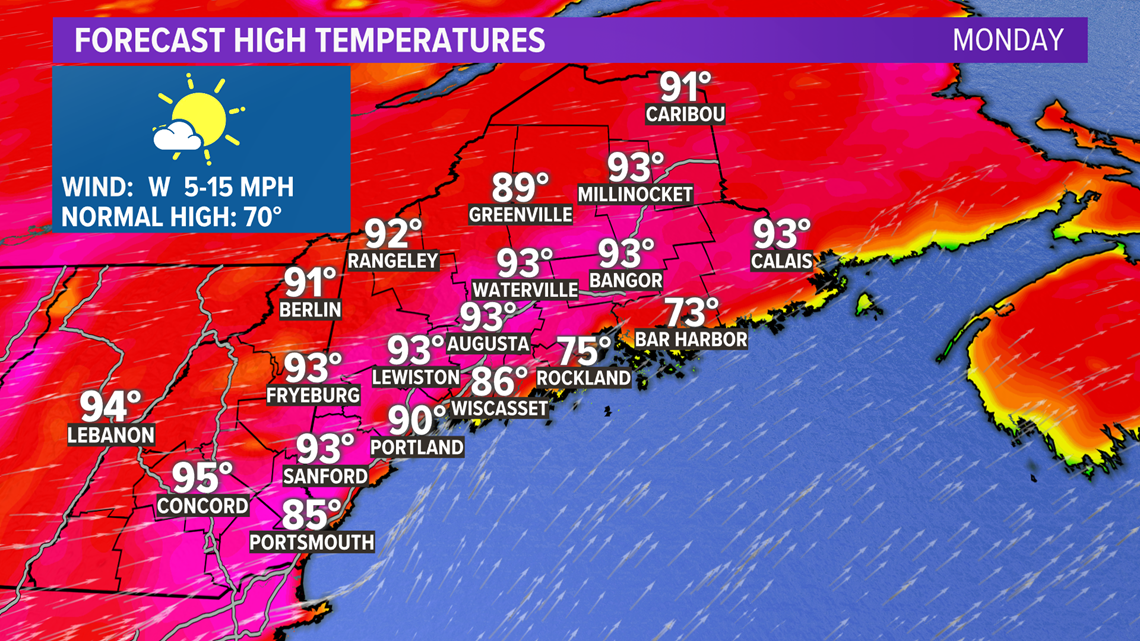 Heat and humidity will be abundant, with temperatures topping out in the low to mid-90s.
Given the general offshore flow, there will not be much relief even at the coast.
To my fellow beachgoers ... just remember that the water is still quite cold, and hypothermia can occur quickly!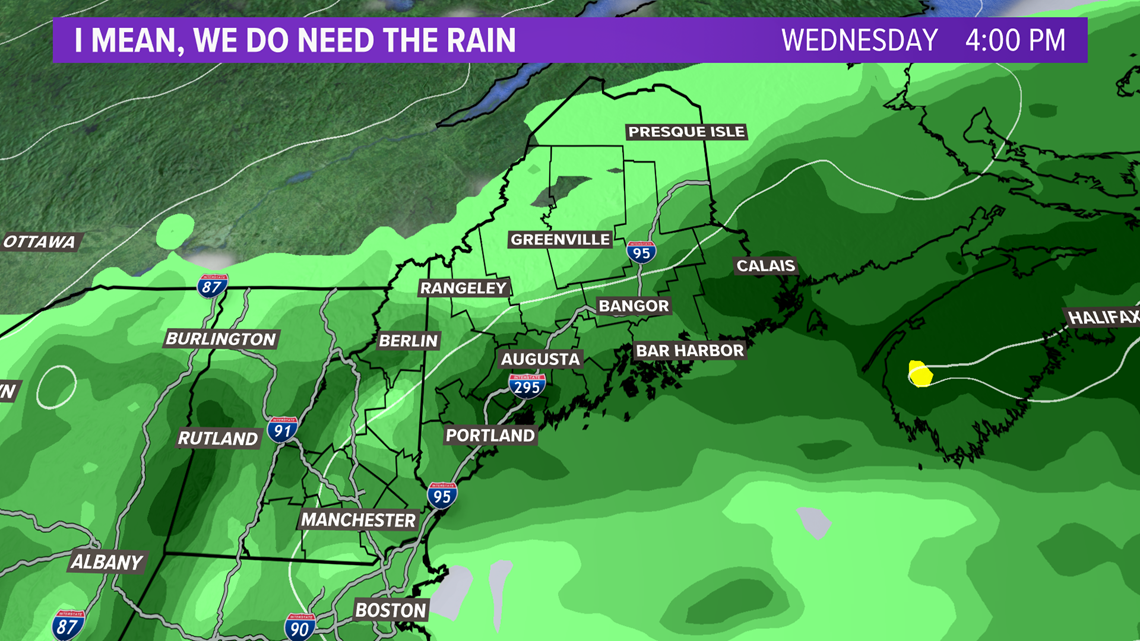 Tuesday will also be hot, but the heat gets pushed out by a cold front on Wednesday.
Temperatures tumble back into the 70s to end off the week.
Stay with us for more updates on the severe weather tomorrow. Ryan will have new info in the morning and I will be around to track storms all evening long.
You can also always get more info or updates by following me on Twitter, @MikeSliferWX.