STORM CENTER: What we're seeing across the state after nor'easter
NEWS CENTER Maine had crews stationed across the state Saturday as the storm rolled through.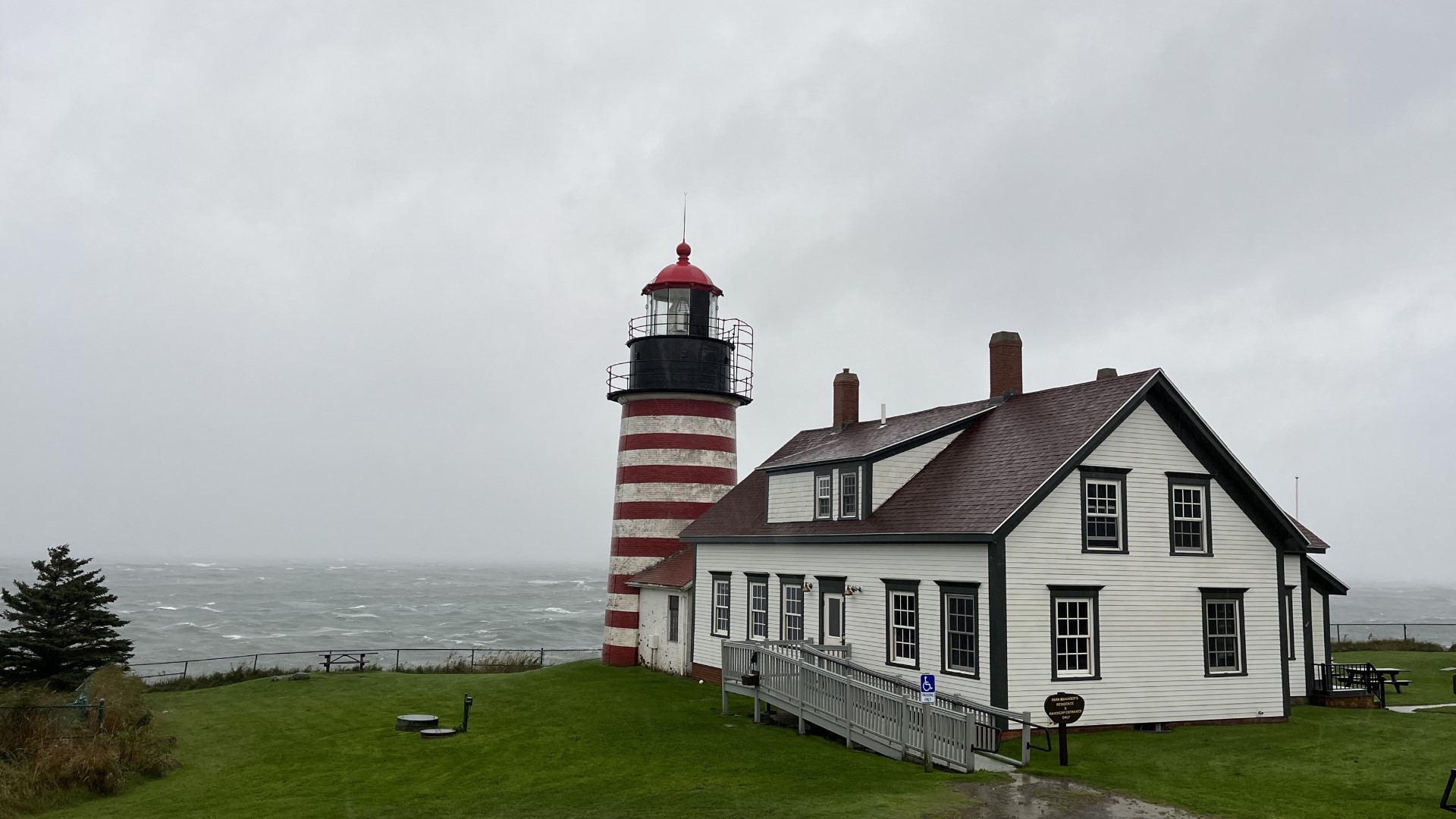 The hurricane became a tropical system Friday and has since been downgraded to a nor'easter, but that doesn't mean it doesn't still pack a punch.
Versant reported at 2:30 p.m. Sunday that about 7,000 customers were still without power. As of 2:30 p.m. Sunday, Central Maine Power reported that about 10,000 customers were without power. Eastern Maine Electric Cooperative, which serves eastern portions of Maine from Houlton to Calais, reported about 500 without power as of 2:30 p.m. Sunday.
NEWS CENTER Maine had crews across the state Saturday keeping an eye on the storm as it crept along the coastline, bringing heavy winds and rain to many locations.
Here's what we saw in different parts of the state.


Lubec
:
Coastal rain and winds
NEWS CENTER Maine's Donovan Lynch reports at 10 a.m. Saturday from the West Quoddy Head Lighthouse in Lubec, where high winds and heavy rain wallop the coastline.
As of noon Saturday, rain and wind had been consistent at Maine's easternmost point, where the nor'easter was hitting the Pine Tree State the hardest.
"We have had ourselves a day in Down East, Maine," NEWS CENTER Maine's Donovan Lynch said Saturday at 3 p.m. from Lubec.
Bar Harbor
:
Choppy water and white caps
NEWS CENTER Maine meteorologist Dana Osgood was stationed in Bar Harbor on Saturday morning, where she recorded wind along the coastline.
Winds and waves pounded the shore at Seawall in Southwest Harbor around noon Saturday.
Bangor
:
Trees fell inland
NEWS CENTER Maine's Rya Wooten reports Saturday afternoon from Howard Street in Bangor, where a tree had broken due to heavy winds and rain.
Cape Elizabeth
:
Spectators watch at Two Lights
Waves crash into the rocky coastline in Cape Elizabeth with the arrival of the much-anticipated nor'easter on Saturday, bringing lots of spectators out to watch at Two Lights.
Kennebunk
:
Fierce waves but sunshine
Waves were fierce and powerful but the sun was shining Saturday at Middle Beach in Kennebunk.
Scarborough
:
Downed trees were a big threat
Crews worked carefully to remove downed trees and limbs that took down powerlines and blocked roads. NEWS CENTER Maine's Chris Costa was at the scene and spoke with emergency and utility crews there.
Camp Ellis, Saco
:
High waves threaten homes
NEWS CENTER Maine meteorologist Aaron Myler reports from Camp Ellis in Saco on Saturday morning, where the biggest concern is keeping the water out of homes, he said.
Catch up on our coverage as we prepared for the arrival of Hurricane Lee here:
Don't miss these NEWS CENTER Maine stories