JACKSONVILLE, Fla. — Good riddance -- November 30 marks the official end to the 2021 Atlantic hurricane season.
There are no tropical threats to the First Coast and there are no new areas of development expected in the next 5 days. The pattern looks to remain relatively quiet as we head through the winter months.
For the second consecutive year in a row, and only the third time ever in history, we have exhausted the regular list of Atlantic tropical cyclone names. Ana through Wanda has been checked off.
The 2021 season ends with 21 named storms, 7 hurricanes, and 4 major hurricanes. This is above average, but still below 2020's very active season with 30 named storms.
Have you ever wondered - what causes the hurricane season end?

Interactive tropical radar:
SEASONAL OUTLOOK: NOAA's outlook calls for 15-21 named storms, 7-10 hurricanes, and 3-5 major hurricanes in total.
"After a record-setting start, the 2021 Atlantic hurricane season does not show any signs of relenting as it enters the peak months ahead," said Rick Spinrad, Ph.D., NOAA administrator. "NOAA will continue to provide the science and services that are foundational to keeping communities prepared for any threatening storm."
Looking deeper into the season, the Climate Prediction Center has issued a La Niña Watch with La Niña potentially emerging through November. La Niña can help make atmospheric conditions more conducive for tropical cyclones to form the Atlantic, and less conducive in the Eastern Pacific. If 2021 is any indicator so far of what lies ahead this season, it could continue to be an active year.
Hurricane season is here and it's time to be prepared if you aren't already. Make sure you have had conversations with your loved ones about what you would do if a storm were to threaten.
This year, NOAA released the new seasonal averages for the Atlantic basin. According to the 30-year data from 1991 to 2020, the new averages include 14 named storms, 7 hurricanes, and 3 major hurricanes. The previous Atlantic storm averages, based on the period from 1981 to 2010, were 12 named storms, 6 hurricanes, and 3 major hurricanes. The averages from 1951-1980, were 11 named storms, 5 hurricanes, and 1 major.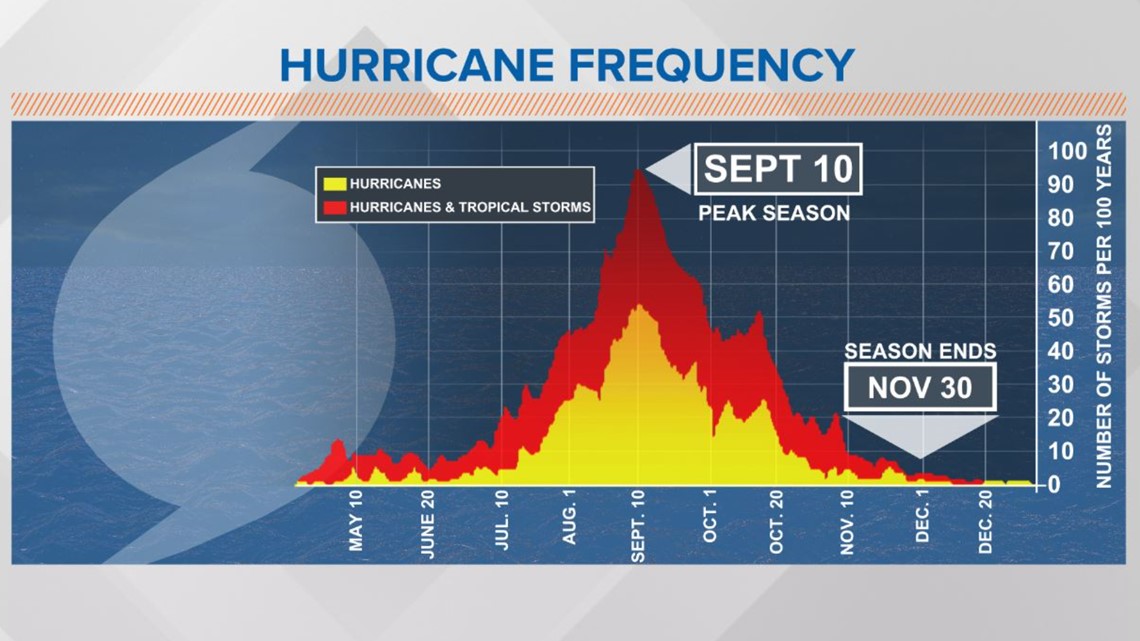 The Atlantic hurricane season officially runs from June 1 to November 30.
Download the First Coast News app and sign up for severe weather alerts