MAINE, USA — March started off like a lion, as the old adage claimed it would.
This year, though, it seems like it could go out as a lion, too.
While seeing gusts that high is not expected with this storm, it will still be pretty windy on Monday.
That, of course, comes after all of the rain on Sunday.
Gloomy weather is slated for Sunday morning, with drizzle and fog at the coastline and into the foothills.
North of that, some flurries might make an appearance. The heavy stuff won't come down for hours, though.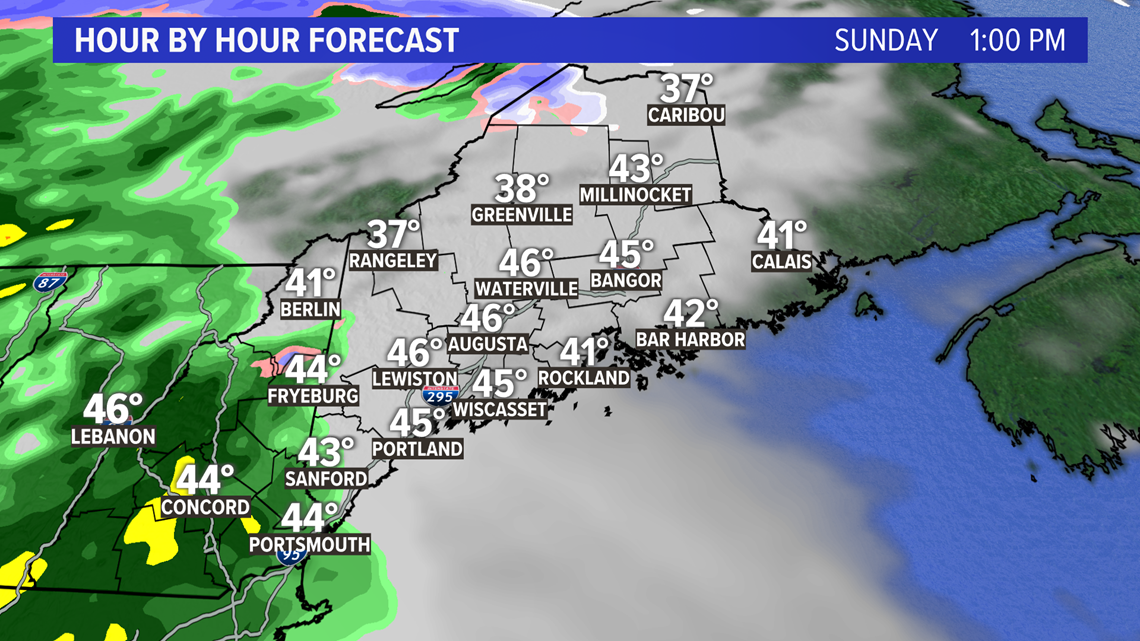 Western Maine starts to see heavy rain move in around 1 p.m. on Sunday afternoon.
With some cold air locked in place, a slushy inch or two of snow is possible before the warmer air wins out and the snow switches to rain.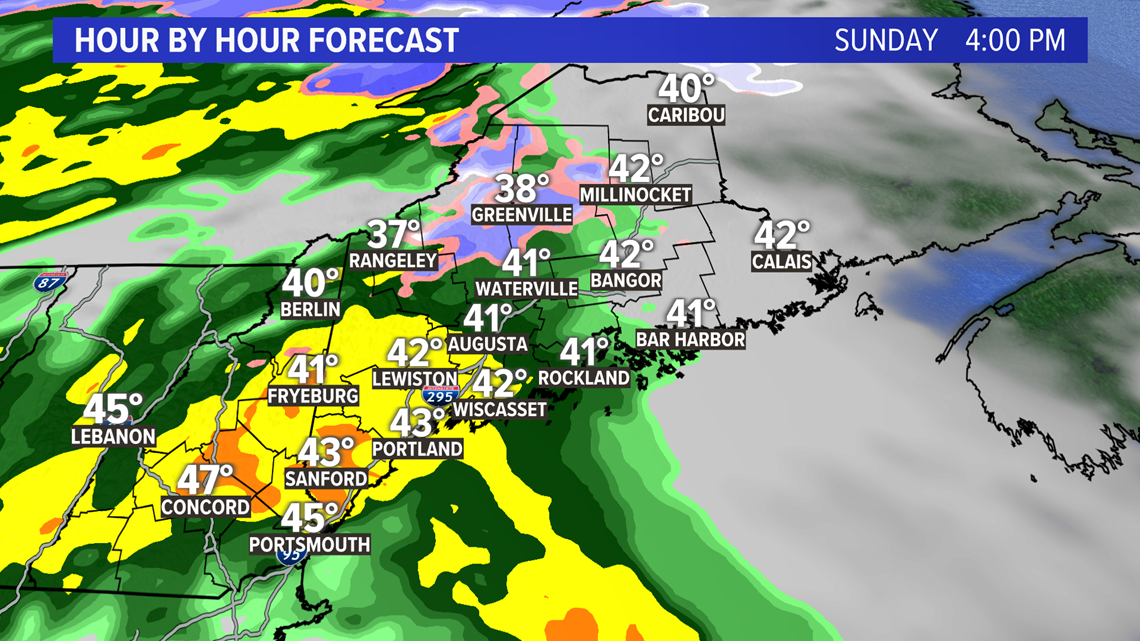 Rain keeps moving in as the warm front advances north. Notice the shift in temperatures, too, as warm air tries to move in with this.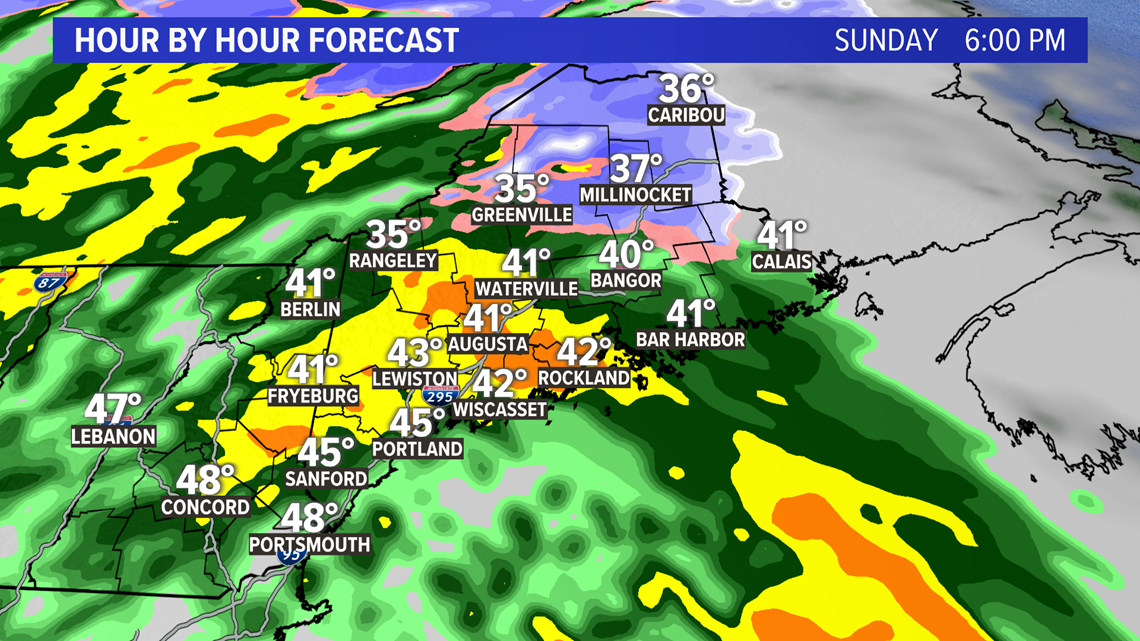 By 6 p.m., scattered heavy downpours will be ongoing in central, southern, and western Maine. The rain will be advancing into eastern Maine, with heavy rain expected after 7 o'clock. Snow will be falling in Aroostook county before it gets switched over to rain.
Some strong wind gusts may be collocated with heavy downpours, but the threat seems pretty limited since it will be tough to mix those gusts down.
I think there could be some coastal enhancement with these, too, so I am expecting some higher rain totals along the coastline.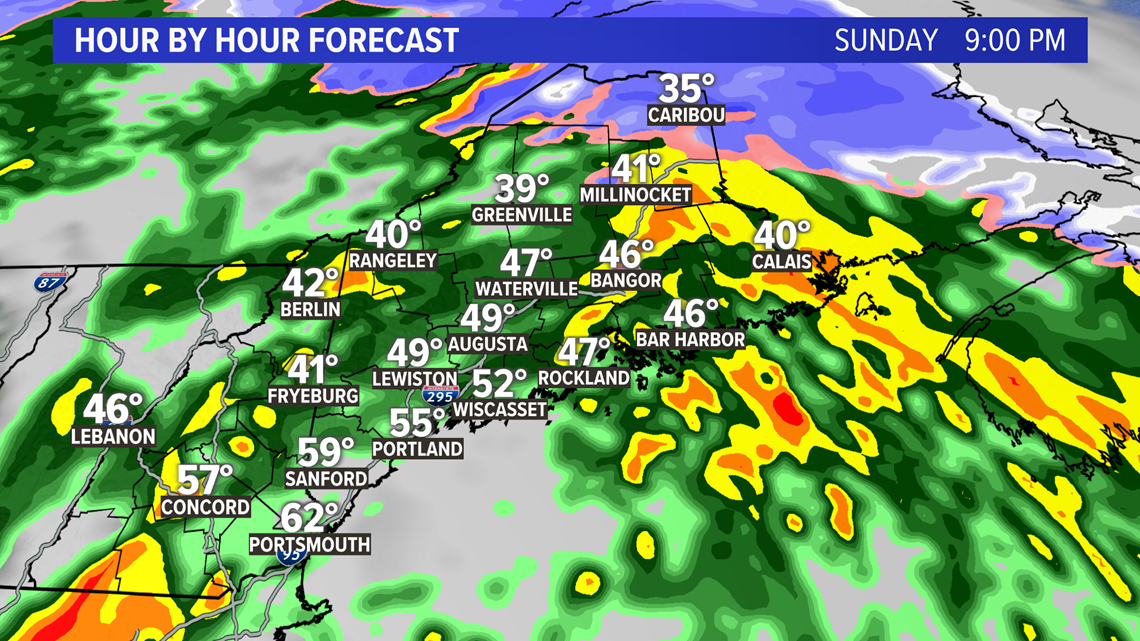 The rain rapidly shifts east, with the heaviest downpours mostly east of I-95 by 9 p.m.
If the warm air can get into southern sections of New Hampshire and Maine, there could even be a few rumbles of thunder with the last bit of rain on Sunday evening.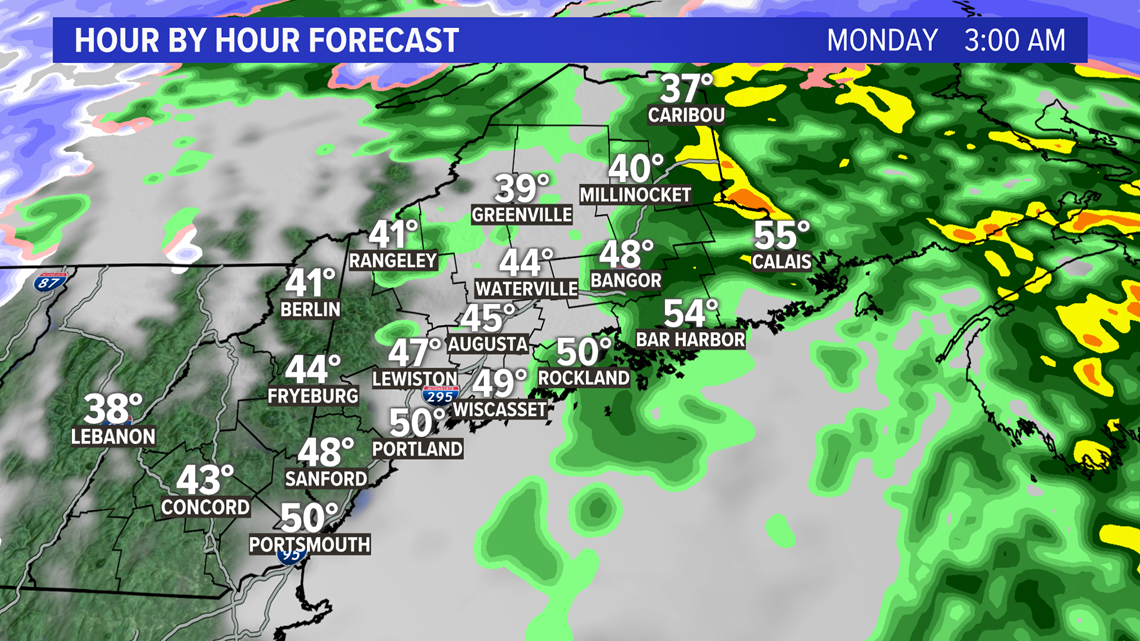 Rain wraps up overnight Sunday into Monday. Ongoing west winds shift to be out of the northwest, allowing some upslope snow showers in the western mountains to persist on Monday.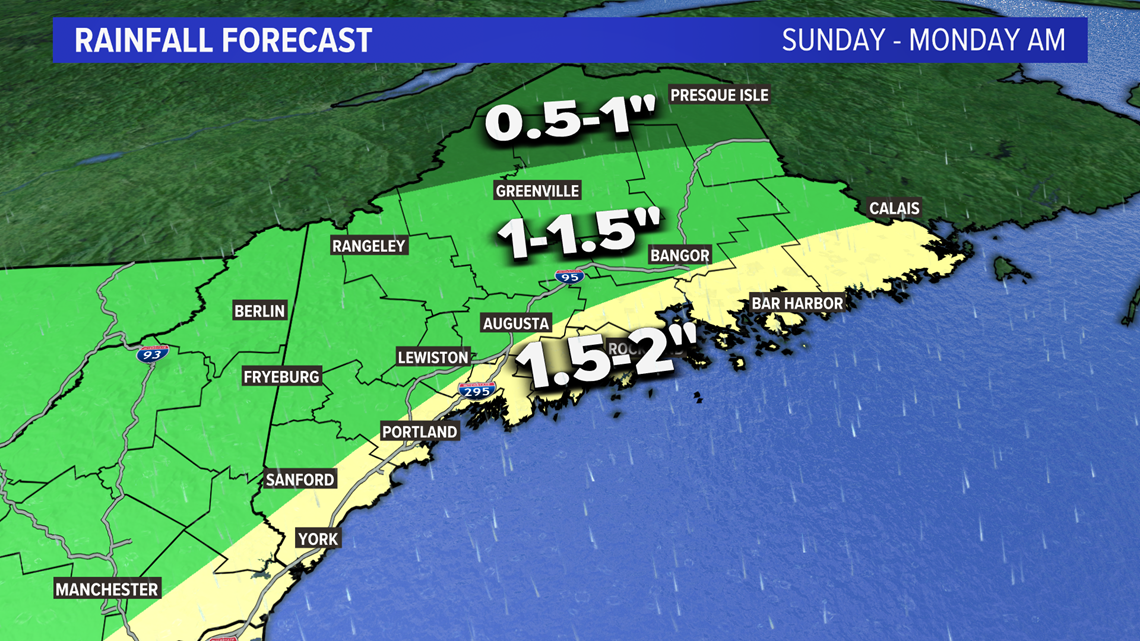 I think a widespread 1-1.5" is likely for most of Maine and New Hampshire. Northern sections see a little bit less, while the coast will be primed for 1.5-2" of rain.
Flooding concerns remain low, thanks to all of the dry weather lately.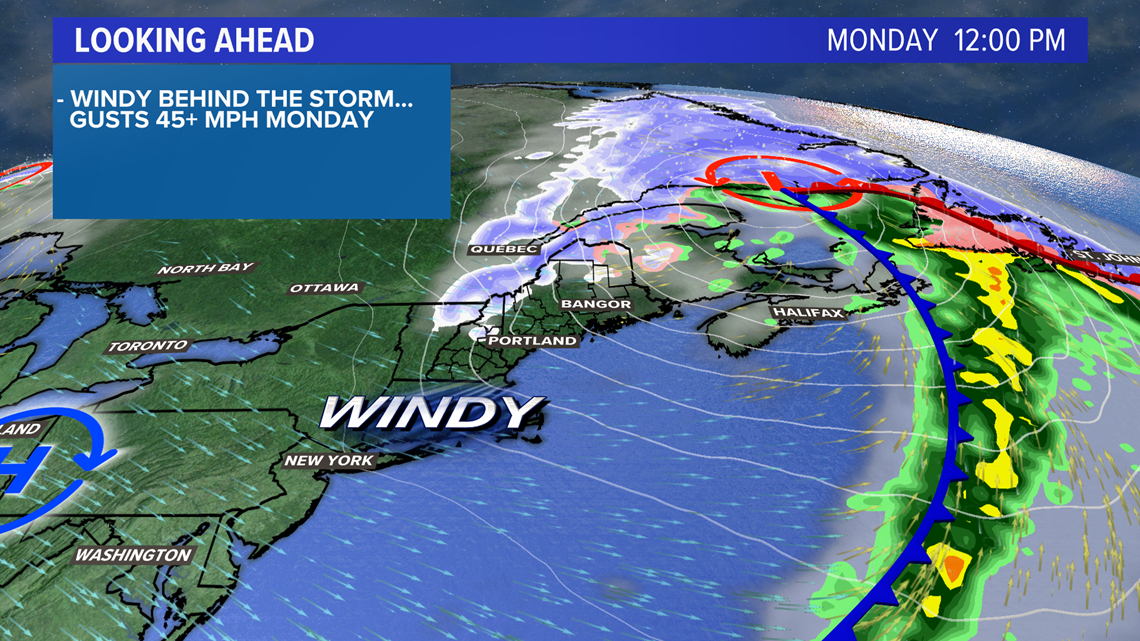 As colder air moves in on Monday, the clouds break up outside of the mountains. Added sunlight will help warm things up, which allows us to tap into the strong winds sitting a few thousand feet above the ground.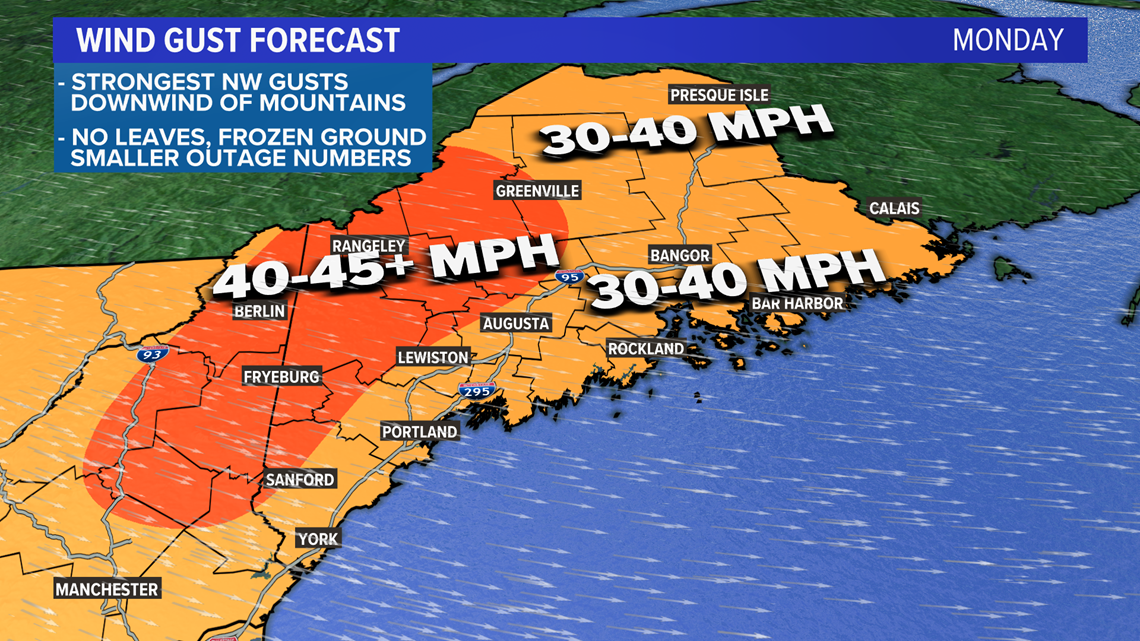 The highest gusts, which could be around 50 mph, are likely just downwind of the mountains. This is where we could "mix" down the strong winds sitting around 5,000 feet high in the atmosphere.
Elsewhere, I still think there's support for wind gusts of 30-40 mph.
This will last for most of the day on Monday.
Some power outages are possible, but I do not think these will be strong enough to cause widespread issues.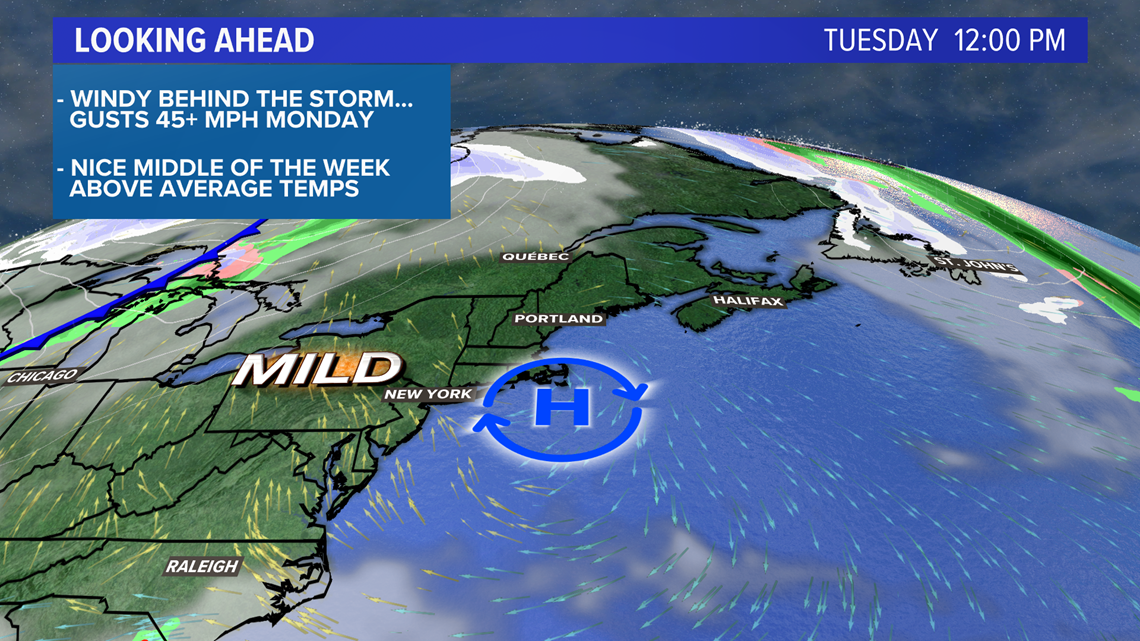 Wind gusts relax quickly and much calmer weather is on tap Tuesday. Wednesday looks pretty nice right now, too, though rain could be back for Wednesday night.
For the latest on the forecast, follow me on Twitter, @MikeSliferWX.