PORTLAND, Maine — Approximately 100 Maine activists and local youth groups took to the streets of Portland on Earth Day to show support for a "greener, safer" earth.
The rally kicked off at 2 p.m. April 22 at Monument Square. The groups then marched to City Hall, where speakers voiced their opinions about ending reliance on fossil fuel. They also tackled topics they believe are impacting Mainers, like climate justice, social justice, and racial justice, according to an email from Anna Siegel, a teenage climate activist with Maine Youth Action and Maine Youth for Climate Justice.
"Maine's government has put the interests of corporations over those of the people for far too long. They have allowed Central Maine Power (CMP) to take advantage of its consumers financially and force the state to remain addicted to fossil fuels," the email stated. "They also continuously fail to take action as companies pollute Maine's air and water, endangering nearby communities, most prominently those populated by BIPOC and low-income constituents."
Six activists and two poets addressed the crowd. They demand Maine leaders take action on multiple sectors, including replacing CMP with a consumer-owned utility, improving public transportation, and honoring tribal sovereignty.
Rally organizer Leah Parrott, 21, of Denmark, said: "It's unacceptable that companies are allowed to harm and take advantage of communities here without consequence," Parrot said. "My neighbors in western Maine would be better off economically and environmentally with a consumer-owned utility."
Anna Siegel, 16, a student and climate activist with Maine Youth Action and Maine Youth for Climate Justice said: "Maine must take is to invest in public transportation, which would lower our carbon emissions, narrow the transit equity gap, and connect rural Mainers to health care and essential services."
Liliana Sapiel is a college freshman running the USM Student Alliance of Indigenous Peoples and said the Wabanaki communities need sovereignty.
"Without our sovereignty, the government still has the power to make decisions for us. This is harmful and is detrimental to our livelihood and our culture. People are dying," Sapiel said.
"Addressing the first Earth Day gathering in Philadelphia's Fairmount Park on this day fifty-three years ago, Maine Senator Ed Muskie called for 'an environmental revolution' and told the 30,000 people assembled, 'We are not powerless to accomplish this change, but we are powerless as a people if we wait for someone else to do it for us.' For more than half a century, Maine people have heeded Senator Muskie's call to action. Instead of waiting for others to lead, Maine people have worked to protect our precious natural resources, and in doing so, protect our health, our economy, and our very way of life."
"In my first year as Governor, I declared that, 'Maine Won't Wait' any longer to combat the impact of climate change on our state, and my Administration has made significant strides toward building a greener, more sustainable future for this place we cherish as our home," Mills said.
"We must urge our government to listen to the interests of the people and the earth, not polluting corporations," Parrott said.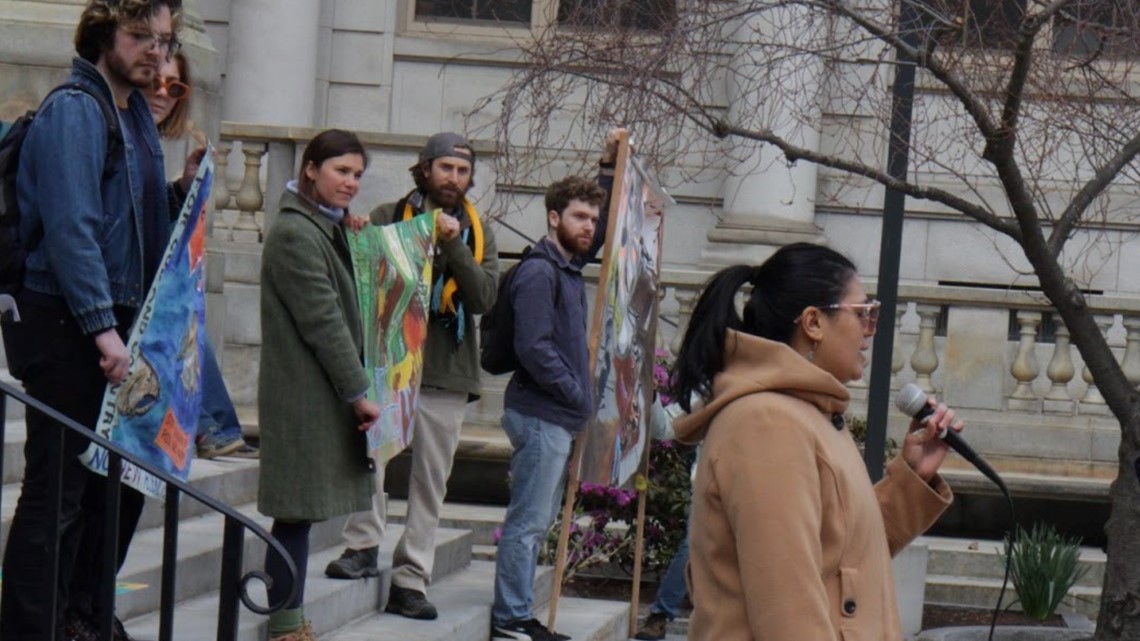 Individuals from the following groups led the rally in Portland:
Maine Youth for Climate Justice
Maine Youth Action
Sierra Club Maine
The Community Organizing Alliance
Our Power Maine

USM Student Alliance of Indigenous Peoples