Snow is moving in this morning. It's already started and quickly coated the roads in parts of southern and western Maine. The snow will begin in central and eastern Maine between late morning and early afternoon.
It will be cold enough to begin as snow, but a southerly wind will warm the lower atmosphere above freezing during the day. There will be a quick change to rain along the coast, and a gradual change to rain farther inland. Mostly snow will fall in the mountains. High temperatures today will range from near 32 in the mountains, into the mid and upper 30s for most, and low 40s near the coast.
A coating to 2" of snow is expected before the changeover to rain in places like Sanford, Sebago Lake, Lewiston-Auburn, Augusta, Waterville and Bangor. 2-4" of snow is expected from Fryeburg into the mountains and north.
Even along the coast, some slushy accumulation is possible, but it will likely get washed away.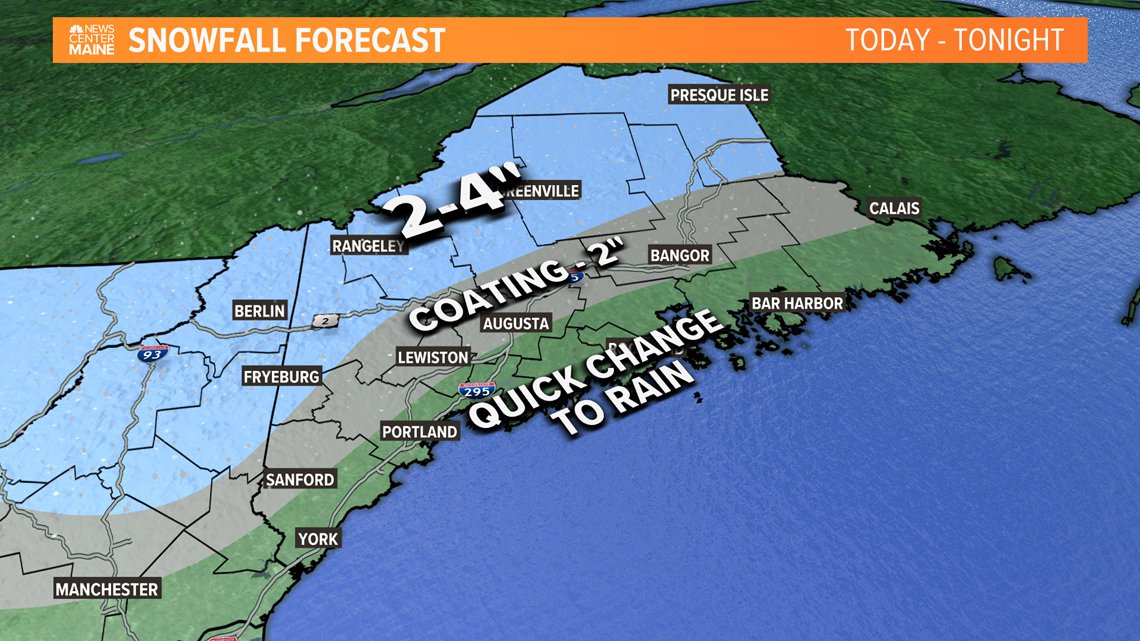 Tonight we'll find partial clearing, lows near 30.
Tomorrow we will have a mix of sun and high clouds with high temperatures in the mid 40s. Snow and rain showers are possible tomorrow night into Monday morning. After a cloudy start, some sun develops Monday afternoon and it should be mild with highs between 45 and 50.
An arctic front will come through Monday night, with possibly a few snow squalls. It will be much colder and windy on Tuesday.