The NWS' Caribou office had preliminarily determined that the storm that destroyed barns took down trees and damaged roofs in Limestone and Castle Hill in northern Aroostook County didn't bring tornadoes but microbursts instead. Officials estimated winds up to 110 miles per hour caused the damage in Limestone.
"A severe thunderstorm produced a microburst over Limestone, Maine. Damage in the area was consistent with winds between 100 and 110 mph," said officials in a release on Tuesday afternoon. "This included a barn that was almost completely destroyed, and another that had its roof ripped off. In addition, large hard and softwood trees were snapped along the path of the microburst, which ended near route 1a, about 1/2 mile to the north of Limestone."
The NWS said the damage near Castle Hill was likely a microburst as well.
"A severe thunderstorm produced a microburst which tracked from near Castle Hill through Crouseville to the far southwest corner of Caribou," the NWS said in the release.
"Damage in the area was consistent with winds between 90 and 100 mph. A large area of trees in Castle Hill were snapped off or blown down, and some outdoor equipment, including a trampoline and swing set, were destroyed. Tree damage was also observed in Crouseville and Washburn. A metal roof panel was blown off a barn in southwest Caribou along Bailey Road. The microburst ended there in southwest Caribou, just over two and a half miles west of Route 1.
No injuries or fatalities were reported with those storms.
For first responders like Jim Leighton, the assistant chief of Limestone's Fire Department, the strong storms and the damage they brought reemphasize the importance of following the instructions issued when weather alerts arrive.
"When you see something like that, it makes you stop and think that if there would've been a house there and people in it and kids, that would've been a pretty devastating scene," said Leighton, who responded to the damaged buildings in Limestone on Monday.
Tornado warning damage in Limestone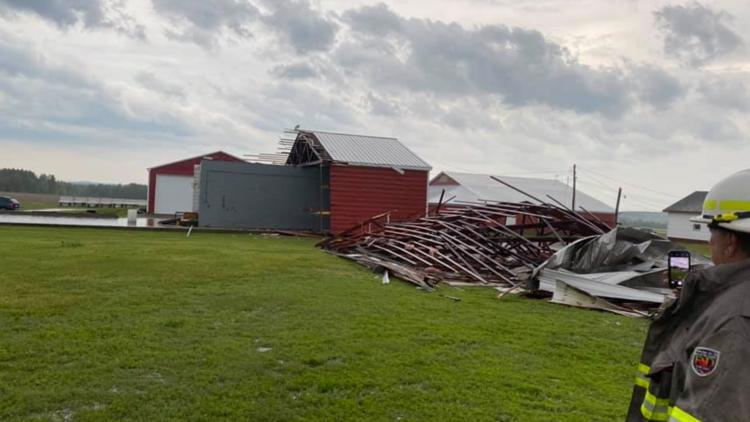 "We always hear these weather alerts come though [and may] take them with a grain of salt at times but you want to pay really close attention to those alerts, they're really helpful," he added.