AUGUSTA, Maine — You are online reading this, which means your digital data is most likely being tracked by tech companies and data brokers. The government has your back though, right? Think again.
Since 1994, state governments have been selling residents' information. It led Congress to create the Driver's Privacy Protection Act (DPPA), regulating who and what information can be released and sold. Some states are still selling information, but the profits vary, and according to the DPPA, it's all legal.
Rhode Island has made at least $384,000 since 2015 by selling personal data, according to documents gathered by Motherboard. Wisconsin pulled in more than $17 million.
Newsweek reported South Carolina made $42 million selling driver information in 2015 and Florida raked in $77 million in 2017.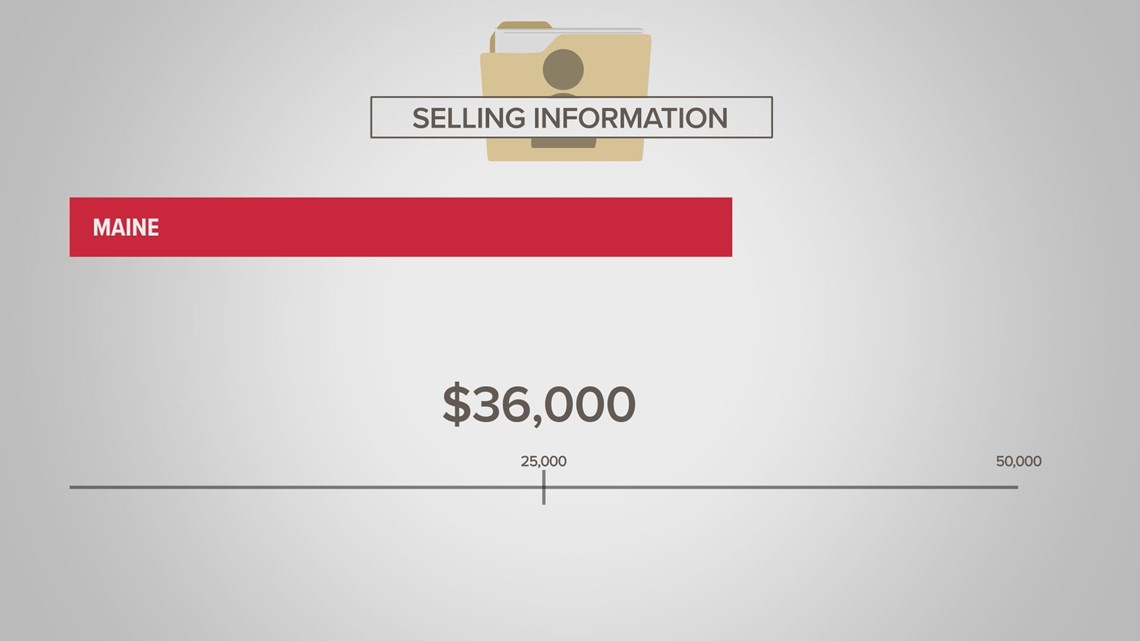 Maine takes in about $36,000 a year, Secretary of State Matt Dunlap says it comes out to about $3,000 a month.
"We do sell information for a very specific purpose," said Dunlap. "The registration information is available is made available on a one-time basis every month so if there is a problem with an airbag system, for example, the recall notices go directly to the registrants."
Maine sells vehicle accident information, driving violations, and driver's license and motor vehicle registration status to law enforcement, insurance companies, motor vehicle manufacturers, businesses and employers, towing companies, private detectives and security agencies, according to the Bureau of Motor Vehicles website.
Dunlap says credit reporting company, Experian, can also purchase information legally through DPPA.
Sec. Dunlap on Maine's refusal to sell voter information
"When you go a year without a ticket or a crash, and you get what we call a safe driving credit," said Dunlap. "Every month the data brokers provide that to insurance actuaries that's why your insurance rates go down when you don't have anything on your record, and they go up when you have a car crash or a speeding ticket."
A violation of DPPA can result in criminal penalties.
Peter Guffin is a Professor of Information Privacy Law, at UMaine's School of Law. Guffin tells NEWS CENTER Maine he believes Maine's intentions to release this information under DPPA are for the right reasons, but warns some of this information can be harmful to residents if it falls into the wrong hands.
"I think it's under the radar of most individuals," said Guffin. "The permitted purposes, if you will, for the release of this information from the state to insurance companies, to law enforcement, to manufactures for recall purposes, those are all good purposes. Those are the kind of disclosures we would want."
Guffin said DPPA restrictions hold states accountable for actions under criminal code. He is more concerned about unregulated industries.
"The threats to privacy are large in the phase of what data is being collected, not only by government but the Googles, the Facebooks," said Guffin. "We are just starting to understand as a society how significant the threat of our liberties, our privacy is, with the vast accumulation of data and its uses for sale in a totally unregulated way by the tech giant."
Money generated from the sale of this information goes to Maine's Highway Fund.
NEWS CENTER Maine STORIES