SIDNEY, Maine — As arctic temperatures are expected in all corners of Maine this weekend, some outdoor events were forced to adapt.
The Maine Pond Hockey Classic was scheduled to begin Friday night and run until Sunday afternoon on the Messalonskee Lake in Sidney.
Tournament Founder Patrick Guerette made the decision to postpone the event to next weekend with games starting Feb. 10.
Before this week, the ice in Sidney wasn't ready to host the 10-rink tournament, so Guerette said the location would move. But, he added, the new site didn't have enough accommodations to get people out from the cold.
"We had some concerns about health and safety not having enough indoor space for all the players to go," he added.
The good news is Guerette and his team of "ice men" will have extra time to get the ten rinks ready for next weekend.
"When you're building a home rink, that's one thing. But when you're trying to build ten rinks on a lake, there's a lot of factors," he said.
This isn't the only event adapting to this weekend's cold weather. The annual U.S. Toboggan Championships at the Camden Snowbowl will now be a one-day race beginning on Sunday. Normally, the racing begins Saturday.
As those below-freezing temperatures approach, Guerette said his team would be using that cold to their advantage and flood the area of the lake the games will be played in order to create the best ice.
The bad news is because many teams plan trips from out-of-state to play in the tournament, and the original schedule was shifted, some players and teams won't be able to lace up their skates next weekend.
But, Guerette is re-opening team registration until Friday and there are open spots if anyone is interested.
While the event is a great draw for hockey players and outdoor enthusiasts, it's also a fundraiser for the Alfond Youth & Community Center in Waterville. Guerette said the tournament raises roughly $40,000 a year for the event.
Outside of a professionally organized hockey event, there is more for the community to do at the tournament.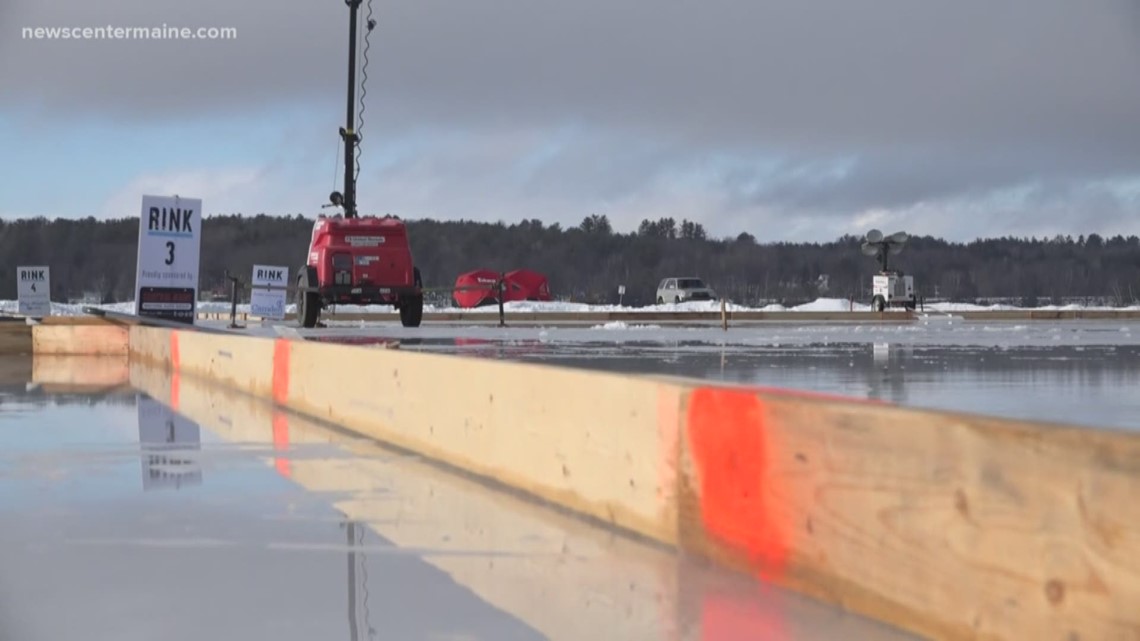 A beer garden, a Dunkin' Ice Coffee truck, food trucks, and vendors will be on site. Guerrete also said in years past that Mainers who live nearby bring their snowmobiles near the rinks, and people set up to ice-fish nearby to join in on the fun.
New this year, the Belfast Curling Club and adaptive sports teams will use some of the rinks on Sunday for more activities spectators can watch.
During a traditional "slow time" of the year for businesses, the event also brings in a much-needed boost to the local economy as people can check out vendors, stay in hotels and eat at nearby restaurants.
Those interested have until Friday to register their team for the pond hockey tournament and can do so here.
More NEWS CENTER Maine stories