Jumping through the highs and lows, Casco native and Olympic hopeful Kate Hall shares her story of success and devastation
Instead of jumping with the world watching in Tokyo, Hall will recover and build up her strength for future events and, hopefully, the 2024 Olympics.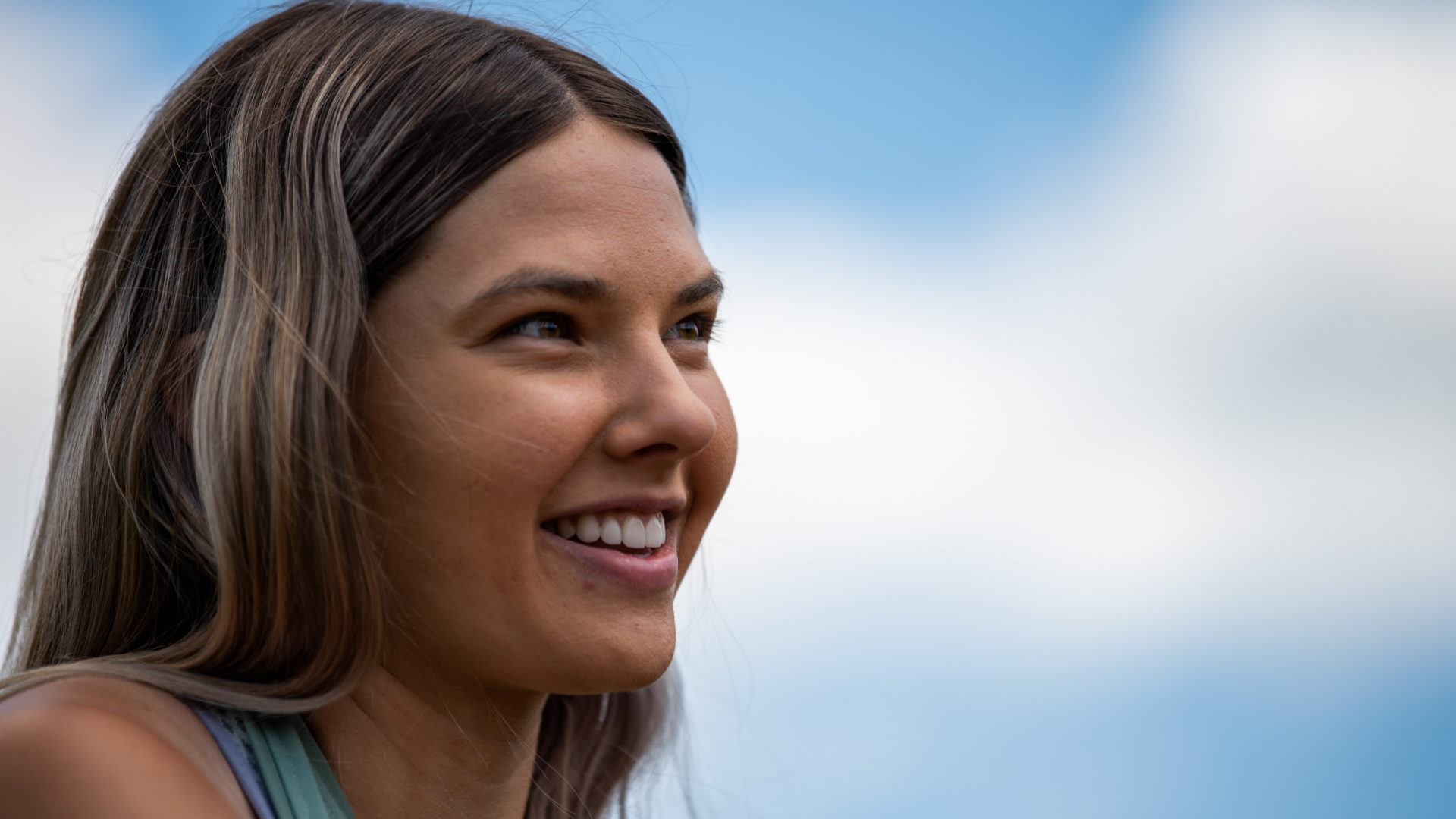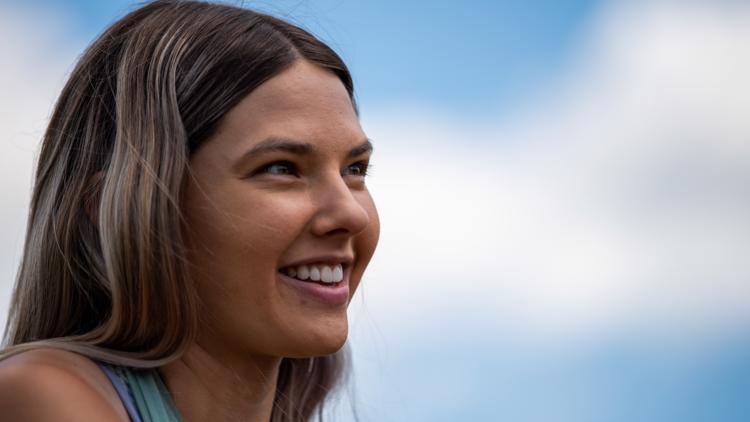 The 2020 Tokyo Olympics are officially underway and you can follow the action every night of the games at 7:30 p.m. during NEWS CENTER Maine's Olympic Zone.
Casco native and Lake Region High School graduate Kate Hall will appear throughout the two weeks of Olympic coverage to share her story and experiences as an internationally ranked long jumper and sprinter.
Casco native, USA indoor track champ Kate Hall is on the road to recovery following ACL tear, looks ahead to next Olympics
The Love of the Game
:
How Kate Hall found her passion for track and field
Before Kate Hall found her love for track and field, Hall spent her early days in Maine like many kids who played soccer and other team sports. Although she wasn't being timed for sprinting around the soccer field, Hall knew she was the fastest on the team until one day she wasn't.
"So, it's a funny story actually. I did soccer and basketball when I was a kid and we would often race at soccer practice, at the end of practice and usually, I would win in the race," Hall recalled. "And this one day, I ended up losing in the race. I got second place and I was like, 'Oh wow, I don't know why I lost, I usually win.'"
After some investigating, Hall said her dad found out the girl that beat her in that post-practice race was running track during the summer and got noticeably faster. Her dad asked if Hall wanted to follow suit and try out this new sport.
"I was really kind of hesitant about it because I didn't know anything about it, I didn't really know if I wanted to try something new at that point," Hall said.
An agreement was struck between Hall and her dad that many young athletes and parents can relate to. They agreed Hall would go to one practice and if she hated it, she'd never have to go back.
Spoiler alert: she didn't hate it.
"I tried like every event—the 100 [meter sprint], long jump, everything—and from there I loved it from day one. I was like, 'Yup, I'm going to go as often as I can,'" Hall said.
Although Hall fell in love with track events this way, she described herself as "springy" and loved jumping when she was younger. In fact, she added she would always jump and touch the top of a doorway every time she would walk underneath.
After finding the right coach, Hall was able to progress in her main event, the long jump, as well as other events while competing at Lake Region High School. From there, the Mainer headed down to the University of Georgia where she faced some of the best track athletes in the country at every meet.
Her success at Georgia allowed her to attend the 2016 U.S. Olympic Trials in Eugene, Oregon, which is nicknamed "Track Town USA."
"It was absolutely amazing," Hall said. "I can't even describe how incredible it was. There [are] 20,000 people in the stands and there's nothing like it. Everyone is just cheering you on ... you feel like you're in a football stadium which, you're not used to that as a track athlete."
Standing alongside Hall at the long jump pit at the 2016 trials was gold medalist Brittney Reese, the woman Hall remembered watching on television during the 2012 Olympic Games when she was in high school.
"It was pretty amazing. I actually remember the first time I ever talked to [Reese], and that was my freshman year in college in 2015 at a competition she was at," Hall said. She said she remembering thinking, "Wow, I never thought I'd see the day when I was competing side by side [with] Brittney Reese."
Hall admitted while she did not qualify for the Olympics that year, it was a great experience for her and got her some exposure as she planned to return to Oregon in 2020 for the chance to represent the USA and Maine in Tokyo.
Unexpected Detours on the Road to the Olympics
:
First the COVID-19 pandemic derailed the path to Tokyo, but then, Hall suffered a devastating injury
Like all Olympic hopefuls, Hall had to wait a year to even think about qualifying after the games were postponed to 2021 as a result of the COVID-19 pandemic.
An extra year of training could be beneficial for track athletes, but for Hall, a training session in January cost her the chance to return to the Olympic Trials after she suffered an ACL tear. Her injury was just one week before her first competition in a year due to the pandemic.
She was doing a drill that involved jumping from a smaller box to a bigger, 30-inch box. In her third go at the drill, Hall said she went all out and full-speed, but she landed on the far edge of the bigger box.
"[The box] started to tip over and I fell off the box and the box kind of rolled with me in the direction I was falling," Kate said. "To try to catch my fall, I stuck my left leg out and hyperextended my knee and ended up landing on the box and on the floor, and I just knew immediately my knee was in so much pain, it was unbearable for like a minute."
Hall described the next minute as "pure pain."
"I got an MRI I think a couple of days later and that's when they told me I completely tore my ACL and I was completely mind blown ... that's the last thing I was expecting to happen."
The dreams of representing Maine, the country, and herself in Tokyo were over before she could record one official jump at a competition in 2021.
"It was just so completely devasting I didn't really know how to process it because I was in that mindset that this was my year and I had worked so hard for the past four years for this year to happen and I was just so devasted ... to this day I'm still trying to process," Hall said.
Now she is spending her time recovering from the ACL injury doing rehabilitation workouts at Momentum Performance and Wellness at its two locations in Portland and South Portland.
The recovery period is about six months to a year, so as the Olympics continue in Tokyo, Hall will be doing high knee drills, skipping, and weight training until she is back jumping full speed in a few months. Her goal is to be back competing in January 2022.
Helping Others
:
Hall, who has Type 1 diabetes, started the Diastrong Foundation to help others with diabetes
This was the first major injury Hall suffered in her career. After several days of asking the universe "why me? why now?" Hall spoke with a friend who also suffered a major injury as an athlete. He told her she needs to find something that's going to take up time while she recovers.
His suggestion: start a nonprofit foundation.
"Everything just clicked because, when people would ask me what I want to do later in life I would always say I want to do something with Type 1 diabetes advocacy, but I also want to do some sort of coach as well. So, I thought if I start a nonprofit, we can do all of that now, we don't have to wait," Hall said.
And just like that, the Diastrong Foundation was formed. The foundation's goal is to help Type 1 diabetics take control of every aspect of their lives through education, resources, and sports.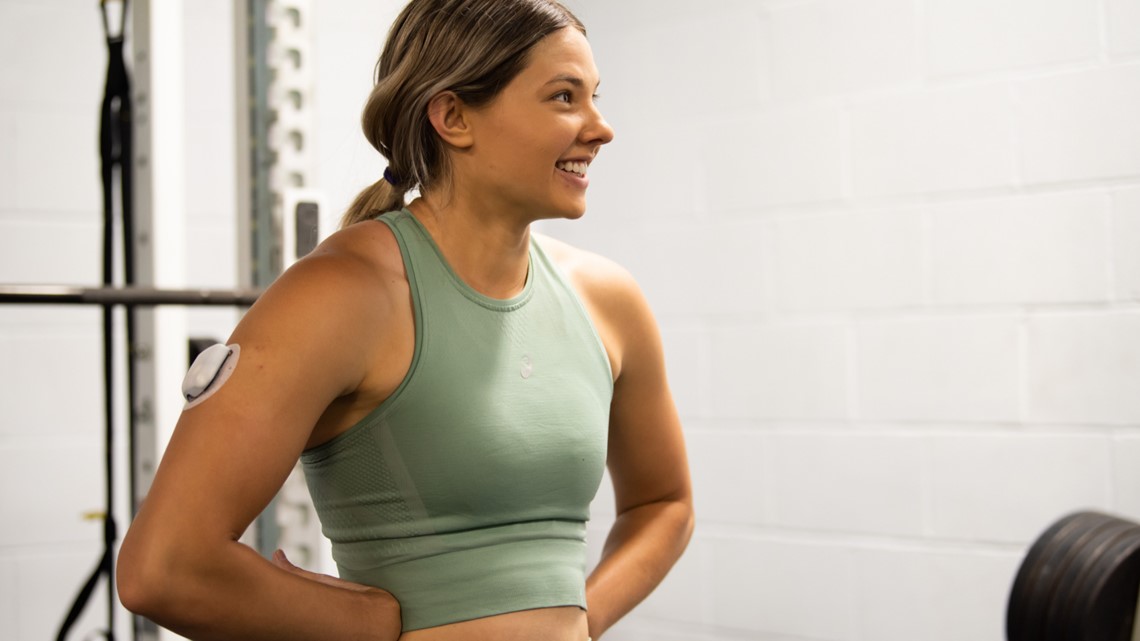 Hall said the nonprofit looks to help diabetics from not only Maine but all over the country. The foundation hopes to help them pay for their supplies through grants "because insulin is crazy expensive and so is all the other supplies," Hall added.
As a Type 1 diabetic, Hall said it was important for her to help other athletes in her situation and offer them different programs and support services. Hall and other coaches are running athletic camps for the foundation this summer at her gym's South Portland location.
"I honestly think that maybe my injury was supposed to happen so we could start this [foundation] and help some people out," she added.
Sights on 2024
:
Hall is recovering and looking toward future competitions, including the 2024 Olympics
Instead of jumping with the world watching, Hall will recover, skip, and build up her strength for future events, World Championships, and the 2024 Olympic trials. Hall said making the Paris Games would be her best chance to go to the Olympics.
"I really don't want to just give up until I do make Olympics just because that's been my dream forever and my goal. So I'm going just try as long as I can until I make the Olympics," she said.
The Olympic dream will have to wait, but Hall can still relate to the stress some of our athletes feel in Tokyo. After Simone Biles pulled out of the Women's Gymnastics team and individual final competitions, Hall said people don't understand the amount of pressure that elite athletes are under.
"[The pressure] can just take over sometimes. And when you're in the situations when it takes over and you feel like you're crumbling under the pressure it's just the worst feeling in the world and you just have to do what's best for yourself in those situations," Hall said.
Now, this kid from Maine is on the journey back to full speed and shares advice for the future generation of Mainers who might look over and see Kate Hall lined up next to them at the next Olympic Trials.
"My advice would be, just work hard every year, set your goals, write them down, but most importantly have fun. You got to have fun with the sport. I remember when I started this sport, I just loved it so much and it was so much fun, always have fun with it."
Watch the full interview here: