PORTLAND, Maine — Portland's East End is in quite a prime location when it comes to real estate perks. Residents are close to the ocean, public parks, and within walking distance from the heart of Maine's most urban area.
This month, the neighborhood welcomed a new building. But if you take an overhead view, it stands out compared to the rest.
The Solaris condo features seven units in an eco-friendly building that was designed with sustainability in mind, from the basement to the roof.
The top of the building may be the main attraction. Seventy solar panels are installed above the fourth-floor unit condos. Project developers estimate it will reduce electricity costs for residents by 50 percent.
"You have a choice at any given time to do something that is a little bit environmentally friendly," Tom Landry, project developer and owner of Benchmark Real Estate, said. "We are in a climate crisis, and that's not an understatement."
Rocky Ackroyd, owner of Green Sun, spent a lot of time on top of the building's roof, while he and his team installed the solar panels.
"From a residential perspective, this is on the larger side," he said of the solar farm. "This is probably enough panels to power two to three homes."
When Mainers in the southern part of the state reach out to Ackroyd to make the switch to solar, the main reason they cite is the rising cost of electricity.
According to his estimates, those who do go the solar route should start seeing their investment pay off in roughly five to eight years.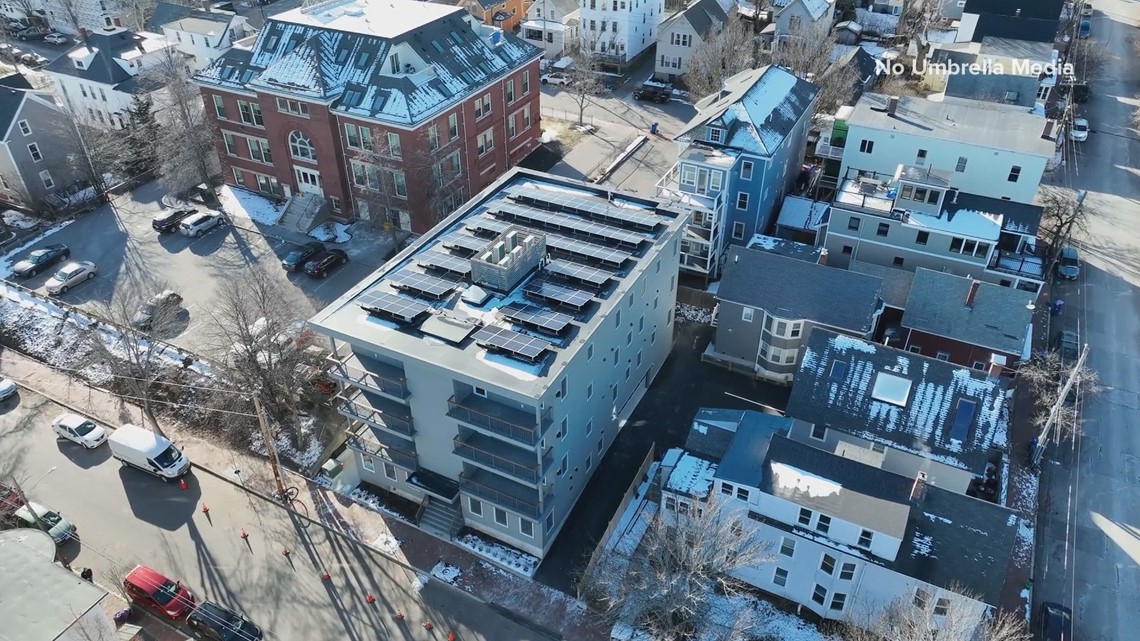 Landry has been in the real estate and building development industry for three decades, but he said a personal incident kicked his "natural inclination" for eco-friendly projects into another gear.
Landry said his daughter couldn't shake lingering effects of Lyme disease, so he conducted an inspection of his own home. The inspection revealed found mold and other commonly found issues, which wasn't creating the best environment for her.
The Solaris building broke ground in November 2021 and held its official grand opening last week.
"Our team was involved, right from the get-go," Great Falls Construction President Jon Smith said that day. "Our team focuses extremely hard on being respectful to the environment, respectful to the city, [and] to the neighborhood."
The construction process wasn't delayed too much by using sustainable materials, but it did cause the price to go up.
Landry added the location of the property is another reason why the units aren't affordable for most Mainers, but the goal is to use this project as a model for future affordable development.
"I definitely think we can look at sites that maybe aren't quite as expensive, dirt-wise, as this, and bring them to other areas, whether they're in Portland or other densely populated areas," he added.
Building in those areas, he added, also allows Maine's forests and farmlands to remain intact, which serves as another way to keep carbon out of the atmosphere.
When looking for future projects around the city and Greater Portland, Landry mentioned he wants to focus on properties where residents are buying their units, not renting.
'[Ownership] is one of the most pivotal things to help people be able to move up in society and to have wealth," he said.
"It is going to cost a little more, and it is probably going to take a little more time," he said. "Longevity-wise, you're going to get more out of it, so you're going to see a better return."
Landry compared this project to the first few models of electric vehicles. At first, the cost is high, but as the access to technology, workflow, and demand stabilize it will be more affordable.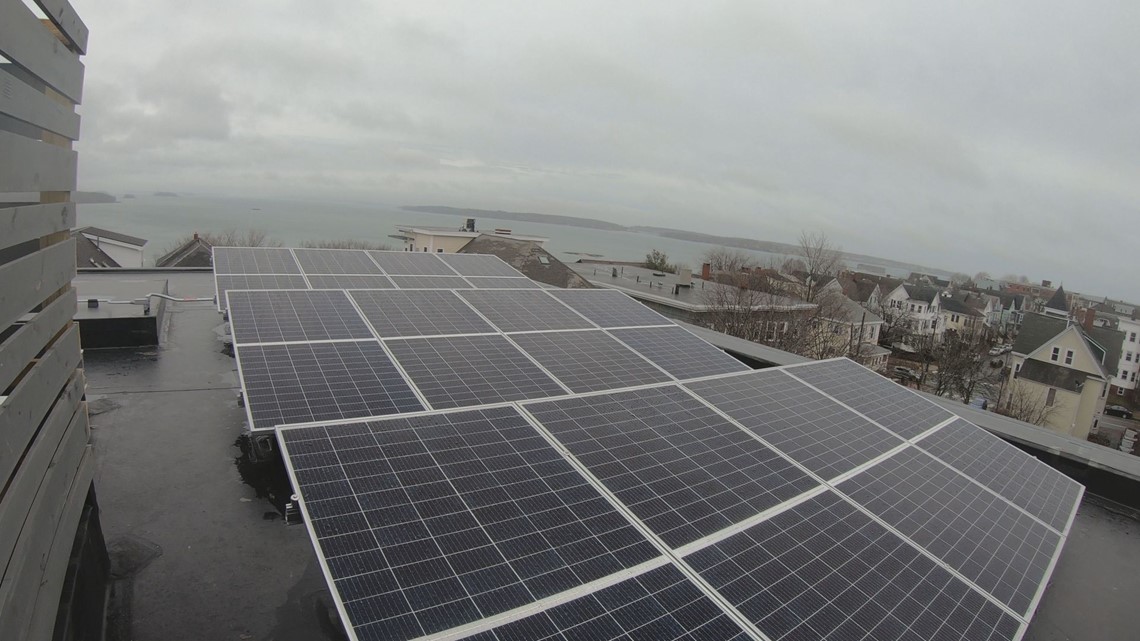 As more homes use solar power and more drivers switch to electric options, the concern about grid capacity is very real according to Ackroyd.
There's been a shift in the industry, Pahel said, as more companies are becoming climate conscious and want to do what's best for the environment and for future generations.
"This isn't your grandfather's construction business," he added. "We're very conscious of what we do, why we do it, right down to who we do it with.'
For now, the Solaris building is believed to be the first of its kind in Maine, Landry said. But someday soon, it could be the first model of eco-friendly development in Maine.
More NEWS CENTER Maine stories