ATLANTA — Sunday 2/3/19: Game Day!
Super Bowl Sunday is finally here! We started our morning live outside Mercedes-Benz Stadium, and got a treat from NBC's Jay Gray!
Clay also got a sneak peek inside the stadium.
The Patriots won Super Bowl LIII, making it their sixth Super Bowl win!
Saturday 2/2/19
Robert Kraft made an appearance at the Patriots rally and says that Pats fans are the best fans in football.
We are one day away from kickoff and our focus is shifting to back to the big game. Our Pulse Question was why do you watch the Super Bowl?
Since we've landed in Atlanta, we've been looking for Mainers. We were also asking people in and around the Super Bowl where Maine is on a map and how to pronounce the city of Bangor.
Today is primarily going to be a rest day for the South for Six crew. Jess Gagne and Chris Costa will be live Saturday night on NEWS CENTER Maine, and then the whole team will be ready for the Weekend Morning Report on Super Bowl Sunday. Stay tuned for the special South for Six Facebook live at noon on Sunday.
Friday 2/1/19
Evening:
Friday Fun-day! The NEWS CENTER Maine team has been in Atlanta for sour days, so we decided to have a little fun on Friday night. Take a look:
Before all that competition, Chris Costa spoke to a Mainer who prepared the turf at Mercedes-Benz Stadium, where Super Bowl LIII will be held on Sunday.
Tomorrow is another busy day! We're heading to the Patriots Rally at Super Bowl LIVE at 1 p.m. I'm sure we'll find a lot of Mainers in the crowd rooting for the home team. Stay tuned!
Morning:
Another early start at Super Bowl 53 for our morning crew. Today we had the NFL Experience to ourselves... and the rest of the media, but we had a cool live location at the Titanium Training Camp.
There are timed agility drills, and even the option for fans to throw down the field to some of their favorite receivers.
Thursday 1/30/19
It's finally starting to feel warm in Atlanta! We won't rub it in, we know you guys are dealing with single-digit temperatures in Maine, but this is the first day since we've landed that we've hit 40 degrees here. So much for Hotlanta! Clay still needed gloves for his morning live shot:
We're about to head out the door to find some Mainers. Chris met a man from Georgia who was adopted by Mainers and is now down south bringing Maine food to the Super Bowl Experience.
Jess went to check out the College Football Hall of Fame, and found players from the University of Maine who were inducted.
And Clay... well, Clay is standing on the street with a sign that says, "We're looking for Maine-ahs!" Let's see how many he finds hehe.
RELATED: Quizzing fans at the Super Bowl to prove they are from Maine
Earlier in the afternoon, we walked around Radio Row, and ran into a bunch of celebrities and current and former players!
Despite some internet trouble back at NEWS CENTER Maine -- we got a sweet live shot from the top of the Skyview Atlanta ferris wheel!
Wednesday 1/30/19
We started off the morning by splitting up!
Chris went to interview former Patriots linebacker Willie McGinest and former St. Louis Rams quarterback Kurt Warner. The two played against each other in Super Bowl XXXVI, and now are both on-air personalities for the NFL Network.
McGinest remembers winning that matchup 17 years ago thanks to the foot of Adam Vinatieri, kicking a field goal to win as time expired.
RELATED: Patriots' Hall of Famer and former Rams' QB reflect on the rematch 17 years in the making at Super Bowl 53
"When it went through, I was like, 'thank God,'" said McGinest, who said he mentally prepared to have to go back out on the field.
Jessica spent her morning with world-famous chef Elliott Farmer. He's a frequent guest on WLOB radio in Maine, and hosted some friends from Limington, Maine here in Atlanta for a "New England meets Soul Food" fusion.
Chris also got to check out some food -- a Maine lobster truck in Atlanta that boasts real Maine lobster and a real Maine crew! That story is about much more than the food... stay tuned.
TUESDAY 1/29: Media Day at Mercedes-Benz Stadium
Mercedes-Benz Stadium, the regular season home of the Atlanta Falcons, was much bigger than any picture or video portrays it. Towering at 305 ft tall, from the field level to the bottom of the roof, and over 2-million square feet of space, the media was allowed to occupy a sliver of the field to get interior footage, shoot teases, while also sneaking in selfies to up their Insta cred. This was the only opportunity to get access to the field until Super Bowl Sunday.
You will most likely start seeing more social media posts and stories from the NFL experience sitting inside the gargantuan Georgia World Congress Center. This is where Meteorologist Keith Carson was Tuesday kicking field goals... in the name of science.
Jess Gagne, Chris Costa and I were not going to sit back and continue to watch Keith scuff up the indoor turf. Costa and Gagne make attempts wearing their Bean Boots. I was successful from 20-yards out, wearing Timberlands.
Stay tuned for Keith's BrainDrops Super Bowl edition on NEWS CENTER Maine.
South for Six: Day 1 Gallery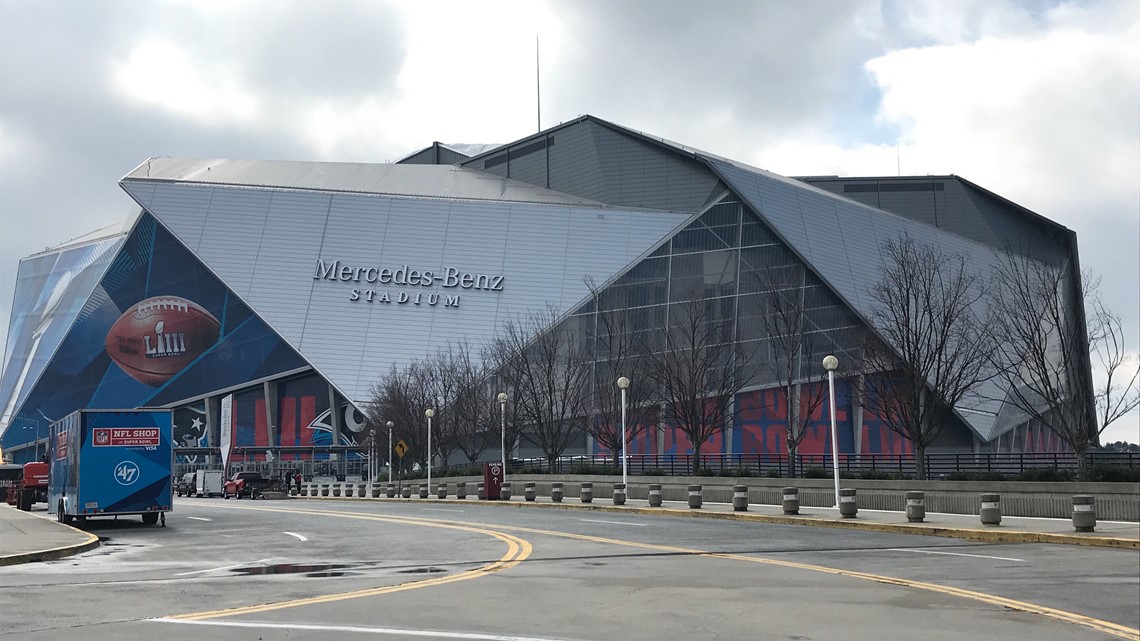 Following the Patriots to Super Bowl LIII
The Patriots Super Bowl send-off rally pulled in about 35,000 fans into Gillette Stadium on Sunday.
Take away all the fans, and you find yourself at the NEWS CENTER Maine Super Bowl team send-off rally at Portland's Jetport Tuesday. Jessica Gagne, Chris Costa, photojournalist Dan Frye, and I have the first flight to Atlanta at 6:15 a.m. Meteorologist Keith Carson and photojournalist Devin Crawford round out the coverage for us, they left on Monday.
Preparing for a week in Atlanta was easier than expected. Unlike its typical warm weather, the polar vortex is dipping down into Georgia, making the climate similar, to southern Maine this week and our typical Storm Center attire will work just fine.
On top of suitcases, we are bringing at least five cameras, a Polaroid Cube, a GoPro and at least 12 iPhones between the six of us.
NCM