ANNAPOLIS, Md. — Maryland's nonessential businesses have been shuttered since March 23, and the entire state has been under stay-at-home orders since March 30, which Gov. Larry Hogan says will be in effect until further notice. Some Marylanders say they've had enough, and staged a protest calling for the "reopening of Maryland."
On Saturday, two groups -- ReOpen Maryland and Marylanders Against Excessive Quarantine -- protested against state restrictions continuing beyond May 1.
"You cannot make the treatment worse than the disease," Lesli Engleman, a 48-year-old mom who used to be a healthcare worker, said.
Engleman and hundreds of others drove from the Annapolis Mall to Church Circle Saturday, starting at noon. Called "Operation Gridlock Annapolis," the goal was essentially to create excessive traffic to match what participants call "excessive quarantine."
Many small business owners held up signs at the protest, saying "We're all essential" and "I want to save my business. I need to work to live."
"I own a travel business, so it has come to a screeching halt," Natalie Brown said. "That's not Hogan's fault, but the point is, the more he keeps people out of work, the less likely they are to be able to afford a vacation to plan with me, so then I'm out of work, and I can't feed my children."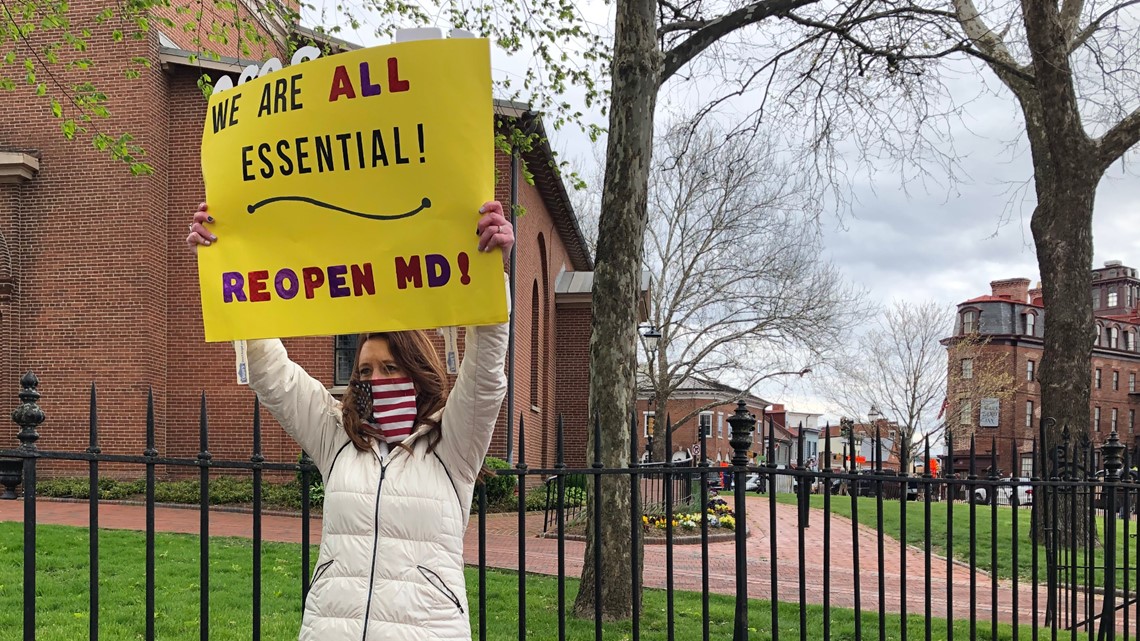 Brown said she understood the precautions at first -- she too was scared -- but, now she's advocating for more "common sense" policies.
"There are better ways to protect our elderly besides just demolishing our economy and ruining people's lives," Engleman echoed.
Under Gov. Hogan's executive order, gatherings of more than 10 people are currently prohibited. According to event organizer Jim Wass, at least 200 cars full of people showed up to the protest. Per their instructions, the majority remained inside their cars, many with masks.
"Government mandating sick people to stay home is called quarantine," a statement from ReOpen Maryland said. "However, the government mandating healthy citizens to stay home, forcing businesses and churches to close is called tyranny."
In a press conference Friday, Governor Hogan said he understood the protestors' perspective, but the number of cases speak for themselves.
"Our numbers are all going up, so no matter who you talk to, now is not the time to open things up," Hogan said. "But I understand people's rights to protest, and I understand their frustration, because I'm just as frustrated as they are."
"We will have endured nearly seven weeks of lockdown when May 1 arrives," the statement from ReOpen Maryland continued. "It is not sustainable to continue this lockdown as the economic and societal consequences will be irreversible."
Others showed up to rally against the protest, saying they agree with the stay-at-home order.
"My message is simple: Go home, stay home," Amy Windham said. "This is just going to prolong it, and you can see that already. I don't prioritize the economy over people's lives."
Wass with ReOpen Maryland said last minute, they decided to hold a food drive as well to give back as they spoke out. He said they ended up collecting 80 items and $120 cash to donate.
A similar rally was held in Richmond Thursday to protest Gov. Northam's decision to extend the closure of non-essential businesses through May 8.
President Trump issued guidance at a Thursday press briefing on how the White House will approach reopening the country. Ultimately, he said he wants governors to "call their own shots." But in order to pursue White House guidelines, states need at least 14 days of declining COVID-19 cases, and widespread testing in place. Neither Maryland, Virginia nor D.C. meet these qualifications yet.
WATCH: Here are Trump's three phases of reopening states