MAINE, USA — Adrienne Bennett and Dale Crafts took part in a Voice of the Voter candidate forum on Wednesday, June 10.
The third candidate in the Republican primary in Maine's second Congressional district, Eric Brakey declined to participate.
The candidates discussed how Congress might address problems of systemic racism and police brutality.
Crafts says one step is to weed out what he calls the bad apples, such as the former Minnesota police officer charged with killing George Floyd.

"It sounds like this guy had a lot of complaints along the way, that something should have been done," says Crafts. "So maybe there are some reforms" that can weed out what he calls the 'bad apples'."
Bennett says, "Reform doesn't come from a list of demands. It comes through conversations and a variety of people at the table willing to identify and reach common ground."

Both Bennett and Crafts criticized Gov. Janet Mills for not allowing all businesses to emerge from emergency lockdown rules.

Bennett accuses Mills of refusing to listen to the people whose livelihoods are affected by the shutdown.

Bennett says, "It's simply unacceptable, and we can't tolerate it, and that's why I've been in Augusta to protest and to let Governor Mills know in her executive office that she really needs to listen to the people of Maine, reopen it so they can get their livelihoods back on track."
Crafts says if he were in Congress right now he'd be working with the governor and putting his business expertise to work.

"As a businessman, I would like to sit down with other business leaders and figure out a way to open up Maine. We just need to open it. Government's job is not to unconstitutionally shut us down and stop commerce, because I don't believe she has the power to do that. There's no emergency exceptions to the Bill of Rights."

Several times, Bennett emphasized her support of President Trump and his policies.
In her closing statement, Bennett said "I want to fight for our values and help President Trump pass his 'America first' agenda, build that wall, drain that swamp including all of the career politicians. I'll try to support our law enforcement, I'll fight to protect innocent life, I'll fight to fix our broken welfare system. I'll fight to stop the gun-grabbers in their attacks on us."
Crafts also talked about supporting the president, and he also emphasized his endorsement by former Gov. Paul LePage.
Crafts says LePage "called me up and said 'Dale, we think that you're the guy, the only guy in the race that could be Jared Golden in the general election. Would you consider running?' Well I can tell you, that was very humbling to get that from him."
FULL REPUBLICAN CD2 FORUM
On Monday, Democratic Senate candidates Bre Kidman and Betsy Sweet are talking about ways to improve police procedures and the nation's military priorities.
A third candidate for the nomination, Speaker of the House Sara Gideon, declined our invitation to participate in the forum.
Human rights activist and progressive lobbyist Betsy Sweet says she would address racism and police brutality in a number of ways.
"I will get rid of qualified immunity that allows police officers to not be prosecuted for crimes," says Sweet. "And I would engage in a massive undertaking of examining in every police department, in rural areas and cities, the racial profiling that happens."
Sweet adds, "We have to look at how racism has affected our healthcare system, our economic system... how we do education. I think that's a broader issue that's just as important."
Attorney Bre Kidman says another priority should be "addressing the root causes of mass incarceration and the profit motive of mass incarceration."
Kidman says that means doing away with "for-profit prisons, a sub-minimum wage for prison labor, sometimes unpaid prison labor, the use of prison labor in private prisons to benefit private corporations."
And Kidman says, "We need to address the past harm of mass incarceration of disproportionately black and brown people."
Sweet and Kidman agree on the notion of "defunding the police," which many protestors are demanding, but in the sense of shifting money to different priorities.


FULL DEMOCRATIC FORUM
Sweet puts it this way: "We have asked the police to do things they should not be doing. They've become mental health counselors, and substance abuse counselors, and when we have a problem, instead of helping people that need it with community services, we call the police. And that's not what they should be. And we should take the money that is spent doing that kind of work, and give it to the community agencies and the people who are able to do that work well, and actually keep us safer, and get people to services that they need."
And Kidman says money now being spent on military gear for police departments "Would be better spent on social services, on treatment, on mental health professionals, on finding community-based solutions to these problems that we've kind of used a sledgehammer of policing to address."
Both candidates agree that they'd like to reduce military spending, and refocus the country's priorities.
Says Kidman, "We want to make sure that our soldiers get what they need from the Pentagon budget," and adds, "I want to keep (Bath Iron Works) up and running and healthy, building ships and employing Mainers. I think that there are other ships that can be built besides warships. I'd like to see how we can support them in terms of transitioning away from having to build materials for wars and hopefully we won't have."
And Sweet says "I think we have to rethink our whole foreign policy. A foreign policy that's based on the idea of wars with big ships and big tanks. What we know and what we see, is that wars are now much more a function of drones and much more vulnerable cyber attacks."
And Sweet goes on, saying "I think it's irresponsible not to talk about ways that we can keep people employed and in good jobs in Bath Iron Works. Because eventually… our military strategy is going to catch up with where we are, and it's not gonna be those jobs. So now's the time to be thinking 10 years down the line with union members at the table, with owners of the company of the table."
Kidman and Sweet also discuss campaign spending limits, the "Green New Deal," and "Medicare-for-all."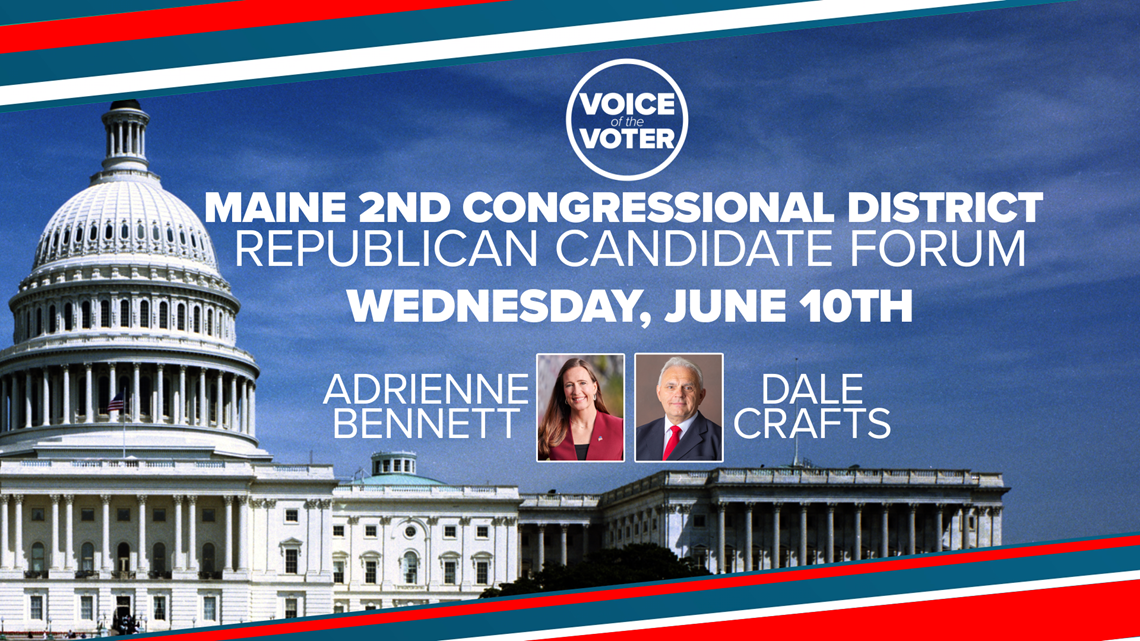 If you have a question you'd like to ask…just text us at (207) 828-6622. Simply test us your question and we'll try to get an answer.