MAINE, Maine — The off-year election is Tuesday, November 5 and on the ballot are only two statewide issues, a proposed bond package and a constitutional amendment aimed at ensuring people who are unable to sign their names can still support referendum petition drives.
Voter turnout is projected to be light on Tuesday except in communities where there are high-profile local races, said Secretary of State Matthew Dunlap.
Portland Mayor Ethan Strimling's campaign confirmed to NEWS CENTER Maine that he conceded the race to Kate Snyder. The Portland Press Herald reports candidate Spencer Thibodeau called Snyder to concede as well.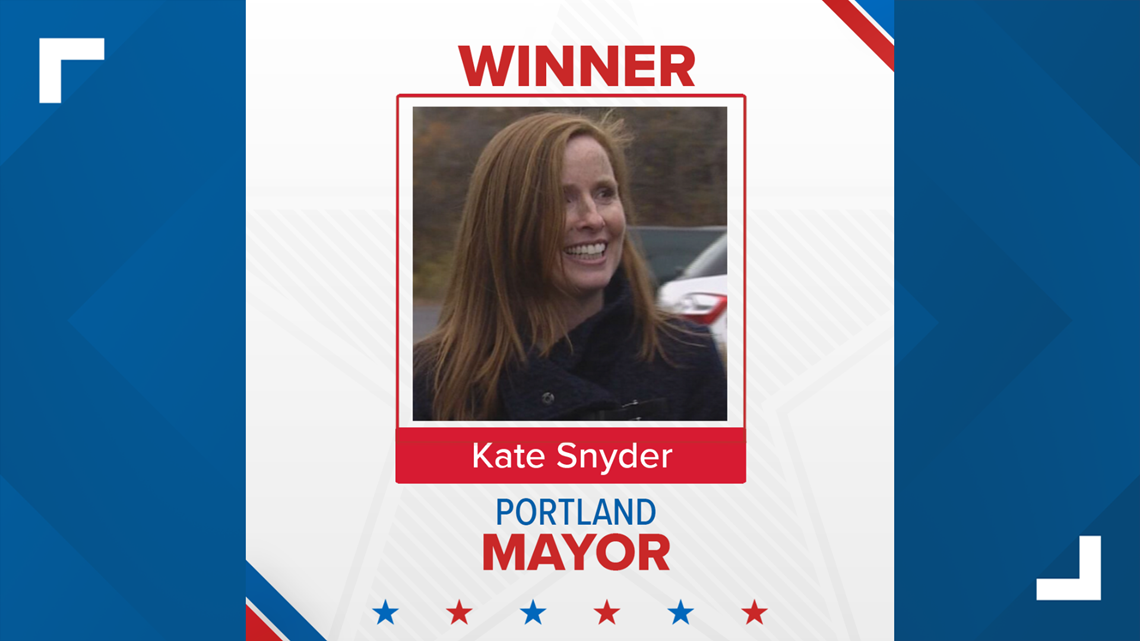 With 12 of 12 Portland precincts reporting, Snyder finished first with 39% of the first round of ranked-choice voting.
Kathleen Snyder 7,100 (39%)
Spencer Thibodeau 5,096 (28%)
Ethan Strimling 4,563 (25%)
Travis Curran 1,292 (7%)
According to Portland's voting report prior to certification, Snyder won the final round of ranked-choice voting 62 percent to Thibodeau's 38 percent.
Snyder told NEWS CENTER Maine, "There were times I was optimistic and there were times I said no way. So, yeah I'm surprised. You can't ever feel confident walking in to a day like today. I certainly wouldn't have predicted the results as they came in."
Snyder also praised all of her opponents.
"I'm very grateful to Mayor Strimling for his service to Portland. I look forward to working with councilor Thibodeau, and I congratulated him on a great race. And I'm also grateful to Travis Curran for joining this race."
Snyder told NEWS CENTER Maine she was looking forward to getting to work.
"I think the most important thing is to make sure the fellow councilors know that I'm one of the team," said Snyder. "My job will be to faithful to the language in the charter, so that we as a body are affecting really good and positive outcomes for the city."
Mainers also decided two statewide ballot initiatives Tuesday.
Voters approved a $105 million transportation bond package and a constitutional amendment aimed at ensuring state policy is consistent when it comes to alternative signatures for disabled residents who are unable to sign their names.
NEWS CENTER Maine is calling the South Portland middle school bond package vote as passing. Unofficial numbers provided to NEWS CENTER Maine showed the bond passing by an almost 3 to 1 margin. The bond puts South Portland taxpayers on the hook for $10 million to get nearly $60 million to build a new combined middle school complex on the Memorial Middle School site.
Residents in Lewiston have elected the first Somali American to the City Council.
Safiya Khalid, who's 24, soundly defeated a fellow Democrat on Tuesday. The Khalid called her campaign proof that "community organizers beat internet trolls."
Fleeing war and famine, Somalis began settling two decades ago in Lewiston, which has about 36,000 residents. The city, Maine's second-largest, is now home to more than 5,000 Africans.
Our media partners at the Portland Press Herald has an extensive local race list
In Bangor, unofficial results show voters in the city approved a $6 million bond for interior renovations to city hall. The building has not had any interior renovations in 50 years. 2352 residents voted yes, while 1547 voted no.
Bangor residents also voted on new city councilors. The four open seats will be filled by incumbent Daniel Tremble, and newcomers Angela Okafor, Susan Hawes, and Richard Fournier.
Bar Harbor voters weighed in on issues with short term summer rentals in the town. 628 residents voted yes on that ballot question, and now the town will work on the definition of vacation rentals. Town officials will then work on setting the minimum number of days someone can rent out a room or property. Currently, the minimum is five days.