BANGOR (NEWS CENTER Maine) – 5 volunteers and 1 agency of distinction were honored and recognized for their outstanding work and dedication to their communities Thursday night.
It was part of WLBZ's 2018 2 Those Who Care Awards, held at the Gracie Theater on the campus of Husson University.
It is the 17th year of the event. Judy Horan, President, and General Manager of WLBZ 2 said, "It's recipients like these that make Mainers lives better."
A primetime one-hour special hosted by NEWS CENTER's Lee Nelson and Sharon Rose Vaznis will air on WLBZ2 during prime time in the coming weeks.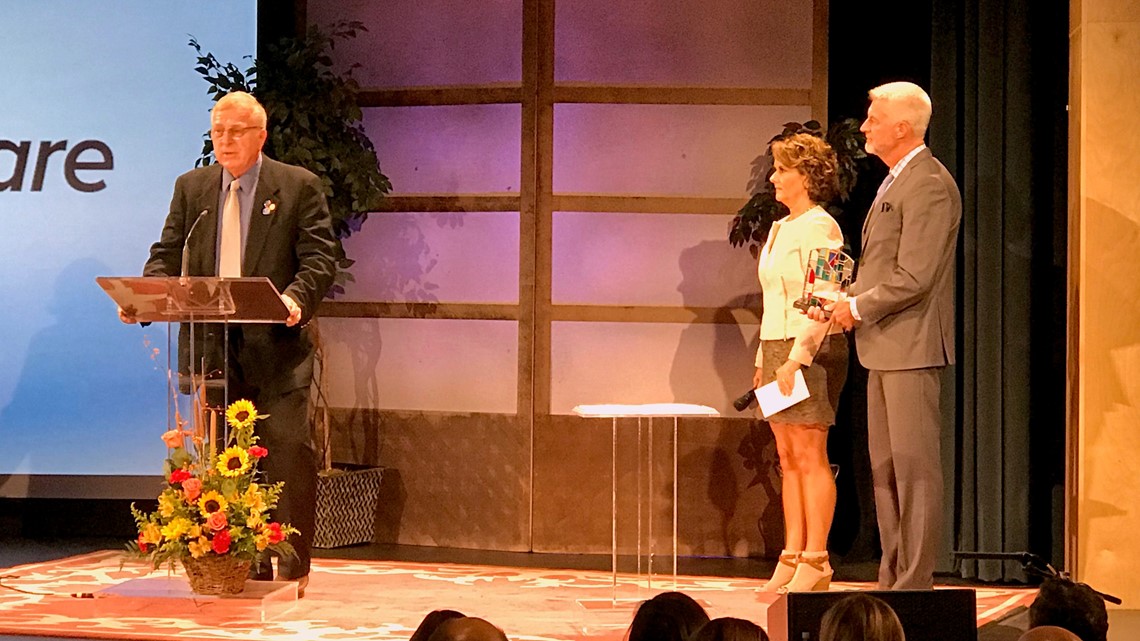 The NEWS CENTER Maine 2 Those Who Care award winners are…
Stanley Peterson is a hands-on volunteer working on several projects improving the facilities at the Old Town-Orono YMCA, including a handicap- accessible ramp for the pool and a new floor in the gym. He was also instrumental in much of the fundraising to start Sarah's House—a place for patients receiving cancer treatments to stay at little to no cost.
Kenneth Dow epitomizes the spirit of volunteerism. The John W. Coombs award recognizes Ken's dedication. Over the years, Ken has dedicated his time to helping the town and citizens of Corinna by overseeing the preservation of the Stewart Library, documenting the Eastland Woolen Mill EPA Super Fund project and serving as the president of the Levi Stewart Theater Group.
Charlene Chesley is a native of Corinth and a life-long volunteer for just about anything that happens in that town. She's active in the schools, her church and is a driving force for the beautification of town, painting, planting, cleaning and decorating all year round.
Robert Kelly has volunteered his professional skills preserving historic buildings for decades in the Bangor Area. He played key roles in the restoration of the Bangor Public Library, the Unitarian Universalist Church in Bangor and the Bangor Opera House-- the home of the Penobscot Theatre Company.
Susan Mayer of Northport is the self-proclaimed "fairy godmother of the Game Loft," an organization that helps more than 400 youth ages 6-18 in Waldo County providing safe and secure after-school programs. She also volunteers at the Deborah Lincoln House, St. Margaret's Church, and Friends of Belfast Free Library.
The Lincoln Food Cupboard is the 2018 Agency of Distinction. Started more than 30 years ago, the Lincoln Food Cupboard is now supported and run by seven local churches providing services for 13 towns around the Lincoln Region. The services include a back-pack program for four schools, a commodities program for the elderly and a thrift store that helps fund it all.
NEWS CENTER Maine works in partnership with United Way of Eastern Maine to recognize these amazing volunteers.