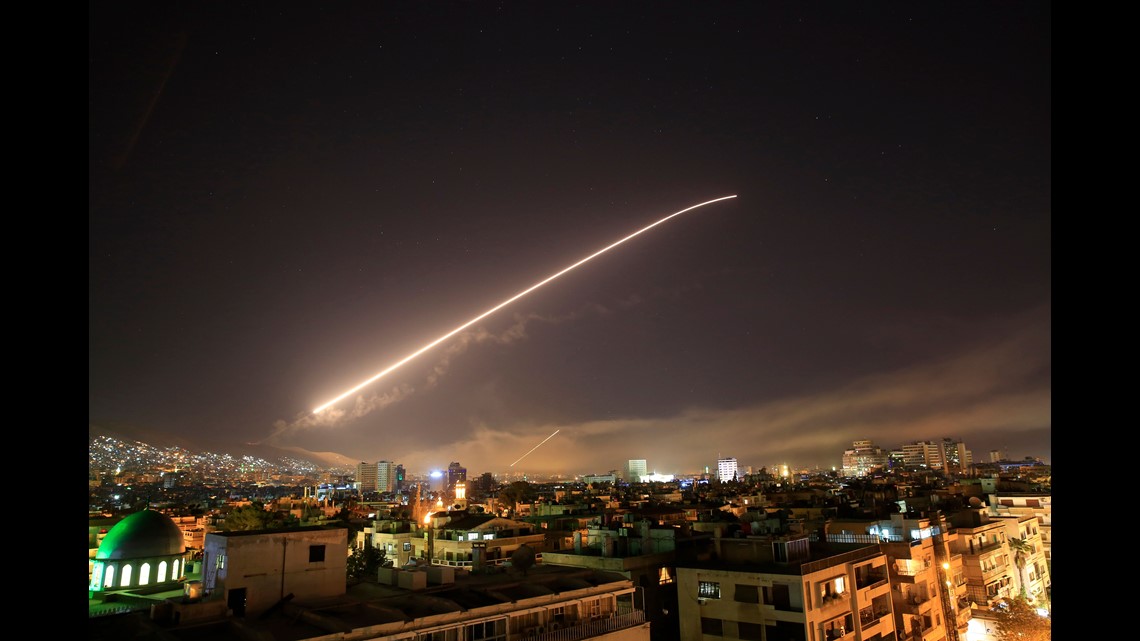 WASHINGTON – Syria's once well-regarded air defense system failed to defend against the U.S.-led strike on the country's chemical weapons facilities last week, highlighting how far the regime's military has declined, according to the Pentagon and military analysts.
The Syrians fired 40 interceptor missiles, but most of them didn't even get off the ground until allied missiles had already hit their targets, Pentagon officials said. The interceptor missiles appeared to lack guidance systems.
"Nearly every one was launched after the last of our missiles hit their targets," Pentagon spokeswoman Dana White said.
The failure highlights how ineffective Syria's military has become and the degree to which it now depends on Russia and Iran, its principal sponsors, for security, said Christopher Kozak, an analyst at the Institute for the Study of War.
U.S., French and British forces launched 105 missiles from aircraft and ships at three chemical weapons facilities in Syria last weekend in response to a suspected chemical weapons attack launched by the regime of Syrian President Bashar Assad.
Russia claimed that Syrian defenses knocked down many incoming missiles, but the Pentagon said every weapon hit its intended target, dismissing the Russian comments as a disinformation campaign.
Syria is equipped with a relatively sophisticated air defense system, but a lack of training, command and control and other human factors are probably responsible for the failure, analysts said.
"It's not just about the physical capability of the air defense system," said David Deptula, a retired, three-star Air Force general. "It's about the people who are operating the system."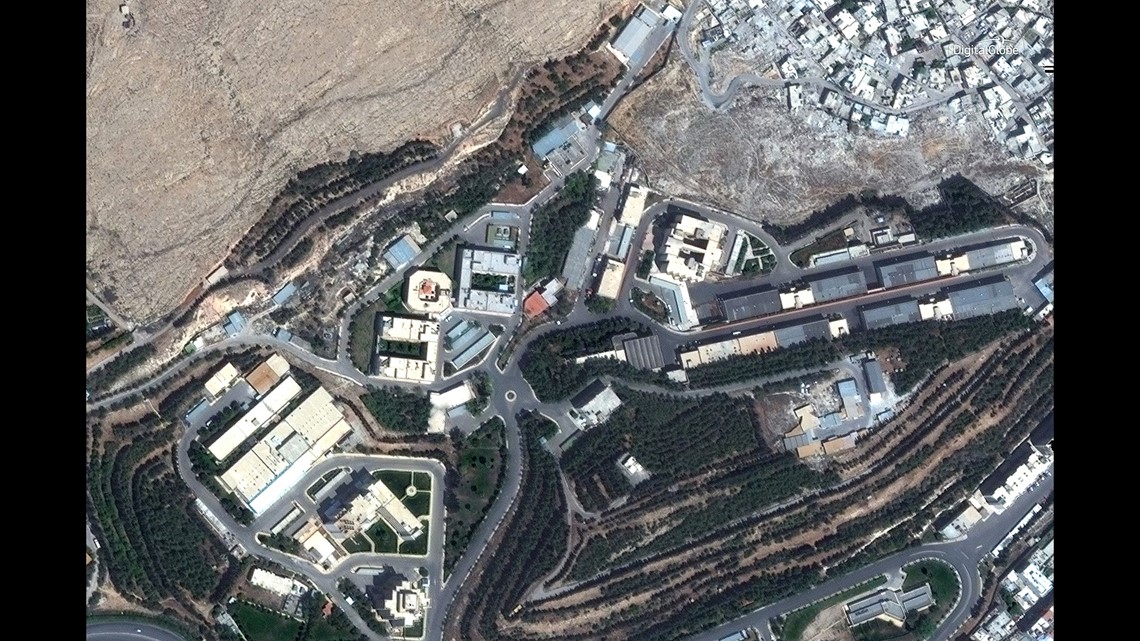 The Pentagon was careful to acknowledge that Russia's own air defense system in Syria, which is far more sophisticated than the Assad regime's, was not employed against the U.S. attack.
The Russian military passively tracked the incoming missiles on radar. The missiles, launched from ships and aircraft operating outside Syrian airspace, blew up three chemical weapons facilities.
"Russian air defenses were energized," said Marine Lt. Gen. Kenneth McKenzie, director of the joint staff. "They did not choose to engage."
The modern S-400 air defense system that the Russians have in Syria is principally used for defending its two major bases inside the country.
To defend its airspace, Assad's military employs an older Russian-built S-200 air defense system, a network of radar and ground-to-air missiles that was designed in the 1960s.
Syria may also have the more modern Pantsir system, which is designed to defend individual bases or facilities and doesn't have the range to cover the entire country.
Syria's military has been weakened after seven years of war. Its recent success in retaking territory is largely the result of help from Russia, which has been supplying air power, and Iran, which has deployed ground troops.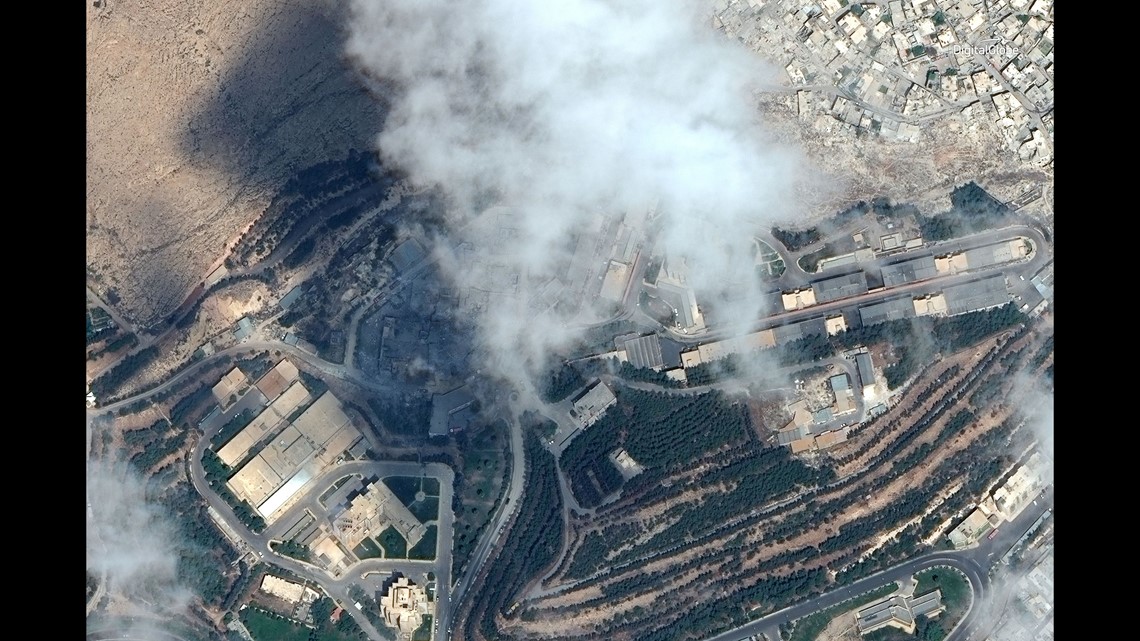 After the U.S. attacked a Syrian airfield last year following a similar chemical attack, Assad complained that his regime couldn't defend its air space because half the country's air defense system had been destroyed by the civil war.
Several years prior to that, the Pentagon had described Syria's air defense system as a challenge for American forces.
When the U.S. was weighing the option of establishing a no-fly zone over Syria, Gen. Martin Dempsey, then chairman of the joint chiefs of staff, said Syria's air defense system was "high end."
"I'm not saying we couldn't beat that system, but it would be a greater challenge, take longer and require greater resources," he said in 2013.
But even a sophisticated air defense system would have had trouble defending against the type of attack conducted by the U.S.-led coalition, analysts say.
The cruise missiles fly low and emit little heat for interceptor missiles to lock on to. They can also be programmed on a flight path that makes it difficult to predict where they will appear.
The sheer number of incoming missiles also makes them hard to track and hit at the same time. "Their systems would be overwhelmed by 100 cruise missiles," said Michael Pregent, an analyst at the Hudson Institute. Each battery has several dozen missiles and reloading takes nearly an hour.
The U.S. military would typically jam enemy radar when conducting airstrikes, making it difficult for the Syrians to employ their systems.
"Air defenses aren't invulnerable," Deptula said. "We just proved that."