WINTER HARBOR, Maine (NEWS CENTER) -- Verizon wireless cellphone customers in Washington county received a notice last week stating their service would be terminated for "using a significant amount of data" outside of the Verizon coverage area.
Winter Harbor's police chief Danny Mitchell was among those that received the notice. Below is a copy of the letter he received.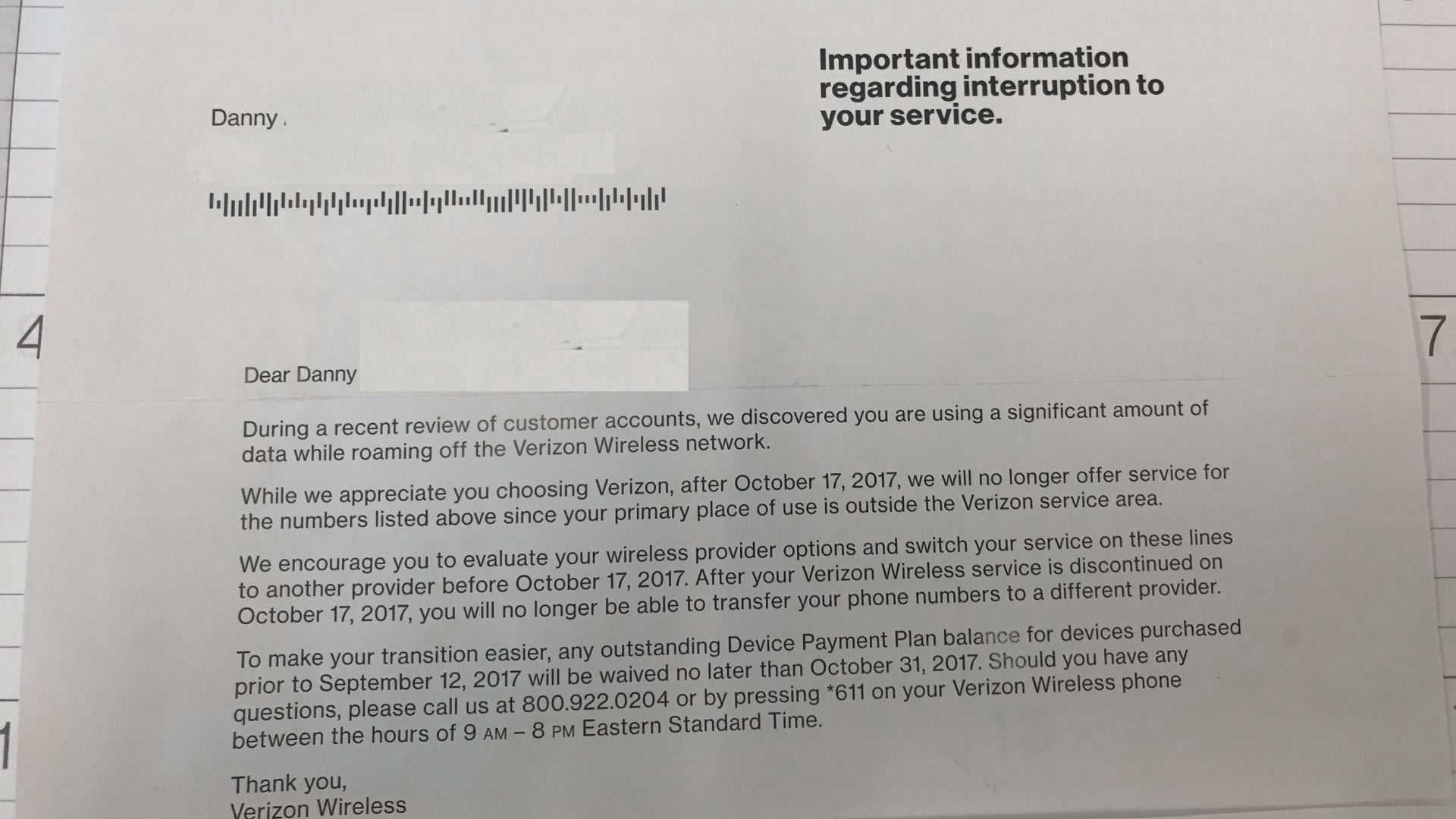 According to the letter as of October 17th – customers would no longer get their cell service from Verizon. The company claims that customers like Mitchell have been using too much data while roaming off of Verizon wireless networks. Mitchell is worried about the impact that the absence of one of the nations leading service providers will have on the safety in his community.
"From a public safety standpoint, a lot of our 9-1-1 calls come in via mobile phone. And when you have less towers or less service to ping off from, then your area of location instead of getting more specific in the location, is gonna get wider," said Mitchell.
Chief Mitchell is not alone in understanding the impact Verizon has on the community. Washington County Sheriff, Barry Curtis, is planning on working with other public officials to take action.
""We are going to try and talk to as many people as we can. Because of the fact that it is a big set back for us. You know the commissioners, I hope they get on board here and will be calling Augusta to figure out what we can do to maybe slow this down, stop it, or do something," said Curtis.
Verizon's public relation's manager David Weissmann released a statement to NEWS CENTER stating:
"Verizon has an agreement with Wireless Partners LLC, which owns and operates a wireless network in Downeast Maine. Verizon utilizes this network to provide additional coverage for our customers. This coverage area is not changing. We are disconnecting a small number of customers who live within this coverage area, and whose primary data usage is outside of the Verizon service area. People who live within the Verizon service area are not impacted. The number of impacted accounts is a fraction of the number being widely reported."
The Maine Office of the Public Advocate also released a statement to NEWS CENTER stating:
"The Office of the Public Advocate is concerned about the well-being of all Maine residents. This loss of wireless communication underscores the importance of our landline network to ensure that individuals can contact public safety officials in the event of an emergency. Verizon's actions raise new concerns that areas once deemed a competitive marketplace for telecommunications will once again be served only by their landline provider. This possibility should be considered as the de-regulation of landline telephone continues throughout the state."
Updated Verizon statement as of 5:00 p.m. on Thursday, September 14th:
"Earlier this month, we sent notifications to 213 customers in Maine. These customers have 455 consumer lines that we will no longer service after October 17, 2017. These customers live outside of areas where Verizon operates our own network and many of these lines use a substantial amount of data while roaming on other providers' networks. The roaming costs generated by these lines exceed what these consumers pay us each month.
People who live within the area where Verizon operates our own network are not impacted.
We sent these notices in advance so customers have plenty of time to choose another wireless provider. Other operators who may be an option include US Cellular and AT&T.
We will continue to update this story.