MAINE, USA — Black Lives Matter protests continue for the fourth day across Maine, as hundreds take to the streets in protest against police brutality in the wake of George Floyd's death.
The protests had remained peaceful until late Monday night in Portland when police in riot gear fired pepper spray into the crowd. Other reports say officers advanced up Franklin Street after a cargo truck drove through the crowd. Protestors pushed back, and things have divulged, at times, into chaos.
The Portland Press Herald reports at least eight people had been arrested for failure to disperse as of 11:30 p.m., according to Lt. Robert Martin.
People continued to gather near the Portland Public Safety building, at times blocking the roadway.
At the intersection of Franklin and Middle Streets in Portland, police officers from Portland, Auburn, and the Sheriff's Dept. formed a barrier blocking the roadways, periodically inching the crowd back in an attempt to disperse the crowd.
At times, a few stray protestors away from the crowd near the police barrier would throw water bottles towards the police, inciting police reaction. Many protestors urged them to stop throwing things, which turned a peaceful demonstration violent at times.
Officers deployed pepper spray and fired rounds of blanks and rubber pepper balls. But protestors stayed their ground and as of 1 a.m. Tuesday the protest continues.
An organizer told NEWS CENTER Maine's Hannah Dineen they plan to stay "as long as it takes" and that even if police disperse them, they'll be back tomorrow. "This is the resilience and the energy that these people have, that we have, for this movement and what we stand for," he said, "and so we'll be back...but for tonight, we're going to ride this out and see how this goes. We're here for the long haul."
Watch NEWS CENTER Maine's live coverage of the Portland protests Monday:
Black Lives Matter protests in Portland continue on Monday
In Portland, protests started around 7 p.m. at the corner of Commercial Street and India Street on Monday.
In Bangor, protests began around 5 p.m. at the Bangor City Hall.
At the Bangor protests, police kneeled with protestors and hugged them in support.
Later in the evening, Brewer Police and the Penobscot County Sheriff's Dept. joined Bangor Police at the protest.
NEWS CENTER Maine's Jackie Mundry reports that some demonstrators are not leaving after being asked multiple times to do so.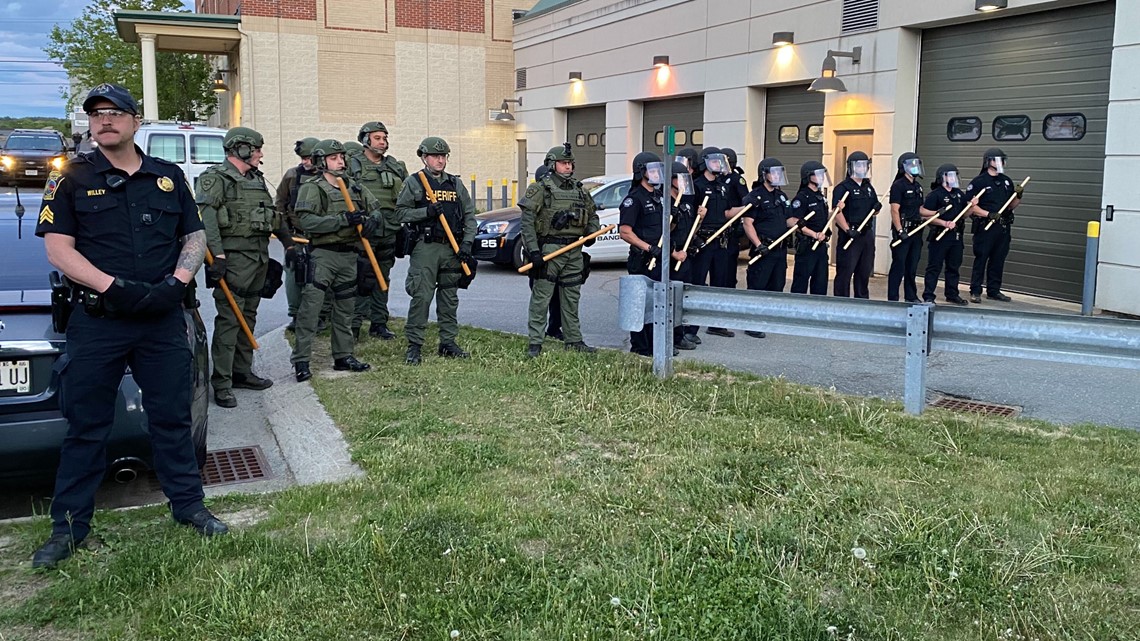 Also in Portland, there have been reports that there was a confrontation with police cruisers. According to Portland Press Herald photographer Derek Davis, police attempted to block protestors with the cars, and protestors began throwing things at the cruisers.
Davis also said police came out in riot gear and protestors cleared out but promised to protest again tomorrow if the police take down the George Floyd memorial at the police station.
The Urban Outfitters on Middle St. in Portland was damaged. The glass doors were broken and windows were vandalized with paint.
Watch scenes Bangor protest here:
Watch scenes Portland protest here:
In addition to Bangor and Portland, there are protests happening in Lewiston and Auburn on Monday. The Sun Journal is streaming that live here.
NEWS CENTER Maine is covering both protests in Portland and Bangor on Monday. Stay tuned for our complete coverage.
This story will be updated.