MAINE, USA — The numbers are in! After a day-long telethon with the Maine United Ways, we are happy to announce that the grand total raised for the Maine United fund is $633,516! The fund will help Mainers affected by the coronavirus, COVID-19 pandemic.
Viewer donations: $340,516
CMP donation: $200,000
Poland Spring donation: $58,000
Bangor Savings Bank donation: $25,000
NEWS CENTER Maine's TEGNA Foundation Grant: $10,000
Mainers Matching hours totals (already factored into the grand total):
Viewers donations during CMP hour: $27,045
Viewers donations during Poland Spring hour: $57,779
Viewers donations during Bangor Savings hour: $105,066
United Ways of Maine will use its unique formula to disperse these donations statewide.
Even though the telethon is over, you can still donate to the Maine United fund here.
Maine United Telethon - Volunteers From Home
During this COVID-19 coronavirus pandemic, many Mainers are finding themselves unemployed. Now is the time for neighbors to help their fellow neighbors with food, fuel assistance, and other services to help make ends meet.
NEWS CENTER Maine and United Ways of Maine (all 9 of them) have partnered for Maine United, a fund to help those in need right now.
NCM will be holding 3 Matching Mainers hours on April 9 (during our newscasts), during the Maine United Way Telethon. That means if you donate during these 3 hours, your donation will be doubled.
From 6:00am - 7:00am CMP will be matching up to $25,000 of viewers donations
From 12:00pm - 1:00pm Poland Spring, part of the Nestle Waters Family, will be matching up to $50,000 of viewers donations.
From 5:30pm - 6:30pm Bangor Savings Bank will be matching up to $25,000 of viewer donations.
BANGOR SAVINGS BANK CEO BOB MONTGOMERY-RICE INTERVIEW WITH CINDY WILLIAMS
CMP CEO DAVID FLANAGAN INTERVIEW WITH CINDY WILLIAMS
POLAND SPRING'S COMMUNITY RELATIONS MANAGER, HEATHER PRINTUP, INTERVIEW WITH CINDY WILLIAMS
If you need assistance, please call 2-1-1.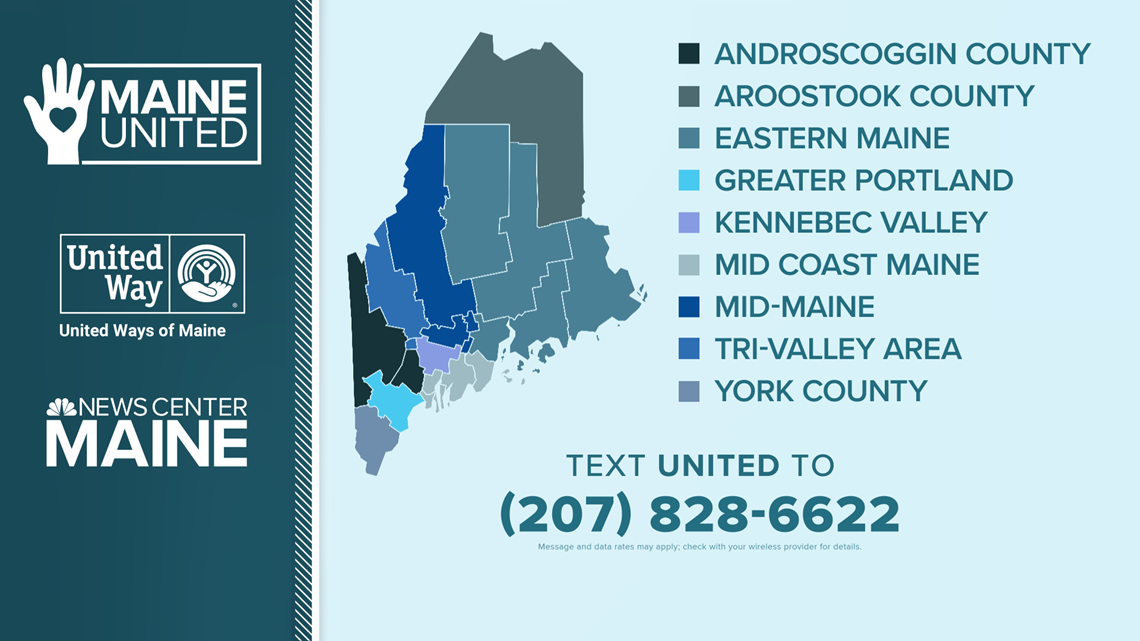 How your donations can help
$25 - 100 meals at local food bank
$100 - 50 meals at a soup kitchen
$100 - Prepares 70 meals for home bound elders and disabled adults at Meals on Wheels
$150 - One-month supply of diapers
$250 - About 100 gallons of fuel oil
$500 - Five nights in a shelter for a family of four
The COVID-19 Relief Fund is a concrete way for people in Maine to donate to the county or counties that they wish to support. Each United Way is responding to the needs in their respective communities, including food and shelter, as well as assessing short and long term impact.
100% of donations will go directly to support people in this time of need.
Many agencies are feeling the stress with limited resources to help the most vulnerable in our communities, and contributions to the COVID-19 Relief Fund will help tremendously.
Now is the time for Maine to come together when we all have to stay apart.
At NEWS CENTER Maine, we're focusing our news coverage on the facts and not the fear around the illness. To see our full coverage, visit our coronavirus section, here: /coronavirus
NEWS CENTER Maine Coronavirus Coverage
NEWS CENTER Maine YouTube Coronavirus Playlist