NEWS CENTER Maine's 2022 Feed Maine Telethon raised $205,900 for Mainers in need of food, which is enough for 617,700 meals. There were 1,743 donors.
Thank you to all who donated. Your generosity is what made this possible, and your donations will go to Good Shepherd Food Bank to feed Mainers who are experiencing food insecurity.
Original story
An estimated 13.5 percent of Maine's population experienced food insecurity in 2021, which equates to about 182,000 people. This compares to about 167,000 before the pandemic.
Of the nearly 250,000 children in Maine, an estimated 20 percent, or nearly 50,000 kids, are at risk of hunger. This means 1 in 5 kids do not have regular access to enough healthy food.
Doing Good Together, we can help Feed Maine.
NEWS CENTER Maine launched Feed Maine in September 2017 with the goal to raise enough money to supply 1 million meals to the people of Maine when and where they need it. We are happy to report we reached that goal, but Mainers are still food insecure, and we need your help.
All donations will go to Good Shepherd Food Bank to feed Mainers.
You can also donate to NEWS CENTER Maine's Telethon by clicking here.
NEWS CENTER Maine's Online Merch Store is open for viewers to purchase a NCM item all while helping to feed Mainers, and $3 from each purchase will be donated to The NCM Feed Maine Telethon. You can make a purchase here. This site will be open through May 31.
"Free Food Thursdays" at the Augusta Food Bank happen every Thursday from 9 a.m. to 11 a.m. No appointment is needed; just wait in line for your turn to "shop." There is no limit on income level.
"Sometimes you just don't have enough money from your social security to buy groceries. By the time you pay your bills, and you gotta at least put some gas in your vehicle, for emergencies and stuff," an Augusta resident who stops by the Augusta Food Bank for food every Thursday told NEWS CENTER Maine.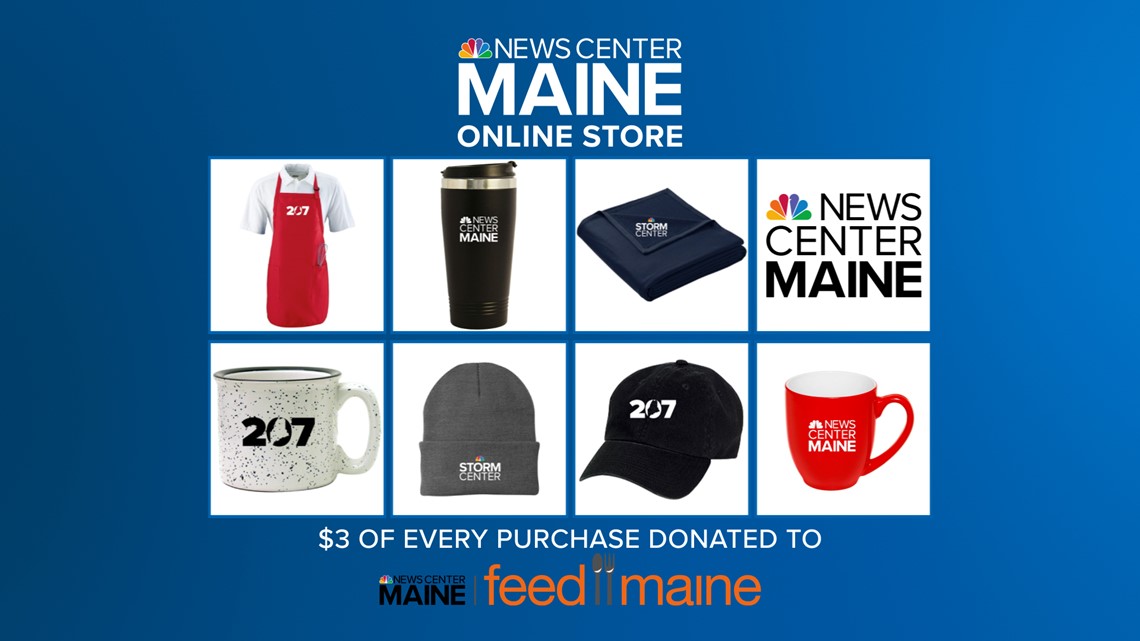 "Everything you see in our warehouse here is pretty much bought, and that's through Good Shepherd, the deals that they negotiate with the large retailers ... the assignment of retailers to use ... it has just been a tremendous partner. Honestly, if we had to buy full price, we wouldn't be able to operate like we operate now," Augusta Food Bank Executive Director Bob Moore said.
Hannaford will be sponsoring a Matching Mainer's hour, in which all donations made from 5:30 to 6:30 PM will be matched up to $25,000.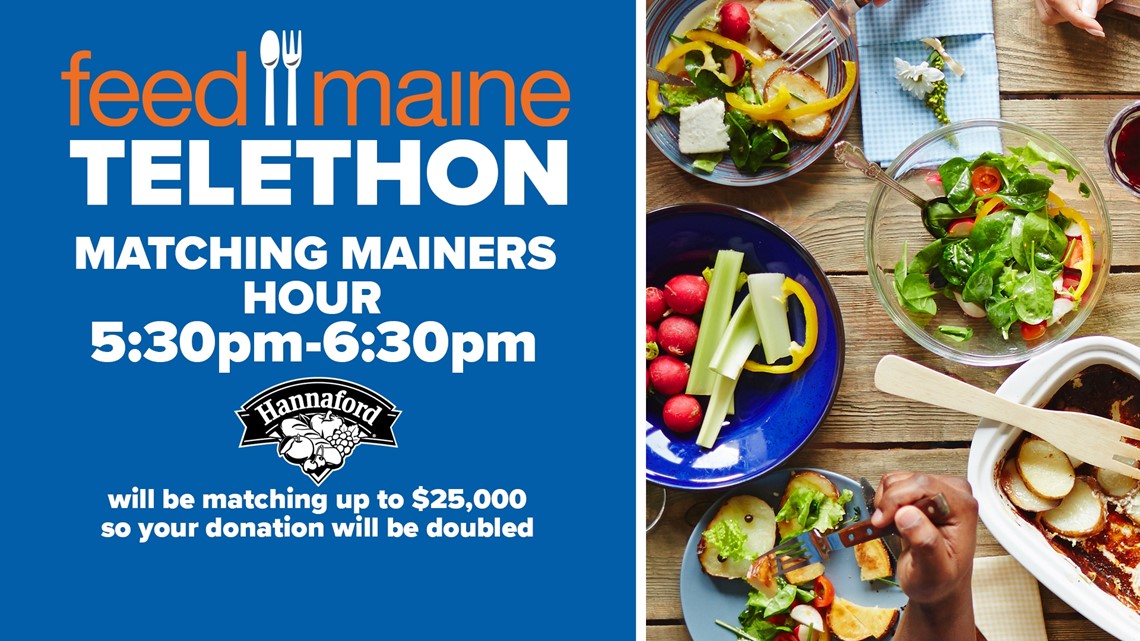 "If you consider the pandemic under control, more under control than it was ... food insecurity hasn't lessened," Moore added.
"We have people coming in from an hour drive away to pick up food," Augusta Food Bank volunteer Keith Dubois said.
How your donation can help.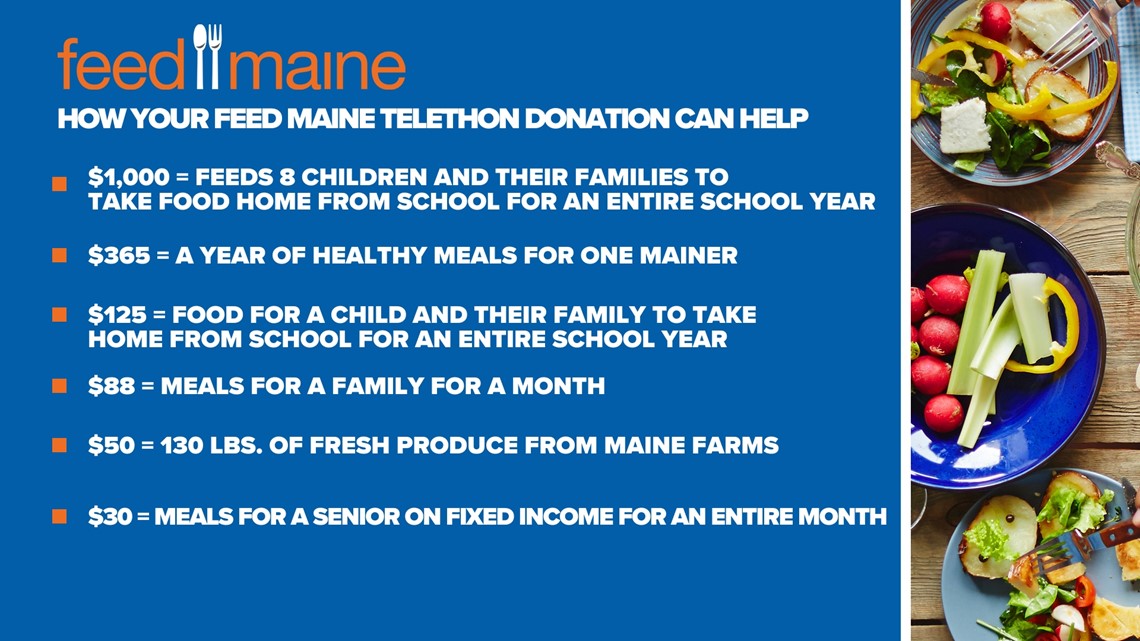 "No matter how welcoming we are, no matter how attractive the place is, no matter how the food is displayed, we know that putting a foot across that line is a humbling experience. We try to take that away but there are some people that just have so much pride that they won't come. Those are the ones we are trying to reach," Moore said.
NEWS CENTER Maine is proud to partner with Good Shepherd Food Bank to help end food insecurity in Maine.
Reminder: $1 can help serve 3 meals to a Mainer in need.
Funds for the telethon will be used for the Good Shepherd Food Bank's programs – statewide food distribution, purchasing from Maine farmers, child hunger programs including school pantry and backpack, nutrition education and cooking lessons, and more.
Good Shepherd Food Bank is committed to providing Mainers in need with nutritious food. Since GSFB is a primary source of food for so many Mainers, they are proud in helping to provide nutritious food to improve people's health.
More NEWS CENTER Maine stories