MAINE, USA — Thank you, Mainers, for helping Feed Maine! We raised a total of $221,454.30 in donations. That will provide 664,363 people with a meal.
Here's a breakdown of of donations:
429 Don Carrigan t-shirts sold: $5,000
Hannaford donation $25,000
Matching Mainer hour donations $65,238
Rest of day donations $125,092
Purchase a Don Carrigan shirt and help support Feed Maine HERE.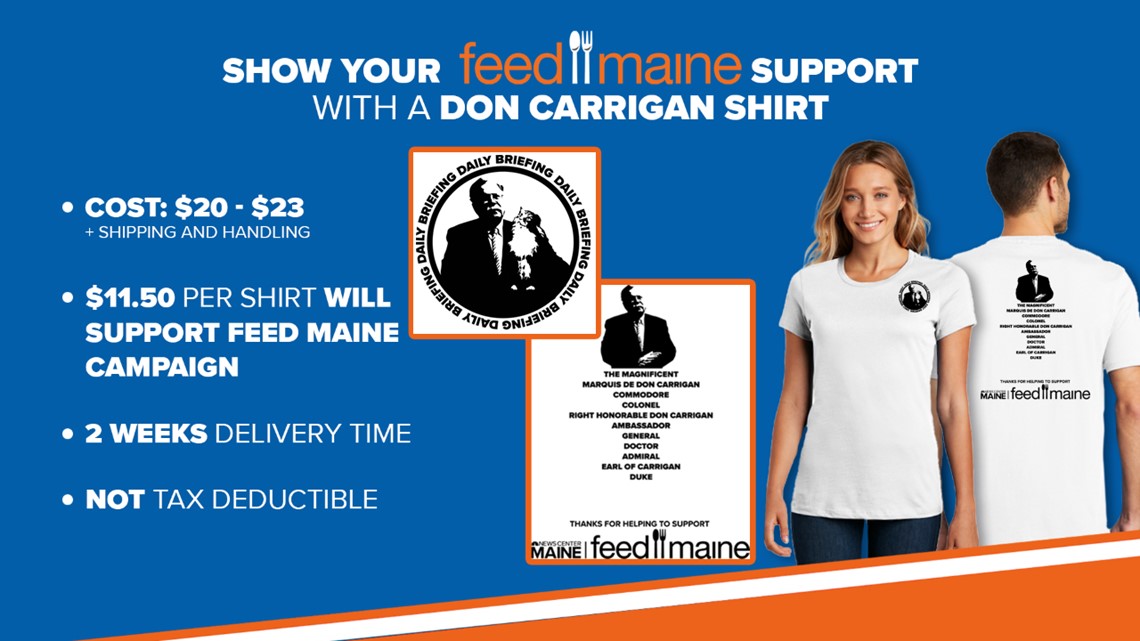 Help Support a Hungry Mainer. Purchase a Don Carrigan Daily Briefing Feed Maine Shirt.
In the last year, many food pantries across the state reported increased visits from families who had never previously needed to use the food pantry.
Before the pandemic, 12.3 percent of Mainers were food-insecure. At the height of the pandemic, that number jumped to 14.7 percent. Thanks to the resilient food pantries and other agencies in our state, along with the generosity of thousands of Mainers, we anticipate that Maine's hunger rate will level off at 13.5 percent in 2021.
Together we can Feed Maine.
NEWS CENTER Maine launched Feed Maine in September 2017 with a goal to raise enough money to supply one million meals to the people of Maine when and where they need it, ultimately to end food insecurity in our state. We are happy to report we reached that goal, but Mainers are still food insecure, and we need your help.
Funds from the telethon are used to benefit Good Shepherd Food Bank's programs, such as statewide food distribution, purchasing from Maine farmers, child hunger programs including school pantry and backpack, nutrition education and cooking lessons, and more.
Good Shepherd Food Bank is committed to providing Mainers in need with nutritious food. Since GSFB is a primary source of food for so many Mainers, they are proud in helping to provide nutritious food to improve people's health.