PORTLAND, Maine — THANK YOU to all who donated to our 36th annual Coats and Toys for Kids campaign.
Our 2018 campaign totals came to 17,200 coats and 6,710 toys. Since NEWS CENTER Maine's involvement with Coats and Toys for Kids, an estimation of 832,200 coats and 70,710 toys have been collected.
On Saturday December 1 for Coats and Toys for Kids Day, you donated more than 4,500 coats, 5,000 toys and $2,000 to help give Maine kids a warm and special holiday.
From everyone at NEWS CENTER Maine thank you !
Time to help NEWS CENTER Maine collect coats and toys during its 36th annual Coats and Toys for Kids campaign.
In 1983, the Salvation Army created the campaign in an effort to collect coats for Maine families who couldn't afford a warm winter coat.
Coats and Toys for Kids 2018
NEWS CENTER Maine and the Salvation Army joined together in 1990, establishing a partnership for the Coats for Kids campaign.
In 2004, toys were added by NEWS CENTER Maine to the campaign, becoming Coats & Toys for Kids.
An estimated 836,000 coats and 64,500 toys have been collected over the years.
Each year, several Hannaford, Shaw's and Pratt Abbott locations serve as drop-off spots for peoples' donations. Gently used coats and new, unwrapped toys are generously left in giant boxes provided by PepsiCo.
All the coats are brought to Pratt Abbott cleaners where they are cleaned, stored, then distributed by the Salvation Army along with the toys.
Coats will be accepted Thursday, November 22 through Monday, December 31. That's 40 days to get us your donations!
Toys will be accepted from Thursday, November 22 through Saturday, December 15 — just three weeks, leaving time to distribute to those in need for the holiday season.
Coats & Toys for Kids Day is December 1. We will be live from 8 locations throughout the state collecting coats and toys.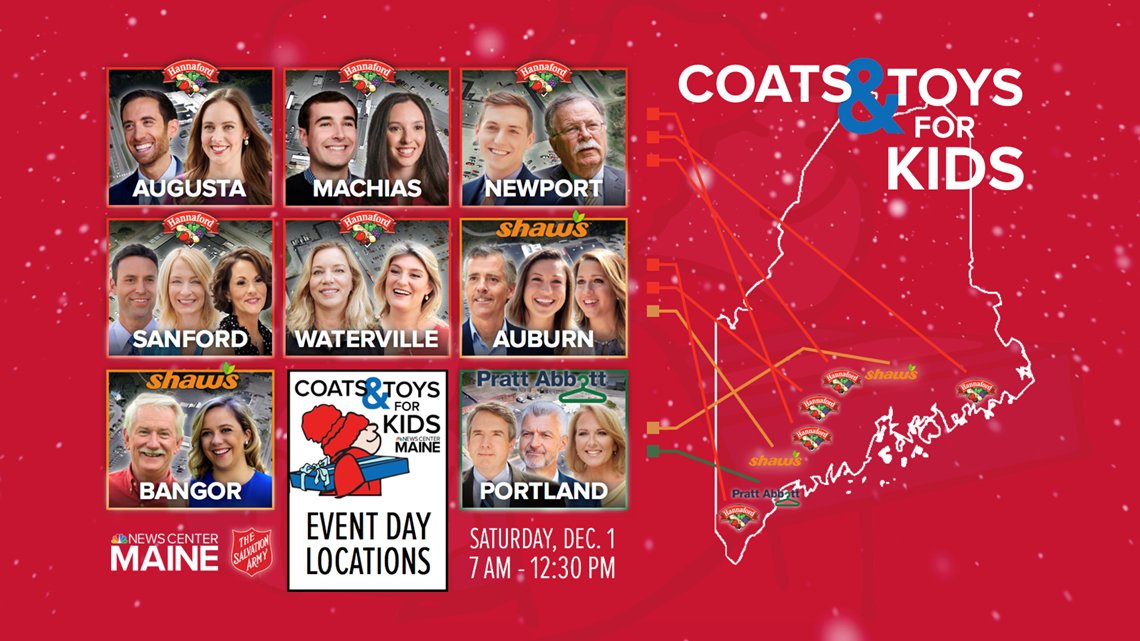 Hannaford in Augusta on Cony St.
Hannaford in Newport on Moosehead Trail
Hannaford in Machias on Dublin St.
Hannaford in Sanford on Main St.
Hannaford in Waterville at Elm Plaza
Shaw's in Auburn on Center St.
Shaw's in Bangor on Main St.
Pratt Abbott in Portland on Forest Ave.
Drop-off windows will vary depending on store hours. Check your local Hannaford, Shaw's or Pratt Abbott for opening and closing times.