Back to School: Every Maine school district's reopening plan, organized by county
Governor Janet Mills admin. issued the color-coding system for Maine schools to reopen after the coronavirus pandemic. Every Maine school reopening plan by county.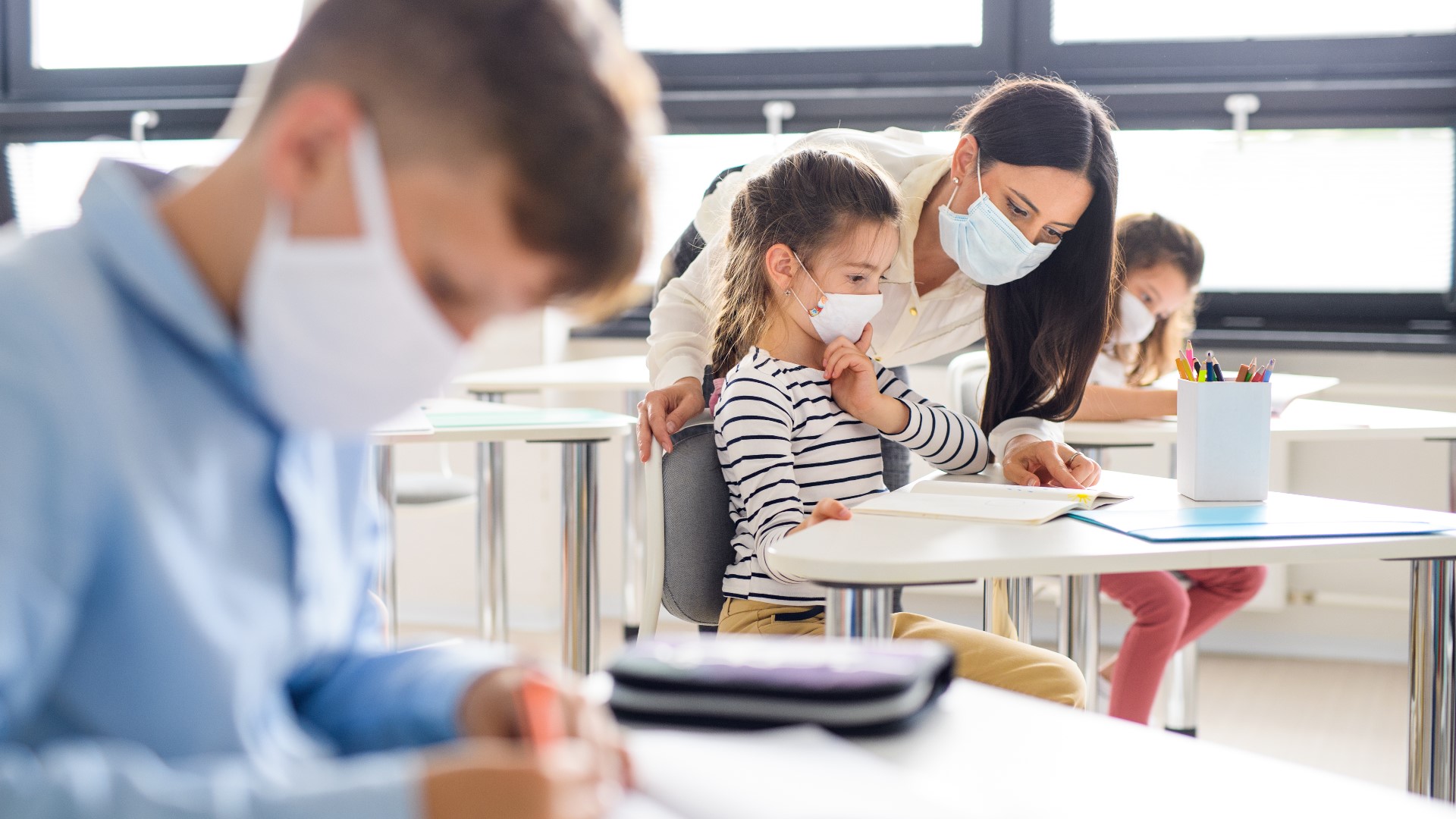 It's been a question and topic of concern for thousands of Maine families for months: What will school look like this fall with COVID-19, coronavirus precautions? Is it safe to send my kids back to school? While Governor Janet Mills' administration has provided recommendations and insight to help answer those questions, many still have concerns.
The Health Advisory System categorizations are defined as follows:
RED: Categorization as "red" suggests that the county has a high risk of COVID-19 spread and that in-person instruction is not advisable.
YELLOW: Categorization as "yellow" suggests that that the county has an elevated risk of COVID-19 spread and that schools may consider additional precautions and/or hybrid instructional models as a way to reduce the number of people in schools and classrooms at any one time.
GREEN: Categorization as "green" suggests that the county has a relatively low risk of COVID-19 spread and that schools may consider in-person instruction, as long as they are able to implement the required health and safety measures. Schools in a "green" county may need to use hybrid instruction models if there is insufficient capacity or other factors (facilities, staffing, geography/transportation, etc.) that may prevent full implementation of the health and safety requirements.
Despite being given the green light to reopen to in-person instruction, nearly all of Maine's more than 150 school districts have opted for a hybrid model, which is designated as "yellow" in the State's definition.
Here's how each school district is planning to reopen, by county. Given the lengthy list of districts—we will update this story daily to work towards including all 16 counties.
We will continuously update this information as we go, but if we missed a district, and you have a link to the information, please let us know by texting 207-828-6622. Use the hashtag #backtoschool so we can easily find the text. The information we are publishing is publicly available info on the school district website.
Androscoggin County
:
A hybrid model with options for a 4-day or 2-day schedule, or a full remote learning option. Parents must indicate their choice of schedule—4-day, 2-day, or fully remote. If no indication was given before Friday at 5 p.m., students will be placed on the 4-day schedule unless told otherwise.
Parents can choose to remote or hybrid learning for their kids.
This is one of the only districts in Maine that is giving the option to have full in-person learning this fall. Twenty percent of parents in a recent survey said they plan to continue with remote learning or homeschooling options.
Three options of a hybrid model—a final decision will be made based on parent surveys. Based on the most recent survey, the district has chosen a model that has two groups of students in-person for the same two days each week: Cohort A on Monday and Tuesday, Cohort B on Thursday and Friday with Wednesday being a remote check-in day with teachers to allow for cleaning. Some parents are opting for a full remote option.
Hybrid model with students broken up into four cohorts. Detailed information will be sent to parents on Aug. 26.
Hybrid model with K-12 students having 2 days in-person and 3 days remote. Students will be divided into two cohorts to alternate in-person days: Cohort A is in-person Mondays and Tuesdays; Cohort B is in-person Thursdays and Fridays.
Aroostook County
:
MSAD 1 district will open in GREEN mode with restrictions.
Opening in GREEN mode. K-6 start September 10 and 7-12 start August 27
MSAD 20 will open in YELLOW with a hybrid plan. The district will have two cohorts that are Monday/Tuesday and Thursday/Friday with Wednesday as a cleaning day.
The district will return to school on August 19th in YELLOW, hybrid mode. That will go through to the harvest break when the district will reassess.
The district will open in GREEN with cohort days scheduled. School will begin August 19
RSU-29 will open the year in GREEN but with many precautions. Remote learning is available as well.
The district will open school on September 8 in GREEN mode, but with some restrictions.
The district will open the year in GREEN but with many precautions. Remote learning is available as well.
Central Aroostook already returned to school under GREEN mode
Planning to open August 19 under GREEN protocol.
The district plans to open GREEN on August 28.
MSAD-70 will start in GREEN mode September 3 for K-8 and September 4 for 9-12.
Southern Aroostook will open in GREEN but will offer parents many other options is desired.
Franklin County
:
This district will open in a GREEN and YELLOW hybrid model
K-12 students start school Sept. 8, Pre-K students start Sept. 10. Starting the school year with a hybrid model and offering a fully remote option. In the hybrid model option, students are broken up into two cohorts.
A plan hasn't been approved yet, but school officials are meeting Wednesday, Aug. 19 to discuss.
The district will open in YELLOW hybrid for both K-5 and 6-12
Hancock County
:
AOS91 will start the year RED, 100% remote learning from September 8 through September 25. The district will re-evaluate on September 21st at the latest. Superintendent Dr. Mark Gousse told WDEA that the outer island schools may be ready to have full in-person learning well before the September 25 deadline.
Opening with GREEN conditions but two cohort models.
The union will open in either GREEN or YELLOW with safety precautions in place.
The district plans to return to school on September 8 in YELLOW conditions. Check site for updates.
Knox County
:
The Five Towns District will open up in GREEN mode with hybrid offerings. A combo of in-class learning with remote learning will be available and used for most grades. Here is the latest approved plan.
RSU 40 will start the school year in GREEN with some hybrid options.
The district will open in GREEN for K-5 with added precautions and YELLOW hybrid for 6-12. 6-13 will have cohorts schedules
Lincoln County
:
AOS 93/Central Lincoln County School System
The five schools part of the AOS 93 district each has its own reopening plan.
In-person/hybrid learning with remote options available. Hybrid approach will be used to begin the school year, with a goal of 100% in-person instruction as soon as it's feasible.
Beginning school on Sept. 1 under their GREEN plan, which is in-person instruction. A fully remote option will be available for those interested.
Oxford County
:
In-person instruction with a remote option available
The district will vote to approve a final plan on August 17. SAD 17 Superintendent Rick Colpitts told the Sun Journal, Oxford Hills High School will have an in-person cohort plan of two or three-day rotations. All other MSAD 17 schools will have in-person teaching if parents choose. Here is a link to the MSAD 17 coronavirus page.
Parents can choose if their kids will attend in-person or be fully remote. Students Pre-K-8 have three options that prioritize in-person opportunities. Grades 9-12 have two hybrid options and a fully remote option.
Parents could choose in-person or remote learning for their kids. Choices will remain in place until the end of December, but parents who initially chose in-person can opt to move remote if they choose.
For elementary level students, parents can choose between in-person instruction or fully remote; for middle and high school students, parents can choose between a hybrid model or fully remote.
Will open for in-person instruction on Sept. 9 with two groups of students. Details will be sent to parents in the coming weeks.
Penobscot County
:
Mostly hybrid models with some modifications.
A choice of either 5 days a week in person, a hybrid model where students go to school for 2 days and attend remote classes for 3 days, or an entirely remote option. Each school is releasing its own plans on www.bangorschools.net
Brewer

A hybrid model where students work in the classroom 2 days a week and remotely for 3 days. Wednesday is also a flex day where no one is in the school buildings. Parents can also choose to have their students attend all remote learning.
According to Medway Middle School, it was determined at a school board meeting on August 24 that students will not begin the 2020-2021 school year until September 14. At that time students will begin in a fully remote mode.
If Penobscot County is in the GREEN Zone, as defined by the Maine DOE and CDC, MSAD-22 will use a hybrid plan. 50% to 60% of students will be in the buildings sometimes. The district will use two cohorts of Monday/Tuesday and Thursday/Friday with a flex day on Wednesdays. Families do have the ability to choose 100% remote learning if desired. For the descriptions of plans for each color, you can see the details on the MSAD-22 School Board Presentation.
Will be opening with all students and staff for in-person instruction.
In-school classes on Mondays, Tuesdays, Thursdays, and Fridays, with remote learning and deep cleaning on Wednesdays. This plan is not posted online anywhere, but School Board Chair Priscilla Hanscom Clark told NEWS CENTER Maine this is their plan.
MSAD-46

Students K-5 can attend in-person school five days a week. Students 6-12 will have a hybrid model, attending in-person classes two days a week and remote classes three days a week.
All schools will participate in a hybrid model.
MSAD-64
'Hybrid/blended model' where Pre-K – 5 will attend school five days a week and 6-12 will attend in-person class two days a week and remote learning three days a week.
K-6 will attend four days a week of in-person learning. 7-12 will attend two days of in-person learning a week.
Students have a choice of five days in-person learning or five days of remote learning.
RSU-87

The district is expecting a hybrid model but is still waiting for parents to complete surveys.
Piscataquis County
:
Will be voting on its re-opening plan on August 19.
All students attend classes 4 days in person and 1 person remotely.
Students in grades PreK-5 in the building every day except for Wednesday afternoon, which will be an early release. Students in grades 6-8 will have a hybrid schedule.
Sagadahoc County
:
The two school districts both are using modified hybrid options.
For the first week only, 50% of students in grades Pre-K-12 will go to school Tuesday and Thursday, and the other 50% on Wednesday and Friday. No remote learning option on the first week. After the first week, grades 6-12 will begin a hybrid model where 50% of students will attend either on Monday/Thursday or Tuesday/Friday. PreK-5 will follow this same model, without remote learning, until September 25. Beginning on September 28, the plan is for PreK-5 to shift to in-person instruction five days per week. The Board of Directors will finalize this plan at a special meeting on August 18.
Students have two options:
Students will attend in-person teaching and learning to the fullest extent possible, and parents will know that there is a high degree of likelihood that the schools will transition between plans A, B, and C.
Parents will commit their children to plan D for the first trimester/semester. Plan D is online only.
Somerset County
:
RSU 74's first day of school is pushed back to Sept. 8 after a student tested positive for COVID-19, Superintendent Mike Tracy said Sept. 1.
MSAD 13 will open the year September 2 in GREEN plan but with cohorts for students.
MSAD 49 will start the school year September 8 in YELLOW, hybrid learning mode. Students will be assigned specific cohort days to limit the number of people in buildings at one time. This phase will last until September 24. According to the superintendent, the district will assess the situation at a September 17 meeting.
MSAD-59 will return under GREEN with cohorts scheduled for students
The district will open in YELLOW hybrid with cohort schedules for students. Families should receive cohort information by August 19.
MSAD 12 has decided to open the year in GREEN mode with stringent safety precautions in place
Waldo County
:
RSU 71 will have a tiered open. K-8 will open under GREEN conditions and 9-12 will be under YELLOW, with cohort schedules. The first day of school will Wednesday, September 2.
The department is starting is YELLOW hybrid mode. Parents have until August 20 to decide if students will attend in person or remote learning.
The district will open in a GREEN/YELLOW hybrid mode.
Washington County
:
The school district has listed options but has not yet voted on the reopening plan. The district did vote to postpone the start of school until September 28.
Students in this district can take their pick of regular in person, hybrid learning, or all remote learning.
York County
:
Modified Hybrid option 2—Pre-K-8 students in school Monday, Tuesday, Thursday, Friday; 9-12 will return hybrid, with Cohort A on Monday and Tuesday and Cohort B on Thursday and Friday. All students will have a Flex Day on Wednesday
Chronological 4-phased plan, with each school having various approaches.
A hybrid model with a remote learning option for grades K-5, 6-12.
A hybrid plan to start with hopes to transition to full in-person instruction.
Plans to reopen with full-time access to physical schools while offering a remote option for families who choose it. The school year will be divided into segments of school days, after which each family can revisit their personal choice of in-person or remote school options based on the changing conditions and the risk mitigation strategy employed by the district.
A hybrid model with fully remote options available.
Will begin the year with Plan B of a Hybrid model—no more than 50% return to school with additional measures in place. Students may opt for distance learning for the quarter/trimester.
Begin with a hybrid plan that will continue through December 2020. Remote learning options for families who choose not to send their children to school.
Saco schools will adopt a GREEN but hybrid approach when schools open September 8. Final decisions should be made week of August 17th.
No official plan yet—the school board will meet Aug. 17 to discuss options laid out in the draft of the district's reopening plan.
Weighing two hybrid options, not yet finalized.
A hybrid model with a homeschooling option for all.
This story will be updated daily. Stay tuned here for additional counties to be added.