RAYMOND, Maine (NEWS CENTER) — A little girl from Raymond got the surprise visit of a lifetime when her stem-cell donor, whom she had never matched, met her for the first time, in front of hundreds of people at Hadlock Field in Portland.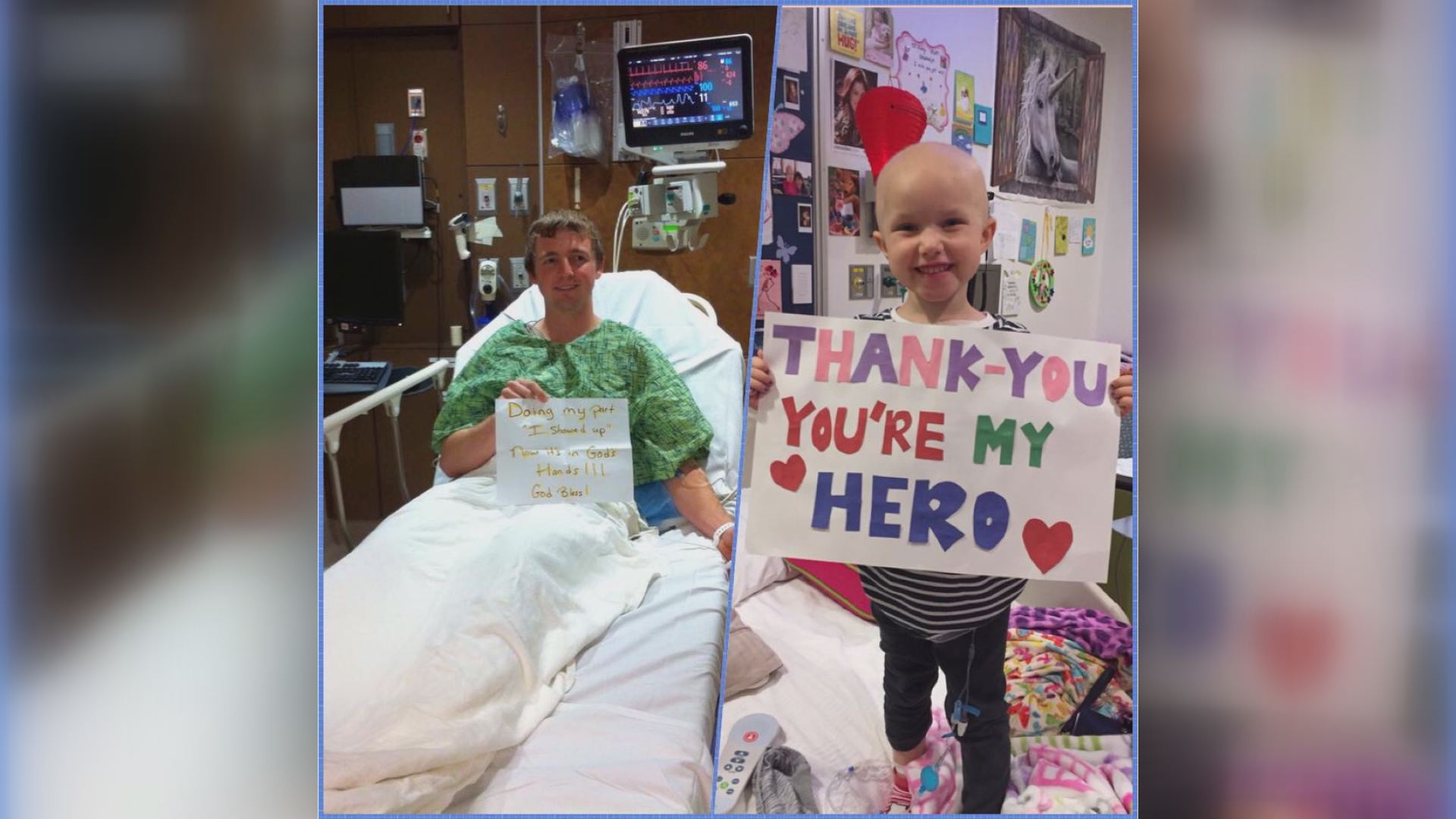 Addy Madsen was diagnosed with a rare leukemia called Myelodysplastic syndrome when she was just 4 years-old. MDS is fairly common in elderly people but not in children.
Madsen needed a stem-cell transplant but no family member matched. Through the organization 'Be-the-match' a random donor, Brad Myers from Greenwood, Arkansas, was found.
The transplant happened about two years ago, and was a success. Addy is now 6-years-old, happy and healthy.
But the Madsen's had never had a chance to meet Brad Myers in person, until July 3.
"There is nothing that ever really prepares you to meet the person that saved your kid's life," says Addie's mom, Jessica Madsen.
On be-the-match night at Hadlock Field, Addy was asked to throw out the first pitch. Meyer's mother heard about the honor and thought her son should finally meet the little girl whose life he saved.
"I am excited to finally get to meet 'em and talk to 'em and hug 'em" says Brad Meyers.
Addy delivered the pitch and Meyers delivered the surprise dressed up in the catcher's uniform.
"I did not know, but Brad took his helmet off and I freaked out," says Addy.
ICYMI:The surprise moment a Maine family gets to meet, THANK the bone marrow donor who saved their daughters life. https://t.co/U3iDZlzMmu pic.twitter.com/7srJTEH5Zb

— WCSH 6 (@WCSH6) July 25, 2017
Addy's mom, Jessica was in on the secret and had met Brad earlier the same day. She says meeting him and being able to thank him was one of the best moments of her life.
The Madsen's say Meyers is a great guy who drove five hours each way just to have the stem-cell procedure done for a little girl he had never met.
The Madsen's and Meyers will be reuniting again in September when Meyers plans to bring his family up to Maine to meet the family he help save.